002 vs. Senegal
003
004 vs. Uruguay

Thursday, 29 July 2012
Olympic Games London 2012 Group A Match

Team GB 3 United Arab Emirates 1 [1-0]


The National Stadium, Wembley, London

- Attendance: 85,137


Kick-off 7.45pm BST

Live on BBC Three/HD (UK) -

Commentator: Jonathan Pearce

Team GB - Ryan Giggs (16 header 15:52), Scott Sinclair (73 72:44), Daniel Sturridge (76 chip 75:15)
UAE - Rashed Eisa (60 59:38)
Match Summary
Team GB Squad
UAE Squad
Great Britain Olympic Results
UAE - Khamis Esmaeel (63

62:01

), Abdulrahman Omar (83

82:02

)

Team GB kicked-off. 94 minutes (45:56 & 48:07).
Match Summary
Officials from Mexico

Team GB

Type

UAE
Referee (Green) -

Roberto García

Orozco

,
37

(24 October 1974)

, Mexico City, FIFA-listed 2007.

Assistant Referees - José Luis Camargo & Alberto Morín

Fourth official - Mark Geiger, United States

15
Goal Attempts
14
10
Attempts on Target
8
2
Hit Bar/Post
0
5
Corner Kicks Won
4
2
Offside Calls Against
2
8
Fouls Conceded
8
Possession

Team GB Team
Rank:

n/a
Colours:
Made by Adidas - Navy blue shirts with pale blue Union Jack motive and red collar, navy blue shorts, navy blue socks with red tops.
Capt:
Ryan Giggs, 3rd captaincy
Coach:
Stuart Pearce MBE, 50 (24 April 1962), appointed 20 October 2011,
3rd match, W 1 - D 1 - L 1 - F 4 - A 4.
Team GB Lineup
1
Butland, Jack
19
10 March 1993
GK
Birmingham City FC
3
2

GA

2
Taylor, Neil J.
23
7 February 1989
RB
Swansea City FC
3
0
12
Tomkins, James O.C.
23
29 March 1989
LB
West Ham United FC
2
0
15
Ramsey, Aaron J.
21
26 December 1990
M
Arsenal FC
3
0
5
Caulker, Steven R.
20
29 December 1991
CD
Tottenham Hotspur FC
3
0
14
Richards, Micah L.
24
24 June 1988
CD
Manchester United FC
3
0
7
Cleverley, Thomas W.
22
12 August 1989
RM
Manchester United FC
3
0
8
Allen, Joseph M.
22
14 March 1990
M
Swansea City FC
3
0
17
Sordell, Marvin A., off 46th min.
21
17 February 1991
F
Bolton Wanderers FC
3
0

10

Bellamy, Craig D., off 83rd min.
33
13 July 1979
F
Liverpool FC
3
1
11
Giggs, Ryan J., off 72nd min.
38
29 November 1973
LM
Manchester United FC
3
1
At 38 years and 243 days, Ryan Giggs becomes the oldest man to appear in the Olympic football competition and he is now also the oldest scorer, thanks to his rare headed goal.
Team GB Substitutes
9
Sturridge, Daniel A., on 46th min. for Sordell
22
1 September 1989
F
Chelsea FC
3
1
16
Sinclair, Scott, on 72nd min.

(71:44)

for Giggs
23
25 March 1989
M
Swansea City FC
2
1
13
Cork, Jack, on 83rd min.

(82:44)

for Bellamy
23
25 June 1989
M
Southampton FC
3
0

unused substitutes:

3-Ryan Bertrand, 4-Danny Rose, 6-Craig Dawson, 18-Jason Steele.
4-4-2
Butland -
Taylor, Richards, Caulker, Tomkins -
Cleverley, Allen, Ramsey, Giggs (Sinclair) -
Bellamy (Cork), Sordell (Sturridge)

Averages (Starting XI):

Age
24.2
Appearances/Goals
2.9
0.1

UAE Team
Rank:

n/a
Colours:
Made by Errea - Red shirt with white collar/cuffs and trim, red shorts with white trim, red socks.
Capt:

Ismail Matar

Coach:
Mahdi Ali Hassan Redha, 47 (20 April 1965), appointed in charge of the Under-23 team in 2010.
UAE Lineup
1
Khaseif Housani, Ali K.H.
25
9 June 1987
G
Al Jazira SCC
13
Esmaeel, Khamis, off 79th min.
22
16 August 1989
M
Emirates CSC
Esmaeel cautioned in the 62nd minute for dissent, for constantly talking back at the referee.
3
Hussain, Abdulaziz, off 52nd min.
21
10 September 1990
D
Al Shabab Al-Arabi Club
4
Ahmed Ali Gharib, J. Mohamed
23
16 April 1989
D
Al Shabab Al-Arabi Club
5
Abdulrahman Abdullah Hussein Al Hamadi, Amer
23
3 July 1989
M
Baniyas SC
15
Omar Ahmed Alraaki Al Amoodi, Abdulrahman
20
20 September 1991
M
Al Ain SCC
Omar cautioned in the 83rd min. for unsporting behaviour, for a boot down the back of Joe Allen's leg
16
Eisa, Rashed
21
24 August 1990
M
Al Wasl FC
8
Al-kamali, Hamdan I.M.
23
2 May 1989
D
Al Wahda FC
14
Sanquor, Abdelaziz
23
7 May 1989
D
Sharjah SC
10
Matar Ibrahaim Khamis Al Mukhaini Al Junaibi, Ismail, off 72nd min.
29
7 April 1983
F
Al Wahda FC
11
Khalil Sebait Mubarak Al-Junaibi, Ahmed
21
8 June 1991
F
Al Ahli Club

UAE

Substitutes
2
Surour, Saad, on 52nd min.

(51:02)

for Hussain
22
19 July 1990
D
Al Ahli Club
9
Ali, Ahmed, on 72nd min.

(71:28)

for Matar
22
28 January 1990
F
Baniyas SC
12
Fardan, Habib, on 79th min. (78:36) for Esmaeel
21
11 November 1990
M
Al Nasr SC

unused substitutes:

6-Ali Alameri, 7-Ismail Al Hammadi, 17-Mohamed Fawzi, 18-Khalid Eisa.,
-
-

Averages (Starting XI):

Age
22.8
Appearances/Goals
Match Report
Great Britain beat UAE 3-1 at Wembley to ensure a draw against Uruguay in their final group game will take them through to the quarter-finals. Skipper Ryan Giggs headed the opener and Tom Cleverley hit the post as GB led at the break. Rashed Eisa equalised with a composed finish in front of an increasingly anxious Wembley crowd. But substitute Scott Sinclair struck a minute after coming on and Daniel Sturridge's deft chip sealed the win.
It was a far from comfortable match for Stuart Pearce's team and there were times after UAE's second-half equaliser when the occasional boo could be heard inside the stadium. The mood changed completely when GB struck twice in three minutes but there is room for improvement when they play Uruguay in Cardiff on Wednesday.
There was little to excite the crowd in the opening phase of Sunday's game between GB and UAE, with fans starting a Mexican wave as early as the fifth minute. But home supporters were given something to cheer when GB's Welsh connection struck again. Giggs had started the move from which Bellamy scored against Senegal last Thursday, but it was the latter who assumed the role of creator on Sunday, delivering a deep cross that Giggs headed home. UAE levelled after the break when Eisa collected a through ball and glided past Tomkins before slotting his effort beyond Jack Butland.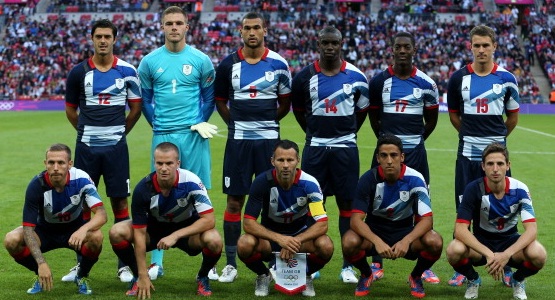 Aaron Ramsey, one of three changes along with striker Marvin Sordell and James Tomkins, was impressive on the right and started a move that culminated in a shot from Bellamy that Ali Khaseif saved. Ramsey also picked out Sordell but the Bolton striker's shot from 18 yards took a slight deflection before the keeper tipped it around the post for a corner. There were large periods in the opening 45 minutes when UAE looked threatening and it took a good block to deny Eisa, while Ahmed Khalil later surged past right-back Micah Richards before delivering a low pass across the face of goal. The game could have taken a decisive turn before the break but midfielder Cleverley was extremely unfortunate to see his 18-yard strike hit both posts before rebounding to safety after superb work by Bellamy. There was a real sense of panic inside the ground and Butland was forced to make a great save with his legs to deny Khalil after a quick exchange of passes opened up the GB defence. But the impressive Bellamy crossed for Sinclair to level before Cleverley played a brilliant pass for Sturridge, who struck the decisive third.

Source Notes
BBC Sport
TheFA.com/TeamGB
London2012.com
____________________

CG