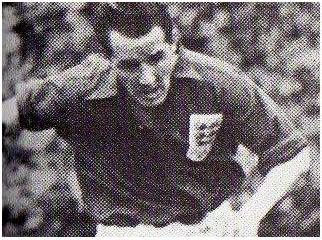 Just over a year after England's first red change uniform was introduced, this vibrant red replacement appeared, with blue numbers (instead of white) on the back, and red socks (instead of black). Nat Lofthouse became the 'Lion of Vienna' on its first airing.
The number ten shirt above is the one worn by Eddie Baily in the same game. It is part of the Neville Evans Collection at www.englandmatchshirts.com and we are most grateful to Simon Shakeshaft for permission to reproduce it here (Jackie Sewell is also pictured right in action during England's 3-2 victory).
Over a year later, England avenged their 1950 World Cup defeat with an emphatic 6-3 victory in the Yankee Stadium, wearing a red uniform. We have yet to see the shirts from this game to confirm that it is the same design, but it seems likely that it was. By the end of 1954, a red v-neck version had replaced it.