"ENGLAND ROMP HOME"
Daily Mirror
Officials
England
FIFA ruling on substitutes
West Germany
Referee
Leopold Sylvain Horn


44 (29 August 1916), Sittard, Netherlands

Both Associations agreed not to choose players with more than two international appearances - agreed on 30 January

yellow flag

Linesmen red flag
R V Spittle


Norfolk

J.H. Robinson


London

England Intermediate Team
Rank:

No official ranking system established;
Colours:
The 1959 Bukta home uniform - White v-necked short-sleeved continental jerseys, red shorts, blue socks with white calf hoop.
Capt:

Bobby Moore
first, W 1 - D 0 - L 0 - F 4 - A 1.

Manager:
Ronald Greenwood,

39

(11 November 1921), appointed over the 1959 summer, also assistant manager of Arsenal FC;


twelfth intermediate match, W 6 - D 3 - L 3 - F 27 - A 19.

trainer: Fred Ford
Team chosen by the Intermediate Selection Committee, headed by Len Shipman, on Friday, 9 March.
England Lineup

eight changes

from the previous U23 match

league position

(9 March)

Macedo, Eliot
23
21 days
22 February 1938
in Gibraltar
G
Fulham FC

(FL 18th)

10

14ᵍᵃ

final U23 app 59-61
2
Cohen, George R.
21
144 days
22 October 1939
RB
Fulham FC

(FL 18th)

6
0
94
3

Ashurst, Leonard
22
5 days
10 March 1939
LB
Sunderland AFC

(FL2 6th)

1
0
only U23 app 1961
95
4

Shawcross, Francis David
19
255 days
3 July 1941
RHB
Manchester City FC

(FL 19th)

1
1
only U23 app 1961
96
5
McGrath, John Thomas
22
204 days
23 August 1938
CHB
Newcastle United FC

(FL 20th)

1
0
only U23 app 1961
6
Moore, Robert F.C.
19
337 days
12 April 1941
LHB
West Ham United FC

(FL 13th)

4
1
7

Paine, Terence L.
21
357 days
23 March 1939
OR
Southampton FC

(FL2 7th)

2
2
8

Hill, Frederick
21
57 days
17 January 1940
IR
Bolton Wanderers FC

(FL 15th)

2
1
final U23 app 59-61
9

Byrne, John J.
21
306 days
13 May 1939
CF
Crystal Palace FC

(FL4 TOP)

3
1
97
10
Barnwell, John
22
81 days
24 December 1938
IL
Arsenal FC

(FL 8th)

1
0
only U23 app 1961
98
11
Harrison, Michael John
20
331 days
18 April 1940
OL
Chelsea FC

(FL 14th)

1
0
reserves:
Alan Humphreys (Leeds United AFC

(FL2 10th)

), John Kir

kham

(Wolverhampton Wanderers FC (FL 2nd)), and originally John Barnwell, no replacement was named.
pre-match notes:
The Young England side had a practice match on 13 March with Queen's Park Rangers FC, and then against the England full team the evening after.
team notes:
Because of Cup commitments and an agreement not to include full internationals, the Young England side fielded 'a strange, and far from inspiring side against Young Germany'.
The original left-forward line was John Fantham (Sheffield Wednesday FC

(FL 3rd)

) on the inside, was required by his club, and Mick O'Grady (Huddersfield Town AFC

(FL2 18th)

) on the outside, who was injured during training. Their places going to Barnwell on Tuesday, 14th, who was originally named as a reserve, and Harrison, who took his place on the day of the match.
2-3-5
Macedo -
Cohen, Ashurst -
Kirkham, Labone, Moore -
Brabrook, Dobing, Byrne, Crowe, O'Grady

Averages:

Age
21 years 191 days
Appearances/Goals
2.9
0.2

West Germany Team
Rank:

No official ranking system established;
Colours:
Dark green collared jerseys with white wing collarss, white shorts, white socks.
Capt:
not known

Manager

:
Joséf Herberger, 63 (28 March 1897), appointed in June 1955.
West Germany Lineup
1
Bernard, Günter
21
131 days
4 November 1939
G
1.FC Schweinfurt 05
1
4ᵍᵃ
2
Neumann, Jürgen
19
99 days
6 December 1941
RB
1.FC Kaiserslautern
1
0
3
Olk, Werner
23
56 days
18 January 1938
LB
FC Bayern München
1
0
only u23 app 1961
4
Sundermann, Hans-Jürgen
21
49 days
25 January 1940
RHB
SC Rot-Weiß Oberhausen-Rheinland
1
0
5
Wenauer, Ferdinand
21
323 days
26 April 1939
CHB
1.FC Nuremberg VfL
2
0
6
Porges, Ingo
22
205 days
22 August 1938
LHB
FC St. Pauli von 1910
1
0
7
Flachenecker, Gustav
20
138 days
28 October 1940
OR
1.FC Nuremberg VfL
1
0
8
Schütz, Jürgen
21
257 days
1 July 1939
IR
Bsv Borussia 09 Dortmund
1
0
9

Strehl, Heinz
22
238 days
20 July 1938
CF
1.FC Nuremberg VfL
2
3
final u23 app 59-61
10
Straschitz, Hermann, injured off 25th min.
20
210 days
17 August 1940
IL
Düsseldorfer TSv Fortuna 1895
1
0
11
Kremer, Willibert
21
151 days
15 October 1939
OL
SC Viktoria 04 Köln
1
0
only u23 app 1961
West Germany Substitute
14

Höher, Heinz

, on 25th min. for Straschitz

22
216 days
11 August 1938
IL
Bayer 04 Leverkusen
2
1
0
1
final u23 app 59-61
travelling reserves:
not known
team notes:
Charlie Schütz was the original named centre-forward, he was moved to the inside when he replaced Günter Hermann (Karlsruher SC), and Strehl came in as the new centre-forward.
2-3-5
Bernard -
Neumann, Olk

-


Sundermann, Wenauer, Porges -
Flachenecker, Schütz, Strehl, Straschitz (Höher), Kremer

Averages:

(start)
(finish)
Age
21 years 160 days
21 years 232 days
Appearances/Goals
1.2
0.2
Match Report
by Bill Holden, Daily Mirror, Thursday, 16 March 1961
TWO Fulham players and a boy from the Fourth Division looked as if they could be considered for places in England World Cup squad after this Under-23 clash.
The two Fulham men were goalkeeper Tony Macedo and right back George Cohen. The boy from the Fourth Division was centre forward Johnny Byrne, leader of Forth Division Crystal Palace. He was the star in the first half, when the English attack showed spasms of individual brilliance, but rarely made a combined move.
Behind the attack, Macedo and Cohen positioned themselves intelligently and used the ball well.
There was no trace of shakiness in Macedo, and Cohen found he had such mastery over his winger that he could afford to carry the ball up into attack. Sixty seconds of fireworks started when Dave Shawcross, Manchester City right half, broke through the German defence in the thirty-third minute, splitting them with a great through pass to Byrne.
The kid from the Football League wilderness took the pass in his stride . . . went forward, one, two, three, four steps . . . and hammered a perfectly placed shot.
It was his first goal for England in his third England Under-23 match. But four minutes from half time a mystery man made an equaliser for West Germany.
Wearing a No. 14 shirt, he had come on for inside left Straschitz.
No.14—later we found out his name was Heinz Hoeher—slid a pass to centre forward Strehl, who with all the time in the world, placed his shout out of Macedo's reach. England regained the lead in the fifty-third minute. Byrne missed a cross, but Southampton right winger Terry Paine rushed in and cracked the ball high into the net. With fifty-nine minutes ticked off, Bolton inside-right Fred Hill made it 3—1 with a header fro Paine's corner. Shawcross scored England's fourth close in seven minutes from time.

Match Report
as appears in the F.A. Yearbook 1961-62 page 40
The Under-23 team gave a scintillating floodlit display against Germany at Tottenham and deserved their 4-1 win. Though they were not at full strength owing to Cup commitments by four clubs, the England players showed themselves to be a more skilful and confident force than the Germans who seldom looked like scoring. They took the lead after half-an-hour when Byrne scored a glorious goal from the edge of the penalty-area and they might well have increased their lead before Strehl equalised eight minutes later. Throughout the second half England were on top and were soon ahead again through Paine. Six minutes later Hill scored following a corner from Paine and near the end Shawcross made it four. In defence Cohen and McGrath were outstanding, while Byrne led the forwards skilfully and was well supported by his four colleagues.

A Match Dissected
as appears in the F.A. Yearbook 1961-62 pages 34-36
DURING home international matches last season many spectators must have been intrigued to see parties of men sitting with charts in their hands like students taking notes at a lecture.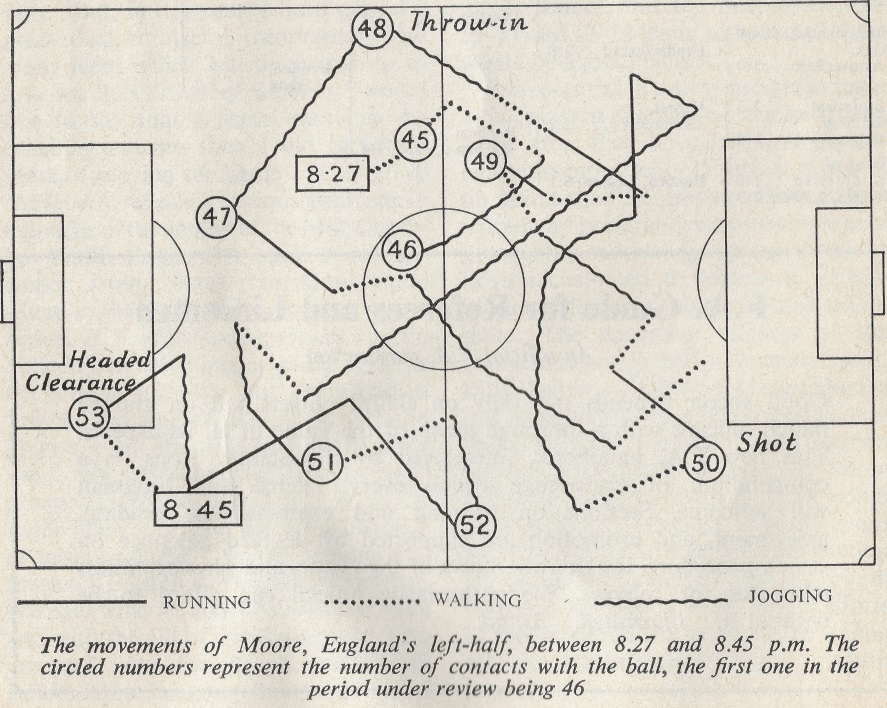 They were not students, but F.A. coaches making detailed notes on the game in progress. The object of the exercise was to obtain as much information as possible for analysis by the F.A.'s Director of Coaching. Much of the material is used in post-match discussions with the team to help obviate future mistakes and also to stimulate thought and discussion at coaching courses and conferences.

Perhaps the most ambitious piece of match analysis, for this is what the operation is called, took place when the England Under-23 team played West Germany in March at Tottenham. A team of no less than seventy coaches including such household names as Wally Barnes, Ted Fenton, Jack Mansell, Phil Woosnam, and Alan Dicks, sat in the large visitors' enclosure with its splendid plate glass windows. The atmosphere in the enclosure was that of an examination room; hardly a word was spoken throughout the match and many observations were so intent on their task that after the final whistle they even asked who had won and what was the score! The tasks allotted to the team included: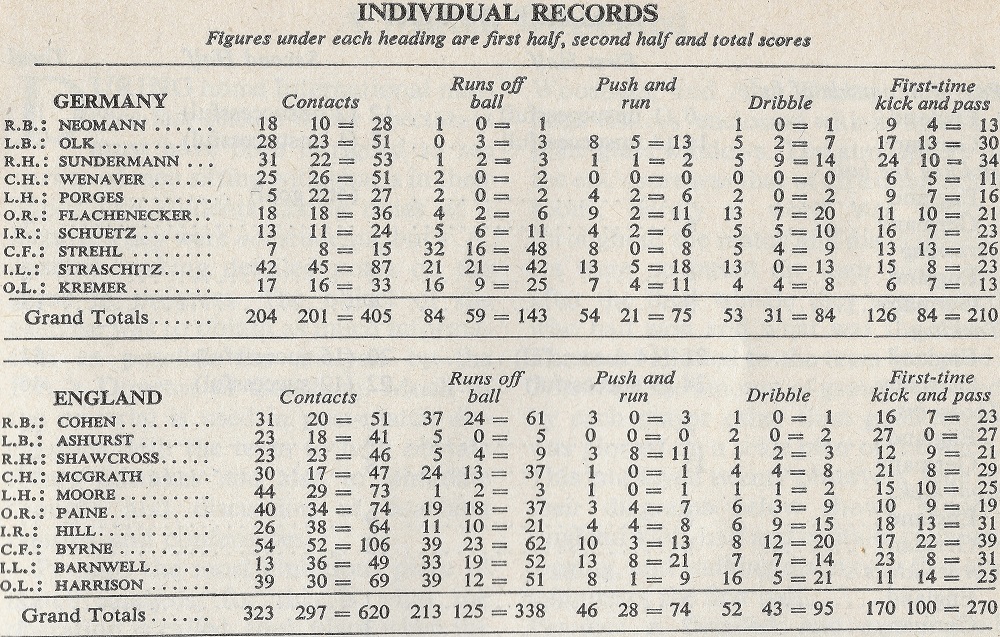 Tackling: the amount of ground covered by each player other than goalkeepers was plotted on a scale plan of the pitch. This employed twenty observers. One of their diagrams shows Moore, England's left-half and captain, running, jogging, and walking during the first ten minutes of the first half.
Passing: a detailed and sub-divided summary of all passes made during the game was made. Each pass with the outside of the foot was noted and also whether or not this pass was successful. Similarly the number of through passes, the number of times three or more consecutive passes were made, and the number of first-time passes were noted.
Dribbling: a record was kept of each time a player dribbled the ball, whether the dribble was successful in that the player either shot at goal or passed to a colleague, or whether it was unsuccessful resulting in him losing the ball!
Heading was similarly recorded with a note as to its value.
Throw-ins, Goal-kicks, and Corner-kicks were all noted with the sequel in each case.
Individual records: each player of either side had a comprehensive record taken of: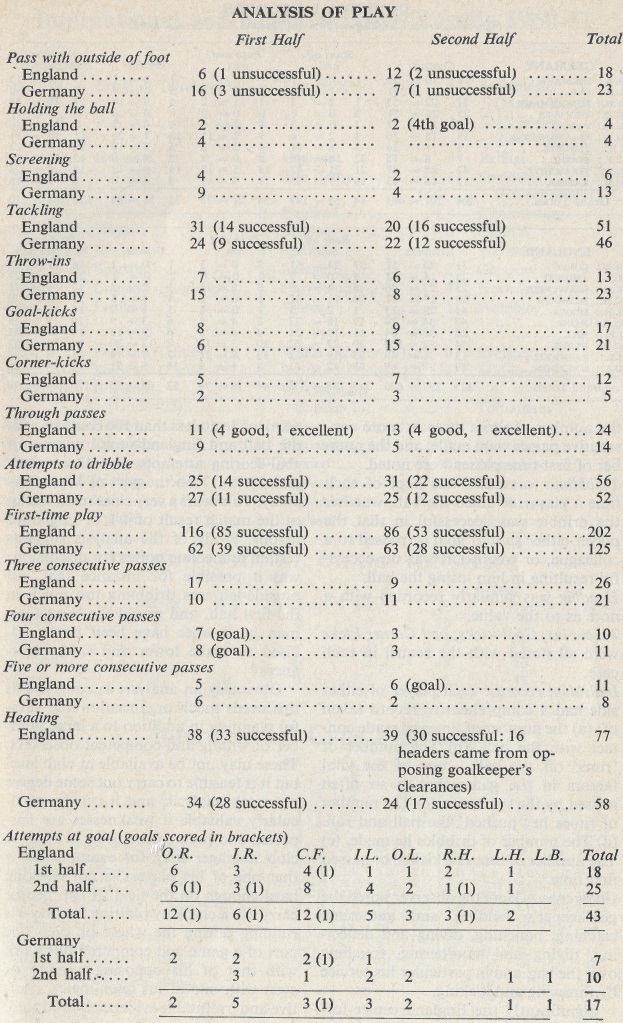 (a) the number of times he made contact with the ball. (b) The number of 'runs' off the ball — one of the vital factors in the game that is so often missed by the spectator. (c) The number of times he 'pushed' the ball and ran. (d) The number of dribbles he made. (e) The number of times he kicked or passed first time.
Goalkeepers: Here the observer noted the goalkeeper's fielding and gathering, catching, punching, diving and deflecting, diving and smothering, touching over the bar, and in particular his service by throwing and kicking.

Significantly the England centre-forward made no less than 106 contacts with the ball and England's total number of goal-scoring attempts was 43 as compared with 17 on the part of West Germany. This bears a very close relationship to the match result of 4-1 in England's favour. Study of the analysis suggests certain immediate points for discussion: was it possible for instance that our outside-left was dribbling too much in the first half, and would the West German goalkeeper have been better advised to make lower and safer clearances?

Obviously an analysis as complete as this needs much organisation and careful planning in addition to a large number of willing and competent observers. These may not be available at club level but it is feasible to carry out some degree of match analysis, and it can be particularly valuable if weaknesses and suspected and points need to be proved. A club manager may for example know that one of his players is not working hard enough on the field. If two people carry out a check by plotting the player's running during the whole or even part of a game and compared this work with that of his opposing number or even with one of his team-mates, positive and irrefutable evidence is produced.

Football League Division One


Blackpool 0 Sheffield Wednesday 1


Bloomfield Road, Blackpool

(17,738)




Fantham

Football League Division Four


Exeter City vs. Crewe Alexandra




St. James' Park, Exeter

postponed

: fog




Wrexham 3 Darlington 1


The Racecourse, Wrexham

(4,614)




P.G.

Jones OG, Davis

(

pen)

, Metcalfe ~ Morton

European Cup Quarter-Final Second Leg


Hamburger SV 4 Burnley 1


Volsparkstadion, Hamburg

(75,000)


Stürmer, Seeler (2), Dörfel ~ Harris



Source Notes
OffiOfficial matchday programme
FA Yearbook 1961-62

Rothman's Yearbooks




Original newspaper reports
cg