345 vs. Wales
346
347 vs. Mexico

Saturday, 15 April 1961
Home International Championship 1960-61 (66th) Match

England 9 Scotland 3 [3-0]


Empire Stadium, Wembley Park, Wembley, Middlesex


Attendance: 97,350;

Kick-off: 3.00pm

BST

England - Bobby Robson (knee-high shot from twenty yards from a Haynes pass 9), Jimmy Greaves (glided the ball in from a Smith through ball 20, hammered in after Haffey saved a Smith shot 29, 82), Bryan Douglas (from a sly Greaves eighteen-yard free-kick 56 - 100th goal at the Stadium under Winterbottom), Bobby Smith (eighteen yard shot 75, 85), Johnny Haynes (a breathtaking goal 78, from Douglas 80),
Scotland - Dave Mackay (fierce low left-footed eighteen yard free-kick 49), Davy Wilson (diving header from a McLeod high ball 53), Pat Quinn (left footed shot after a Mackay header lands at his feet following a McLeod corner 76)
Results 1960-1965

England won the toss, Scotland kicked. ? minutes (? & ?).
Match Summary
England Squad

Type

Scotland Squad

Referee (scarlet) - Marcel Lequesne
x (-).

Linesmen - A. Carette (flame flag) and R. Poncin (orange flag). Lemon ball was used.

Teams presented to the Duke of Edinburgh. Whereas, the Guest of Honour, The Queen, presented the Jubilee Trophy for the first time from the royal box.

England wore black armbands as mark of respect following the death of former FA Chairman and FIFA President, Arthur Drewry CBE, who died on Saturday, 25 March 1961.

Goal Attempts
Attempts on Target
Hit Bar/Post
Corner Kicks Won
Offside Calls Against
Fouls Conceded
Possession

England Team
Rank:

No official ranking system established;
ELO rating 6th
Colours:
The 1959 Bukta home uniform - White v-necked short-sleeved continental jerseys, blue shorts, white socks with red/white/blue calf hoop.
Capt:
Johnny Haynes, seventh captaincy
Manager:
Trainer: Harold Shepherdson (Middlesbrough FC)

Walter Winterbottom, 48 (31 March 1913), appointed as FA national director of coaching/team manager on 8 July 1946;


120th match, W 68 - D 28 - L 24 - F 339 - A 175

, one abandoned,
Team chosen by Selection Committee on Friday, 7 April 1961.
England Lineup
Springett, Ronald

D.

25

2

2 July 1935
G
Sheffield Wednesday FC
9

17ᵍᵃ

2
Armfield, James
RB
Blackpool FC
13
0
3
McNeil, Michael
21
7 February 1940
LB
Middlesbrough FC
5
0
4
Robson, Robert W.
28
18 February 1933
RM
West Bromwich Albion FC
12
3
5
Swan, Peter
24
8 October 1936
CHB
Sheffield Wednesday FC
8
0
6
Flowers, Ronald
26
28 July 1934
LHB
Wolverhampton Wanderers FC
20
2
7
Douglas, Bryan
OR
Blackburn Rovers FC
19
4
8

Greaves, James
21

IR

Chelsea FC

12

13

the 55th

(18th post-war)

hattrick scored
9
Smith, Robert A.
28
22 February 1933
IL
Tottenham Hotspur FC
5
8
10
Haynes, John N.
26
17 October 1934
LM
Fulham FC
41
18
11
Charlton, Robert
OL
Manchester United FC
23
17

reserve:

Brian Miller (Burnley FC)

team notes:

Greaves' hat-tick is the fifth by England under the twin towers.
4-2-4
Springett -
Armfield, Swan, Flowers, McNeil -
Robson, Haynes -
Douglas, Greaves, Smith, Charlton

Averages:

Age
-
Appearances/Goals
-
-

Scotland Team
Rank:

No official ranking system established;
ELO rating 20th to 22nd
Colours:
Made by Umbro - blue continental jerseys with white v-neck collars/cuffs, white shorts, blue socks with red tops.
Capt:
Eric Caldow
Manager:


Trainer: Dawson Walker (Clyde FC)

John Miller McColl, 33 (7 June 1927), appointed before November 1960.
second match, W 1 - D 0 - L 1 - F 8 - 11.
Team chosen by Selection Committee on Monday, 3 April 1961.
Scotland Lineup
Haffey, Francis
22
28 November 1938
G
The Celtic FC
2

10ᵍᵃ

2
Shearer, Robert
29
29 December 1931
RB
Rangers FC
1
0
3
Caldow, Eric
26
14 May 1934
LB
Rangers FC
28
2
4
Mackay, David C.
26
14 November 1934
RHB
Tottenham Hotspur FC

, England

15
2
5
McNeill, William
21
2 March 1940
CHB
The Celtic FC
1
0
6
McCann, Robert J.
28
15 October 1932
LHB
Motherwell FC
5
0
7
McLeod, John

M.

22
23 November 1938
OR
Hibernian FC
1
0
8
Law, Denis
21
24 February 1940
IR
Manchester City FC

, England

11
3
9
St. John, Ian
22
7 June 1938
CF
Motherwell FC
7
1
10
Quinn, Patrick
24
26 April 1936
IL
Motherwell FC
1
1
11
Wilson, David
22
10 January 1939
OL
Rangers FC
3
1

reserves:

Travelling reserve is Duncan MacKay (The Celtic FC).
Full team of reserves are Haffey; MacKay and Kennedy (The Celtic FC); Crerand (The Celtic FC), Toner (Kilmarnock FC) and Baxter (Rangers FC); Hunter (Motherwell FC) and Quinn; David Herd (Arsenal FC); Brand (Rangers FC) and McParland (Partick Thistle FC).

team notes:

Manager Ian McColl debuted for Scotland against England in April 1950, also playing in the 1957 meeting, and earned his fourteenth and final appearance angainst England in 1958.
Airdrieonians FC's goalkeeper Leslie was the original chosen goalkeeper. Haffey replaced him on 13 April as he had not sufficiently recovered from an eye injury.
Dave Mackay's fierce free-kick is the sixth direct free-kick conceded by England, three of them coming from Scotland.
2-3-5
Haffey -
Shearer, Caldow -
Mackay, McNeill, McCann -
McLeod, Law, St. John, Quinn, Wilson

Averages:

Age
23.9
Appearances/Goals
6.8
0.6
Match Report by Mike Payne
Match Report by Norman Giller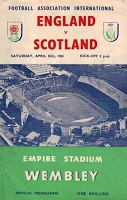 This was the peak performance by Walter Winterbottom's new team. Bobby Robson started the ball rolling with a 20-yard shot that left goalkeeper Frank Haffey flapping at empty air in the 9th minute. Greaves struck twice, putting the finishing touches to moves masterminded by Haynes. The Scots, including players of the quality of Billy McNeill, Dave Mackay and lan St John, pulled back to 3-2 early in the second-half before they were sunk under a storm of five goals in eleven minutes. Haffey was picked on by the Scots as the scapegoat for the defeat, and he was cruelly dubbed 'Slap-Haffey'. But neutral observers considered this an exceptional display by England in general and Haynes in particular. He pulled the Scottish defence apart with a procession of precise passes, and was chaired off the pitch by team-mates at the end of the nine-goal slaughter. Hat-trick hero Greaves (12) and Smith (7) had scored nineteen goals between them in five matches at the start of a partnership that was later to flourish for 'Super Spurs' who (minus Greaves) were on their way to becoming the first team of the 20th Century to complete the League and FA Cup double.

Source Notes
TheFA.com
Original newspaper reports
Rothman's Yearbooks
Mike Payne's England: The Complete Post-War Record (Breedon Books Publishing Company, Derby, U.K., 1993)
Norman Giller, Football Author
____________________

CG