Match Summary
Officials from Wales

England

Type

Scotland

Referee (maroon) - Benjamin Mervyn Griffiths
x (-), Abertillery, Monmouthshire.

Linesmen - T.L. Davies (flame flag) and H. Williams (orange flag)

Teams presented to guest of honour, the Duke of Gloucester.

"3.0 - Nat Lofthouse kicks off with a lemon-coloured ball."

Goal Attempts
Attempts on Target
Hit Bar/Post
Corner Kicks Won
Offside Calls Against
Fouls Conceded
Possession

England Team
Rank:

No official ranking system established;
ELO rating 5th
Colours:
The 1954 Umbro home uniform - White v-necked short-sleeved continental jerseys, blue shorts, red socks with white tops.
Capt:
Billy Wright, fiftieth captaincy
Manager:
Walter Winterbottom, 42 (31 March 1913), appointed as FA national director of coaching/team manager on 8 July 1946;


68th match, W 43 - D 13 - L 12 - F 202 - A 100

, one abandoned. Team chosen by Selection Committee on Sunday, 27 March 1955.

England Lineup
Williams, Bert F.
35
31 January 1920
G
Wolverhampton Wanderers FC
20

27ᵍᵃ

2
Meadows, James
23
21 July 1931
RB
Manchester City FC
1
0
3
Byrne, Roger W.
25
8 September 1929
LB
Manchester United FC
10
0
4
Armstrong, Kenneth
30
3 June 1924
RHB
Chelsea FC
1
0
5
Wright, William A.
31
6 February 1924
CHB
Wolverhampton Wanderers FC
65
3
6
Edwards, Duncan
18
183 days
1 October 1936
LHB
Manchester United FC
1
0
7
Matthews, Stanley
40
1 February 1915
OR
Blackpool FC
42
10
8
Revie, Donald G.
27
10 July 1927
IR
Manchester City FC
2
2
9
Lofthouse, Nathaniel
29
27 August 1925
CF
Bolton Wanderers FC
23
25
10

Wilshaw, Dennis J.
29
11 March 1926
IL
Wolverhampton Wanderers FC
4
7

the 48th

(eleventh post-war)

hattrick scored

11
Blunstone, Frank
20
17 October 1934
OL
2
0

reserves:

Joe Shaw (Sheffield United FC), announced a day later.

team notes:

For this match, the FA selectors reverted back to naming the team, and then a hurried practice session. England played Charlton Athletic on 28 March, beating them 2-1 in the hour-long session, Portsmouth's Len Phillips injured his right knee. On the afternoon, the England party watched the Chelsea-Sunderland League match at Stamford Bridge. The next day, a second practice session, England beat Arsenal 2-1 at Highbury with Shaw taking the place of Phillips. On 30 March, England trained alone at the Bank of England sports ground in Roehampton, where it was announced that Armstrong had replaced Phillips.
Billy Wright extends his record appearance tally.
Duncan Edwards, at 18 years and 183 days, is the youngest England player this century. It was wrongly reported at the time that he was the youngest overall, but James Prinsep, Thurston Rostron and Clement Mitchell were younger.
Don Revie and Frank Blunstone become the 69th and 70th players to be re-used by Winterbottom.
Five of this team were named to play Scotland in the postponed B International in March.
Second England hat-trick at Wembley, and the first to witness four goals.
England's fifth goal, Wilshaw's second, was the 200th under Winterbottom. Tommy Docherty's goal was the 100th conceded under Winterbottom.

records:

England win three

matches in a row at Wembley for the first time since 1930-34, equalling the pre-war record.
2-3-5
Williams -
Meadows, Byrne -
Armstrong, Wright, Edwards -
Matthews, Revie, Lofthouse, Wilshaw, Blunstone

Averages:

Age
27.9
Appearances/Goals
15.5
3.6

Scotland Team
Rank:

No official ranking system established;
ELO rating 16th to 18th
Colours:
Made by Umbro - Navy blue jerseys with white collars, white shorts, blue socks with red tops.
Capt:
Willie Cunningham
Manager:
Trainer: Alec Dowdell (The Celtic FC)
The Scottish Football Association Selection Committee, on Wednesday, 23 March 1955.
Scotland Lineup
Martin, Fred
25
13 May 1929
G
Aberdeen FC
6

20ᵍᵃ

2
Cunningham, William C.
30
22 February 1925
RB
Preston North End FC

, England

8
0
3
Haddock, Harry
29
26 July 1925
LB
Clyde FC
2
0
4
Docherty, Thomas H.
26
24 April 1928
RHB
Preston North End FC

, England

10
1
5
Davidson, James A.
29
8 November 1925
CHB
Partick Thistle FC
8
1
6
Cumming, John
25
17 March 1930
LHB
Hearts of Midlothian FC
2
0
7
Mackenzie, John A.
29
4 September 1925
OR
Partick Thistle FC
8
1
8
Johnstone, Robert
25
7 September 1929
IR
Manchester City FC, England
14
8
9
Reilly, Lawrance
26
28 October 1928
CF
Hibernian FC
26
17

10

McMillan, John L.
24
18 March 1931
IL
Airdrieonians FC
4
2
11
Ring, Thomas
24
8 August 1930
OL
Clyde FC
5
1

reserves:

Travelling reserve is Doug Cowie (Dundee FC).
Full team of reserves are Frazer (Sunderland AFC); McDonald (Sunderland AFC); Evans (The Celtc FC), Young (Rangers FC) and Cowie (Dundee FC); Collins (The Celtic FC) and Walsh (The Celtic FC); Bauld (Hearts of Midlothian FC), Gemmell (St. Mirren FC) and Billy Liddell (Liverpool FC).

team notes:

Scotland beat Brentford 2-0 at Griffin Park in a trial match prior to the match with England. They were set up in Weybridge, Surrey.
This is the first Scotland side against England to not feature any players from Rangers FC since 1907.
Tommy Docherty's free-kick was not only the hundredth goal conceded in the Winterbottom reign, but also the fifth direct free-kick conceded by England since Scotland scored the first in 1877.
2-3-5
Martin -
Cunningham, Haddock -
Docherty, Davidson, Cumming -
Mackenzie, Johnstone, Reilly, McMillan, Ring

Averages:

Age
26.5
Appearances/Goals
8.7
2.6
Match Report by Mike Payne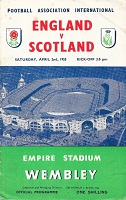 Not since 1934 had England managed to Beat Scotland at Wembley and in this, the 72nd international between the two countries, they finally broke the hoodoo with a vengeance.

Cunningham won the toss for Scotland and the teams kicked-off in glorious sunshine with the full tartan flavour on the terraces. Within seconds though the Scots were a goal down. Martin, who endured a nightmare throughout, inexplicably dropped a cross from Frank Blunstone. Don Revie was in there quickly to get in touch on to Dennis Wilshaw, who rammed in the loose ball.

Duncan Edwards, making an immediate and impressive impact, was at the heart of England's early play. On seven minutes they increased their lead. A perfect centre by the incomparable Stanley Matthews was snapped up by Nat Lofthouse's head and it was 2-0. Matthews, now 40, was superb and his teasing play gave Haddock a torrid time.

Scotland still worked hard, though, with Docherty a driving force. They found that when they put pressure on the England defenders then they too, looked vulnerable. In the tenth minute good work by Johnstone set up a chance well-taken by Reilly and it was now 2-1.

The pace of the game was relentless and the crowd could not look away for a moment for fear of missing something. England's attacking play was often exhilarating with Matthews going close and Wilshaw hitting a post. The pressure had to tell and in the 24th minute, good passing by the forwards was finally rounded off by Revie's cross-shot finding the net.

Cumming moved across to try to help Haddock stem the danger from Matthews but three minutes later the winger carved yet another goal with his superb footwork. This time he pulled the ball back for Lofthouse to score his second and England's fourth. It was not all one-way traffic and McMillan, Johnstone and Reilly all showed up well, but there was no denying England's convincing half-time lead.

In the second half Scotland continued to match their rivals in ball skills but alas their finishing let them down. This was highlighted when McKenzie missed a fine chance after 47 minutes. Understandably perhaps, the game went through a scrappy and lifeless spell for awhile. Docherty impressed with his energy and tenacity for Scotland as did his counterpart Edwards for England. At 18 years old, this young colossus looked to have a tremendous future.

Matthews went close and then further attempts by Matthews, again, and Lofthouse brought the game back to life. Matthews then set up another chance for Wilshaw to head number five on seventy minute. Three minutes later the same pair combined again for Wilshaw to crash home an unstoppable drive in the far corner, thus completing his hat-trick. By this time, Scotland were demoralised and with seven minutes left Wilshaw scored yet again following a Matthews centre.

Docherty did salvage something for Scotland when he hammered home a free-kick. The power and accuracy of his kick left Bert Williams helpless, but that goal in no way devalued from the superiority of a marvellous display from England.

Match Report by Norman Giller
Stanley Matthews was the engineer and Dennis Wilshaw the executioner in this annihilation of the Scots. Wilshaw's four goals included the first hat-trick by an England player against Scotland. Duncan Edwards, the human powerhouse from Manchester United, was, at 18 years 183 days, the youngest England player of the 20th century. Chelsea right-half Ken Armstrong collected his only cap, and later emigrated to New Zealand for whom he won thirteen caps. This was England's first victory over Scotland at Wembley since 1934. Wilshaw started his goal rush in the first minute, and two goals from Nat Lofthouse and one from Don Revie gave England a commanding 4-1 lead at half-time. Scotland caved in as Wilshaw snatched three goals in thirteen minutes in the last third of the match. Tommy Docherty, who ran himself into the ground for the Scots, got a little reward for all his work when he scored with a late free-kick. The talk afterwards was of the powerhouse performance from Duncan Edwards, who looked the complete player in his debut.

Match Report by Glen Isherwood
England had already beaten both Northern Ireland and Wales and needed only a point to retain the Championship. Scotland had failed to beat Northern Ireland at Hampden Park and so needed to win to claim their first outright Championship since 1951.

They were still unbeaten at Wembley in the British Championship since 1934.

England were ahead in the first minute. Blunstone crossed and Martin came out but Dennis Wilshaw slotted the ball into an empty net. They scored again in the seventh minute, Nat Lofthouse hitting the target after good work by Revie and Stan Matthews.

Lawrie Reilly then pulled one back by scoring in his fourth successive game at Wembley when Wright was uncharacteristically hesitant. But Don Revie soon scored when Martin fumbled and before the half hour England had notched their fourth, Matthew's crossing for Lofthouse to score.

England now eased off a little but finished with a flourish.

With 20 minutes left a pinpoint centre from Matthews left Wilshaw with a simple header for the fifth. The 40-year old Matthews was now destroying the Scottish defence almost at will. He sent Wilshaw through to complete his hat-trick and then created another chance yet again for Wilshaw to score.

Tommy Docherty scored a late consolation goal from long range but England had emphatically buried their Scottish jinx with their biggest ever victory over their rivals.

Footballer of the Year Don Revie made his first Wembley appearance, scoring England's third goal.

The

Top Twenty UK Music Chart by New Musical Express
On Friday, 15 November 1952, The New Musical Express published the first ever singles chart in the UK, comprising the twelve highest selling singles of the week, it increased to twenty on Friday, 1 October 1954. When England beat Scotland, Tennessee Ernie Ford's Give Me Your Word was the best selling single. The chart was published on Friday, 1 April 1955:-
1.
(=)
Give Me Your Word - Tennessee Ernie Ford (Capitol)
11.
Under The Bridges Of Paris

- Eartha Kitt (HMV)

2.
(=)
Softly Softly

- Ruby Murray (Columbia)

12.
(6)
Let Me Go Lover

- Ruby Murray (Columbia)

3.
(12)

Cherry Pink & Apple Blossom White

- Perez Prado & His Orchestra (HMV)

13.
Under The Bridges of Paris - Dean Martin (Capitol)
4.
(=)
A Blossom Fell

- Nat 'King' Cole (Capitol)

14.
(11)
The Naughty Lady Of Shady Lane

- Dean Martin

(

Capitol

)
5.
(7)
(I'm Always Hearing) Wedding Bells

- Eddie Fisher (HMV)

15.
(16)
Mambo Italiano - Rosemary Clooney & The Mellomen (Philips)
6.
(10)

If Anyone Finds This I Love You

- Ruby Murray with Anne Warren (Columbia)

(14)
Let Me Go Lover - Teresa Brewer with The Lancers (

Vogue Coral

)
7.
(5)
Mobile

- Ray Burns (Columbia)

(13)

Beyond The Stars

- David Whitfield With Mantovani & His Orchestra (Decca)

8.
(3)
Let Me Go Lover

- Dean Martin (Capitol)

18.
(9)
A Blossom Fell - Dickie Valentine (Decca)
9.
(20)
Prize Of Gold - Joan Regan (

Decca

)
19.
(15)
A Blossom Fell - Ronnie Hilton (HMV)
10.
(8)
Tomorrow

- Johnny Brandon & The Phantoms (Polygon)

20.
No More - McGuire Sisters

(Vogue Coral)

♪Most weeks at number one when England played:

Doris Day and Frankie Laine five, Guy Mitchell two, Vera Lynn, Al Martino, Lita Roza, Stargazers, Tennessee Ernie Ford and David Whitfield one each

Source Notes
TheFA.com
LondonHearts.com
Original newspaper reports
Rothman's Yearbooks
Mike Payne's England: The Complete Post-War Record (Breedon Books Publishing Company, Derby, U.K., 1993)
Glen Isherwood's Wembley: The Complete Record (SportsBooks Ltd, 2006)
Norman Giller, Football Author
officialcharts.com singles chart
____________________

CG