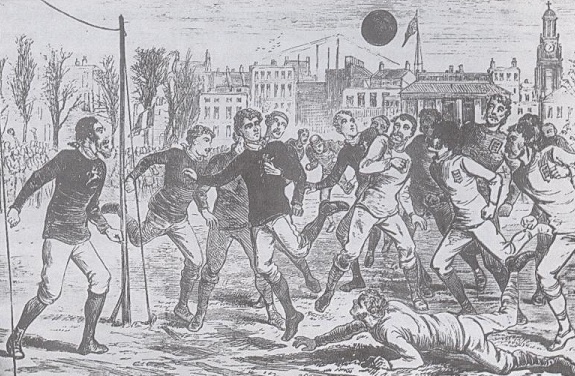 About 15,000 spectators were present at Hampden-park, near Glasgow, on Saturday, to witness the seventh annual match between England and Scotland, under Association Rules. Unfortunately, heavy rains on Thursday and Friday caused the ground to be in a very moist, slippery condition on the Saturday. A close contest had been anticipated, although it was generally admitted that the English possessed a stronger team than their rivals. The home team always have an advantage, however, in having a larger number of players to select from, owing to the difficulty in getting players to travel so far north or south, as the case may be. The consequence was that Scotland sent a very formidable 11 into the field, and as they were lighter and passed the ball better than the Southerners, the result was an easy victory.
The Scotch were successful in the toss, and chose to play at first with the wind, which blew rather strongly, at their backs. With this powerful ally they soon pushed the warfare into the enemy's territory, and it was not long before M'Dougal kicked a goal for Scotland. This was soon after followed by a second goal obtained by M'Gregor. The English now strove hard to stem the tide, which appeared to have set in so unfavourably against them. They were unable to do so, however, as before half-time had arrived the Scotch had doubled their previous score, M'Neil and Highet each being credited with a goal. With the change of ends and with the wind at their backs it was expected that a change would follow in the fortunes of the Southerners. But their hopes were soon dispelled, as a minute had hardly passed before M'Dougal kicked a fifth goal for Scotland, and M'Kinnon a few minutes later obtained a sixth. A check to these continued successes was now made through a combined rush on the part of the English forwards, and Wace getting in possession of the ball, kicked it between the posts. This success, however, was of short duration, as M'Neil quickly scored a seventh goal for Scotland. Before the conclusion of the match the Southerners made another raid into their opponents' territory, and a second goal was secured. "Time" was soon afterwards called, and the Scotch were pronounced victors by seven goals to two. Of the seven matches which have been played, Scotland claims four victories, England one, and two games have been drawn.

It was on 3 March 1878 that Russian forces liberated Bulgaria at the Treaty of San Stefano after 500 years as part of the Ottoman Empire.