Match Summary
Officials

[umpires and referees are of equal relevance]

Scotland

England Party

Umpires

English and Scottish, each wore stockings of different colours. This was, in the first place, to indicate to a player in possession of the ball the positions of his fellow-players on the field, by watching their pedal extremities; and, secondly, to enable the spectators to identify a player by his party-coloured stockings. Cards were issued by the Queen's Park, giving the teams, and the colours of their stockings.







Along with the introduction to a half-time change over and interval - wooden bars were also introduced, replacing a tape between the goalposts. This was also the first international match to be played in front of a grandstand.

Godfrey

William

Turner
22 (mid-1854), Slough
Swifts FC
Robert Gardner
28 (31 May 1847)
Clydesdale
Scots goalkeeper for first four matches

Referee


William

Campbell

Mitchell
28 (23 April 1847), Mauchline
Queen's Park FC

Scotland Team
Rank
No official ranking system established;
ELO rating 2nd to 1st
Colours
Dark blue shirts, white shorts.
Captain
Joseph Taylor
Selection
The Scottish Football Association Selection Committee

, chose the team on 1 March 1876 in Glasgow.

P 2 of 2 - W 1 - D 1 - L 0 - F 5 - A 2

Scotland Lineup
27
McGeoch, Alexander
21
163 days
23 September 1854
G
Dumbreck FC
1
0ᵍᵃ

youngest opposition gk

so far

2
Taylor, Joseph
black & white socks
25
79 days

16 December 1850

Back
Queen's Park FC
5
0
=mst apps
3
Hunter, John
21/22
1854
Third Lanark Rifle Volunteers FC
3
0
4
McLintock, Alexander
22/23
1853
Half
Backs
Vale of Leven FC
2
0
5
Kennedy, Alexander

22


357 days
13 March 1853
Glasgow Eastern FC
2
0
will be an umpire in the 1888 fixture
McNiel, Henry
yellow & black socks
22/23
1853
Forward
Queen's Park FC
3
2
MacKinnon, William Muir
black & white socks
24
46 days

18 January 1852

Queen's Park FC
5
2
=mst apps
Highet, Thomas Cochrane
heather socks

22


201 days
16 August 1853
Queen's Park FC
2
1
28
Miller, William
21
290 days
19 May 1854
Third Lanark Rifle Volunteers FC
1
0
only app 1876
Ferguson, John

27


256 days
22 June 1848
Vale of Leven FC
2
0
29
Baird, John

Campbell

19
221 days
27 July 1856
Vale of Leven FC
1
0
reserves:
G. Wilson (Clydesdale FC), Charles Campbell (Queen's Park FC), Moses McNeil (Rangers FC), Peter Andrews (Glasgow Eastern FC), and James Lang (Clydesdale FC);
team notes:
Highet is often mistyped as Herriot.

record

s:
Scotland start the match with a record low number of debutants, starting with just three, beating the four the only started with in the second match. Its a Scotland record, and an international record.
Both Joe Taylor and Bill MacKinnon are Scotland's most appearanced players and World Record holders.

2-2-6

McGeoch -
Taylor, Hunter -
McLintock, Kennedy -
McNiel, MacKinnon, Herriot, Miller, Ferguson, Baird.

Averages:
Age
22 years 227-363 days
Appearances/Goals
2.5
0.5

England Team
Rank

No official ranking system established;
ELO rating 1st to 2nd

Colours

White shirts with the English Arms in black on the breast, white shorts and dark blue caps.

Captain

Hubert Heron

Selection

The Football Association Committee with secretary Charles

W.

Alcock having the primary influence,


reported on 2 March 1876, but named sometime before.

only match, W 0 - D 0 - L 1 - F 0 - A 3

P 5 of 31 - W 1 - D 2 - L 2 - F 7 - A 9.

Some less reliable sources give the captaincy to Hubert's younger brother, Frank. But the more reliable sources give the captaincy rightly to Hubert.
England Lineup
(a new record high ten changes

to the previous match

)

six

Savage, Arthur H.P.
25
139 days
18 October 1850
in Sydney, Australia
G
Crystal Palace FC
1
3ᵍᵃ

34

only app 1876

35

Field, Edgar
21
220 days
29 July 1854
Full
Backs
Clapham Rovers FC
1
0

36

Green, Frederick Thomas
24
258 days
21 June 1851
in Wrexham, Wales
Wanderers FC & Old Wykehamists AFC
1
0
only app 1876

37

Bambridge, Ernest

H.

27
294 days
16 May 1848
Half
Backs
Swifts FC
1
0
will be an umpire in the 1881 fixture
only app 1876

38

Jarrett, Beaumont G.
20
231 days
18 July 1855
Cambridge University AFC & Old Harrovians AFC
1
0
Heron,

G.

Hubert H.
24
35 days
30 January 1852
Forward
Wanderers FC & Swifts FC

4

0
will be an umpire in the 1877 fixture

most apps

39

Buchanan, Walter S.
20
278 days
1 June 1855
Clapham Rovers FC
1
0
only app 1876
Maynard, W. John
22
353 days
18 March 1853
First Surrey Rifles FC
2

0ᵍ

0ᵍᵃ
final app 1872-76

40

Smith, Charles E.

25


152 days
4 October 1850
in Colombo, Ceylon
CF
Crystal Palace FC & Wanderers FC
1
0
only app 1876

41

Heron, C. Francis W.
22
177 days
10 September 1853
Wanderers FC
1
0
only app 1876

42

Cursham, Arthur W.
22
357 days
14 March 1853
Forward
Notts County FC
1
0
reserves:
Herbert Bevington (Clapham Rovers FC), Herbert Talbot (Swifts FC).
team changes:
Frederick Maddison and Alfred Stratford (both Wanderers FC) were in the original starting line-up. Their places went to Bambridge and Green.
team notes:
Hubert and Frank Heron are brothers, and a year after the Rawson brothers played for England, the Heron's are the third set of brothers, but the second set to play together in the same match.
2-2-6
Savage -
Field, Green -
Bambridge, Jarrett -


H.

Heron, Buchanan, Maynard, Smith,

F.

Heron, Cursham.
Averages:
Age
23 years 193 days
Appearances/Goals
1.4
0.0
Match Report

-

Morning Post, Monday, 6 March 1876
In Other News.....

The match between the Eleven of All England and Eleven of All Scotland, under the association rules, took place on Saturday afternoon at Glasgow, in presence of over 15,000 spectators, many of whom paid half a crown for admission. There was quite a storm of rain and wind in the forenoon, so that the ground was in a puddle, although the weather had settled when play began at half-past three. The Scotch winning the toss played down the hill, and at once showed their superiority in combined play, taking a goal in eight minutes, another in five, and a third before half-time was called. Sides were changed, but England did not score, so that the match ended with three goals for Scotland to none for England. Jarrett, Smith, Bambridge, and the two Herons played splendidly for England, but their gallant efforts were repelled. The falls on both sides were numerous, all the players being muddy all over at the close.


It was on 3 March 1876 that a select committee was appointed to report on the causes of the depreciation of the price of silver.


It was seen at a glance that England had not sent her best men to Scotland, but many of those who did appear were no mean exponents of the 'dribbling game'.
The Southrons were heavier men, and the experienced one could foretell that the condition of the ground would militate materially against their chance and, as it afterwards turned out, this helped to intensify the Northern victory. - Bell's Life, Sunday, 5 March 1876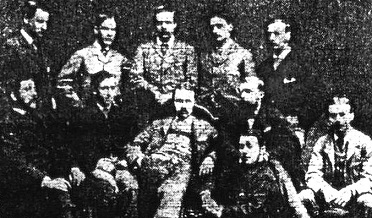 The grainy photograph of the England football team (right) has never before been 'published' in the modern era.

Prior to its posting on this website the 1876 image has been entirely unknown to the modern generation of football lovers in general and sports academics in particular. Even the in-house historian of the Football Association had no knowledge of the picture's existence. So You & Yesterday may proudly claim a 'world exclusive' - a veritable football 'scoop' - for this is the earliest image of an England football team yet discovered. As such it extends the photographic time-line of international football history by quite some years, for prior to this the earliest England team pictures known to exist dated only from the early 1890s.

From the Soho Square headquarters of the Football Association, the organisation's official historian David Barber said: "We have a number of books on the history of the England team and the earliest picture I have ever seen dates from the early-1890s - certainly nothing like 1876. So yes, this is a major find."

A 'feather in the cap' then for the newspaper archive of Derby Local Studies library, for it was discovered in a 1920s edition of the Derbyshire Football Express which the library holds on old microfilm - hence the rather poor quality of the copied image. Notwithstanding that, the picture demands to be shown for its historical rarity alone. Not least because no images of some of the players have hitherto been known. So at last faces are being put to names for some of the very first men to wear 'three lions on their shirt'.

The photograph was taken in Glasgow on 4 March 1876 on the occasion of only the fifth ever international football game -that between England and Scotland played at the West of Scotland Cricket Ground, Hamilton Crescent, Glasgow. Scotland emerged victorious by 3 goals to 0 - the photograph shows ten of the vanquished England side plus the 'umpire' - the early appellation for the match controller we now know as a referee.

The original photograph had been sent to the Derbyshire Football Express - at that time the 'Football Special' edition of the Derby Telegraph - for inclusion in a 'Bygones'-style feature. Yes, even then the 'heritage business' was flourishing! The correspondent was 71-year-old Edgar Field - one of the England players in the photograph - who was living in Littleover, Derby, at the time.

Edgar Field was born in Wallingford, Berkshire, on 29 July 1854. He was educated at Lancing College at a time when 'association football' - born in 1863 - was not yet a decade old. He was a member of the school's football XI in 1870-71. After leaving Lancing he played first for Clapham Rovers and later for Reading, the former at that time one of the foremost association sides in the country. Field had the singular honour of playing in two FA Cup Finals with Rovers - their 1-0 defeat by Old Etonians in 1879 and a 1-0 victory over Oxford University in 1880.

He was 'capped' twice for England at full-back - the photograph was taken on his 1876 debut day when he was aged 21. His second and final game came 5 years later on 12 March 1881. That too was against Scotland, this time in England - but yet again the Scots prevailed......by a healthy margin of 6 goals to 1. Several sources credit Edgar Field with having scored an own goal in that game - if that is so, he claims the rather dubious honour of becoming the first player to score an own goal in an England match. His serious football career spanned the years 1871 to 1888 and he never received anything more than 'expenses' for playing. None of the players in the picture were 'professional footballers' - payment for playing was not officially sanctioned until 1885. So all were unpaid 'amateurs' - literally 'lovers' of the game, for those who recognise their Latin roots.

By profession Edgar Field was an accountant - he practised initially in London, before coming to Derby in 1913 just prior to the First World War. He joined the Land Agents Messrs Shaw and Fuller of College Place, Derby, where one of the partners Mr. Fuller was his brother-in-law. When he submitted his 'Bygones' piece in 1926, Edgar Field was living in Warwick Avenue, Littleover, still healthy, very active and continuing to attend the office.

He later moved to 7, Fairfield Road, Derby, where he died aged 79 on 11 January 1934. No doubt the current occupant of that modest home - not far from Normanton Park and Littleover village - has no idea that a pioneering England international footballer once lived there! In his 'Bygones' interview Edgar Field gave a fascinating insight into the very early days of association football. Of himself he said: 'I was hard as nails in those days and thought nothing of walking for miles. I was almost six feet in height and scaled 13 and a half stone. I never looked my weight, although opponents at different times agreed that I felt more'.

So there it is - an evocation of a bygone age when an early England football player mingled with the good people of Littleover. Yet the picture may have lain undiscovered for all time, for it was only by chance that Derby-based author and sports historian Peter Seddon came across it. He had been looking for material on the Rams and England star Steve Bloomer in connection with his latest book - 'Pickles the World Cup Dog and Other Unusual Football Obituaries' - and had not expected the England 'bonus'.

Peter said of the discovery: "When I saw the England picture I knew instantly from my knowledge of football history that it was a significant find. What made it better still was that the photograph had a direct provenance - a personal link with one of the players who had appeared in the game, and a citizen of Derby to boot". The discovery is proof positive too that the 'heritage industry' has valuable secrets yet to yield. In this case a significant addition to the England football archive - and the earliest picture of any international football team yet discovered.


Source Notes
J.Turner Umpire:- J.Turner, Swifts and G.Turner, Edinburgh University, the umpire in 1878, are both the same person... Godfrey William, baptised 26 July 1854 in his birthplace, Upton-cum-Chalvey (now a suburb of Slough), sometime in that quarter prior. Godfrey, and his younger brother, Charles George (b.1859), established football in the rugby-stronghold city of Edinburgh. They were both at Edinburgh University and established its first football club and arranged its first fixture (vs. Glasgow University). Godfrey was unanimously voted in as the club's first captain. He died on 17 July 1936 and is buried in St Mary's Churchyard in Slough.
The Football Association Yearbook
original newspaper report
Douglas Lamming's A Century of English International Football 1872-1972 & 1872-1988
Douglas Lamming's A Scottish Internationalists' Who's Who 1872-1986
Cris Freddi's England Football Factbook
Nick Gibbs England: The Football Facts
John Maxwell's Scottish International Football Archive (website)

Jack Rollin's Rothmans Book of Football Records


The Scottish Football Association, Scottish Match Archive


Mark Shaoul & Tony Williamson's Forever England: A History of the National Side
The Official History of the England Football Team (DVD)
LondonHearts.com


The Sun Newspaper & YouAndYesterday.com
John Treleven & Sean Crowe
cg