On Saturday the International Football Match between England and Scotland took place on Kennington Oval. The ball had scarcely been kicked off when England, with a determined and lively rush, bore it down to the Scottish quarters, and in less than two minutes Mr. Kenyon-Slaney, of the Household Brigade, had secured the first goal for England in the face of the wind. The sides were quickly changed, and five minutes more had not elapsed before Mr. A. G. Bonsor had secured another. It was thought that Scotland was altogether overmatched by the lively Southerners, and that the game would prove very uninteresting. But Scotland, slower to get away, on the whole less active, pulled themselves together with a will. Suddenly organising a raid, the whole pack rushed on together, and Mr. Renny-Tailyour, by fine play,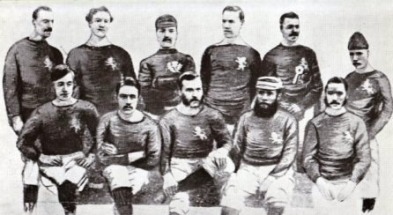 forced the ball between the posts amidst cheering from Scotland. The fourth goal was also scored by Scotland, but though playing all day with determined pluck and spirit, here the Northern luck ended, and two more goals were secured by Mr. Kenyon-Slaney and Mr. C. J. Chenery. Then, when time was called, out of six goals England had won four, and was, moreover, full of running and activity to the last.




If any proof were necessary to evince the growing popularity of the winter game of wielders of the willow, there was sufficient evidence on this occasion to convince the most sceptical that football, if only aided by fine weather, is a game that could take its place among the leading pastimes of the day.
The Scotchmen were opposed to a most formidable eleven, and towards the finish they were certainly overmatched. - Bell's Life, Sunday, 9 March 1973.
It was on 8 March 1873 that William Gladstone, the Prime Minister, met with his Cabinet to discuss the composition of the controversial Irish University Bill, which was eventually defeated in the House of Commons.


Absolute credit must be handed to Andy Mitchell of www.lordkinnaird.com for finding the essential information that is the Match Card, and the long-awaited identity of the Referee.