Match Summary
Officials from Wales

Scotland

Type

England

Referee (maroon) - Leonard Callaghan
x (-), Merthyr Tydfil.

Linesmen - N.A. Jones, Wrexham and G.H. Lewis, Aberdare

Teams presented to the Guest of Honour, the Duke of Gloucester.

Goal Attempts
Attempts on Target
Hit Bar/Post
Corner Kicks Won
Offside Calls Against
Fouls Conceded
Possession

Scotland Team
Rank:

No official ranking system established;
ELO rating 16th to 15th
Colours:
Made by Umbro - Dark blue continental jerseys with white v-neck collars/cuffs, white shorts, blue socks with red tops.
Capt:
George Young
Manager:
Trainer: Alec Dowdell (The Celtic FC)
The Scottish Football Association Selection Committee, on Saturday, 1 April 1956.
Scotland Lineup
Younger, Thomas
26
10 April 1930
G
Hibernian FC
7

9 ᵍᵃ

2
Parker, Alexander H.
20
2 August 1935
RB
Falkirk FC
6
0
3
Hewie, John D.
27
12 December 1928
born in Pretoria, South Africa
LB
Charlton Athletic FC, England
1
0
4
Evans, Robert
28
16 July 1927
RHB
The Celtic FC
25
0
5
Young, George L.
33
27 October 1922
CHB
Rangers FC
47
0
6
Glen, Archie
27
16 April 1929
LH
Aberdeen FC
2
0
7
Leggat, Graham
21
20 June 1934
OR
Aberdeen FC
1
1
8
Johnstone, Robert
26
7 September 1929
IR
Manchester City FC, England
17
8
9
Reilly, Lawrance
27
28 October 1928
CF
Hibernian FC
33
21

10

McMillan, John L.
25
18 March 1931
IL
Airdrieonians FC
5
2
11
Smith, Gordon
31
25 May 1924
OL
Hibernian FC
16
3

reserves:

Travelling reserve is Tommy Docherty (Preston North End FC).
Full team of reserves are Billy Brown (Dundee FC); Ian Rae (Falkirk FC); Tommy Docherty (Preston North End FC), Danny Malloy (Cardiff City FC) and Doug Cowie (Dundee FC); Gordon Smith (Hibernian FC) and Bobby Collins (The Celtic FC); Willie Baird (Airdrieonians FC), John McMillan (St. Mirren FC) and Jackie Henderson (Portsmouth FC).

team notes:

The Celtic FC's Bobby Collins was the original named inside-left, his place going to McMillan, on 10 April because of a knee injury.
The team were set up in Largs prior to the match, practicing at Barrfield Stadium.
2-3-5
Younger -
Parker, Hewie -
Evans, Young, Glen -
Leggat, Johnstone, Reilly, Collins, Smith.

Averages:

Age
26.4
Appearances/Goals
14.5
3.1

England Team
Rank:

No official ranking system established;
ELO rating 7th
Colours:
The 1954 Umbro home uniform - White v-necked short-sleeved continental jerseys, blue shorts, red socks with white tops.
Capt:
Billy Wright, 58th captaincy
Manager:


Trainer: Jimmy Trotter (Charlton Athletic FC)

Walter Winterbottom, 43 (31 March 1913), appointed as FA national director of coaching/team manager on 8 July 1946;


76th match, W 46 - D 15 - L 15 - F 218 - A 110

, one abandoned. Team chosen by Selection Committee on Sunday, 8 April 1956.

England Lineup

76

Matthews, Reginald D.
23
20 December 1932
G
Coventry City FC
1

1ᵍᵃ

754

2
Hall, Jeffrey J.
26
7 September 1929
RB
Birmingham City FC
5
0
3
Byrne, Roger W.
26
8 September 1929
LB
Manchester United FC
18
0
4
Dickinson, James

W.

30
24 April 1925
RHB
45
0
5
Wright, William A.
32
6 February 1924
CHB
73
3
6
Edwards, Duncan
19
1 October 1936
LHB
Manchester United FC
5
0
7
Finney, Thomas
34
5 April 1922
OR
60
26
8
Taylor, Thomas
24
29 January 1932
IR
Manchester United FC
6
2
9
Lofthouse, Nathaniel
30
27 August 1925
CF
Bolton Wanderers FC
30
27
10
Haynes, John N.
21
17 October 1934
IL
Fulham FC
4
2
11
Perry, William
25
10 November 1930
OL
Blackpool FC
3
2

reserves:

Tommy Cummings (Burnley FC)

team notes:

On Tuesday, 10 April, England continued with the practice of meeting up with a league club for a practice session, today, it was the turn of Bolton Wanderers FC at Burnden Park. England won 4-2 with Finney setting up all four for Lofthouse to score twice, and Haynes and Taylor. Bolton's response came from Gubbins and Stevens.
The day after, Wednesday, 11 April, England went to Turf Moor and were beaten by Burnley by a single Brian Pilkington goal. The team then sent up in Troon and practiced at Ayr before the match.
Reg Matthews becomes the first Third Division player to win a full cap since Joe Payne in 1937 (Tommy Lawton did so in 1947, but he was an established international when he joined Notts County FC)
Billy Wright extends his record appearance tally, in his record 38th consecutive match.
England were quite literally one minute away from finishing bottom, which has not happened since 1928.
2-3-5
Matthews -
Hall, Byrne -
Dickinson, Wright, Edwards -
Finney, Taylor, Lofthouse, Haynes, Perry.

Averages:

Age
26.4
Appearances/Goals
23.3
5.5
Match Report by Mike Payne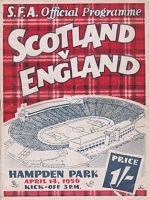 It was in 1957 that England had last lost to Scotland at Hampden Park and the run continued after this latest match between these old rivals. This time, though, Scotland came so very close to ending the sequence. It is always a special occasion when these two sides meet and it cames as quite a surprise when England chose Reg Matthews in goal. The selection of a Third Division player raised a few eyebrows, but by the end of the game it was most gratifying to see how well the lad from Coventry performed.

Despite having much less of the possession, England always created the better chances. This was due mainly to the superb play of Johnny Haynes, who really looked a class above the rest. His passing was a delight, although his forward line colleagues tended to waste his best moments. Scotland, with Parker, Hewie and Young outstanding in defence, rarely created a worthwhile goalscoring attempt and they lacked someone of Haynes's ability to take advantage of their greater possession. Even with a massive 132,000 crowd behind them, they still struggled to find the target.

In the first half Scotland managed only one decent attempt. This came in the 15th minute when Matthews made a brilliant diving save low down from Johnstone. This gave the goalkeeper confidence and he went on to show the calm authority that belied his inexperience. Evans was an inspiring worker in midfield for Scotland and much of the play revolved around him. But England could and should have scored twice in the opening period. But Nat Lofthouse and Bill Perry squandered golden chances, the second one coming from a rare burst of skill from Tom Finney.

The second half began with both sides striving for the breakthrough. It finally came after 60 minutes and it was the Scots who went ahead. Johnstone began the move down the right with a pass to McMillan. He, in turn, found Leggatt advancing down the left. The winger centred and quickly moved into the middle to receive a return pass from Smith. Leggatt then lobbed the ball over a crowd of players and into the net with Matthews stranded.

The 'keeper had some excuse as Leggatt partially mishit his shot although it did not matter to the massivecrowd how the goal was scored as it was the first time in nearly 20 years that Scotland had taken the lead against the Auld Enemy at Hampden.

The goal stired England into life, though and, at last, they began to move more fluently. Wright, Dickinson, Edwards and especially Haynes began to impose themselves on to the game and in the last half-hour England stepped up a gear. They won a stream of corners and Younger excelled when making fine saves twice from Taylor. Berry and Taylor then missed when well placed and Haynes threw away a good chance when his effort struck a post.

WIth the time ticking away the excitement grew and at times only desperate clearances saved Scotland. Finally, with the home side within seconds of that elusive Hampden victory, England bravely snatched their deserved equalizer. Byrne moved forward to add weight to the attack and put in a good cross to the head of Taylor. His nod down dropped perfectly for man-of-the-match, Haynes to sweep the ball past Younger.

The crowd were stunned into almost total silence, not quite believing what had happened. The result also left a unique situation in the Home Championship as all four countries finished level on three points thus sharing the title.

Match Report by Norman Giller
Johnny Haynes silenced the Hampden Roar with a last-minute equaliser, shooting the ball past goalkeeper Tommy Younger after Manchester United team-mates Roger Byrne and Tommy Taylor had created the opening. Reg Matthews, making his debut in front of a 134,000 crowd while a Third Division goalkeeper with Coventry City, pulled off a string of magnificent saves and was only beaten on the hour by a mis-hit shot from Aberdeen's Graham Leggat. The last-gasp equaliser from man-of-the-match Haynes stopped Scotland from registering their first victory over the Auld Enemy at Hampden Park since 1937. The incredible thing about this match was that England had to call the trainer on to treat goalkeeper Reg Matthews before a ball was kicked. Reg, used to playing in front of fewer than ten thousand spectators in the Third Division, was shaking with nerves as England left the dressing-room, and when he heard the roar from the 134,000 Scottish fans he almost passed out. The trainer gave Reg a whiff of smelling salts, and he quickly pulled himself together and gave an excellent debut performance. Reg, who later played for Chelsea, was nervy at the best of times and smoked like a trooper in the dressing-room.

The

Top Twenty UK Music Chart by New Musical Express
On Friday, 15 November 1952, The New Musical Express published the first ever singles chart in the UK, comprising the twelve highest selling singles of the week, it increased to twenty on Friday, 1 October 1954 . When England drew with Scotland, Winifred Atwell's The Poor People of Paris was the best selling single. This chart, the first to feature thirty, was published on Friday, 13 April 1956:-
1.
(2)
The Poor People Of Paris - Winifred Atwell (Decca)
11.
(16)
My September Love

- David Whitfield (Decca)

2.
(1)
It's Almost Tomorrow - Dreamweavers (Brunswick)
12.
(=)
Theme From 'The Threepenny Opera'

- Billy Vaughn (London)

2.
(=)
Rock And Roll Waltz

- Kay Starr (HMV)

13.
(17)
Willie Can

-

Alma Cogan (HMV)

4.
(=)
Only You

- Hilltoppers (London)

14.
(13)
Zambesi

- Eddie Calvert (Colombia)

5.
(6)
Zambesi - Lou Busch

(Capitol)

15.
(10)
Chain Gang

-

Jimmy Young (Decca)

6.
(5)
Memories Are Made Of This -

Dave King with The Keynotes (Decca)

16.
(r)
Rock Island Line - Lonne Donegan

(Decca)

7.
(8)
Memories Are Made Of This

-

Dean Martin (Capitol)

17.
(13)
Band Of Gold -

Don Cherry

(Philips)

8.
(7)
See You Later Alligator - Bill Haley and His Comets (Brunswick)
18.
A Tear Fell - Teresa Brewer (Vogue Coral)
9.
(11)
Theme From 'The Threepenny Opera' - Dick Hyman Trio (MGM)
19.
I'm A Fool

- Slim Whitman (London)

10.
(9)
The Great Pretender - Jimmy Parkinson (Colombia)
20.
(15)
Jimmy Unknown - Lita Roza (Decca)

♪Most weeks at number one when England played:

Doris Day and Frankie Laine five, Tony Bennett, Guy Mitchell and Jimmy Young two, Winifred Atwell, Bill Haley & His Comets, Vera Lynn, Al Martino, Lita Roza, Stargazers, Tennessee Ernie Ford, David Whitfield and Slim Whitman one each.

Source Notes
TheFA.com
LondonHearts.com
Original newspaper reports
Original Matchday Programme
Rothman's Yearbooks
Mike Payne's England: The Complete Post-War Record (Breedon Books Publishing Company, Derby, U.K., 1993)
Norman Giller, Football Author
official charts.com singles chart
____________________

CG