Match Summary
Officials from France

England

Type

Brazil

Referee (-) - Maurice Guigue
x (-), Marseille.

Linesmen - Robert Sautel (flame flag) and Marcel Lequesne (orange flag)

Teams were presented to His Grace The Duke of Norfolk, KG, GCVO.
Then the Brazil team presented Stanley Matthews with a Silver Cup at a post-match banquet.

The FIFA ruling of allowing a substitute to replace an injured player prior to the 44th minute, and a goalkeeper at any time, is in place.

Goal Attempts
Attempts on Target
2
Hit Bar/Post
1
Corner Kicks Won
Offside Calls Against
Fouls Conceded
Possession

England Team
Rank:

No official ranking system established;
ELO rating 7th to 6th
Colours:
The 1954 Umbro home uniform - White v-necked short-sleeved continental jerseys, blue shorts, red socks with white tops.
Capt:
Billy Wright, 59th captaincy
Manager:
Trainer: Jimmy Trotter (Charlton Athletic FC)
Walter Winterbottom, 43 (31 March 1913), appointed as FA national director of coaching/team manager on 8 July 1946;


77th match, W 47 - D 15 - L 15 - F 222 - A 112

, one abandoned. Team chosen by Selection Committee on Friday, 27 April 1956.

England Lineup
1
Matthews, Reginald D.
23
20 December 1932
G
Coventry City FC
2

3ᵍᵃ

2
Hall, Jeffrey

J.

26

7 September 1929

RB
Birmingham City FC
6
0
3
Byrne, Roger W.
26
8 September 1929
LB
Manchester United FC
19
0
4
Clayton, Ronald
21
5 August 1934
RHB
Blackburn Rovers FC
3
0
5
Wright, William A.
32
6 February 1924
CHB
74
3
6
Edwards, Duncan
19
1 October 1936
LHB
Manchester United FC
6
0
7
Matthews, Stanley
41
1 February 1915
OR
Blackpool FC
47
10
8
Atyeo,

P.

John

W.

24
7 February 1932
IR
Bristol City FC
2
1
9
Taylor, Thomas
24
29 January 1932
CF
Manchester United FC
7
4

10

Haynes, John N.
21
17 October 1934
IL
Fulham FC
5
2
11
Grainger, Colin
22
10 June 1933
OL
Sheffield United FC
1
2

unused substitutes:

Ray Wood (Manchester United FC), Tommy Cummings (Burnley FC), Gordon Astall (Birmingham City FC), Johnny Berry (Manchester United FC), Nat Lofthouse (Bolton Wanderers FC) and Dennis Wilshaw (Wolverhampton Wanderers FC). Then Johnny Wheeler (Bolton Wanderers FC)

team notes:

Ron Clayton, originally a reserve, replaced Jimmy Dickinson, the original named right-half, withdrew injured. Wheeler replaced Clayton as a reserve.
Billy Wright extends his record appearance tally, in his record 39th consecutive match.
Colin Grainger becomes the 140th player to score on his debut, and the first since Dennis Wilshaw in 1953.
Reg Matthews and Atyeo become the eightieth players to be awarded a second cap by Winterbottom.

records:

England win a record sixth match in a row at Wembley, extending their tally. It also equals a record sequence of six matches unbeaten at the stadium.

2-3-5

R.Matthews -
Hall, Byrne -
Clayton, Wright, Edwards -
S.Matthews, Atyeo, Taylor, Haynes, Grainger.

Averages:

Age
25.4
Appearances/Goals
15.6
1.6

Brazil Team
Rank:

No official ranking system established;
ELO rating 3rd
Colours:
Yellow jerseys with lime green collars/cuffs, light blue shorts with white side stripe, white socks with two narrow yellow and lime green stripes at top.
Capt:
N

í

lton Santos
Manager:
Flávio Rodrigues da Costa, 49 (14 September 1906), appointed 1955.
Brazil Lineup
1

Gylmar

25
22 August 1930
G

SC Corinthians

15
0
2
Pav

ã

o
26
4 April 1930
CH

CR Flamengo

4
0
3
N

í

lton Santos
30
16 May 1925
LB

Botafogo FR

31
-
4
Djalma Santos
27
27 February 1929
RB

AD Portuguesa

32
-
5

Zózimo

23
19 June 1932
RH

Bangu AC

8
1
6
Dequinha
28
19 March 1928
LH

CR Flamengo

7
0
7
Paulinho
24
15 April 1932
OR

CR Flamengo

8
0
8

Á

lvaro

24
24 September 1931
IR
Santos FC
9
2
9
Gino
26
3 September 1929
CF

São Paulo FC

6
3
10
Didi
26
8 October 1929
IL

Botafogo FR

26
-
11
Canhoteiro
23
24 September 1932
OL

São Paulo FC

9
1

unused substitutes:

De Sordi, Escurinho,

Evaristo de Macedo, Larry, Roberto Belangero,

Sabará,

Walter Marciano.

notes:

These 'reserve' players participated in other matches in the tour. They may or may not have been able to play against England. There may yet be other players who were on the tour that did not play in any games.
The South Americans also had a different numbering system to the Europeans, thus it is correct to say that Djalma Santos, playing right-back at number four.

2-3-5
Gylmar -
Nilton Santos, Djalma Santos -
Dequinha, Pavão, Z

ó

zimo -
Canhoteiro, Didi, Gino, Álvaro, Paulinho.

Averages:

Age
25.6
Appearances/Goals
14.1
-
Match Report by Mike Payne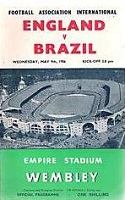 This international had just about everything and the 100,000 people who were privileged to be present enjoyed every minute of an occasion that was pulsating from first whistle to last. Two early goals gave England a tremendous start and the exciting incidents came one after the other. Superlatives are frequent in this report and that just about sums up a superb game.

England began with devastating burst and in the opening seconds Tommy Taylor found himself clean through, only to shoot just too high with the crowd already celebrating a goal. They did not have to wait much longer, though, as after two minutes Taylor had redeemed himself with a lovely goal. A fine move began with a pass from Duncan Edwards to Stanley Matthews. The 41-year old genius put a lovely square pass inside to Johnny Haynes who, in turn, pushed the ball forward. Taylor was on to it like a flash and crashed the ball into the roof of the Brazilian net.

Amazingly, within three minutes of that goal England went 2-0 up. Stan Matthews was again heavily involved, picking the ball up near the corner-flag at England's end, he cheekily flicked it between Canhoteiro's legs to find Jeff Hall. The full-back's long, raking pass forward found Taylor again beating Pavão, and, after Haynes had got a touch, Colin Grainger was there to slam home number two..
Incidents galore followed, notably when Canhoteiro struck a shot against an England post, but the home side held on to their lead although realising only too well that Brazil were far from out of the game.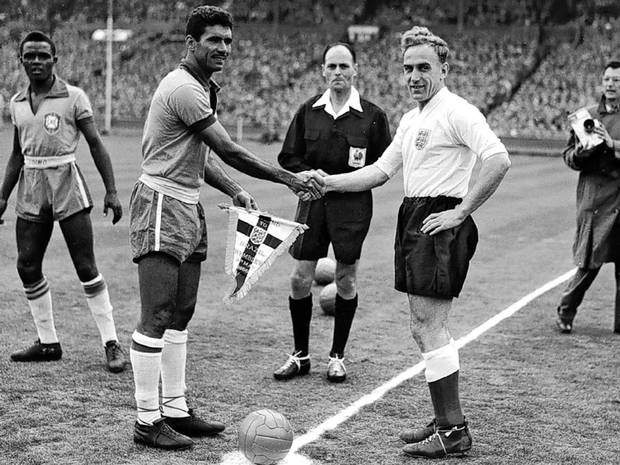 The first half had been superb, surely the second half could not live up to that standard? It did! And not only that the entertainment surpassed the first 45 minutes. Within ten minutes of the restart Brazil had suddenly pulled level. With the wind now behind them and with the rain now falling they began the half with a renewed appetite.

Nilton Santos, a superb player, made a break down the left. His cross found Paulinho on the right. The winger seemingly had nowhere to go but suddenly unleashed a shot with struck Roger Byrne and deflected up and over Reg Matthews to spin wickedly over the line. Two minutes later, Brazil were level. A rare mistake by Billy Wright gave Didi possession. The wonderfully gifted player then surprised England's goalkeeper with a vicious 20-yard shot which Matthews could only help into the net.

With Brazil now having their tails well and truly up they proceeded to push the ball around Wembley's lush turf confidently and with great skill. It was now, though, that their South American temperament came into the story. On the hour, the Brazilian tendency for over excitement gave England a penalty when a defender inexplicably handled the ball following Hayne's free-kick.

The referee unhesitatingly gave the spot-kick but in so doing sent the Brazilians wild with rage. For a while the French referee struggled to regain control of a volatile situation but eventually the kick could be taken. Somewhat surprisingly the responsibility was given to John Atyeo, who had not had a particularly inspired game. The crowd groaned as Atyeo's kick was saved by Gilmar. However it was not long before those groans turned to cheers.

Stan Matthews took a lovely pass from Haynes and centred Atyeo to head the ball back for Taylor to head England back into the lead. Soon afterwards, in this breathless match, England were awarded another penalty for handball. Again there was pandemonium in the Brazilian ranks and again England missed the kick. This time Bryne's shot was saved by Gilmar.
But, with ten minutes to go, England, with Stan Matthews again to the fore, scored their fourth and most decisive goal. Hall found the Blackpool winger and once again the maestro served up a perfect centre for Grainger to celebrate a fine debut by heading past Gilmar in style.
The teams left the arena to tremendous and deserved applause, it had all been wonderful entertainment.

Match Report by Norman Giller
It was billed as the 'Old World meets the New' and Brazil arrived with many of the players who two years later were to win the World Cup in such dazzling fashion. England got off to a flying start under the Wembley Stadium floodlights with Tommy Taylor and Colin Grainger scoring inside the first five minutes. The Brazilians fought back to 2-2, and then John Atyeo and Roger Bryne each had a penalty saved by goalkeeper Gylmar. The penalty misses sandwiched a second goal by Taylor, made for him by a Stanley Matthews at his magical best against one of the all-time great left-backs, Nilton Santos. Matthews had been recalled by England at the age of forty-one, and he played like a twenty-one-year-old. There was a farcical second-half hold up following a dispute over a quickly taken free-kick by Johnny Haynes. The ball was caught by Nilton Santos and the Brazilians staged a walk-off protest when the referee awarded a penalty. By the time peace was restored it was no wonder that Atyeo failed with the spot-kick. Colin Grainger crowned a memorable debut with a second goal five minutes from the end of an extraordinary match. Cool and commanding at all times, Billy Wright kept his head when all about were losing theirs. He acted as a peacemaker when the talented but temperamental Brazilians threatened to walk off. It was a real captain's performance, a mix of diplomacy and sportsmanship. It was not only newcomers who were affected by nerves. Johnny Haynes asked Stanley Matthews for his autograph in the dressing-room before this match against Brazil. The Maestro's hands were shaking so much that he could not hold the pen properly, and he asked Johnny to wait until after the game! Stanley was really wound up for this one because the Brazilians had stressed in the pre-match build-up that there was not a player in the world who could get the better of the great Nilton Santos. But as good a player as Santos was, he could not get near Stanley who was in untouchable form. At the end of the game Nilton was sporting enough to say, "Mister Matthews, you are the king."
Match Report by Glen Isherwood
This was the first meeting between the two countries. Like England, Brazil had reached the World Cup quarter-finals in 1954. They had won the South American Championship in 1949 and had finished runners-up to Uruguay and in the 1950 World Cup in Brazil.

England were two up in just five minutes. Matthews set up the first with Haynes knocking the ball on for Tommy Taylor, who beat Pavao before running on and shooting past Gilmar. Then Colin Grainger raced in and slotted home number two, also from a Haynes pass.

Just after half-time Brazil suddenly sprang to life. A cross from Nilton Santos was reached by Paulinho, whose shot spun off Byrne and over Matthews. Two minutes later, Didi collected a clearance from Wright and deceived Matthews from the edge of the box with a spinning shot to bring Brazil level. After an hour's play, England were given an opportunity to regain the lead when a Haynes free-kick was handled by Zozimo in the area. After a long delay, during which Alvaro walked away with the ball, Atyeo's kick was saved by Gilmar. Atyeo soon made amends, how
ever, when he headed on Matthews cross for Taylor to head his second and put England back in front. England were then awarded another penalty, when a move involving Taylor and Atyeo was stopped by another Zozimo handling offence. Incredibly, Byrne shot wide. It was left to the ever-reliable 41 year old, Stan Matthews to make sure of victory with yet another accurate centre for Grainger to net his second.

England next met Brazil in a goalless draw in the 1958 World Cup in Gothenburg. England were the only team to prevent them from scoring but Brazil went on to mesmerize Europe by winning the World Cup, scoring five in both the semi-final and final. They then beat England twice before returning to Wembley in 1963.

The

Top Twenty UK Music Chart by New Musical Express
On Friday, 15 November 1952, The New Musical Express published the first ever singles chart in the UK, comprising the twelve highest selling singles of the week, it increased to twenty on Friday, 1 October 1954, and thirty on Friday, 13 April 1956. When England beat Brazil, Ronnie Hilton's No Other Love was the best selling single. This chart was published on Friday, 4 May 1956:-
1.
(4)
No Other Love - Ronnie Hilton (HMV)
11.
(13)
You Can't Be True To Two

- Dave King with The Keynotes (Decca)

2.
(1)
The Poor People Of Paris - Winifred Atwell (Decca)
12.
(16)
Lost John/Stewball

- Lonnie Donegan (Pye Nixa)

3.
(2)
It's Almost Tomorrow -

Dreamweavers (Brunswick)

13.
(10)
Memories Are Made Of This

-

Dean Martin (Capitol)

4.
(3)
Rock And Roll Waltz

- Kay Starr (HMV)

14.
(19)
I'll Be Home

- Pat Boone (London)

5.
(=)
Only You

- Hilltoppers (London)

15.
(6)
Memories Are Made Of This

-

Dave King with The Keynotes (Decca)

6.
(8)
A Tear Fell - Teresa Brewer

(Vogue Coral)

16.
(7)
Zambesi - Lou Busch

(Capitol)

7.
(9)
My September Love

- David Whitfield (Decca)

17.
(15)
Willie Can -

Alma Cogan

(HMV)

8.
(14)
A Theme From 'The Threepenny Opera' (Mack The Knife)

- Louis Armstrong With His All-Stars (Philips)

18.
(17)
Ain't Misbehavin' - Johnnie Ray (Philips)
19.
(12)
Theme From 'The Threepenny Opera'

- Dick Hyman Trio (Colombia)

9.
(24)

Main Title Theme From 'Man With The Golden Arm'

- Billy May (Capitol)

20.
(18)
The Great Pretender

- Jimmy Parkinson (Colombia)

10.
(11)
See You Later Alligator - Bill Haley and His Comets (Brunswick)

♪Most weeks at number one when England played:

Doris Day and Frankie Laine five, Tony Bennett, Guy Mitchell and Jimmy Young two, Winifred Atwell, Bill Haley & His Comets, Ronnie Hilton, Vera Lynn, Al Martino, Lita Roza, Stargazers, Tennessee Ernie Ford, David Whitfield and Slim Whitman one each
The

Televison Schedule
B.B.C. ―T.V.
2.50

Football: England v. Brazil. 4.45 Watch With Mother: Flowerpot Men. 5.0 Children: Newsreel: Hopscotch.


7.0

News. 7.5 Party Political Broadcast (Conservatives). 7.30 "The Grove Family" 7.50 Look: Slimbridge This Evening. 8.20 Burns and Allen Show.


8.45

Nat's in the Belfry (Nat Jackley, Marianne Lincoln, Sonny Willis, Jimmy Lee). 9.30 Football: England v. Brazil (telerecording). 10.0 Report from America: State University. 10.30 News. 10.45 Music in View. 11.0 Party Political Broadcast (Labour Party).

Source Notes
"DEPENDS ON THE WEATHER
"The Brazilian footballers, who meet England at Wembley on Wednesday, are keeping a sharp watch for changes of temperature. On the thermometer will depend the colours they will wear for the game. If the weather is warm, the Brazilians will turn out in short-sleeved yellow shirts made of cotton. If the weather becomes chilly, they will wear long-sleeved blue jerseys of wool." - The Belfast Telegraph, Monday, 7 May 1956

TheFA.com


Sambafoot.com


Original newspaper reports
Official matchday programme
Rothman's Yearbooks
Mike Payne's England: The Complete Post-War Record (Breedon Books Publishing Company, Derby, U.K., 1993)
Norman Giller, Football Author
Times Online
Geoff Mills and Robert Pedley
official charts.com singles chart
Drew Herbertson, Scottish FA historian
____________________

PY/CG