Match Summary
Officials

Finland

Type

England

Referee (-) - Carl Frederik Jørgensen
x (-) Denmark.

Linesmen - Aarne Eriksson and V�in� Niemi, both Finland.

England were due to play the USSR team, which could not be arranged because suitable dates were not available.
The FIFA ruling of allowing a substitute to replace an injured player prior to the 44th minute, and a goalkeeper at any time, is in place.

"It is a Finnish custom to award a trophy to the best player on each side. These were presented to Haynes and ... Lehtinen."

Goal Attempts
Attempts on Target
Hit Bar/Post
Corner Kicks Won
Offside Calls Against
Fouls Conceded
Possession

Finland Team
Rank:

No official ranking system established;
ELO rating 88th
Colours:
Blue collared jerseys with white collars, white shorts, blue socks
Capt:
Lauri Lehtinen, first captaincy
Manager:
Kurt Weinreich, 47 (12 December 1908 in Saarbruecken, Germany). Team announced on Tuesday, 15 May 1956
Finland Lineup
Hurri, Keijo, off injured 39th min
28
5 December 1927
G
Kuopion Palloseura
1

3 ᵍᵃ

2
Pajunen, V�in� V.
27
1 November 1928
RB
Valkeakosken Haka
2
0
3
Sommarberg, Aimo
24
11 August 1931
LB
Kotkan Ty�v�en Palloilijat
3
0
4
Lintamo, Alpo J.
23
19 March 1933
RHB
Helsingin Palloseura
3
0
5
Lehtinen, Lauri H.
28
19 August 1927
CHB
Helsingin Jalkapalloklubi
10
0
6
Jalava, Reijo
24
18 February 1932
LHB
Helsingin Jalkapalloklubi
1
0
7
Peltonen, V.M. Juhani
19
16 June 1936
OR
Valkeakosken Haka
5
0
8
Hiltunen, Matti
23
26 January 1933
IR
Kronohagens Idrottsforening
12
4
9
Pahlman, Kai
20
8 July 1935
CF
Helsingin Palloseura
3
0

10

Lahtinen, Olavi
28
5 January 1929
IL
Helsingin Jalkapalloklubi
15
5
11
Forsgren, Olli
27
3 November 1929
OL
Kronohagens Idrottsforening
5
1
Finland Substitutes

scoreline:

Finland 1 England 3
1
Klinga, Aarre, on 39th min. for Hurri
26
28 March 1930
GK
Kronohagens Idrottsforening
8

31 ᵍᵃ

result:

Finland 1 England 5

unused substitutes:

not known

team notes:

Keijo Hurri sprained his right ankle in the same 39th min. tackle that ended Tommy Taylor's match four minutes later.
2-3-5
Hurri (Klinga) -
Pajunen, Sommarberg -
Lintamo, Lehtinen, Jalaya -
Peltonen, Hiltunen, Pahlman, Lahtinen, Forsgren

Averages:

Age
24.6
Appearances/Goals
5.5
0.8

England Team
Rank:

No official ranking system established;
ELO rating 7th to 6th
Colours:
The 1954 Umbro home uniform - White v-necked short-sleeved continental jerseys, blue shorts, black socks with white tops.
Capt:
Billy Wright, 61st captaincy
Manager:
Trainer: Jimmy Trotter (Charlton Athletic FC)
Walter Winterbottom, 43 (31 March 1913), appointed as FA national director of coaching/team manager on 8 July 1946;


79th match, W 48 - D 16 - L 15 - F 227 - A 113

, one abandoned. Team chosen by Selection Committee, on Friday, 18 May.

England Lineup
Wood, Raymond E.
24
11 June 1931
G
Manchester United FC
3

3ᵍᵃ

2
Hall, Jeffrey

J.

, injured off 87th min.

26

7 September 1929

RB
Birmingham City FC
8
0
3
Byrne, Roger W.
26
8 September 1929
LB
Manchester United FC
21
0
4
Clayton, Ronald
21
5 August 1934
RHB
Blackburn Rovers FC
5
0
5
Wright, William A.
32
6 February 1924
CHB
76
3
6
Edwards, Duncan
19
1 October 1936
LHB
Manchester United FC
8
0
7
Astall, Gordon
28
22 September 1927
OR
Birmingham City FC
1
1
8
Haynes, John N.
21
17 October 1934
IR
Fulham FC
7
3
9
Taylor, Thomas, injured off 44th min.
24
29 January 1932
CF
Manchester United FC
9
4
10
Wilshaw, Dennis J.
30
11 March 1926
IL
Wolverhampton Wanderers FC
10
10
11
Grainger, Colin
22
10 June 1933
OL
Sheffield United FC
3
2
England Substitutes

scoreline:

Finland 1 England 3
Lofthouse, Nathaniel

, on 44th min. for Taylor

30
27 August 1925
CF
Bolton Wanderers FC
31
29

result:

Finland 1 England 5

unused substitutes:

John Atyeo (Bristol City FC), Johnny Berry (Manchester United FC), Tommy Cummings (Burnley FC) and Johnny Wheeler (Bolton Wanderers FC)

team notes:

Billy Wright extends his record appearance tally, in his record 41st consecutive match.
England's fourth goal, the first by Lofthouse, was their 900th.
Nat Lofthouse becomes the third ever England substitute, the first for a year, and the first to score twice. He is the oldest by three years.
He replaced Taylor, who

"took the goalkeeper's knee in his left thigh and tore his muscles as he spun to the grass"

. Lofthouse thus becomes the first England player to be substituted and be a substitute.
Jeff Hall then dislocated his shoulder in the 87th min. after falling heavily after a tackle.
2-3-5
Wood -
Hall, Byrne -
Clayton, Wright, Edwards -
Astall, Haynes, Taylor (Lofthouse), Wilshaw, Grainger.

Averages:

Age
24.8
Appearances/Goals
13.7
1.8
Match Report by Mike Payne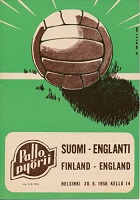 Sometimes it can seem very unfair to criticise our national team when they gain a convincing win on some foreign field, but this win against mediocre opposition was one of England's worst performances for a long time. True, the standard of opponents can drag any team down to their level, but there was no excuse for this inept display. The game, in all honesty, was awful!

To be fair, England were never stretched and long before the end it became little more than a training exercise. After a scrappy opening 20 minutes, England took the lead. A long through-ball by Duncan Edwards found the speedy Dennis Wilshaw and the Wolves player continued his excellent England scoring record with a fierce cross shot which flew past Hurri in the Finland goal. Two minutes later it was Edwards again, this time setting up Johnny Haynes who scored with another good shot.

Before the half-hour was up, England scored a third goal, the bets of the match. A flowing move involving Billy Wright, Colin Grainger, Edwards, Tommy Taylor and Haynes ended with Gordon Astall cutting in to meet the pass from Haynes and shooting home from the narrowest of angles.

After this flurry of activity Taylor collided with Hurri and the goalkeeper was replaced by Klinga. Then, before the break, Finland pulled a goal back when sloppiness in Engand's defence allowed Forsgren a header past the previously unemployed Ray Woods.

In the second half the game slipped more and more into mediocrity. The lead which England had built up had taken the urgency from their game and only a few moments of the half were worth recording. Taylor also had to leave the field injured, he had damaged his stomach muscles, and he was replaced by Nat Lofthouse.

It was Lofthouse who scored England's other two goals, the first of which equalled Steve Bloomer's long-standing total and the second equalling Vivian Woodward's record of 29 goals for England. [ed-Woodward has since lost credit to one of these goals]

The goal which finally put Lofthouse into the record books was a scrappy one to say the least. It came eight minutes from time when Grainger's corner was headed on by Lofthouse. Wilshaw swung a boot at it and missed, and then two defenders on the line left the clearance to each other before watching horrified as the ball crept between them and over the line for a bizarre goal.

The goal was not really worthy of such stature but definately summed up this particular game. Astall, Grainger, Haynes and Edwards, could be pleased with their efforts but Taylor and Jeff Hall, who dislocated a shoulder, looked doubtful for ENgland's next match.

Match Report by Norman Giller
Nat Lofthouse came on as a substitute for the injured Tommy Taylor a minute before half-time, and for the twelfth time in an England shirt he scored two goals. It lifted his haul to twenty-nine goals, one more than the previous England record set by the great Steve Bloomer before the First World War. Gordon Astall, playing in place of the unavailable Stanley Matthews, scored on his debut. England were leading 3-0 when Taylor limped off following a collision with the Finnish goalkeeper. The record-breaking goal by Lotfhouse in the eighty-second minute was a freak effort, the ball rolling gently over the goal-line between two defenders who left the clearance duties to each other.

The

Top Twenty UK Music Chart by New Musical Express
On Friday, 15 November 1952, The New Musical Express published the first ever singles chart in the UK, comprising the twelve highest selling singles of the week, it increased to twenty on Friday, 1 October 1954, and thirty on Friday, 13 April 1956. When England thrashed Finland, Ronnie Hilton's No Other Love was still the best selling single. This chart was published on Friday, 18 May 1956:-
1.
(=)
No Other Love - Ronnie Hilton (HMV)
11.
(=)
A Theme From 'The Threepenny Opera' (Mack The Knife)

- Louis Armstrong With His All-Stars (Philips)

2.
(=)
The Poor People Of Paris - Winifred Atwell (Decca)
12.
(3)
Only You - Hilltoppers (London)
3.
(7)
My September Love

- David Whitfield (Decca)

13.
(12)
You Can't Be True To Two

- Dave King with The Keynotes (Decca)

4.
(5)
A Tear Fell - Teresa Brewer

(Vogue Coral)

14.
(15)
Heartbreak Hotel

-

Elvis Presley (HMV)

5.
(6)
Rock And Roll Waltz

- Kay Starr (HMV)

15.
(22)
Mountain Greenery

-

Mel Torme

(Decca)

6.
(3)
It's Almost Tomorrow -

Dreamweavers (Brunswick)

16.
(13)
See You Later Alligator - Bill Haley and His Comets (Brunswick)
7.
(9)
I'll Be Home

- Pat Boone (London)

17.
(28)
Too Young To Go Steady

- Nat 'King' Cole (Capitol)

8.
(23)
The Happy Whistler

- Don Robertson (Capitol)

18.
Blue Suede Shoes -

Carl Perkins

(London)

9.
(10)

Main Title Theme From 'Man With The Golden Arm'

- Billy May (Capitol)

19.
Port Au Prince - Winifred Atwell and Frank Chacksfield (Decca)
10.
(8)
Lost John/Stewball

- Lonnie Donegan (Pye Nixa)

20.
(=)
Rock Island Line

- Lonnie Donegan (Decca)

♪Most weeks at number one when England played:

Doris Day and Frankie Laine five, Ronnie Hilton three, Tony Bennett, Guy Mitchell and Jimmy Young two, Winifred Atwell, Bill Haley & His Comets, Vera Lynn, Al Martino, Lita Roza, Stargazers, Tennessee Ernie Ford, David Whitfield and Slim Whitman one each

Source Notes
TheFA.com
palloliitto.fi
Original newspaper reports
Rothman's Yearbooks
Mike Payne's England: The Complete Post-War Record (Breedon Books Publishing Company, Derby, U.K., 1993)
Norman Giller, Football Author
official charts.com singles chart
____________________

CG