Match Summary
Officials

Sweden

Type

England

Referee (-) - Leo Horn
x (-), Netherlands

Linesmen - Sten Ahlner and Hugo Bergström

The FIFA ruling of allowing a substitute to replace an injured player prior to the 44th minute, and a goalkeeper at any time, is in place.

Goal Attempts
Attempts on Target
Hit Bar/Post
Corner Kicks Won
Offside Calls Against
Fouls Conceded
Possession

Sweden Team
Rank:

No official ranking system established;
ELO rating 18th to 17th
Colours:
Yellow jerseys, blue shorts, yellow socks.
Capt:
Julle Gustavsson

Manager

:
Selection committee, headed by J. Rudolf E. Kock, 54 (29 June 1901). Team announced on Monday, 7 May 1956.
Sweden Lineup
Svensson, Karl-Oskar
30
11 November 1925
G
Helsingborgs IF
57

105

GA

2
Johansson, Åke
28
19 March 1928
RB
IFK Norrköping
4
0
3
Axbom, Sven E.E.
29
15 October 1926
LB
IFK Norrköping
5
0
4
Svensson, Sven-Ove
33
9 June 1922
RH
Helsingborgs IF
28
8
5
Gustavsson, Bengt O.E.
28
13 January 1928
CH
IFK Norrköping
39
0
6
Parling, Sigvard
26
26 March 1930
LH
Djurgårdens IF
11
0
7
Berndtsson, Bengt
23
26 January 1933
OR
IFK Göteborg
1
0
8
Löfgren, K. Gösta H.
32
29 August 1923
IR
Motala AIF
29
9
9
Ekström, Jan
18
11 October 1937
CF
Malmö FF
1
0

10

Lindskog, Bengt
23
25 February 1933
IL
Malmö FF
6
1
11
Sandberg, Gösta
23
6 August 1932
OL
Djurgårdens IF
30
7

unused substitutes:

12-Åke Jönsson, 13-Charles Gustavsson, 14-Nils Håkansson, 15-Henry Thillberg.

team notes:

On the day before the match, Berndtson replaced original outside-right Henrik Kellgren and Centre-forward Ekström had replaced Nils Åke Sandell.
2-3-5
Svensson -
Johansson, Axbom -
Svensson, Gustafsson, Parling -
Berndsston, Löfgren, Ekström, Lindskog, Sanberg

Averages:

Age
26.6
Appearances/Goals
19.2
1.3

England Team
Rank:

No official ranking system established;
ELO rating 6th to 7th
Colours:
The 1954 Umbro home uniform - White v-necked short-sleeved continental jerseys, blue shorts, black socks with white tops.
Capt:
Billy Wright, sixtieth captaincy
Manager:
Trainer: Jimmy Trotter (Charlton Athletic FC)
Walter Winterbottom, 43 (31 March 1913), appointed as FA national director of coaching/team manager on 8 July 1946;


78th match, W 47 - D 16 - L 15 - F 222 - A 112

, one abandoned. Team chosen by Selection Committee on Tuesday, 15 May.

England Lineup
Matthews, Reginald D.
23
148 days
20 December 1932
G
Coventry City FC
3

3

GA

2
Hall, Jeffrey

J.

26
252 days

7 September 1929

RB
Birmingham City FC
7
0
3
Byrne, Roger W.
26
251 days
8 September 1929
LB
Manchester United FC
20
0
4
Clayton, Ronald
21
285 days
5 August 1934
RHB
Blackburn Rovers FC
4
0
5
Wright, William A.
32
100 days
6 February 1924
CHB
75
3
6
Edwards, Duncan
19
228 days
1 October 1936
LHB
Manchester United FC
7
0
7
Berry,

R.

John
29
350 days
1 June 1926
OR
Manchester United FC
4
0
8
Atyeo,

P.

John

W.

24
99 days
7 February 1932
IR
Bristol City FC
3
1
9
Taylor, Thomas
24
108 days
29 January 1932
CF
Manchester United FC
8
4

10

Haynes, John N.
21
212 days
17 October 1934
IL
Fulham FC
6
2
11
Grainger, Colin
22
341 days
10 June 1933
OL
Sheffield United FC
2
2

unused substitutes:

not named, but the assumption is that the rest of the party made up the bench of unused substitutes:- Ray Wood (Manchester United FC), Gordon Astall (Birmingham City FC), Tommy Cummings (Burnley FC), Nat Lofthouse & Johnny Wheeler (Bolton Wanderers FC) and Dennis Wilshaw (Wolverhampton Wanderers FC).

team notes:

Billy Wright extends his record appearance tally, in his record fortieth consecutive match.
The first scoreless draw since 1948, by the youngest post-war team to take to the field so far,
2-3-5
Matthews -
Hall, Byrne -
Dickinson, Wright, Edwards -
Berry, Atyeo, Taylor, Haynes, Grainger

Averages:

Age
24.3 (216 days)
Appearances/Goals
12.6
1.1
Match Report by Mike Payne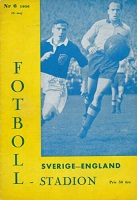 It was a case of 'after the Lord Mayor's Show' as England travelled to Sweden for the first match of their summer tour fresh from the memory of that scintillating game against the Brazilians the previous week.

A strong, blustery wind was blowing around the stadium and Sweden kicked-off with the elements in their favour. Playing determined and uncompromising football, they soon had England pinned back in their own half. The visitors were virtually totally committed to defending as Sweden pressed forward.

Luckily for England, Sweden's finishing was very poor and they missed all their best chances. Lindskog and Sandberg both shot high and wide when well placed and Reg Matthews made super diving saves from both of those players as well as from another effort by S.Svensson.

Two other attempts could easily have opened the scoring. First Ekström hit a post and then Berndtsson lobbed over the bar from a great position. There was also a lucky let-off for England when Duncan Edwards clearly appeared to handle in the penalty area as Sweden exerted yet more pressure. The referee ignored the frantic appeals of the Swedes and waved play on.

England seldom threatened to score themselves and made only a few sorties upfield. Two powerhouse runs by Edwards promised much but then fizzled out, and England's best chances fell to John Atyeo, who twice wasted good opportunities.

After the change of ends, and with the wind now at their backs, it was England's turn to lay seige on the Swedish goal. They forced five corners in as many minutes early on but were frustrated by both Sweden's resolute defending and the unpredictable conditions. Time and again the ball ran out of control as they attacked and all too often the England players chased balls out of play. Edwards again made a strong burst and Taylor fired a good shot just over the angle of the post and crossbar from 20 yards.

Unfortunately, these moments grew rarer as the game went on and when the referee blew the final whistle it cames as somewhat a relief to everyone. England had missed the other Matthews in this poor match but if he had had the same sort service that Johnny Berry had received, then even he would have found it difficult to inject the much-needed boost to England's play.

Match Report by Norman Giller
England were lucky to escape with a draw in a match ruined by a near-gale force wind. Goalkeeper Reg Matthews made three stunning saves to stop the Swedes from getting the victory their superior approach play deserved. It was the first goalless draw in which England had been involved since the game in Denmark in 1948. In conditions that would have sent a yachtsman racing for the shelter of any port, Wright managed to stop England from sinking with a cultured performance in the middle of the defence. The wind was so strong that it was almost impossible to measure a pass. Players would push a pass upfield for the forwards and invariably it would get caught by the wind and be taken for a goal-kick. It was a frustrating and fruitless game for everybody.

The

Top Twenty UK Music Chart by New Musical Express
On Friday, 15 November 1952, The New Musical Express published the first ever singles chart in the UK, comprising the twelve highest selling singles of the week, it increased to twenty on Friday, 1 October 1954, and thirty on Friday, 13 April 1956. When England drew with Sweden, Ronnie Hilton's No Other Love was still the best selling single. This chart was published on Friday, 11 May 1956:-
1.
(=)
No Other Love - Ronnie Hilton (HMV)
11.
(8)
A Theme From 'The Threepenny Opera' (Mack The Knife)

- Louis Armstrong With His All-Stars (Philips)

2.
(=)
The Poor People Of Paris - Winifred Atwell (Decca)
12.
(11)
You Can't Be True To Two

- Dave King with The Keynotes (Decca)

3.
(5)
Only You - Hilltoppers (London)
13.
(10)
See You Later Alligator - Bill Haley and His Comets (Brunswick)
3.
(=)
It's Almost Tomorrow -

Dreamweavers (Brunswick)

14.
(15)
Memories Are Made Of This

-

Dave King with The Keynotes (Decca)

5.
(6)
A Tear Fell - Teresa Brewer

(Vogue Coral)

15.
Heartbreak Hotel

-

Elvis Presley (HMV)

6.
(4)
Rock And Roll Waltz

- Kay Starr (HMV)

16.
(19)
Theme From 'The Threepenny Opera'

-

Dick Hyman Trio (Colombia)

7.
(=)
My September Love

- David Whitfield (Decca)

17.
(13)
Memories Are Made Of This

- Dean Martin (Capitol)

8.
(12)
Lost John/Stewball

- Lonnie Donegan (Pye Nixa)

18.
(17)
Willie Can -

Alma Cogan

(HMV)

9.
(14)
I'll Be Home

- Pat Boone (London)

19.
(18)
Ain't Misbehavin' - Johnnie Ray (Philips)
10.
(9)

Main Title Theme From 'Man With The Golden Arm'

- Billy May (Capitol)

20.
(r)
Rock Island Line

- Lonnie Donegan (Decca)

♪Most weeks at number one when England played:

Doris Day and Frankie Laine five, Tony Bennett, Ronnie Hilton, Guy Mitchell and Jimmy Young two, Winifred Atwell, Bill Haley & His Comets, Vera Lynn, Al Martino, Lita Roza, Stargazers, Tennessee Ernie Ford, David Whitfield and Slim Whitman one each

Source Notes
TheFA.com
Svenskfotboll.se
Original newspaper reports
Rothman's Yearbooks
Mike Payne's England: The Complete Post-War Record (Breedon Books Publishing Company, Derby, U.K., 1993)
Norman Giller, Football Author
official charts.com singles chart
____________________

CG