Match Summary
Officials

West Germany

Type

England

Referee (black) - Istv�n Zsolt
34, (28 June 1921), Budapest, Hungary.

Linesmen - tbc

The FIFA ruling of allowing a substitute to replace an injured player prior to the 44th minute, and a goalkeeper at any time, is in place.

Goal Attempts
Attempts on Target
Hit Bar/Post
Corner Kicks Won
Offside Calls Against
Fouls Conceded
Possession

West Germany Team
Current World Champions

Colours:
White jerseys with black rounded collar/cuffs, black shorts, black socks with white band.

Rank:

No official ranking system established;
ELO rating 5th to 7th
Capt:
Fritz Walter
Manager:
Joséf Herberger, 59 (28 March 1897), appointed in 1950.
Team chosen on Thursday, 24 May 1956.
West Germany Lineup
Herkenrath, Friedrich
27
9 September 1928
G
Rot-Weiss Essen eV
10

20ᵍᵃ

2
Retter, Erich
31
17 February 1925
RB
VfB Stuttgart 1893 eV
14
0
3
Juskowiak, Erich
29
7 September 1926
LB
D�sseldorfer TSv Fortuna 1895 eV
7
2
4
Schlienz, Robert
32
3 February 1924
RHB
VfB Stuttgart 1893 eV
3
0
5
Wewers, Heinz
28
27 July 1927
CHB
Rot-Weiss Essen eV
2
0
6
Mai, Karl
27
27 July 1928
LHB
Spielvereinigung Greuther F�rth eV
14
1
7
Waldner, Erwin
23
24 January 1933
OR
VfB Stuttgart 1893 eV
7
1

8

Morlock, Maximilian, injured off 40th min.
31
11 May 1925
IR
1. FC Nürnberg VfL eV
18
14
9
Walter, Ottmar
32
6 March 1924
CF
1. FC Kaiserslautern eV
16
6
10
Walter, Fritz
35
31 October 1920
IL

/IR

1. FC Kaiserslautern eV
46
30
11
Sch�fer, Hans
28
19 October 1927
OL

/IL

1. FC Köln 01/07 eV

18
10
West Germany Substitutes

scoreline:

West Germany 0 England 1
12
Pfaff, Alfred, on 40th min. for Morlock
29
16 July 1926
OL
Eintracht Frankfurt eV
4
2

result

:

West Germany 1 England 3

unused substitutes:

Heinz Kubsch (FK Pirmasens), Karl Schmidt (FC

Köln

), Herbert Erhardt (Spvgg Greuther F�rth), Helmut Rahn (Rot-Weiss Essen), Werner Liebrich (

FC K

aiserslautern) and Willi Schr

�

der (SV Werder Bremen)

team notes:

Alfred Pfaff was the original named outside-left, his place going to Sch�fer at the last moment.
The Walters' are brothers in the oldest team to play England since Italy in 1952.
Morlock twisted his ankle in the 30th minute, and struggled until he was replaced ten minutes later.
2-3-5
Herkenrath -
Retter, Juskowiak -
Schlienz, Wewers, Mai -
Waldner, Morlock, O.Walter, F.Walter, Sch�fer


for the second half - the forward line was Waldner, F.Walter, O.Walter, Sch�fer, Pfaff

Averages:

Age
29.4
Appearances/Goals
14.1
5.7

England Team
Rank:

No official ranking system established;
ELO rating 6th to 4th
Colours:
The 1954 Umbro away uniform - Red v-necked short-sleeved continental jerseys, white shorts, red socks with white tops.
Capt:
Billy Wright, 62nd captaincy
Manager:
Trainer: Jimmy Trotter (Charlton Athletic FC)
Walter Winterbottom, 43 (31 March 1913), appointed as FA national director of coaching/team manager on 8 July 1946;


80th match, W 49 - D 16 - L 15 - F 230 - A 114

, one abandoned. Team chosen by Selection Committee on Friday, 25 May.

England Lineup
Matthews, Reginald D.
23
20 December 1932
G
Coventry City FC
4

4ᵍᵃ

2
Hall, Jeffrey

J.

26

7 September 1929

RB
Birmingham City FC
9
0
3
Byrne, Roger W.
26
8 September 1929
LB
Manchester United FC
22
0
4
Clayton, Ronald
21
5 August 1934
RHB
Blackburn Rovers FC
6
0
5
Wright, William A.
32
6 February 1924
CHB
77
3
6
Edwards, Duncan
19
1 October 1936
LHB
Manchester United FC
9
1
7
Astall, Gordon
28
22 September 1927
OR
Birmingham City FC
2
1
8
Haynes, John N.
21
17 October 1934
IR
Fulham FC
8
4
9
Taylor, Thomas
24
29 January 1932
CF
Manchester United FC
10
4

10

Wilshaw, Dennis J.
30
11 March 1926
IL
Wolverhampton Wanderers FC
11
10
11
Grainger, Colin
22
10 June 1933
OL
Sheffield United FC
4
3

unused substitutes:

Ray Wood (Manchester United FC), Tommy Cummings (Burnley FC), John Atyeo (Bristol City FC), Johnny Berry (Manchester United FC), Johnny Wheeler and Nat Lofthouse (both Bolton Wanderers FC)

team notes:

Billy Wright extends his record appearance tally, in his record 42nd consecutive match.
England's record in a red shirt up until this point was 2-1 victory over Argentina in 1951, 3-2 vs. Austria in 1952, 6-3 vs. USA in 1953 and then 3-1 vs. West Germany in 1954.
2-3-5
Matthews -
Hall, Byrne -
Cayton, Wright, Edwards -
Astall, Haynes, Taylor, Wilshaw, Grainger.

Averages:

Age
24.7
Appearances/Goals
14.7
2.1
Match Report by Mike Payne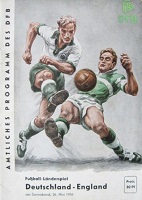 After two lacklustre displays England completed their summer tour with a magnificient victory against the current World Champions West Germany in Berlin. The visitors produced a superb team performance, just when it mattered and now they can start to look forward to the 1958 World Cup with some optimism.

As early as the first 20 seconds it became apparent that England could do well. At that moment Dennis Wilshaw burst through on to a Johnny Haynes pass to shoot inches wide. It was an early warning for the Germans and one that they did not heed. Playing the ball around confidently, England swept forward in search of goals. They won most of the tackles and supported each other superbly.

In the 25th minute the goal their early play deserved duly arrived, and what a cracker it was! Colin Grainger's corner was cleared to be met by Ron Clayton and Morlock together. As the ball ran loose from their challenge Duncan Edwards pounced, and with that characteristic power, he swept past three tackles with consummate ease before crashing an unstoppable shot past Herkenrath's right hand. The youngster, in that one moment, demonstrated to the world what an awesome sight he is when he is full flight.

The England half-backs dominated the German forwards and only a glancing header by Ottmar Walter forced Reg Matthews into the action. The goalkeeper was more than equal to the task, though, and produced a marvellous save to keep England's lead intact.

The visitors could well have added to their lead and some of their football was quite outstanding. Unfortunately they could not finish off their fine approach play, although on the half-hour they came very close. A brilliant six-man attack down the left finally ended when Tommy Taylor's shot was superbly blocked by Herkenrath and Grainger's follow up effort struck the 'keeper again with the England fans already celebrating what they thought would be a certain goal.

But the Germans held on and just before half-time Morlock stretched to send a shot just over. In so doing the inside-right injured himself and had to leave the field to be replaced by Pfaff.

At the half-time whistle, the many British serviceman in the crowd cheered their team off. They knew that if England continued to play as well, they would surely be celebrating a famous victory.

Not unexpectedly West Germany came hard at England after the restart but Billy Wright and his fellow defenders were in immaculate form. Jeff Hall and Roger Byrne stifled the danger from the wingers and when England countered they always looked likely to score.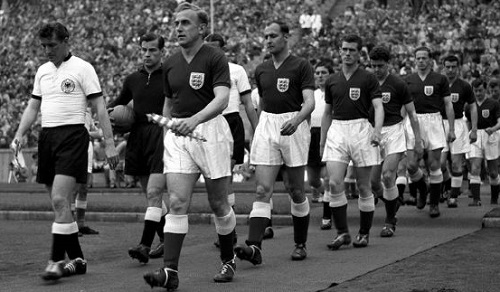 In the 63rd and 69th minutes, England at last made the game safe with two deadly strikes. Haynes, who started quietly but gradually took control of the play, threaded a superb pass through for Gordon Astall to collect. The winger slipped the ball inside to where Grainger showed pace and skill before shooting home an excellent goal.

Six minutes later came goal number-three. Taylor, who oozed class in all that he did, worked the ball in from the right to find Wilshaw. The hard-working Wolves player glanced it into space and Haynes latched on to it to coolly beat Herkenrath with a well-placed shot. The England fans were delirious and they made their presence felt with some tremendous and much appreciated support.

The West Germans, characteristically, never gave up and although three goals down they pressed forward to put more pressure on England. Reg Matthews made another fine stop to deny the dangerous Pfaff but was powerless, five minutes from time, to prevent Fritz Walter from finishing off a delightful move featuring himself, Mai and Schaeffer. It was to be the Germans' only consolation and at the final whistle there were jubilant scenes amongst the visiting fans celebrating a memorable triumph.

Match Report by Norman Giller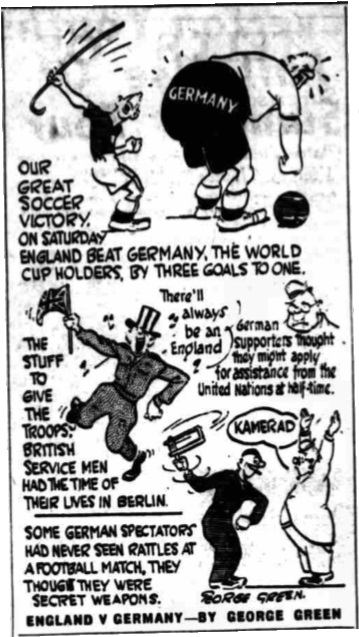 This match is remembered as the finest ever played on the international stage by Duncan Edwards, who was fresh from helping Manchester United win the League championship. He strode the pitch like a colossus, scoring a scorcher of a goal from twenty yards in the twentieth minute and dominating the entire game both in defence and midfield. Nearly half the 100,000 crowd in the stadium designed by Adolf Hitler were soldiers from the British-occupied zone of Berlin. They staged a delighted pitch invasion when second-half goals from Johnny Haynes and Colin Grainger clinched victory. Fritz Walter, the outstanding German skipper, scored a fine individual goal for the team he had led to the World Cup two years earlier. The name of Duncan Edwards was on the lips of everybody who saw this match. He was phenomenal. There have been few individual performances to match what he produced in Germany that day. He tackled like a lion, attacked at every opportunity and topped it all off with a cracker of a goal. He was still only twenty, and was already a world-class player. Many of the thousands of British soldiers in the crowd surrounded him at the final whistle and carried him off. England had beaten the world champions in their own back yard.
The

Top Twenty UK Music Chart by New Musical Express
On Friday, 15 November 1952, The New Musical Express published the first ever singles chart in the UK, comprising the twelve highest selling singles of the week, it increased to twenty on Friday, 1 October 1954, and thirty on Friday, 13 April 1956. When England beat West Germany, Ronnie Hilton's No Other Love was still the best selling single. This chart was published on Friday, 25 May 1956:-
1.
(=)
No Other Love - Ronnie Hilton (HMV)
11.
(12)
Only You - Hilltoppers (London)
2.
(4)
A Tear Fell - Teresa Brewer

(Vogue Coral)

12.
(11)
A Theme From 'The Threepenny Opera' (Mack The Knife)

- Louis Armstrong With His All-Stars (Philips)

3.
(2)
The Poor People Of Paris - Winifred Atwell (Decca)
4.
(7)
I'll Be Home

- Pat Boone (London)

13.
(6)

I

t's Almost Tomorrow -

Dreamweavers (Brunswick)

5.
(3)
My September Love

- David Whitfield (Decca)

14.
(18)
Blue Suede Shoes -

Carl Perkins

(London)

6.
(5)
Rock And Roll Waltz

- Kay Starr (HMV)

15.
Hot Diggity (Dog Ziggity Boom)

- Perry Como (HMV)

7.
(10)
Lost John/Stewball

- Lonnie Donegan (Pye Nixa)

16.
Blue Suede Shoes - Elvis Presley

(HMV)

8.
(14)
Heartbreak Hotel

-

Elvis Presley (HMV)

17.
(13)
You Can't Be True To Two

- Dave King with The Keynotes (Decca)

9.
(8)
The Happy Whistler

- Don Robertson (Capitol)

17.
(15)
Mountain Greenery

-

Mel Torme

(Decca)

10.
(9)

Main Title Theme From 'Man With The Golden Arm'

- Billy May (Capitol)

19.
(17)
Too Young To Go Steady

- Nat 'King' Cole (Capitol)

20.
(19)
Port Au Prince - Winifred Atwell and Frank Chacksfield (Decca)

♪Most weeks at number one when England played:

Doris Day and Frankie Laine five, Ronnie Hilton four, Tony Bennett, Guy Mitchell and Jimmy Young two, Winifred Atwell, Bill Haley & His Comets, Vera Lynn, Al Martino, Lita Roza, Stargazers, Tennessee Ernie Ford, David Whitfield and Slim Whitman one each
The

Televison Schedule
B.B.C. ―T.V.
2.30

Gardening Club. 3.0 Catching of Wild Horses. 3.30 No Man's Land. 5.0 Children


6.0

Germany v. England. 7.15 News Weather. 7.30 In Town To-night. 8.0 Opportunity Murder.


8.30

Saturday Night Out. 9.15 Ted Ray Show. 10.15 Movie Museum. 10.25 Saturday Night Out. 10.50 News. 10.55 Weather. Close Down.

Source Notes
TheFA.com
DFB.de
Original newspaper reports
Rothman's Yearbooks
Mike Payne's England: The Complete Post-War Record (Breedon Books Publishing Company, Derby, U.K., 1993)
Norman Giller, Football Author
official charts.com singles chart
____________________

CG