"On one occasion Nat Lofthouse. rising to head a centre from Tom Finney, suddenly found a defender's legs wrapped around him in approved wrestling fashion. Picking himself off the ground, Lofthouse received the shock of his life when the referee, after whistling up for a foul, awarded it against him."
"Then another incident followed which not only we but also the Italian players deplored. After Lofthouse and an Italian defender had gone down in a tackle, bottles were hurled on to the pitch and Nat missed cutting his right eye on a piece of glass by a fraction of an inch."
"Things turned nasty in the second half when Nat Lofthouse was pelted with coins and bottles."
- Billy Wright


"INEPT ENGLAND THREW AWAY CHANCES"
Daily Herald
Officials

Italy
FIFA ruling on substitutes
England Party

Referee


Alois Beranek
52 (15 January 1900), Wien, Austria
The Continental ruling of allowing a substitute to replace an injured player prior to the 44th minute, and a goalkeeper at any time, is in place.

"During the interval aircraft swooped over the field, dropping a parachute carrying gifts from a Swiss firm of watches for the players and officials." -

Monday, 19 May1952, The Derry Journal.

Linesmen

tbc

tbc

Italy Team
Rank:

No official ranking system established;
ELO rating 3rd
Colours:
Blue crew-necked jerseys, white shorts, black socks.
Capt:
Silvio Piola
Manager:
C. Beretta.
Party chosen on Thursday, 1 May 1952.
Team chosen on Saturday, 17 May.
Italy Lineup
1
Moro, Giuseppe
31
123 days
16 January 1921
G
UC Sampdoria
7
0
2
Giovannini, Attilio
27
293 days
30 July 1924
RB
FC Internazionale Milano
10
0
3
Manente, Sergio
27
160 days
10 December 1924
LB
Juventus FC
1
0
only app 1952
4
Mari, Giacomo
27
214 days
17 October 1924
RHB
Juventus FC
5
0
5
Ferrario, Rino
25
163 days
7 December 1926
CHB
Juventus FC
1
0
6
Piccinini, Alberto
29
114 days
25 January 1923
LHB
Juventus FC
4
0
7
Boniperti, Giampiero
33
319 days
4 July 1928
OR
Juventus FC
14
2
8
Pandolfini, Egisto
26
91 days
17 February 1926
IR
AC Fiorentina
5
2
9
Piola, Silvio, injured off 75th min.
38
232 days
29 September 1913
CF
Novara Calcio SpA
34
30
final app 1935-52
10

Amadei, Amedeo
30
297 days
26 July 1921
IL
SSC Napoli
12
7
11
Capello, Gino
31
351 days
2 June 1920
OL
Bologna FC 1909
9
3
unused substitute:
not known
team notes:
Piola injured his foot that required him to leave the field from the 75th to 85th minutes.
2-3-5
Moro -
Giovannini, Manenti -
Mari, Ferrario, Piccini -
Boniperti, Panolfini, Piola, Amadei, Capello

Averages:

Age
29 years 50 days
Appearances/Goals

9.3

3.9

England Team
Rank:

No official ranking system established;
ELO rating 4th
Colours:
The 1949 home uniform - White collared jerseys, blue shorts, red socks.


24th, W 14 - D 5 - L 5 - F 63 - A 35.

⁴³
Capt:

Billy Wright³
26th, W 16 - D 4 - L 6 - F 62 - A 32.⁹⁰

Manager:
Walter Winterbottom, 39 (31 March 1913), appointed as FA national director of coaching/team manager on 8 July 1946;


44th match, W 29 - D 8 - L 7 - F 131 - A 51.

¹³⁹
Trainer: Jimmy Trotter (Charlton Athletic FC)
Team chosen by Selection Committee headed by Arthur Oakley, on Wednesday, 14 May.
England Lineup
one change to the previous match (Elliott>Rowley)

FINAL league positions

(3 May)

Merrick, Gilbert H.
30
113 days

26 January 1922

G
Birmingham City FC

(FL2 3rd)

4

4ᵍᵃ

2
Ramsey, Alfred E.
32
117 days
22 January 1920
RB
Tottenham Hotspur FC

(FL RU)

20
1

the 24th player to reach the 20-app milestone

3
Garrett, Thomas
26
80 days
28 February 1926
LB
Blackpool FC

(FL 9th)

2
0
4
Wright, William A.
28
102 days
6 February 1924
RHB
Wolverhampton Wanderers FC

(FL 16th)

41
3
=most apps
5
Froggatt, Jack
29
183 days
17 November 1922
CHB
Portsmouth FC

(FL 4th)

6
1
6
Dickinson, James

W.

27
24 days
24 April 1925
LHB
Portsmouth FC

(FL 4th)

18
0
7
Finney, Thomas
30
43 days
5 April 1922
OR
Preston North End FC

(FL 7th)

37
20
8

Broadis, Ivan A.
29
152 days
18 December 1922
IR
Manchester City FC

(FL 15th)

3
1
9
Lofthouse, Nathaniel
26
265 days
27 August 1925
CF
Bolton Wanderers FC

(FL 5th)

6
5
10

Pearson, Stanley C.
33
128 days
11 January 1919
IL
Manchester United FC

(FL CHAMPIONS)

8
5
final app 1948-52
716
11
Elliott, William H.
27
59 days
20 March 1925
OL
Burnley FC

(FL 14th)

1
0
the fifteenth Burnley player to represent England
unused substitutes:
Ronnie Allen (West Bromwich Albion FC

(FL 13th)

), Eddie Baily (Tottenham Hotspur FC

(FL RU)

), Bill Eckersely (Blackburn Rovers FC

(FL2 14th)

), Bill Nicholson (Tottenham Hotspur FC

(FL RU)

), Jackie Sewell (Sheffield Wednesday FC

(FL2 Winners)

) and Bert Williams (Wolverhampton Wanderers FC

(FL 16th)

).
team notes:
Billy Elliott becomes the 75th different player to be fielded by Winterbottom.
For the first time, England have recorded four draws in a single season.
2-3-5
Merrick -
Ramsey, Garrett -
Wright, Froggatt, Dickinson -
Finney, Broadis, Lofthouse, Pearson, Elliott

Averages

:

Age
29 years 51 days
Appearances/Goals

13.3

3.2
Match Report

by Mike Payne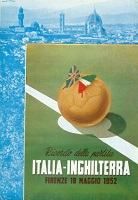 This first match of England's summer tour turned out to be very disappointing game with Italy looking the more likely winners. England started well enough and took the lead after only four minutes with a well-taken goal by Ivor Broadis. For the next 25 minutes the visitors bombarded the Italian goal, only to be totally frustrated by an outstanding performance from goalkeeper Moro.

He defied all that England could throw at him and made particularly good saves from Nat Lofthouse and Tom Finney. If England could have added to their early score in this period of intense pressure then they would surely have gone on to a convincing victory.

As it was their missed chances enabled Italy to fight their way back into the game. A minute before half-time Piola missed a golden opportunity to net an equaliser and England still held their lead at the break.

Before the change of ends, Italy had shown their capabilities and in the second half they dominated the game. The England defenders worked overtime to repel the eager Italians and Billy Wright and Jack Froggatt were in outstanding form. However, in the 63rd minute Italy's pressure paid off with Amadei scoring to put his side level.

For the remainder of the match, urged on by their passionate crowd, the home side continually pressed forward. England did make one or two dangerous breakaway raids but neither side could force a winner. For Piola it was the last chance at international level as he made his 34th and last appearance. At 39 years old he had been especially recalled for this game and that missed chance just before half-time ruined the possibility of a glorious ending to his career.

Match Report

by Norman Giller
Only Billy Wright and Tom Finney remained of the England team that had conquered Italy 4-0 in Turin in 1948. Ivor Broadis gave England a fourth minute lead that was cancelled out by a spectacular solo effort from Amadei in the sixty-third minute. The idolised centre-forward Piola, who had helped Italy retain the World Cup in 1938, was recalled for a swansong appearance at the age of thirty-nine. It ended on a sad note for him when he missed an easy chance for a winner in front of an empty net. It was the cool heads of Wright and Ramsey that brought England safely through to a draw when the Italians were threatening to run riot in the second half.

Match Report
as appears in the F.A. Yearbook 1952-53, page 27
The spring tour was on an ambitious scale this year — three matches played against three countries in the course of eleven days. Elliott, at outside-left, was the only newcomer to the team that beat Scotland when on May 18th England walked out into the great municipal stadium at Florence to meet Italy. In the opening stages England produced some fast and elegant football, but only one goal. It came in the fourth minute, when Broadis beat goalkeeper Moro with a low drive into the corner of the net.
After 20 minutes, though, England's inside-forwards seemed to tire, and the Italian pressure gradually increased. The heat may have had something to do with it, though the Italian team was generally underrated, but England certainly lacked their customary stamina. The Italians' equalizing goal resulted from a short throw from Merrick to Elliott, which Amadei, the Italian inside-left, seized upon and shot into the net from close range. With the game open play became very rough, and although in the closing phases England attacked vigorously, the game ended indecisively.

Source Notes
TheFA.com
Original newspaper reports
FIGC

Rothman's Yearbooks


Mike Payne's England: The Complete Post-War Record
Norman Giller, Football Author
British Pathé
cg