"ENGLAND WIN—BUT ITALY GAVE THEM SUCH A FRIGHT"
Daily Mirror
Officials

England
FIFA ruling on substitutes
Italy
Referee
John Alexander Mowat
42/43 (1906), Rutherglen.

A white ball was used for the second half, to aid the players in failing light.
Linesmen
E.W. Baker, Surrey
Antonio Cella
Teams presented to the Earl of Athlone, the FA President and the Italian Ambassador.

England Team
Rank:

No official ranking system established;
ELO rating 3rd
Colours:
The 1949 home uniform - White collared jerseys, blue shorts, red socks.


8th, W 5 - D 0 - L 3 - F 24 - A 13.

⁴³
Capt:
Billy Wright²
11th, W 8 - D 0 - L 3 - F 32 - A 14.⁹⁰
Manager:
Walter Winterbottom, 36 (31 March 1913), appointed as FA national director of coaching/team manager on 8 July 1946;


26th match, W 19 - D 3 - L 4 - F 90 - A 27.

¹³⁹

Team chosen by Selection Committee headed by Arthur Drewry

on Tuesday, 22 November, in London.

England Lineup

one change

to the previous match

(Ramsey>Mozley)

league position

(22 November)

Williams, Bert F.
29
303 days
31 January 1920
G
Wolverhampton Wanderers FC

(FL 4th)

4

4ᵍᵃ

2
Ramsey, Alfred E.
29
312 days
22 January 1920
RB
Tottenham Hotspur FC

(FL2 TOP)

2
0
the 17th Hotspur player to represent England
3
Aston, John
28
88 days
3 September 1921
LB
Manchester United FC

(FL 2nd)

11
0
4
Watson, Willie
29
268 days
7 March 1920
RHB
Sunderland AFC

(FL 9th)

2
0
5
Franklin, Cornelius
27
310 days
24 January 1922
CHB
Stoke City FC

(FL 17th)

26
0
6

Wright, William A.
25
297 days
6 February 1924
LHB
Wolverhampton Wanderers FC

(FL 4th)

26
2
7
Finney, Thomas
27
239 days
5 April 1922
OR
Preston North End FC

(FL2 4th)

22
14
8
Mortensen, Stanley H.
28
188 days
26 May 1921
IR
Blackpool FC

(FL 6th)

15
17
9

Rowley, John F.
31
54 days
7 October 1918
CF
Manchester United FC

(FL 2nd)

5
6
10

Pearson, Stanley C.
30
323 days
11 January 1919
IL
Manchester United FC

(FL 2nd)

5
3
11
Froggatt, Jack
27
13 days
17 November 1922
OL
Portsmouth FC

(FL 7th)

2
1

unused substitute

s:
Bernard Streten (Luton Town AFC

(FL2 15th)

), Ramsey and Jackie Milburn (Newcastle United FC

(FL 11th)

). Bill Nicholson (Tottenham Hotspur FC

(FL2 TOP)

) was drafted in as Ramsey's replacement.
team notes:
Initially, it was announced that the team that defeated Ireland last time out would be the team to take on Italy. However, on the day the team announcement was due, Williams was recalled instead of Streten.
Bert Mozley (Derby County FC

(FL 15th)

) was the original named right-back, he dropped out after failing a fitness test on a thigh injury on Sunday, 27 November, reserve Ramsey taking his place.
Billy Wright and Neil Franklin, both playing in their 26th consecutive match, equal the record set by Ernie Blenkinsop.
records:
This is the first match to be played on 30 November since the very first in 1872.
England's fourth fixture against the World Cup Champions, W 3 - D 1 - L 0 - F 11 - A 4.

goalscoring

records:
Jack Rowley ends the year as top goalscorer, his five goals coming across four matches, including one hattrick.
Prior to this match, England were set-up in Brighton, using the Goldstone Ground to train on.
2-3-5
Williams -
Ramsey, Aston -
Watson, Franklin, Wright -
Finney, Mortensen, Rowley, Pearson, Froggatt.

Averages:

Age
28 years 286 days
Appearances/Goals

10.9

3.7

Italy Team
Current World Champions

Colours:
Sky blue crew necked jerseys, white shorts, black socks.



"The Italian team turned up wearing blue track suits over their football kit." -

Wednesday, 30 November 1949, Herald Express
Rank:
No official ranking system established;
ELO rating 2nd
Capt:
Riccardo Carapellese
Selector:
Commissioni Tecniche headed by Ferruccio Novo, 52 (22 March 1897), appointed February 1949.
Party of sixteen chosen on Tuesday, 22 November 1949, team chosen on 29 November.
Italy Lineup
1
Moro, Giuseppe
28
318 days
16 January 1921
G
AC Torino
2

3ᵍᵃ

2
Bertuccelli, Alberto
25
320 days
14 January 1924
RB
Juventus FC
2
0
3
Giovannini, Attilio
25
123 days
30 July 1924
LB
Internazionale Milano
2
0
4
Annovazzi, Carlo
24
190 days
24 May 1925
RHB
AC Milan
8
0
5
Parola, Carlo
28
71 days
20 September 1921
CHB
Juventus FC
7
0
6
Piccinini, Alberto
26
327 days
25 January 1923
LHB
Juventus FC
1
0
7
Boniperti, Giampiero
20
155 days
4 July 1928
OR
Juventus FC
4
1
8
Lorenzi, Benito
23
345 days
20 December 1925
IR
Internazionale Milano
4
1
9
Amadei, Amedeo
28
127 days
26 July 1921
CF
Internazionale Milano
4
2
10

Martino, Rinaldo F.

28
24 days

6 November 1921
in Buenos Aires, Argentina

IL

Juventus FC
1
0
only app 1949
also has 20 appearances and 15 goals for Argentina
11
Carapellese, Riccardo
27
152 days
1 July 1922
OL
AC Torino
9
7

unused substitute

s:
Osvaldo Fattori (Internazionale Milano), Sergio Manente (Juventus), Adriano Bassetto (Sampdoria) injured, Lucidio Sentimenti and Aldo Puccinelli (both SS Lazio).
team notes:
Ermes Muccinelli (Juventus FC) was drafted in as a replacement to Ricardo Carapellese before the Italians left their base in Como. But the captain travelled and Muccinelli was not required.
Following the air tragedy that wiped out the Torino team, the Italian national side were barred from flying, they thus travelled to England via boat and road.
The Italians were five minutes late returning for the second half... they were wanting to put out a non-substitute goalkeeper. Stanley Rous settling the issue.
World Cup Champions notes:

Italy beat Hungary in Paris on 19 June 1938 to become the reigning World Champions, however, there are no surviving members of that team in this fixture.

The Italian team were based at and trained at Hendon. Arriving at London's Victoria Station on board the Golden Arrow, on Sunday evening, 27 November.
2-3-5
Moro -
Bertuccelli, Giovannini -
Annovazzi, Parola, Piccinini -
Boniperti, Lorenzi, Amadei, Bassetto, Carapellese.

Averages:

Age
26 years 95 days
Appearances/Goals

4.0

0.9
News
"England is to meet Italy in an international football match on the Tottenham Hotspur ground London, 30 November, it was stated in Milan last night." - The Nottingham Journal, Wednesday, 19 January 1949.

Match Report

by Mike Payne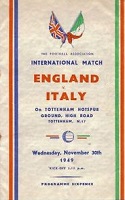 There were over 60,000 people packed into White Hart Lane to see the latest challenge from a European country to England's unbeaten home record. They went away satisfied with the scoreline but not so happy with their team's performance. Only a superb display in a goal from Bert Williams kept the eager Italian forward line at bay and it was certainly a narrow shave for England.

However, the home side could have been ahead in the first minute. Right from the kick-off, a clever back-heel by Jack Rowley set up Stan Mortensen for a flashing shot which was brilliantly saved by Moro at full stretch.

Gradually, though, Italy's powerful forwards put England under increasing pressure. Lorenzi was particularly dangerous although all the forwards gave their markers a hard time. How Williams saved at point-blank range from Carapallese and Martino only he could tell you and he bettered even those saves with another brilliant effort from Lorenzi's shot.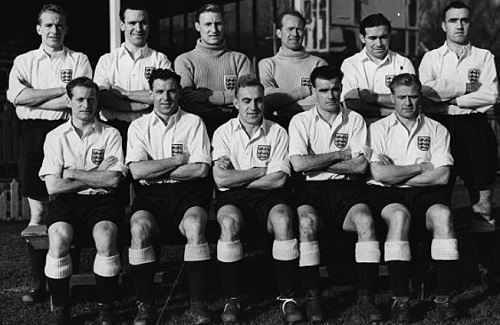 This pattern carried on for two-thirds of the match. Mortensen's header did bring anonther fine save out of Moro following Tom Finney's cross, but Italy were pressing for much of the time. Finney was England's main hope and he was always troubling Giovannii with his neat footwork. With 14 minutes to go, England gained a vital breakthrough.

Willie Watson sent Jack Froggatt away and the winger cut inside before passing to Stan Pearson. His centre was then crashed home by a rocket shot from Rowley's left foot. It was a magnificent goal and one that was cruel luck for Italy, especially after having dominated the game for so long.

If that was cruel luck, then the second, killer goal was pure fluke. A hopeful 40-yard punt forward by England skipper Billy Wright was hopelessly misjudged by Moro and the ball somehow ended up in the back of the net.

It had been a narrow squeak for a disjointed England display. Neil Franklin and Watson always looked uncomfortable and Pearson and Froggatt never got their play together. In the end, England were thankful for Williams' mighty saves.

Match Report

by Norman Giller
England were outplayed for long periods by an over-elaborate Italian team, and only a series of fine saves by Bert Williams kept them in the game in a goalless first half. England snatched an undeserved lead fourteen minutes from the end when Jack Rowley scored with one of his typical thunderbolt left foot shots that the Italian goalkeeper could only wave to on its way into the net. The match was settled by a goal in a million from Billy Wright. His second goal for England was a complete freak. He lobbed the ball forward from a position just over the halfway line. It was intended for the far post. The Italian goalkeeper, unchallenged, came out to collect it just as a gust of wind made the ball change direction. He grasped at thin air as it curled over his head and into the net.

Match Report
as appears in the F.A. Yearbook 1950-51, pages 23 & 24
There was only one change in the English team for the match against Italy at White Hart Lane, Tottenham, on November 30th, Ramsey (Tottenham Hotspur) replacing Mozley as right-back. This eagerly awaited international, watched by 72,000 people, proved one of the most interesting matches in recent years. Most of the team were having their first experience of the fast Italian style. The Italians played with great dash and brilliance, and but for their weakness in finishing the result would certainly have been very different. England were lucky to win. The Italian attack soon got under way, exploding defensive weakness - surprisingly, in the half-back-line - and by-passing Franklin at centre-half with fast short range asses down the centre.
In the second-half the English forwards, with Froggatt prominent, seemed to be finding their form at last, but it was not until 14 minutes from the end that the first goal of the match was scored. Froggatt ran inwards to the centre and passed out to Pearson on the wing, Rowley was in position for Pearson's centre and a cunningly placed shot just beat Moro. England's second goal, five minutes later, was an anti-climax - from 25 yards out Wright sent a high lob almost at random into the Italian goalmouth.

What the Opposition said....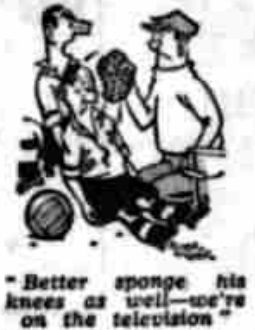 "ITALY: 'DEFEAT RANKLES AS AN INJUSTICE'
"Italian newspapers to-day praised their country's Soccer team which yesterday held England at Tottenham for 77 minutes before losing 2-0. Most papers claimed that England's win did not reflect the surprising quality of the new Italian team, assembled since last May's air crash in which many of the country's national team died.
" "Il Tempo" said the Italians were "defeated but not dominated," adding, "the defeat rankles as n injustice, coming after an equally matched first half which we could have won."
" "Il Messagero," declaring "the English do not seem unbeatable," nevertheless gave high praise to Williams, Watson, Mortensen, Finney and Froggatt of the English team.
" "The English have made no progress since last year," said Il People, calling the result "Very unjust."
But L'Unita declared: "We must recognise that once again the Britain defeated us because they were stronger." - Thursday, 1 December 1949, Evening Post

News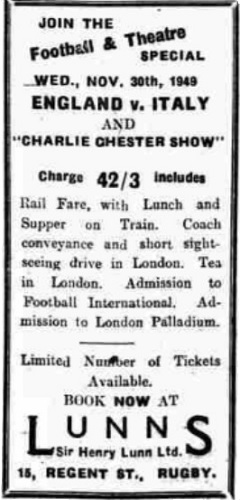 "WHITE BALL EXPERIMENTS UNLIKELY
"Mr F. Howarth, secretary of the Football League, does not consider that white balls, as used in the match between England and Italy yesterday, are likely to be introduced into League games. "I do not think the ball offered many advantages over the ordinary one." he said. The England players considered conditions were not muddy enough for the real value of the white ball to be tested." - Evening Post, Thursday, 1 December 1949.

"THAT WHITE BALL
"Before leaving the subject of Soccer for to-day, a word or two to clear up points arising out of the use of a white ball in the second-half of England v. Italy match. Actually, two were used, for when the original began to lose some of its pristine qualities in the mud another was thrown on to the field in the last 20 minutes. But they were not used to help television, although there seems to be a unanimous opinion that they greatly helped reception. They were specially ordered by Sir Stanley Rous, secretary of the Football Association, because against the background of high stands at White Hart Lane the ordinary ball becomes almost invisible in the air when the light is failing. The makers tell me that they do not expect white balls to become popular. They are, apparently, difficult to make for when white chrome is introduced for coloring purposes the leather stretches. But we may see the white balls of Tottenham again. They have washed well and the F.A. are considering using them in the F.A. XI v. Royal Navy game to-morrow." - The Yorkshire Post and Leeds Mercury, Tuesday, 6 December 1949.

"40,000 UNABLE TO SEE GAME
"Gates were closed for the international after 71,527 had been admitted and another 40,000 clamoured so much outside the ground that one Pressman did not reach his seat until half-time." - Journal & North Mail, Thursday, 1 December 1949.

"THE POPE LISTENED IN
"The Pope [Pope Pius XII, born Eugenio Maria Giuseppe Giovanni Pacelli] hurried in from his daily walk in the Vatican grounds to listen to the England v. Italy match at Tottenham." - The Liverpool Echo, Thursday, 1 December 1949.

Source Notes
TheFA.com
Original newspaper reports
FIGC

Rothman's Yearbooks


Mike Payne's England: The Complete Post-War Record
Norman Giller, Football Author
British Pathé
cg