242 vs. Ireland



previous match

(32 days)


250 vs. Wales


251
next match

(14 days)


252 vs. Italy



259 vs. Ireland




Wednesday

,

16 November 1949




Home International Championship 1949-50

(55th)

Match


&

IV Campeonato Mundial de Futebol Taça Jules Rimet Group One Qualification Match





England

9 Ireland 2

[

4-0]




Maine Road, Brantingham Road, Moss Side, Manchester, Lancashire
Kick-off (GMT): 2.30pm.
Attendance: '

69,762'.

Receipt:

'£10,738'.




Jackie Vernon won the toss and Ireland kicked-off

1.0

BBC Midland Light Orchestra 2.0 Woman's Hour 3.0 Joseph Seal (organ)
3.20 England v. Ireland
4.15 Mrs Dale's Diary 4.30 BBC Northern Orchestra 5.30 Band of the H.M. Royal Marines Strict Tempo, Eddie Palmer and his Players 6.0 On Our Way 6.45 Dick Barton

[1-0] Jack Rowley 5
'Jack Froggatt beating Feeney and then centring across the goalmouth. Rowley tapped the ball calmy past Kelly'
[1-0] Jack Rowley's shot ran across the crossbar
[2-0] Jack Froggatt header 25
'Tom Finney cut in, dashed round McMichael and sent the ball low to Froggatt who dived low to head into the net.'
[3-0] Stan Pearson 31


'hooked in after a scramble in the goalmouth.'


[4-0] Stan Mortensen header 35
'made a torpedo dive to score from a cross by Jack Rowley.'
[5-0] Jack Rowley header 46
'Jack Froggatt slipped the ball to Rowley, who jumped clear of the defenders to head in."
[6-0] Stan Mortensen 50


'shot rocketed into the top of the net'

from a Jack Rowley header



[7-1] Jack Rowley 57 HAT-TRICK
'Stan Mortensen immediately flashed through to give Rowley another goal' straight from the kick-off
[8-1] Jack Rowley

59


'Stan Mortensen, with only the keeper to beat, unselfishly passed to Rowley, who walked the ball in.'
[9-1] Stan Pearson 68
'Tom Finney's shot needed only a touch from Pearson to beat Kelly'





[6-1] Sammy Smyth 56


'shot past Streten from a difficult angle'

from John McKenna





[9-2] Bobby Brennan 75


'benefited from a fumble by Franklin to run through and shoot.'

second half live on the Radio Light Programme - Commentator: tbc


"ENGLAND LINE RUN RIOT ON ROUTE TO RIO"
Daily Mirror
Officials

England
UK ruling on substitutes
Ireland

Referee

(black blazer with pinstripes)


Benjamin Mervyn Griffiths
Abertillery, Monmouthshire
Linesmen
Edward Plinston


(1906) Warrington, Cheshire

J.A.A. Murphy


Ireland

England Team
Rank:

No official ranking system established;
ELO rating 4th to 3rd
Colours:
The 1949 home uniform - White collared jerseys, blue shorts, red socks.


7th, W 4 - D 0 - L 3 - F 22 - A 13.

⁴³
Capt:
Billy Wright¹


10th, W 7 - D 0 - L 3 - F 30 - A 14.

⁹⁰
Manager:
Walter Winterbottom, 36 (31 March 1913), appointed as FA national director of coaching/team manager on 8 July 1946;


25th match, W 18 - D 3 - L 4 - F 88 - A 27.

¹³⁹

Team chosen by Selection Committee headed by Arthur Drewry

on Monday, 7 November.

England Lineup

five changes

to the previous match

(Williams, Dickinson, Milburn, Shackleton & Hancocks out)

league position

(7 November)

72

Streten, Bernard R.
28
306 days
14 January 1921
G
Luton Town FC

(FL2 13th)

1

2ᵍᵃ

690

the fourth Town player to represent England
only app 1949
2
Mozley, Bert
26
56 days
21 September 1923
RB
Derby County FC

(FL 10th)

3
0
final app 1949
3
Aston, John
28
74 days
3 September 1921
LB
Manchester United FC

(FL 3rd)

10
0

691

4
Watson, Willie
29
254 days
7 March 1920
RHB
Sunderland AFC

(FL 9th)

1
0
the 16th Sunderland player to represent England
5
Franklin, Cornelius
27
296 days
24 January 1922
CHB
Stoke City FC

(FL 18th)

25
0
6
Wright, William A.
25
283 days
6 February 1924
LHB
Wolverhampton Wanderers FC

(FL 2nd)

25
1
7

Finney, Thomas
27
225 days
5 April 1922
OR
Preston North End FC

(FL2 8th)

21
14
8

Mortensen, Stanley H.
28
174 days
26 May 1921
IR
Blackpool FC

(FL 6th)

14
17
9
Rowley, John F.
31
40 days
7 October 1918
CF
Manchester United FC

(FL 3rd)

4
5

45th

(eighth post-war)

hattrick scored

oldest hatrician so far

10

Pearson, Stanley C.
30
309 days
11 January 1919
IL
Manchester United FC

(FL 3rd)

4
3

692

11

Froggatt, Jack
26
364 days
17 November 1922
OL
Portsmouth FC

(FL 5th)

1
1
ninth Portsmouth player to represent England
reserve:
Laurie Hughes (Liverpool FC

(FL TOP)

)
team notes:
Streten is the smallest goalkeeper since Teddy Davison in 1922.
Far from the fact that five players were dropped from that match against Wales, those omitted players, Bert Williams, Jimmy Dickinson, Jackie Milburn, Len Shackleton and Johnny Hancocks, were invited to Maine Road to maintain the 'international atmosphere".
goalkeeper notes:
Walter Winterbottom used twelve goalkeepers in his tenure as England manager, Streten was the only keeper he used just the once.
records:
For the fourth time, England have played a record eight matches in a single calendar year.
This is the first time England have scored nine goals since May 1947, but the first time in a competitive match since 1899.
England were set-up in Southport prior to this match, using the Haig Avenue ground to train on.
2-3-5
Streten -
Mozley, Aston -
Watson, Franklin, Wright -
Finney, Mortensen, Rowley, Pearson, Froggatt.

Averages:

Age
28 years 119 days
Appearances/Goals

9.9

2.9

Ireland Team
Rank:

No official ranking system established;
ELO rating 40th to 42nd
Colours:
Green jerseys, white shorts, blue socks.
Capt:
Jackie Vernon

Selector

:
Selection Committee
on Monday, 7 November 1949.
Ireland Lineup
Kelly, Hugh R.
30
91 days
17 August 1919
G
Fulham FC

, England

1

9ᵍᵃ

2
Feeney, James M.
28
146 days
23 June 1921
RB
Swansea Town FC

, England

2
0
final app 1946-49
3
McMichael, Alfred
22
46 days
1 October 1927
LB
Newcastle United FC

, England

2
0
4
Bowler, Gerald C.
30
161 days
8 June 1919
RHB
Hull City AFC

, England

2
0
5
Vernon, John

J.

31
51 days
26 September 1918
CHB
West Bromwich Albion FC

, England

11
0
also has two appearances for Éire
6
McCabe, James J.
31
62 days
17 September 1918
LHB
Leeds United AFC

, England

3
0
7
Cochrane, David

A.

29
94 days
14 August 1920
OR
Leeds United AFC

, England

12
0
final app 1938-49
8
Smyth, Samuel
24
264 days
25 February 1925
IR
Wolverhampton Wanderers FC

, England

7
5
9

Brennan, Robert A.
24
247 days
14 March 1925
CF
Birmingham City FC

, England

3
1

10

Tully, Charles P.
25
128 days
11 July 1924
IL
The Celtic FC, Scotland
2
0
11

McKenna, John
23
163 days
6 June 1926
OL
Huddersfield Town AFC

, England

2
0
reserve:
H. Walsh (Linfield FC).
2-3-5
Kelly -
Feeney, McMichael -
Bowler, Vernon, McCabe -
Cochrane, Smyth, Brennan, Tully, McKenna.

Averages

:

Age
27 years 134 days
Appearances/Goals

4.3

0.3
Match Report

by Mike Payne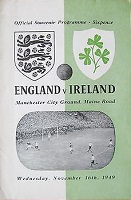 Grey sky and persistent drizzle could not dampen the Manchester crowd's enthusiasm for one of England's most impressive and fluent performances. They completely overwhelmed the Northern Ireland side with a display of football that was pure delight.

The Irish offered plenty of pluck and never gave up but really there was only one team in it. The goals simply rained into the Irish net and poor Kelly in goal did not know what him.

After five minutes Jack Rowley sent Jack Froggatt away and then followed up to meet the centre smoothly to shoot home. Although Smyth and Tully set the England defence a few problems, when Tom Finney took a hold of the match in the 25th minute, the landslide began.

Playing one of his best-ever games he conjured up some sheer magic as he teased the whole Irish defence with the balance, poise, speed and footwork. Poor McMichael did not know which way to turn next. In that 25th minute, perfect footwork and controlled speed took Finney past three defenders on the right and Froggatt headed in the cross as clean as a whistle.

Within minutes the ball was off again, moving swiftly between Willie Watson, Finney, Billy Wright and Stan Mortensen before Stan Pearson joined in to add the finishing touch.

Hardly had the crowd had time to enjoy that little gem before they looked up to see Mortensen flying through the air to meet Finney's centre with a glorious header to make it 4-0 at half-time.

Rowley made it five a minute into the second half and shortly afterwards Kelly could only hear Mortensen's shot whizz past him. Smyth did pull one goal back for the Irish, but England were at full steam now, doing exactly what they liked, when they liked. Rowley scored two more goals, both of which had all the forwards helping in the build-up. The first 13 minutes of the second half had seen five goals.

A Finney headed pass to Pearson gave the England number nine the chance to score, appropriately, their ninth goal. Finally, a goal by Brennan, after a mistake by Neil Franklin, ended the scoring and an altogether extraordinary afternoon.

Match Report

by Norman Giller
Jack Rowley, deputising for injured Jackie Milburn, hammered four goals against an Irish team that had gone down 8-2 against Scotland in their previous match. Pompey's Jack Froggatt scored on his debut. England Test cricketer Willie Watson won the first of four caps at right-half, and former amateur international Bernard Streten got his only full England call while playing in the Second Division with Luton. Fulham's Irish goalkeeper Hugh Kelly had to pick the ball out of his net 28 times in five successive international matches.

Match Report
as appears in the F.A. Yearbook 1950-51, page 23
The match against Northern Ireland took place at Manchester on November 16th. The score of 9 goals to 2 in England's favour gives some idea of their complete superiority in all phases of the game. There were several changes in the English team from the one which beat Wales, Streten (Luton Town) replacing Williams in goal, Watson replacing Dickinson, and Rowley, Pearson and Froggatt entering the forward-line.
Five minutes from the start England had already established their ascendency when Rowley sent Froggatt away on the left and came up to sweep the winger's centre unerringly into the net. The Irish landslide, however, did not really begin till the 25th minute, when Finney placed a centre for Froggatt to head home. Ten minutes later a swift movement between Watson, Finney, Wright and Mortensen ended in a goal from Pearson, and very soon Mortensen added another.
Within five minutes of the resumption, England were six up with two more goals from Rowley and Mortensen. Ireland gallantly replied twice, but Rowley added two more goals and Pearson one to bring England's total to nine. It was the biggest international victory since 1899 - a brilliant display of a fast-moving scoring machine, though it must be added that the Irish defence was badly off form.

IN OTHER NEWS...
It was on 16 November 1949 that a United States Superfortress bomber ran out of fuel on a flight from California to Bermuda and crashed into the North Atlantic Ocean. Two people were killed, but the other 18 on board managed to scramble into rubber life rafts and then drifted for over three days before they were found by a Canadian destroyer some 385 miles north-east of Bermuda.
Source Notes
TheFA.com
Original newspaper reports
Northern Ireland's Football Greats


Clive Leatherdale's England's Quest For The World Cup

Rothman's Yearbooks


Mike Payne's England: The Complete Post-War Record
Norman Giller, Football Author
British Pathé
cg