"ENGLAND WON, BUT WHAT A CLOSE SHAVE"
The People
Officials

from England

Scotland
UK ruling on substitutes
England

Referee

(black blazer)


Reginald James Leafe
35 (15 December 1914),

Lambley, Nottingham

red flag

Linesmen

yellow flag

Willis

B.

Everett


Woodridge, Suffolk

Leslie A.M. Mackay


(1912), Fulham

Scotland Team
Rank
No official ranking system established;
ELO rating 9th to 10th
Colours
Dark blue jerseys with white collars, white shorts, blue socks with red tops.
Captain
George Young
Selection
The Scottish Football Association Selection Committee
on Monday, 3 April 1950.
Trainer: A. Dowdells (The Celtic FC)
Scotland Lineup
Cowan, James C.
23
303 days
16 June 1926
G
Greenock Morton FC
9

10ᵍᵃ

2
Young, George L.
27
170 days
27 October 1922
RB
Rangers FC
17
0
3
Cox, Samuel R.
26
2 days
13 April 1924
LB
Rangers FC
6
0
665
4
McColl, John Miller
22
312 days
7 June 1927
RHB
Rangers FC
1
0
5
Woodburn, William A.
30
250 days
8 August 1919
CHB
Rangers FC
10
0
6
Forbes, Alexander R.
25
84 days
21 January 1925
LHB
Arsenal FC, England
6
0
7
Waddell, William
29
39 days
7 March 1921
OR
Rangers FC
8
5
666
8
Moir, William
27
361 days
19 April 1922
IR
Bolton Wanderers FC

, England

1
0
only app 1950
667
9
Bauld, William R.L.
23
81 days
24 January 1927
CF
Hearts of Midlothian FC
1
0

10

Steel, William
26
349 days
1 May 1923
IL
Derby County FC, England
14
7
11
Liddell, William B.
28
95 days
10 January 1922
OL
Liverpool FC, England
8
2
reserves:
Travelling reserves are Robert Evans (The Celtic FC) and Lawrie Reilly (Hibernian FC).
Full team of reserves are Brown (Rangers FC); Lapsley (St.Mirren FC) and Jock Shaw (Rangers FC); Robert Evans, Dougan (Hearts of Midlothian FC) and George Aitken (East Fife FC); Billy Liddell (Liverpool FC) and James Mason (Third Lanark FC); Willie Bauld; Brown (East Fife FC) and Lawrie Reilly;
team changes:
Bauld replaced Queen of the South's Billy Houliston as the centre-forward.
team notes:
The Scotland team were put under 'ridiculous' pressure to win this match. A victory for them would see them go to the World Cup Finals.
Willie Woodburn had a stitch inserted in a deep cut above his left eye immediately after the match. He had a continuous stream of blood down his face throughout the second half.
2-3-5
Cowan -
Young, Cox -
McColl, Woodburn, Forbes -
Waddell, Moir, Bauld, Steel, Liddell.

Averages:

Age

26

years 188 days
Appearances/Goals

7.4

1.2

England Team
Rank

No official ranking system established;
ELO rating 3rd to 2nd

Colours

The 1949 home uniform - White collared jerseys, blue shorts, red socks.


P 9th of 43, W 6 - D 0 - L 3 - F 25 - A 13.




Captain

Billy Wright

Manager
Walter Winterbottom, 37 (31 March 1913), appointed as FA national director of coaching/team manager on 8 July 1946;

12th of 90, W 9 - D 0 - L 3 - F 33 - A 14.

P 27th of 139, W 20 - D 3 - L 4 - F 91 - A 27.

²

Team chosen by Selection Committee headed by Arthur Drewry

on Wednesday, 5 April.

England Lineup
four changes to the previous match (Watson, Rowley, Pearson & Froggatt out)

league position

(5 April)

Williams, Bert F.
30
74 days
31 January 1920
G
Wolverhampton Wanderers FC

(FL 6th)

5

4ᵍᵃ

2
Ramsey, Alfred E.
30
83 days
22 January 1920
RB
Tottenham Hotspur FC

(FL2 TOP)

3
0
3
Aston, John
28
224 days
3 September 1921
LB
Manchester United FC

(FL TOP)

12
0
4
Wright, William A.
26
68 days
6 February 1924
RHB
Wolverhampton Wanderers FC

(FL 6th)

27
2
5
Franklin, Cornelius
28
81 days
24 January 1922
CHB
Stoke City FC

(FL 15th)

27
0
final app 1946-50
6
Dickinson, James W.
24
356 days
24 April 1925
LHB
Portsmouth FC

(FL 5th)

5
0
7
Finney, Thomas
28
10 days
5 April 1922
OR
Preston North End FC

(FL2 7th)

23
14
8
Mannion, Wilfred

J.

31
334 days
16 May 1918
IR
Middlesbrough FC

(FL 9th)

17
8
9
Mortensen, Stanley H.
28
324 days
26 May 1921
CF
Blackpool FC

(FL 3rd)

16
17
10

Bentley, T.F. Roy
25
333 days
17 May 1924
IL
Chelsea FC

(FL 12th)

2
1
11

Langton, Robert
31
219 days
8 September 1918
OL
Bolton Wanderers FC

(FL 16th)

10
1

the sixteenth Wanderer to represent England

reserves:
Willie Watson (Sunderland AFC

(FL 4th)

) and Jackie Milburn (Newcastle United FC

(FL 8th)

).
team notes:
Billy Wright and Neil Franklin, both playing in their 27th consecutive match, break the record set by Ernie Blenkinsop's 26.
Stan Mortensen suffered from a nasty groin scrape sustained when he landed on the track after a Woodburn tackle.
The poor form suffered by Billy Wright in the first part of the season was remedied and put behind him by this point. He had a blood clot surgically removed which reset his body's balance...and his form.
records:
This victory, the fourth in a row, equals the post-war record set back in 1946.
The England team were set up in the Marine Hotel in Troon, training at Ayr United FC's ground, prior to this match.
2-3-5
Williams -
Ramsey, Aston -
Wright, Franklin, Dickinson -
Finney, Mannion, Mortensen, Bentley, Langton.

Averages:

Age

28

years 227 days
Appearances/Goals

13.4

3.8

most experienced post war team

so far
England teams v. Scotland:

1949:
Swift
Aston
Howe
Wright
Franklin
Cockburn
Matthews
Mortensen
Milburn
Pearson
Finney
1950:
Williams

Ramsey

Aston
Wright
Franklin

Dickinson

Finney
Mannion
Mortensen

Bentley

Langton
News
"The Welsh Football Association protested to the FA and SFA over the appointment of an English referee for this match. The protest was based on the ground that the appointment of an English referee violates an agreement made by all associations in 1930 to appoint only neutral referees for international games.
After Scotland declined England's nomination of Mervyn Griffiths, a registered FAW referee, and England had declined Scotland's nomination of an Irishman, Billy Maxwell, the FA agreed to the SFA's suggestion that an English referee be appointed." - The Glasgow Herald, Wednesday, 12 April 1950, p.9.

Match Report

by Mike Payne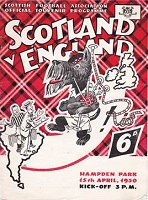 England once again clinched the Home International Championship—and with it a place in the World Cup finals—with this hard-fought win in front of a massive crowd of 133,250 spectators. It was a very close game with both sides grappling for supremacy.

Scotland began by missing a great chance as early as the second minute. Centre-forward Bauld, who, although missing chances throughout, gave a Neil Franklin a tough time, beat the England defender to a headed pass from Steel and broke clear. He seemed certain to score but shot straight at Bert Williams from 15 yards. If he had been on target, then the outcome would have probably been much different.

That was not the only near-miss of an exciting and eventful first half. Indeed, it might have been 2-2 at the interval.

The England forwards began to move the ball about beautifully along the ground and at times they had Young, Cox and Woodburn at full stretch.

After 27 minutes Scotland had their first escape when Wilf Mannion volleyed Stan Mortensen's headed pass just wide. Shortly afterwards it was Mannion again going close when he took a clever flick from Tom Finney before volleying another shot. This time Young saved his side brilliantly with a spectacular goal-line clearance.

Play then swung straight to the other end, where it was England's turn to escape. Bauld sent Waddell away and, in his effort to scramble the ball away, Williams ended up prostrate as Liddell lobbed over the bar to miss an open goal.

Six minutes into the second half, Mortensen had a goal disallowed for offside after Mannion had set him up. The Scottish crowd began to get behind their favourites and the home pressure increased. Bauld shot wide after a good shot on the turn and Williams saved twice low down from Steel and Liddell.

England stood firm though especially at full-back and centre-half. Midway through the half came what proved to be the decisive goal.


ELSEWHERE...
England's under-15 schoolboys made their first appearance at Wembley Stadium, in beating Scotland 8-2. Johnny Haynes scored twice, and Dave Mackay, future 'double' winner with Tottenham Hotspur, was in the Scottish team.


It came out of the blue. Jimmy Dickinson began the move with a pass to the left, Mannion dummied the pass and it ran on to Bobby Langton. The winger ran and held the ball well before releasing the perfect pass to Roy Bentley. Before Woodburn or Forbes could react, the England number-nine shot past Cowan.

The goal gave England much more freedom. Bentley began to roam more happily, Mannion, Billy Wright and Dickinson fed the forwards with a stream of good passes and Finney, Mortensen and Langton responded to them well.

Scotland kept battling though and 15 minutes from the end Liddell, always a danger, took a headed pass from Forbes and hit a magnificent right-foot volley which arrowed its way to the top corner. Nine times out of ten it would have been a goal, but this time Williams leapt across goal to make the save of a lifetime.

Scotland increased the pressure and after 84 minutes Bauld saw an effort strike the crossbar. Then a rare mistake by John Aston let in Waddell who shot wide from a good position. But England held on, having just deserved the result.

Individually, England had the better of the game. Wright and Dickinson were outstanding, Williams faultless. Alf Ramsey cool and calculated, and Mannion and Finney excelled up front. Indeed, Mannion, with his splendid vision was the best forward on view. For Scotland, Forbes was the outstanding player.

Match Report

by Norman Giller
Chelsea centre-forward Roy Bentley, playing a twin spearhead role with Stan Mortensen, scored the winning goal midway through the second half of his international debut. The goal confirmed England's entry into the World Cup finals. The 133,250 Hampden Park spectators were left screaming their frustration because the Scottish Football Association had surrendered their chances of a World Cup finals place by electing to go only if they won the Home Championship. How those critics who had been calling for Billy Wright to be axed were forced to eat their words! He was the driving force behind this England victory that sent them flying all the way down to Rio. Magnificent in defence alongside the immaculate Franklin, he also found time to torment the Scots with a procession of passes that kept the top-form Tom Finney supplied. Soon afterwards came the bombshell news that master centre-half Neil Franklin did not want to be considered for the World Cup because he was joining an outlawed club in Bogota. Like Billy Wright, he had played in all twenty-seven England matches since the war and they had a terrific understanding on the pitch. Now England had lost their lynchpin with the World Cup just weeks away. It put the England selectors in a dither as to whom to play in the vital centre-half role, this in an era before the two central backs system. Everything at the back revolved around the pivotal position of the man in the number five shirt, and Neil Franklin was the best by a country mile. England had lost their anchor, and would soon be all at sea.

Match Report
as appears in the F.A. Yearbook 1950-51, pages 24-25
IN OTHER NEWS
It was on 14 April 1950 that the first issue of a children's comic called 'Eagle' was published and sold almost a million copies. The main attraction was the comic-strip, 'Dan Dare, Pilot of the Future', a British war hero in space, Its high-quality colour illustrations combined with exciting futuristic storylines, highlighting strong moral values, proved extremely popular throughout the decade, and it was remembered fondly by many adults who grew up in the fifties. The stories were even turned into a radio serial, airing five times a week on Radio Luxembourg in the year following the comic's launch.

On April [15th] at Hampden Park, Glasgow, England played Scotland in the last home international of the season, and won back the international championship by a 1-0 victory. Though the teams were very evenly matched. England's slight superiority in finish probably turned the scale. Scotland were, however, unlucky not to force the draw which would have kept them in the World Cup.
Scotland attacked strongly at the start and kept the initiative through most of the first-half, Williams making flying saves from the menacing drives of Waddell, Steel and Liddell.
In the second-half England's superior power of combination, particularly at wing-half, began to tell. But they still had not found effective form in forcing home their good approach play. The solitary goal of the match came in the 64th minute, when Langton at outside-left cut down the wing and sent a low pass to Bentley, who drove hard into the Scottish net. In the last twenty minutes Scotland attacked strongly, but the English defence stood firm.

Source Notes
TheFA.com
Original newspaper reports
LondonHearts


Clive Leatherdale's England's Quest For The World Cup

Rothman's Yearbooks


Mike Payne's England: The Complete Post-War Record
Norman Giller, Football Author
British Pathé
cg