"THIS WAS A FIGHTING ENGLAND, MASTERS OF SOCCER"
Daily Herald
Officials

from France

Belgium
FIFA ruling on substitutes
England Party

Referee

(black blazer)


Raymond Vicente
The Continental ruling of allowing a substitute to replace an injured player prior to the 44th minute, and a goalkeeper at any time, is in place.
Linesmen
tbc
tbc

Belgium

Team
Rank:

No official ranking system established;
ELO rating 30th
Colours:
Red jerseys, black shorts, black socks.
Capt:
Freddy Chaves
Manager:
William Joseph Gormlie (b.mid-1911 in Toxteth Park, England)
Belgium Lineup
Meert, Henri
29
264 days
27 August 1920
G
RSC Anderlecht
19

36ᵍᵃ

2
Vaillant, Arsene
27
339 days
13 June 1922
RB
RSC Anderlecht
5
0
3
Anoul, Leopold
27
272 days
19 August 1922
LB
Royal Standard de Liege
17
4
4
van der Auwera, Jan
26
129 days
9 January 1924
RHB
RC Mechelen
9
0
5
Carré, Louis
25
131 days
7 January 1925
CHB
RFC Liegeois
12
0
6
Mees, Victor
23
112 days
26 January 1927
LHB
Royal Antwerp FC
10
0
7
van Looy, Jozef
34
77 days
2 March 1916
OR
KAA Gent
1
0
only app 1950
8
d'Aguilar, Frederic Chaves
31
222 days
8 October 1918
IR
KAA Gent
16
7
9

Mermans, Joseph
28
91 days
16 February 1922
CF
RSC Anderlecht
23
13

10

de Hert, Albert L.
28
181 days
18 November 1921
IL
K Berchem Sport
8
3
11
Mordant, Georges
22
249 days
11 September 1927
OL
ROC de Charleroi-Marchienne
3
0
unused substitutes:
Francois Daenen, Willy Saren, Jean Valet, Henri Coppens.
2-3-5
Meert -
Vaillant, Anoul -
Van der Auwera, Carre, Mees -
Van Looy, Chaves, Mermans, de Hert, Mordant.

Averages:

Age

27

years 289 days
Appearances/Goals

11.2

2.4

England Team
Rank:

No official ranking system established;
ELO rating 2nd
Colours:
The 1949 home uniform - White collared jerseys, blue shorts, black socks with white tops.


11th, W 8 - D 0 - L 3 - F 34 - A 17.

⁴³
Capt:

Billy Wright²
14th, W 11 - D 0 - L 3 - F 42 - A 18.⁹⁰

Manager:
Walter Winterbottom, 37 (31 March 1913), appointed as FA national director of coaching/team manager on 8 July 1946;


29th match, W 22 - D 3 - L 4 - F 100 - A 31

.

¹³⁹
Trainer: Ted Smith
Team chosen by Selection Committee headed by Arthur Drewry, on Thursday night, 27 April. Confirmed on Monday, 15 May, in Lisbon.
England Lineup
unchanged

from the previous match

league position

(27 April)

Williams, Bert F.
30
107 days
31 January 1920
G
Wolverhampton Wanderers FC

(FL 2nd)

7

8ᵍᵃ

2
Ramsey, Alfred E.
30
116 days
22 January 1920
RB
Tottenham Hotspur FC

(FL2 Winners)

5
0
3
Aston, John
28
257 days
3 September 1921
LB
Manchester United FC

(FL 3rd)

14
0
4
Wright, William A.
26
101 days
6 February 1924
RHB
Wolverhampton Wanderers FC

(FL 2nd)

29
2
5
Jones, William H.
29
5 days
13 May 1921
CHB
Liverpool FC

(FL 6th)

2
0
final app 1950
6
Dickinson, James W.
25
24 days
24 April 1925
LHB
Portsmouth FC

(FL TOP)

7
0
7
Milburn, John E.T., injured off 9th min.
26
7 days
11 May 1924
OR
Newcastle United FC

(FL 7th)

7
6
8

Mortensen, Stanley H.
28
357 days
26 May 1921
IR
Blackpool FC

(FL 4th)

18
19
9

Bentley, T.F. Roy
26
1 day
17 May 1924
CF
Chelsea FC

(FL 13th)

4
2
10

Mannion, Wilfred J.
32
2 days
16 May 1918
IL
Middlesbrough FC

(FL 9th)

19
9
11

Finney, Thomas
28
43 days
5 April 1922
OL

/R

Preston North End FC

(FL2 7th)

25
18
England Substitute
Mullen, James, on 10th min. for Milburn
27
132 days

6 January 1923

OL
Wolverhampton Wanderers FC

(FL 2nd)

4
3
2
first
1
unused substitutes:
Dicky Robinson (Middlesbrough FC

(FL 9th)

) and Redfern Froggatt (Sheffield Wednesday FC

(FL2 2nd)

)
team notes:
Jimmy Mullen is not only England's first ever senior team substitute, but also the first substitute to score. "Until he wrenched an ankle in the ninth minute, Milburn, who should be fit again in five days, showed signs of playing a blinder. He was carried off the field on a stretcher and Mullen came on to make history by being the first Englishman to take over as substitute in a full international." - Sheffield Telegraph. Friday, 19 May 1950.
This is Billy Wright's record 29th consecutive appearance.

record

s:
The fourth time England have won six matches in a single season.
This victory, the sixth-in-a-row, exte

nds the post-war

record, beating the record set back in 1946. But still short of the record of ten victories set in 1908-09.
2-3-5
Williams -
Ramsey, Aston -
Wright, Jones, Dickinson -
Milburn (Mullen), Mortensen, Bentley, Mannion, Finney.


notes: Mullen went to the left as Finney went to the right.

Averages

(starting XI)

:
(finishing XI)
Age

28

years 95 days
28 years 139 days
Appearances/Goals

12.5




12.2

4.8


4.7
Match Report

by Mike Payne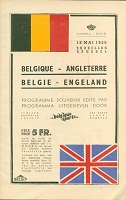 After being a goal down at half-time, England produced a spectacular second-half comeback to give themselves a marvellous boost before the left for the World Cup in Brazil.

From being a disjointed and unhappy side before the interval, England were transformed into a superb fighting unit afterwards. An injury to Jackie Milburn, who was forced to go off after 15 minutes to be replaced by Jimmy Mullen. meant they had to reorganise with Tom Finney moving to the right wing and Mullen taking up the left-wing position.

For a while it had no real effect. Belgium had the better of the first half and took the lead in the 44th minute. A pass from Mees found Mermans completely unmarked in front of goal and in the area. He made no mistake and scored with a terrific right-foot shot.

Straight after the break though England equalised. Only a minute of the half had gone when Mullen picked up the ball and dribbled down the left before cutting inside to shoot neatly wide of Meert.

From that moment, England gradually got better and better. The attack was more thrustful and the defence tightened up considerably. On 66 minutes it appeared that a Belgian defender handled the ball well inside the area, but the referee awarded a free-kick outside the box. Justice appeared to be done, though as Finney placed the kick perfectly for Mortensen to head home.

A minute later England scored again. This time a brilliant move involving Mortensen and Roy Bentley ended with Wilf Mannion scoring.

But the visitors were totally dominating the game was Meert was called upon to make some fine saves, but two minutes from the end he was beaten again when Bentley scored England's fourth.

Match Report

by Norman Giller
Wolves winger Jimmy Mullen became England's first ever substitute when he replaced injured Jackie Milburn, and he scored one of the goals as England staged a second-half recovery after trailing 1-0 at half-time. Roy Bentley had a foot in three of the goals and scored the last one himself in this final warm-up before the World Cup. The Belgians, trained by former Blackburn and Northampton goalkeeper Bill Gormlie, scored their goal through centre-forward Joe Mermans. It exposed the fact that England were still struggling at the heart of their defence. The match was virtually won for England by a half-time tactical talk from Walter Winterbottom. He was often accused of being too long winded and technical with his instructions, but he got straight to the point and made it clear how England should tighten at the back and push forward in midfield. England followed his orders and comfortably outplayed the Belgians in the second half. Poor Bill Jones had failed to impress the selectors, and was not even in the Party named the following week for the trip to Brazil. He had been thrown into the team at the last minute, which was hardly the proper preparation for his debut in international football.

Match Report
as appears in the F.A. Yearbook 1950-51, page 27
The match against Belgium too place at Brussels on May 18th.
England won the match by 4 goals to 1 after being a goal down at half-time. Their recovery was spectacular - from being a somewhat disjointed team in the first-half, they became, after the interval, a splendid working machine, playing polished football.
Milburn was injured shortly after the beginning of the game, and after a quarter of an hour Mullen came on as a substitute, the first member of an English team ever to do so in a full international match. Belgium took the lead just before half-time with a terrific right-foot drive into the net by Mermans.
One minute after the interval, Mullen equalised. From now on England better and better, their forward play in particular reaching a very high standard. Mannion, who played what was probably one of his greatest games of his career for England, deserves special mention.
It was 20 minutes before another goal was scored. Finney took a free-kick and placed it perfectly in the goalmouth for Mortensen to head into the net. A minute later, Mannion scored from a fine movement by Mortensen and Bentley. After a wonderful display of accurate passing by the England forwards and some fine saves by the Dutch goalkeeper, Bentley scored England's fourth goal two minutes from the end.

Source Notes
TheFA.com
Original newspaper reports
Belgianfootball.be

Rothman's Yearbooks


Mike Payne's England: The Complete Post-War Record
Norman Giller, Football Author
British Pathé
cg