"STAN SETS BRUSSELS TALKING" Nottingham Journal
Officials

from Scotland
Belgium
FIFA ruling on substitutes
England
Referee
James M. Martin
Angus Hotel, Blairgowrie, announced 17 September

'THE TWELVE SECOND GOAL'


"Before the Boy Scout Band, which played the pre-match music, had had time to park their instruments, England had one in the net. I made it exactly 12 seconds from kick-off" - Clifford Webb, The Daily Herald, Monday, 22 September 1947.

The FIFA ruling of allowing a substitute to replace an injured player prior to the 44th minute, and a goalkeeper at any time, is in place.
Linesmen
M. Andrew Watt


Edinburgh

H. William G. Livingstone


Glasgow

Belgium Team
Rank:
No official ranking system established;
ELO rating 48th
Colours:
Probably red jerseys, red shorts, red socks
Capt:
Bert de Cleyn
Manager:
William Joseph Gormlie (b.mid-1911 in Toxteth Park, England)
Belgium Lineup
Daenen,

François

28
27 days
25 August 1919
G
Royal Tilleur FC
10

25ᵍᵃ

2
Aernaudts, Léon
29
42 days
10 August 1918
RB
Royal Berchem Sport
5
0
3
Pannaye, Joseph
25
54 days
29 July 1922
LB
Royal Tilleur FC
13
0
final app

1944-47

4
Coppens, Hendrik
28
326 days
30 October 1918
RHB
Royal FC Malinois
10
3
5
Henriet, Jules
29
220 days
13 February 1918
CHB
Royal Charleroi SC
6
0
6
Massay, Fernand
27
275 days
20 December 1919
LHB
Royal Standard de Liege
4
0
7

Lemberecht, Victor
23
129 days
15 May 1924
OR
Royal FC Malinois
12
3
8

Mermans, Joseph
25
217 days
16 February 1922
IR
RSC Anderlecht
5
1
9
de Cleyn, Albert
30
85 days
28 June 1917
CF
Royal FC Malinois
10
8

10

Anoul, Léopold R.J.V.
25
51 days
19 August 1922
IL
Royal Standard de Liege
4
3
11
Thirifays, René
26
348 days
8 October 1920
OL
ROC de Charleroi-Marchienne
6
1
unused substitutes:
Rie Meert, Joseph Hoble, Adolf de Buck, Antoine Puttaert.

team notes:

Although dubbed as a Jubilee match, the Belgian FA actually celebrated their fiftieth anniversary two years previously, in 1945.
2-3-5
Daenen -
Aernoudts, Pannaye -
Coppens, Henriet, Massay -
Lemberecht, Mermans, Decleyn, Anoul, Thirifays.

Averages:

Age
27

years

95

days

Appearances/Goals

7.7

1.5

England Team
Rank:
No official ranking system established;
ELO rating 4th
Colours:
The 1946 home uniform - White collared jerseys, blue shorts, black socks with white tops.
9th, W 7 - D 1 - L 1 - F 38 - A 8.¹⁸
Capt:

George Hardwick
9th, W 7 - D 1 - L 1 - F 38 - A 8.¹³

Manager:
Walter Winterbottom, 34 (31 March 1913), appointed as FA national director of coaching/team manager on 8 July 1946;
9th match, W 7 - D 1 - L 1 - F 38 - A 8.¹³⁹

Team chosen by Selection Committee headed by Arthur Drewry, on Thursday, 11 September.

England Lineup
one change to the previous match (Ward>Lowe)
league position (11 September)
Swift, Frank V.
33
269 days
26 December 1913
G
Manchester City FC

(FL 11th)

9

8ᵍᵃ

2
Scott, Lawrence
30
151 days
23 April 1917
RB
Arsenal FC

(FL TOP)

9
0
3
Hardwick, George F.M.
27
231 days
2 February 1920
LB
Middlesbrough FC

(FL 4th)

9
0
668
4
Ward, V. Timothy
30
5 days
16 September 1917
RHB
Derby County FC

(FL 6th)

1
0
27th County player to represent England
5
Franklin, Cornelius
25


240 days

24 January 1922
CHB
Stoke City FC

(FL 18th)

9
0
6
Wright, William A.
23
227 days
6 February 1924
LHB
Wolverhampton Wanderers FC

(FL 5th)

9
0
7


Matthews, Stanley
32
232 days
1 February 1915
OR
Blackpool FC

(FL 3rd)

21
9
8

Mortensen, Stanley H.
26
118 days
26 May 1921
IR
Blackpool FC

(FL 3rd)

2
5
9

Lawton, Thomas
27
350 days
6 October 1919
CF
Chelsea FC

(FL 15th)

17
18

10

Mannion, Wilfred

J.

29
128 days
16 May 1918
IL
Middlesbrough FC

(FL 4th)

9
7
11

Finney, Thomas
25
169 days
5 April 1922
OL
Preston North End FC

(FL 2nd)

7
7

unused substitute

s:
Willie Watson (Sunderland AFC

(FL 17th)

).

record

s:
Frank Swift broke the goalkeeping clean sheet record by a single minute, extending the record from 377 to 378 minutes, when Jef Mermans scored in the 33rd minute.
2-3-5
Swift -
Scott, Hardwick -
Ward, Franklin, Wright -
Matthews, Mortensen, Lawton, Mannion, Finney.

Averages

:

Age
28

years

161

days

Appearances/Goals

9.3

3.7

oldest post-war team so far
most experienced post-war team so far
Match Report
by Mike Payne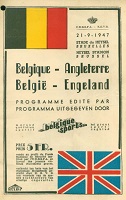 Most of Belgium's political VIPs were amongst the spectators in the Heysel Stadium to witness a fine performance by an England side inspired by the magic of Stanley Matthews.

Rain threatened at the start but it took England only one minute to take the lead. A lovely move, in which all the forwards featured, ended with Tommy Lawton scoring from Matthews' pass.

By now the rain was lashing down but more delightful play soon gave England their second goal. Again Matthews was involved. His cross was headed down into some space by Lawton and Stan Mortensen burst through to beat Daenen with a good shot.

That goal had come after 15 minutes and. almost at once, Matthews set up another goal. This time his cross to the far post was met by Tom Finney, who made it 3-0.

Belgium hit back before half-time when Mermans put in a fine header that was well saved by Frank Swift. The inside-right was not to be denied though and shortly afterwards he took a pass from De Cleyn and shot home via a deflection off George Hardwick's legs. The goal ended an eventful first 45 minutes.

After the berak the rain stopped and the sun came out. It spurred Belgium on and ten minutes into the second half, they really opened up the game with a second goal. Swift was drawn badly out of position and Lemberecht was able to head into an empty net.

The Belgians then threw everything at England trying desperately to find an equaliser. But Matthews had other ideas. A superb dribble, in which he beat man after man, ended with him setting up Finney with the easiest of chances for the goal that settled the issue.

Before the end, England underlined their superiority with a fifth goal. The incredible Matthews again made the running before Lawton headed past the goalkeeper.

Match Report
by

Norman Giller
Many observers considered this the finest match Stanley Matthews ever played for England. The "Wizard of Dribble" laid on all five goals and at the final whistle got a standing ovation from the Belgian crowd. Stanley started the slaughter after just 35 seconds when he crossed for Tommy Lawton to score with one of his typical headers. It was raining cats and dogs and goals as England raced 3-0 clear before the Belgians pulled one back just before half-time. Belgium began to get a grip on the game as the sun came out in the second-half, and they made it 3-2 before Matthews took over again, laying on decisive goals for first Tom Finney and - finishing as he had started - crossing the ball for Lawton to head his second goal and England's fifth. Derby County right-half Tim Ward made his debut, with Billy playing in the number six shirt. The game was played at the Heysel Stadium, the scene of the tragic crowd disaster during the 1985 European Cup Final between Liverpool and Juventus. The ground had been used as a park for German tanks during the war and the pitch had been re-laid. It started to cut up in the downpour. The Belgian defenders were slipping and sliding all over the place as Stanley ran rings round them. It was an astonishing performance by the Maestro. Five Belgians tried to get the ball off him when he set up the fourth goal. He beat each one of them, then dribbled round another for a second time before passing to Tom Finney, who had the simple task of placing the ball into the net for his second goal that had Matthews written all over it. Even by Stanley's standards, this was something very special.

Match Report
as reported in the

F.A. Yearbook 1948-49, page 22
The International season opened with a victory at the Heysel Stadium at Brussels, September 21, 1947, over Belgium by five goals to two. In this match, as in so many others, Stanley Matthews at outside-right proved himself the player of the year; though he scored none of them, he 'made' all England's goals. In pouring rain England started with a perfect forward movement from the kick-off and scored within the first minute of the game. Lawton kicked the goal from a splendid pass from Matthews. A quarter of an hour later Matthews performed one of his famous runs and centred to Lawton who headed to Mortensen for the last-named to score. Very shortly afterwards Matthews placed a free kick in a perfect position for Finney to score again. A quarter of an hour from half-time Mermans, the Belgian inside-right, scored from a pass from is centre-forward, the ball being deflected into the net by Hardwick's legs.

In the second half the weather and the Belgian team both improved, and the next goal went to Belgium in ten minutes, being scored with a header by Lemberecht. At 3—2 the game became livelier but, in spite of Belgium's great efforts to level the score, Matthews soon made another of his dribbling runs, beating player after player down the field and giving Finney another easy chance to score the fourth goal. The last goal was scored with Lawton's head, after still another magnificent run by Matthews.
All twelve England players on duty were absent from their club's first-division fixture on the previous day:
Arsenal 3 Stoke City 0 - Arsenal without Lawrie Scott, Stoke without Neil Franklin.
Blackpool 0 Sunderland 1 - Blackpool without Matthews and Mortensen, Sunderland without Willie Watson.
Chelsea 3 Everton 1 - Chelsea without Tommy Lawton.
Derby County 1 Aston Villa 3 - Derby without Tim Ward.
Huddersfield Town 0 Wolverhampton Wanderers 1 - Wolves without Billy Wright.
Manchester City 0 Manchester United 0 - City without Frank Swift.
Middlesbrough 1 Portsmouth 2 - Middlesbrough without Hardwick and Mannion.
Sheffield United 3 Preston North End 1 - Preston without Tom Finney.

IN OTHER NEWS...
It was on 22 September 1947 that the Post Office issued details of how they would provide relief on tobacco duty for pensioners who were habitual smokers or snuff takers. Tokens would be accepted as part-payments by tobacconists. It was in response to an increase in the tax of 43%. 1.4 million pensioners received the tokens, rising to 2.6 million when it was repealed, ten years later.
Source Notes
TheFA.com
Original newspaper reports


Belgianfootball.be

Rothman's Yearbooks


Mike Payne's England: The Complete Post-War Record
Norman Giller, Football Author
Drew Herbertson, Scottish FA historian
cg