229 vs. Wales



previous match

(27 days)


235 vs. Belgium
236


next match

(18 days)


237 vs. Ireland

243 vs. Wales

Saturday

,

18 October 1947




Home International Championship 1947-48

(53rd)

Match





Wales 0 England 3

[0-3]





Ninian Park, Sloper Road, Saltmead, Cardiff, Glamorgan


Kick-off (BST): 3.03pm. "The struggle started three minutes late".


Attendance: "A record drowd of 55,000".

unknown kicked-off
[0-1] Tom Finney 6
'Lawton, pivoting quickly, drove in a shot which Sidlaw saved, but Finney scored into far corner of the net'
[0-2] Stan Mortensen 11


'Matthews squared the ball for Mortensen to stroll forward and kick in'


[0-3] Tommy Lawton 15


'shot a beautiful goal'

from a Mannion cross


"ENGLAND FORCE THREE 'LEEKS' AT NINIAN" - Sports Argus
Officials from Scotland

Wales Party

UK ruling on substitutes

England Party
Referee
James M. Martin
x (-), Angus Hotel, Blairgowrie
11
goal-kicks
12
11
corners
5
Linesmen
5
fouls
5
William Thomas Strainge
46 (11 June 1901), Bristol
D.A. Williams


Aberbargoed

17
throw-ins
27

Wales Team
Rank:

No official ranking system established;
ELO rating 16th to 17th
Colours:
Made by Umbro - Red jerseys with white collars, white shorts with red side strip, red socks with white tops.
Capt:
Ron Burgess

Selection

:
....by the Selection Committee, on Tuesday, 7 October 1947.
Wales Lineup
Sidlow, Cyril
31
326 days
26 November 1915
G
Liverpool FC

, England

3

7ᵍᵃ

2
Lambert, Raymond
25
92 days
18 July 1922
RB
Liverpool FC, England
2
0
3
Barnes, Wallace
27
275 days
16 January 1920
LB
Arsenal FC, England
1
0
4
Powell, Ivor V.
31
105 days
5 July 1916
RHB
Queen's Park Rangers FC

, England

2
0
5
Jones, Thomas G.
30
6 days
12 October 1917
CHB
Everton FC

, England

7
0
6
Burgess, W.A. Ronald
30
192 days
9 April 1917
LHB
Tottenham Hotspur FC

, England

4
0
7
Thomas, D. Sidney
27
340 days
12 November 1919
OR
Fulham FC

, England

1
0
8
Powell, Aubrey
29
182 days
19 April 1918
IR
Leeds United AFC

, England

3
0
9
Lowrie, George
27
303 days
19 December 1919
CF
Coventry City FC, England
1
0

10

Jones, Brynmor
35
246 days
14 February 1912
IL
Arsenal FC

, England

16
4
11
Edwards, George
26
320 days
2 December 1920
OL
Birmingham City FC

, England

4
0

reserves:

Alf Sherwood (Cardiff City).
2-3-5
Sidlow -
Lambert, Barnes -
I.Powell, TG.Jones, Burgess -
Thomas, A.Powell, Lowrie, B.Jones, Edwards.

Averages:

Age
29

years

186

days

Appearances/Goals

4.0

0.4

oldest post-war opposition so far

England Team
Rank:

No official ranking system established;
ELO rating 4th to 3rd
Colours:
The 1946 home uniform - White collared jerseys, blue shorts, black socks with white tops.


10th match, W 8 - D 1 - L 1 - F 41 - A 8

¹⁸
Capt:

George Hardwick


10th capt, W 8 - D 1 - L 1 - F 41 - A 8

¹³

Manager:
Walter Winterbottom, 34 (31 March 1913), appointed as FA national director of coaching/team manager on 8 July 1946;


10th match, W 8 - D 1 - L 1 - F 41 - A 8

¹³⁹

Team chosen by Selection Committee headed by Arthur Drewry, on Monday, 6 October.

England Lineup
Swift, Frank V.
33
296 days
26 December 1913
G
Manchester City FC
10

8ᵍᵃ

2
Scott, Lawrence

, injured second half

30
178 days
23 April 1917
RB
10
0
3
Hardwick, George F.M.
27
258 days
2 February 1920
LB
10
0
669
4
Taylor, Philip H.
30
30 days
18 September 1917
RHB
Liverpool FC
1
0
13th Liverpool player to represent England
5
Franklin, Cornelius
25


267 days

24 January 1922
CHB
10
0
6
Wright, William A.
23
254 days
6 February 1924
LHB
10
0
7
Matthews, Stanley
32
259 days
1 February 1915
OR
Blackpool FC
22
9
8
Mortensen, Stanley H.

, injured second half

26
145 days
26 May 1921
IR
Blackpool FC
3
6
9
Lawton, Thomas
28
12 days
6 October 1919
CF
Chelsea FC
18
19

10

Mannion, Wilfred

J.

29
155 days
16 May 1918
IL
Middlesbrough FC
10
7
11
Finney, Thomas
25
196 days
5 April 1922
OL
8
8

reserve:

Tim Ward (Derby County FC)
2-3-5
Swift -
Scott, Hardwick -
Taylor, Franklin, Wright -
Matthews, Mortensen, Lawton, Mannion, Finney.

Averages:

Age
28

years

188

days

Appearances/Goals

10.2

4.2

oldest post-war team so far
most experienced post-war team so far
Match Report by Mike Payne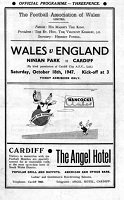 It was case of 'genius defeating talent' when these two sides met in 1947. The match was decided in the first 15 minutes as the England side put together some superb football to score three times.

After only 30 seconds, the Welsh goalkeeper Cyril Sidlow had parried a fierce shot from Stan Mortensen and then saved Tommy Lawton's follow-up header.

England were moving brilliantly. Stanley Matthews and Tom Finney were already casting their spells down the wings and after six minutes they took the lead. A fine quick-passing movement sent a ball from Phil Taylor to Matthews, to Wilf Mannion and on to Finney, who scored with his left foot. Finney had failed to score in only one of his internationals so far, a marvellous testament to his finishing skills.

After 11 minutes, Matthews left Barnes in a daze before laying on goal number-two for Mortensen. That was bad enough for Wales, but all too soon their defence was again caught flat-footed. Matthews and Mannion had Jones and Barnes in a right old tangle before Mannion's diagonal pass found Lawton travelling at speed. Sidlow probably no more than heard the centre-forward's shot as it whizzed passed him. There might have been more goals for England before half-time as they had the Welsh defence running in circles.

The second half was much more evenly contested as England, with Mortensen and Scott both suffering from pulled muscles, eased up. Lawton and Mortensen shot wide for England and as Wales fought back, Lowrie missed a good chance close in and Aubrey Powell twice forced Frank Swift into diving saves.

With Taylor having a fine debut and Billy Wright outstanding, Wales could find little change from the English defence. Ronnie Burgess had a good game but Ray Lambert and Walley Barnes had a torrid time. Right until the end, that man Matthews was leaving a trail of red shirts in his wake as England registered their first win on Welsh soil for 13 years.

Match Report by Norman Giller
Stanley Matthews continued where he had left off against Belgium in this first Home Championship match of the 1947-48 season. Wales brought in Arsenal's redoubtable defender Walley Barnes for his debut, and gave him the thankless task of marking Matthews. "Stanley ran me dizzy," admitted Barnes, who later became captain of Wales. England were 3-0 up inside the first fifteen minutes, with Matthews running riot on the right wing. Liverpool right-half Phil Taylor came in for his debut as the England selectors continued to fiddle with the line-up. England might have won more convincingly but for both Laurie Scott and Stan Mortensen pulling muscles. This was in the days before substitutes, and so England had two players hobbling through the second-half and had to close the game down.




Source Notes
TheFA.com
Original newspaper reports
Statistics come from the 'Sunday Mirror'

Rothman's Yearbooks


Mike Payne's England: The Complete Post-War Record
Norman Giller, Football Author
Wales' Complete Who's Who since 1946
cg