"'OLD GUARD' TOO GOOD FOR WALES" Daily Mirror
Officials

England

UK ruling on substitutes

Wales
Referee
William E. Webb


Glasgow

Linesmen

Robert Owen


Elay

Rev. Harold James Pethybridge


36 (4 December 1909), Tipton

England Team
Rank:
No official ranking system established;
ELO rating 4th
Colours:
The 1946 home uniform - White collared jerseys, blue shorts, black socks with white tops.
3rd, W 3 - D 0 - L 0 - F 11 - A 2¹⁸

Capt:
George Hardwick
3rd, W 3 - D 0 - L 0 - F 11 - A 2.¹³
Manager:
Walter Winterbottom, 33 (31 March 1913), appointed as FA national director of coaching/team manager on 8 July 1946;
3rd match, W 3 - D 0 - L 0 - F 11 - A 2.¹³⁹
Trainer: Laurie Barnett (Manchester City FC)
Team chosen by Selection Committee headed by Arthur Drewry on Wednesday, 30 October, following the trial match between the FA XI and RAF XI in Reading.
England Lineup
unchanged from the previous two matches
league position (30th October)
Swift, Frank V.
32
322 days
26 December 1913
G
Manchester City FC

(FL2 7th)

3

2ᵍᵃ

2
Scott, Lawrence
29
204 days
23 April 1917
RB
Arsenal FC

(FL 19th)

3
0
3
Hardwick, George F.M.
26
284 days
2 February 1920
LB
Middlesbrough FC

(FL 6th)

3
0
4
Wright, William A.
22
280 days
6 February 1924
RHB
Wolverhampton Wanderers FC

(FL 2nd)

3
0
5
Franklin, Cornelius
24
293 days
24 January 1922
CHB
Stoke City FC

(FL 9th)

3
0
6
Cockburn, Henry
25
60 days
14 September 1921
LHB
Manchester United FC

(FL 5th)

3
0
7
Finney, Thomas
24
222 days
5 April 1922
OR
Preston North End FC

(FL 10th)

3
2
8
Carter, Horatio

S.

32
327 days
21 December 1913
IR
Derby County FC

(FL 16th)

9
3
9

Lawton, Thomas
27
38 days
6 October 1919
CF
Chelsea FC

(FL 12th)

11
8
10

Mannion, Wilfred

J.

28
181 days
16 May 1918
IL
Middlesbrough FC

(FL 6th)

3
5
11
Langton, Robert
28
66 days
8 September 1918
OL
Blackburn Rovers FC

(FL 13th)

3
1
reserves:
Jimmy Hagan (Sheffield United FC

(FL 11th)

) and Harry Johnston (Blackpool FC

(FL TOP)

)
records:
By not conceding any goals, England have now kept four home clean sheets in a row, a new record.
They have also equalled the record of not conceding at home for 444 minutes.

The England team trained at Southport 's Haig Avenue ground and were staying at the de luxe Palace Hotel in Birkdale. They had dinner with the Mayor and Mayoress of Southport on the day before the match.




2-3-5

Swift -
Scott, Hardwick -
Wright, Franklin, Cockburn -
Finney, Carter, Lawton, Mannion, Langton.

Averages:

Age

27

years 233 days
Appearances/Goals

4.3

1.5

Wales Team
Rank:
No official ranking system established;
ELO rating 11th to 12th
Colours:
Made by Umbro - Red jerseys with white collars, white shorts with red side strip, red socks with white tops.
Capt:
Billy Hughes
Selector:
Selection Committee, led by Herbert Powell
on Thursday, 31 October 1946
Wales Lineup
Sidlow, Cyril
30
352 days
26 November 1915
G
Liverpool FC

, England

2
4ᵍᵃ
2
Sherwood, Alfred T.
23
13 November 1923
RB
Cardiff City FC
1
0
3
Hughes, William M.
28
253 days
5 March 1918
LB
Birmingham City FC

, England

9
0
4
Witcomb, Douglas F.
28
209 days
18 April 1918
RHB
West Bromwich Albion FC

, England

2
0
5
Jones, Thomas G.
29
32 days
12 October 1917
CHB
Everton FC

, England

6
0
6
Burgess, W.A. Ronald
29
218 days
9 April 1917
LHB
Tottenham Hotspur FC

, England

2
0
7
Jones, W. Ernest A.
26
1 day
12 November 1920
OR
Swansea Town FC
2
0
8
Powell, Aubrey
28
208 days
19 April 1918
IR
Leeds United AFC

, England

2
0
9
Richards, Stanley V.
29
296 days
21 January 1917
CF
Cardiff City FC
1
0
only app 1946

10

Powell, Ivor V.
30
131 days
5 July 1916
IL
Queen's Park Rangers FC

, England

1
0
11
Edwards, George
25
346 days
2 December 1920
OL
Birmingham City FC

, England

2
0
reserve:
originally Alf Sherwood
team notes:
Initially, two changes were made on 11 November, Alf Sherwood replaced Ray Lambert (Liverpool FC) at right-back and Ivor Powell replaced Bryn Jones (Arsenal FC) at inside-left, both players being unfit. Then the day before this match, Swansea Town's Trevor Ford dropped out because of a pulled muscle to be replaced with Richards.
The Welsh team were based in Knutsford.
2-3-5
Sidlow -
Sherwood, Hughes -
Witcomb, T.Jones, Burgess -
E.Jones, A.Powell, Richards, I.Powell, Edwards.

Averages:

Age
28

years

88

days

Appearances/Goals

2.7

0
Match Report

by Mike Payne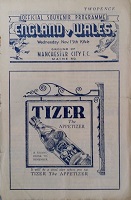 ENGLAND fought off the spirited challenge of the Welsh to gain at least a share of the Home International Championship for 1946-47. Several times the crowd were treated to the smooth rhythmic understanding of a team with so many outstanding talents, although the typical Welsh tenacity made sure that they knew that they had been in a very tough game.

An early goal is welcome in any game and it took England only eight minutes to take the lead. Tommy Lawton sent a long raking pass out to Bobby Langton on the left wing and Langton's cross was met by Raich Carter, who scrambled it towards goal. Wilf Mannion was also in the area and helped the ball on its way with a touch through Sidlow's legs. Although the ball was cleared by Hughes, the referee had decided that it had already crossed the goal-line.

Two good efforts by Ivor Powell then went close for Wales as they hit back strongly. The first shot went over and the second was superbly saved by Frank Swift. Then, with five minutes to go before half-time, England scored a second goal to set Wales back on their heels. Fine work and passing by Billy Wright, Carter and Mannion set up Lawton. The centre-forward needed no second bidding and Sidlow was soon picking the ball out of his net.

In the second half, Wales tried everything they knew to get back into the game. They threw everything at the home defence. Richards shot wide and Swift again saved well, this time from a header by Aubrey Powell. For 15 minutes it was all Wales but England weathered the storm and on 76 minutes they produced another flash of brilliance to finally kill off the Welsh dragons.

Tom Finney found Henry Cockburn with a pass in midfield and he, in turn, found Lawton. Mannion then came from nowhere to speed through a gap to take the final pass and settle the match with a good shot.

Match Report by Norman Giller
The Home International championship was considered the most important tournament on the football calendar, and nearly 60,000 fans attended Maine Road on a windy Wednesday afternoon in October 1946 to watch England against Wales.
"Will o' the Wisp" Wilf Mannion scored two and laid on the pass for a Tommy Lawton goal against a Welsh defence in which Alf Sherwood was making his full international debut at right-back. Over the next ten years he missed only one match for Wales. Frank Swift, playing in goal on his home Manchester City ground, made half a dozen outstanding saves to break the hearts of the Welsh forwards. England were nearly always in command against the Welsh, but when they did break through Frank Swift showed just why he was rated one of the world's great goalkeepers. Swiftie! What a player, and what a man. He had huge hands like shovels and often used to walk around the penalty area holding the ball with one hand as if it was a tennis ball. His reflexes were exceptionally quick for such a big man, and his positioning was just about perfect. They say all goalkeepers are crazy, and Frank certainly came into that category when he used to dive head first at the feet of oncoming forwards. He was the bravest of the brave, and had the full respect of not only his team-mates but always of opponents.

IN OTHER NEWS...
It was on 12 November 1946 that 37-year-old, Emma Oxnard was found dead in her bed in Newcastle upon Tyne by her sister. She had been beaten and strangled, almost three weeks earlier. In the meantime, her 38-year-old husband, Albert had been sending letters and postcards to her sister from Blackpool, explaining that they had saved their marriage and would be coming home soon. In reality, after his wife had refused to have sex with him throughout their 16-year marriage, he had married another woman in Poulton-le-Fylde, who was pregnant with his child. Two months after the body was discovered, he was found guilty of murder and sentenced to death, but he was given a reprieve by the Home Secretary, James Chuter Ede, a few days before he was due to be hanged. Oxnard served nine years in prison and he was reunited with his second wife and son on his release.
Source Notes
TheFA.com
Original newspaper reports
Wales' Complete Who's Who since 1946

Rothman's Yearbooks


Mike Payne's England: The Complete Post-War Record


Norman Giller, Football Author
cg