198 vs. Netherlands



previous match

(14 days)




229 vs. Wales


230




next match

(136 days)


231 vs. Scotland

386 vs. Netherlands

Wednesday

,

27 November 1946




West Riding F.A. Jubilee Celebration Friendly Match





England 8 Netherlands 2

[6-1]



Leeds Road Football Ground, Leeds Road, Bradley Mills, Huddersfield, West Riding of Yorkshire


Kick-off (GMT):

2.15pm
Attendance:

"was 32,435";

Receipts:

"£4,917".

England kicked off

Bas

Paauwe won the toss

2.0

For the Schools 3.10 Smiling Through
3.25 (on 449.1m) Association Football: England vs. Holland
(on 285.7m) Association Football: Scotland v. Ireland
4.0 Wednesday Matinee 5.0 Children's Hour 5.55 Weather Forecast 6.0 News

[1-0] Tommy Lawton

23




a terrific right-footed drive from the edge of the penalty area




[2-0]

Tommy Lawton header 26
leapt over Potharst to head in a Tom Finney goalmouth lob past Kraak
[3-0] Raich Carter 31


a left-footed drive into the far top corner from edge of area after the defender's clearance from a Finney centre fell to him


[4-0] Wilf Mannion

32




a slow-rising 14-yarder which flew into the far right corner




[5-0]

Tommy Lawton 34 HAT-TRICK


ran through unchallenged, side-stepped Kraak, and tapped the ball in left-footed from 6-yard line.





[5-0]

George Hardwick

penalty 43




kicked straight at Kraak


[6-1] Tom Finney

44




a line ball which Kraak failed to punch out















[5-1] Ko Bergman header 37
headed in Gustav Drager's centre past Swift, who was disturbed by the flashing bulbs of the cameramen

[7-1]

Raich Carter

header

74
headed in a Bobby Langton volley


[8-1]

Tommy Lawton free-kick 77



[8-2] Kick Smit

87

second half live on Radio Home Service - Commentator: Raymond Glendenning


"ENGLAND BRAINS HAD DUTCH GUESSING" Daily Mirror
Officials

England
FIFA ruling on substitutes

Netherland

s

Referee


James

M.

Martin
Angus Hotel, Blairgowrie



"If the game takes place at Elland Road or Leeds Road, it will be part of the West Riding F.A. Jubilee celebrations."

-

Yorkshire Post, Tuesday, 9 July 1946.

The FIFA ruling of allowing a substitute to replace an injured player prior to the 44th minute, and a goalkeeper at any time, is in place.

Linesmen

tbc
tbc

England Team
Rank:
No official ranking system established;
ELO rating 4th
Colours:
The 1946 home uniform - White collared jerseys, blue shorts, red socks.
4th, W 4 - D 0 - L 0 - F 19 - A 4.¹⁸

Capt:

George Hardwick
4th, W 4 - D 0 - L 0 - F 19 - A 4.¹³
Manager:
Walter Winterbottom, 33 (31 March 1913), appointed as FA national director of coaching/team manager on 8 July 1946;
4th match, W 4 - D 0 - L 0 - F 19 - A 4.¹³⁹
Team chosen by Selection Committee headed by Arthur Drewry on Saturday, 16 November.
England Lineup
one change to the previous match (Johnston>Cockburn)
league position (16 November)
Swift, Frank V.
32
336 days
26 December 1913
G
Manchester City FC

(FL2 4th)

4

4ᵍᵃ

2
Scott, Lawrence
29
218 days
23 April 1917
RB
Arsenal FC

(FL 19th)

4
0
3
Hardwick, George F.M.
26
298 days
2 February 1920
LB
Middlesbrough FC

(FL 5th)

4

¹

tenth penalty missed

(20th taken overall)

4
Wright, William A.
22
294 days
6 February 1924
RHB
Wolverhampton Wanderers FC

(FL 2nd)

4
0
5
Franklin, Cornelius
24
307 days
24 January 1922
CHB
Stoke City FC

(FL 6th)

4
0

664

6
Johnston, Harry
27
62 days
26 September 1919
LHB
Blackpool FC

(FL 3rd)

1
0
third Blackpool player to represent England
7

Finney, Thomas
24
236 days
5 April 1922
OR
Preston North End FC

(FL 9th)

4
3
8

Carter, Horatio

S.

32
341 days
21 December 1913
IR
Derby County FC

(FL 18th)

10
5
9


Lawton, Thomas
27
52 days
6 October 1919
CF
Chelsea FC

(FL 12th)

12
12
the 39th (2nd post-war) hattrick scored

thirteenth player to reach the ten goal milestone

(8yrs 36dys)

10

Mannion, Wilfred

J.

28
195 days
16 May 1918
IL
Middlesbrough FC

(FL 5th)

4
6
11

Langton, Robert
28
80 days
8 September 1918
OL
Blackburn Rovers FC

(FL 14th)

4
1
unused substitutes:
Jimmy Hagan (Sheffield United FC

(FL 10th)

) and Henry Cockburn (Manchester United FC

(FL 4th)

)
records:
Following Bergman's 37th minute goal, it was the first goal England had conceded on Home soil for 481 minutes.
England have won their last twelve home friendly matches, extending the record that began back in 1923
Although they only played four matches in 1946, England were victorious in all four. The first time they have remained unbeaten in a calendar year since 1930, and the first time they have had a 100% record for the year since 1909.

goalscoring

records:
Tommy Lawton, for the second successive 'playing' year, ends the yearly goalscoring charts as joint top goalscorer, along with Wilf Mannion, they both scored six goals each in four matches. Both players each scored a hattrick.
In the build up to this match, both sides stayed in the same Harrogate hotel, the Majestic Hotel. Training at the Wetherby Road ground.

2-3-5

Swift -
Scott, Hardwick -
Wright, Franklin, Johnston -
Finney, Carter, Lawton, Mannion, Langton.

Averages:

Age

27

years 288 days
Appearances/Goals

5.0

1.7

Netherlands Team
Rank:
No official ranking system established;
ELO rating 32nd
Colours:
Orange jerseys with laced-up collars, white shorts, orange socks with white hoop.
Capt:
Bas Paauwe
fourth captaincy
Manager:
Karel Jozeph Kaufman, 48 (29 April 1898), appointed early 1946,


fourth match, W 2 - D 1 - L 1 - F 16 - A 15.

Team chosen by Selection Committee headed by H.W.H. Herberts
Netherlands Lineup
Kraak, Pieter Cornelis
25
286 days
14 February 1921
G
IJ VV Stormvogels
4

15ᵍᵃ

2
Potharst, Jan Hilbert
28
327 days
4 January 1918
RB
Amsterdamsche FC Ajax
3
0
3
van der Linden, Hendrik
27
355 days
7 December 1918
LB
Amsterdamsche FC Ajax
4
0
4
Paauwe, Bastiaan Jacob
35
54 days
4 October 1911
RHB
SC Feijenoord
31
1
5
Vermeer, Adrianus
24
133 days
17 July 1922
CHB
SBV Excelsior
1
0
only app 1946
6
de Vroet, Arie
28
18 days
9 November 1918
LHB
SC Feijenoord
6
0
7

Drager, Gustav Karl
28
348 days
14 December 1917
OR
Amsterdamsche FC Ajax
9
3
8
Wilkes, Servaas
23
45 days
13 October 1923
IR
RFC Xerxes
4
9
9
Roosen, Wilhelmus Geradus Johannes
28
119 days
31 July 1918
CF
Haarlemsche FC
3
0
10

Smit, Johannes Chrishostomos
35
24 days
3 November 1911
IL
Haarlemsche FC
29
26
11

Bergman, Jacobus Frederik Theodorus
32
346 days
16 December 1913
OL
FC Blauw-Wit Amsterdam
5
3
unused substitutes:
"The four Dutch reserves―goalkeeper, back, half-back and forward―will be stripped for action on the touchline."
In the build up to this match, both sides stayed in the same Harrogate hotel, the Majestic Hotel. Training at the Oatlands Preparatory School playing fields.
2-3-5
Kraak -
Potharst, van der Linden -
Paauwe, Vermeer, de Vroet -
Drager, Wilkes, Roosen, Smit, Bergman.


notes:

"centre-half Vermeer began by playing the third-back game, but as soon as the English goals started he went well up field."

Averages:

Age

28

years 355 days
Appearances/Goals

9.0

3.6

oldest post-war opposition so far
most experienced post-war opposition so far
Match Report by

Mike Payne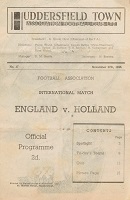 ENGLAND totally outplayed Holland from start to finish in this one-sided match. The pitch was heavy and slippery after much rain had fallen and in the opening quarter the Dutch side gave a good account of themselves. Their number eight, Wilkes, caught the eye but, alas, he seemed the only man who could match the England ball players.

In the 24th minute, England took the lead and from that moment there was only ever going to be one outcome. Raich Carter and Wilf Mannion had already taken a firm grip on the game with their immaculate passing and it came as no real surprise when Tommy Lawton scored with a shot from the edge of the area. Four minutes later the same player headed a second and in the next seven minutes there were an incredible four more goals, three to England one to Holland.

First Carter notched number three before Mannion and Lawton, his own third, made it 5-0. Bergman did manage to pull one back for the visitors but just before the interval there was more drama as George Hardwick missed a penalty and then Tom Finney scored a sixth goal. Holland trooped off at half-time in a daze, not knowing which way to turn next.

The pace, quite naturally after that onslaught, slackened after the restart and much of the play was scrappy. England went through the motions for most of the half but towards the end they livened up again creating more chances. From one excellent move Carter scored his second and then Lawton scored his fourth and England's eighth. In a late rally, Smit netted a second goal for Holland but it was, in the true sense of the word, only a consolation.

Match Report by

Norman Giller
Lawton scored four goals and might have had eight against a Dutch defence that had no answer to his all-round power. The selectors made their first change since Walter Winterbottom had taken over as manager, bringing in Blackpool skipper Harry Johnston for his England debut at left-half in place of Henry Cockburn. The Dutch held their own for the first 24 minutes on a rain-saturated pitch, and were then devastated by a six-goal storm in 20 minutes that included a Lawton hat-trick. During this spell, skipper George Hardwick missed from the penalty spot and Holland managed to pull a goal back to make it 6-1 at half-time. England took their foot off the accelerator in the second half before Raich Carter scored his second goal and Lawton his fourth. Outgunned Holland notched a late second consolation goal. Appalling weather restricted the Leeds Road attendance to 32,500. Dutch FA President Karel Lotsy told Tommy Lawton after the game: "You are the world's greatest centre-forward." Anybody who saw his amazing performance will have agreed.

Source Notes
TheFA.com
Original newspaper reports
Voetbalstats.nl

Rothman's Yearbooks


Mike Payne's England: The Complete Post-War Record
Norman Giller, Football Author
British Pathé
cg