243
previous matches
236 vs. Wales

242 vs. Ireland





next matches


244 vs. Switzerland

250 vs. Wales

Wednesday, 10 November 1948
Home International Championship 1948-49 (54th) Match

England 1 Wales 0 [1-0]


Match Summary
England Party
Wales Party

Villa Park, Trinity Road, Aston, Birmingham, Warwickshire




Kick-off (GMT): 2.30pm.




Attendance: 68,700;

Receipts: £18,377.

unknown kicked-off
[1-0] Tom Finney 39


a left-footed shot from Milburn who passed on a Matthews free-kick.

second half live on the Radio Light Programme - Commentator: Kenneth Wolstenholme


"This is the first international I ever commentated on and although my memory is faded, what a forward line: Matthews, Mortensen, Milburn, Shackleton and Finney!" - Kenneth Wolstenholme.
Match Summary
England

Type

Wales

Referee (-) - John A. Mowat
x (-), Rutherglen.

Linesmen - R.L. Aldridge, Birmingham (red flag), and R.E. Jones, Welshpool (blue flag)

No substitutes permitted, as per UK ruling.

Goal Attempts
Attempts on Target
Hit Bar/Post
Corner Kicks Won
Offside Calls Against
Fouls Conceded
Possession

England Team
Rank:

No official ranking system established;
ELO rating 2nd
Colours:
The 1946 home uniform - White collared jerseys, blue shorts, black socks with white tops.
Capt:
Billy Wright, second captaincy
Manager:
Walter Winterbottom, 35 (31 March 1913), appointed as FA national director of coaching/team manager on 8 July 1946;
17th match, W 13 - D 3 - L 1 - F 60 - A 14.


Team chosen by Selection Committee headed by Arthur Drewry, on Wednesday, 27 October 1948 following the FA XI vs. RAF XI trial match at Highbury.

England Lineup
Swift, Frank V.
34
26 December 1913
G
Manchester City FC
17

14ᵍᵃ

2
Scott, Lawrence

, injured off 25th min.

31
23 April 1917
RB
17
0
3
Aston, John
27
3 September 1921
LB
Manchester United FC
2
0
4
Ward, V. Timothy
31
16 September 1917
RHB
/RB
Derby County FC
2
0
5
Franklin, Cornelius
26
24 January 1922
CHB
17
0
6
Wright, William A.
24
6 February 1924
LHB
17
0
7
Matthews, Stanley
33
1 February 1915
OR
Blackpool FC
28
10
8
Mortensen, Stanley H.
27
26 May 1921
IR

/




RHB

Blackpool FC
9
14
9
Milburn, John E.T.
24
11 May 1924
CF
Newcastle United FC
2
1

10

Shackleton, Leonard F.
26
3 May 1922
IL
Sunderland AFC
2
0
11
Finney, Thomas
26
5 April 1922
OL
14
12

reserve:

Leon Leuty (Derby County FC)

team notes:

"Scott...was not England's only casualty. Swift was barged into and thereafter limped, Mortensen was bruised but played a wholehearted game as inside right-cum-right half, Milburn and Shackleton each took hard knocks which left them shaky." - Thursday, 11 November 1948, Yorkshire Post & Leeds Intelligencer
The England team were based in Droitwich and trained on Worcester City FC's ground.
2-3-5
Swift -
Scott

(Ward),

Aston -
Ward (Mortensen), Franklin, Wright -
Matthews, Mortensen, Milburn, Shackleton, Finney.


notes: Ward went to right-back when Scott left the field, Mortensen then also dropped back

Averages:

Age
28.1
Appearances/Goals
11.5
3.2

Wales Team
Rank:

No official ranking system established;
ELO rating 16th
Colours:
Made by Umbro - Red jerseys with white collars, white shorts, red socks with white tops.
Capt:
Wally Barnes
Manager:
Team chosen by the Selection Committee, led by the secretary, Herbert Powell, on Monday, 1 November 1948.
Wales Lineup
Hughes, William Arthur
29
2 February 1919
G
Blackburn Rovers FC

, England

1

1ᵍᵃ

2
Barnes, Wallace
28
16 January 1920
RB
Arsenal FC

, England

5
0
3
Sherwood, Alfred T.
24
13 November 1923
LB
Cardiff City FC
6
0
4
Paul, Roy
28
18 April 1920
RHB
Swansea Town FC
2
0
5
Jones, Thomas G.
31
12 October 1917
CHB
Everton FC

, England

10
0
6
Burgess, W.A. Ronald
31
9 April 1917
LHB
Tottenham Hotspur FC

, England

7
0
7
Jones, W. Ernest A.
27
12 November 1920
OR
Tottenham Hotspur FC

, England

4
0
8
Powell, Aubrey
30
19 April 1918
IR
Everton FC

, England

6
0
9
Ford, Trevor
25
1 October 1923
CF
Aston Villa FC

, England

6
3

10

Morris, William
30
30 July 1918
IL
Burnley FC

, England

2
0
11
Clarke, Royston J.
23
1 June 1925
OL
Manchester City FC

, England

1
0

reserve:

Ivor Powell (Queen's Park Rangers FC).

team notes:

Original named inside-left Billy Rees (Cardiff City FC) was replaced by Morris on Saturday, 6 November 1948, because of injury.
The Welsh team were based in Leamington Spa and trained on the Lockheed Sports Ground.
2-3-5
Hughes -
Barnes, Sherwood -
Paul, T.Jones, Burgess -
E.Jones, Powell, Ford, Morris, Clarke.

Averages:

Age
27.8
Appearances/Goals
4.5
0.2
Match Report by

Mike Payne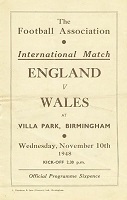 In a disappointing match at Villa Park, neither side reached a particularly high standard of play. True, England were disorganised when they were reduced to ten men after 25 minutes when Laurie Scott suffered a ligament injury in his right knee, but they never really got into their usual rhythm.

After the injury, Stan Mortensen went back to right-half and Tim Ward replaced Scott at full-back. It seemed a wrong decision by England as they badly missed Mortensen's qualities up front. Wales, meanwhile, never really impressed. They showed plenty of typical Welsh fervour but their limitations were there for all to see. The fact that England won with ten men says it all.

The vital goal came after 39 minutes. Jackie Milburn, lively throughout, made a strong run down the middle and, as he was desperarely challenged by the Welsh defenders, the ball ran loose to Tom Finney and the winger did the rest, giving Hughes no chance. Before the goal, Ford missed two excellent chances for Wales; had he taken one of them, it might have been a different story.

In the second half, Wales' attacks usually petered out on the edge of the England penalty area, although they had a good deal of the game. England were relying on Milburn, Matthews and Finney to breakaway and relieve the pressure. Billy Wright and Neil Franklin had storming games in the heart of the England defence and comfortably held a poor Welsh attack.

Near the end, England fans had their hearts in their mouths as Frank Swift missed two crosses in quick succession but the luck went the way of England and they held on to their lead.

Match Report by Norman Giller
A crowd of 68,750 gathered at Villa Park for this mid-week Home International match. Laurie Scott limped off with a damaged knee ligament in the twenty-fifth minute and the ten men of England became disorganised as Tim Ward switched to right-back and Stan Mortensen to right-half. Tom Finney scored the only goal of a drab game on the hour after a typical sprint-speed run from Jackie Milburn had ripped open the Welsh defence. BBC television cameras were at the match and a commentator called Kenneth Wolstenholme made his debut at the microphone. Some people thought it was all beginning. It was now!


Source Notes
TheFA.com
Original newspaper reports
Rothman's Yearbooks
Mike Payne's England: The Complete Post-War Record (Breedon Books Publishing Company, Derby, U.K., 1993)
Norman Giller, Football Author
Wales' Complete Who's Who since 1946 (Sutton Publishing Ltd, Stroud, U.K., 2004)
____________________

CG