England Football Online
Results 1946-1950
Page Last Updated 9 May 2022

Schweiz/Suisse/Svizzera/Svizra
217 vs. Switzerland



previous match

(15 days)


232 vs. France


233


244 vs. Switzerland


4.0

Variety Band-box
5.0 Switzerland v. England
5.45 Bing Sings

Sunday

,

18 May 1947




End-of-Season Tour Friendly Match





Switzerland 1 England 0

[1-0]





Grasshopperstadion (Hardturm Stadion), Industriequartier, Zürich
Kick-off (CET): 3.00pm 4.00pm DST

(two hours ahead of standard time)


Attendance: 34,000 SOLD-OUT
unknown kicked-off
[0-0] Fink goal disallowed: Foul

25


[1-0] Jacky Fatton 27
an acute angle following a Lauro Amadò pass


'Eddie Lowe was fouled, dispossessed, and the Swiss were allowed to go on and score,'




[1-0] Bobby Langton goal disallowed: offside

[1-0] Fink goal disallowed: Offside

83

second half live on Radio Light Programme

- Commentator: tbc


"WRONG TACTICS FOR A SMALL GROUND" Daily Herald
Officials

Switzerland

FIFA ruling on substitutes

England

Referee


Victor Sedz
France
The FIFA ruling of allowing a substitute to replace an injured player prior to the 44th minute, and a goalkeeper at any time, is in place.



"For the visit of the English team, they had erected temporary grandstands on the Hardturm Stadium. Chairs were placed on the cinder track skirting the pitch. Only a rope—and two feet of thin air—separated the spectators from the players."

- Billy Wright
Linesmen
tbc
tbc

Switzerland Team
Rank:
No official ranking system established;
ELO rating 18th
Colours:
Red jerseys with buttoned-up collars, white shorts, black socks with red/white striped tops.
Capt:
Lauro Amadò
Manager:
Karl Rappan, 41 (26 September 1905 in Wien, Austria), appointed in 1942 for a second time.


17th match, W 4 - D 5 - L 8 - F 30 - A - 42.

Switzerland Lineup
Ballabio, Erwin
29
210 days
20 October 1918
G
FC Grenchen
26

49ᵍᵃ

2
Gyger, Rudolf
27
32 days
16 April 1920
RB
FC Cantonal
10
0
3
Steffan, Willi
22
62 days
17 March 1925
LB
FC Cantonal
12
0
4
Belli, Andrè
20
339 days
13 June 1926
RHB
Servette FC
1
0
5
Eggimann, Olivier
28
110 days
28 January 1919
CHB
Lausanne-Sports
6
0
6
Bocquet, Roger
26
29 days
19 April 1921
LHB
Lausanne-Sports
7
1
7
Tamini, Jean
27
160 days
9 December 1919
OR
Servette FC
2
0
8
Fink, Walter
26
166 days
3 December 1920
IR
FC Young Fellows
7
0
9
Bickel, Alfred
29
6 days
12 May 1918
CF
Grasshopper Club
51
10
10

Amadò, Lauro
35
76 days
3 March 1912
IL
Grasshopper Club
47
19
11

Fatton, Jacques
21
150 days
19 December 1925
OL
Servette FC
7
4
unused substitutes:
not known
2-3-5
Ballabio -
Gyger, Steffan -
Belli, Eggimann, Bocquet -
Tamini, Fink, Bickel,

Amadò, Fatton.

Averages:

Age
26 years 226 days
Appearances/Goals

16.0

3.0

most experienced post-war opposition team so far

England Team
Rank:
No official ranking system established;
ELO rating 4th
Colours:
The 1946 home uniform - White collared jerseys, blue shorts, red socks.
7th, W 5 - D 1 - L 1 - F 23 - A 6.¹⁸

Capt:

George Hardwick
7th, W 5 - D 1 - L 1 - F 23 - A 6.¹³

Manager:
Walter Winterbottom, 34 (31 March 1913), appointed as FA national director of coaching/team manager on 8 July 1946;
7th match, W 5 - D 1 - L 1 - F 23 - A 6.¹³⁹

Physiotherapist:

Walter Max

Party chosen by Selection Committee headed by Arthur Drewry following the France match on 3 May, team chosen on 15 May.
England Lineup
one change from the previous match (Matthews>Finney)
league position (15 May)
Swift, Frank V.
33
143 days
26 December 1913
G
Manchester City FC

(FL2 TOP)

7
6ᵍᵃ
2
Scott, Lawrence
30
25 days
23 April 1917
RB
Arsenal FC

(FL 15th)

7
0
3
Hardwick, George F.M.
27
105 days
2 February 1920
LB
Middlesbrough FC

(FL 9th)

7
0
4
Wright, William A.
23
101 days
6 February 1924
RHB
Wolverhampton Wanderers FC

(FL TOP)

7
0
5
Franklin, Cornelius
25
114 days
24 January 1922
CHB
Stoke City FC

(FL 2nd)

7
0
6
Lowe, Edward
21
311 days
11 July 1925
LHB
Aston Villa FC

(FL 8th)

2
0
7
Matthews, Stanley
32
106 days
1 February 1915
OR
Blackpool FC

(FL 5th)

19
8
fourth Blackpool player to represent England
8
Carter, Horatio

S.

33
148 days
21 December 1913
IR
Derby County FC

(FL 13th)

13
7
final app 1934-47
9
Lawton, Thomas
27
224 days
6 October 1919
CF
Chelsea FC

(FL 12th)

15
12

10

Mannion, Wilfred

J.

29
2 days
16 May 1918
IL
Middlesbrough FC

(FL 9th)

7
7
11
Langton, Robert
28
252 days
8 September 1918
OL
Blackburn Rovers FC

(FL 18th)

6
1
unused substitutes:
Dicky Robinson (Middlesbrough FC

(FL 9th)

), Phil Taylor (Liverpool FC

(FL 4th)

), Tom Finney (Preston North End FC

(FL 6th)

), Jimmy Hagan (Sheffield United FC

(FL 7th)

), Stan Mortensen (Blackpool FC

(FL 5th)

).
team notes:
This is the first occasion that England have played a match on a Sunday.
Pre-match training took place at a training ground owned by the Swiss National Bank.
2-3-5
Swift -
Scott, Hardwick -
Wright, Franklin, Lowe -
Matthews, Carter, Lawton, Mannion, Langton.

Averages

:

Age
28 years 141 days
Appearances/Goals

8.8

3.2

most experienced post-war England team so far
Match Report
by Mike Payne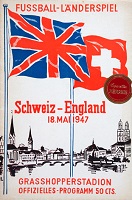 OVER 30,000 people watched this Sunday afternoon international in what was the first of two games in a European tour. The superior teamwork of the Swiss eventually won the game against a strangely subdued England side.

England never reproduced any of the exciting play of their previous post-war encounters and on this day even the defence looked well below its best against the speedy Swiss forwards.

What proved to be the deciding goal came in the 27th minute. A pass by Amado found Fatton completely unmarked to score from close range. The crowd went wild with delight as England struggled to get their game together. In one incident Tommy Lawton did get the ball into the Swiss net but the referee ruled it out for offside.

The second half was much the same pattern with the Swiss showing a lot of confidence and England desperately trying to improve. Fatton and Fink were particularly dangerous for Switzerland and Laurie Scott had his hands full with the lively winger.

It was not until the final 15 minutes that England came into the game. Lawton, easily England's most dangerous attacker, twice forced Ballabio into excellent saves but try as they might they could not force an equaliser.

Match Report
by

Norman Giller
England's famed and feared attack ran into a Swiss wall defence known as "The Redoubt". Switzerland introduced the deep-lying centre-forward tactic that completely baffled England's defenders. Left winger Jacques Fatton scored the only goal in the 27th minute. Tommy Lawton celebrated what he thought was a second-half equaliser, but the referee ruled it off-side. Once the Swiss were in front, they stifled England with a mass defence that was both disciplined and rock-solid. It was 33-year-old Raich Carter's final match for England after an international career that stretched back to 1934. The small ground was so packed that they put seats alongside the touchline to cater for an overflow of spectators. This meant it was so cramped on the wings that England could not play to the strength of Stanley Matthews and Bobby Langton. What really threw the England defenders was the Swiss ploy of dropping their number nine back into the midfield, and it took them much of the first-half working out just which players each of us should be marking. It was a sad way for Raich Carter to end his wonderful run as an England player. He was one of the finest positional players of any era, and always knew exactly where to be to get the best out of any situation. He could pass with great precision and had an accurate shot. In short, Raich was the perfect inside-forward.

Source Notes
TheFA.com
Original newspaper reports
Billy Wright's The World Is My Football Pitch

Rothman's Yearbooks


Mike Payne's England: The Complete Post-War Record


Norman Giller, Football Author
cg