"ENGLAND PAY DEARLY FOR SOCCER VICTORY" Sunday Mirror
Officials

England
FIFA ruling on substitutes
France

Referee

(black)
Louis Andre Baert
43 (

29 December 1903

), Gent, Belgium.
Linesmen
Mr. G. Clark


London

Monsieur Boes


France

England Team
Rank:
No official ranking system established;
ELO rating 4th
Colours:
The 1946 home uniform - White collared jerseys, blue shorts, black socks with white tops.
6th, W 5 - D 1 - L 0 - F 23 - A 5.¹⁸

Capt:

George Hardwick
6th, W 5 - D 1 - L 0 - F 23 - A 5.¹³
Manager:
Walter Winterbottom, 34 (31 March 1913), appointed as FA national director of coaching/team manager on 8 July 1946;
6th match, W 5 - D 1 - L 0 - F 23 - A 5.¹³⁹
Team chosen by Selection Committee headed by Arthur Drewry following the match on 12 April at Wembley.
England Lineup
three changes to the previous match (Lowe, Finney & Langton>Johnston, Matthews & Mullen)
league position (12 April)
Swift, Frank V.
33
128 days
26 December 1913
G
Manchester City FC

(FL2 TOP)

6

5ᵍᵃ

2
Scott, Lawrence
30
10 days
23 April 1917
RB
Arsenal FC

(FL 15th)

6
0
3
Hardwick, George F.M., injured 60th min.
27
90 days
2 February 1920
LB
Middlesbrough FC

(FL 7th)

6
0
4
Wright, William A.
23
86 days
6 February 1924
RHB
Wolverhampton Wanderers FC

(FL TOP)

6
0
5
Franklin, Cornelius
25
99 days
24 January 1922
CHB
Stoke City FC

(FL 4th)

6
0

666

6

Lowe, Edward
21
296 days
11 July 1925
LHB
Aston Villa FC

(FL 8th)

1
0
42nd Villa player to represent England
7

Finney, Thomas
25
28 days
5 April 1922
OR
Preston North End FC

(FL 6th)

5
4
8

Carter, Horatio

S.

33
133 days
21 December 1913
IR
Derby County FC

(FL 14th)

12
7
9

Lawton, Thomas
27
209 days
6 October 1919
CF
Chelsea FC

(FL 13th)

14
12
10

Mannion, Wilfred

J.

28
352 days
16 May 1918
IL
Middlesbrough FC

(FL 7th)

6
7
11
Langton, Robert
28
237 days
8 September 1918
OL
Blackburn Rovers FC

(FL 18th)

5
1
unused substitutes:
Phil Taylor (Liverpool FC

(FL 5th)

) and Stan Mortensen (Blackpool FC

(FL 3rd)

).
team notes:
Amateur Peter Kippax (Burnley FC

(FL2 2nd)

) was the original outside-left, he withdrew from the side on Tuesday, 29 April because of him suffering from influenza. His initial replacement Jimmy Mullen (Wolverhampton Wanderers FC) withdrew on 1 May after his club required his services. Bobby Langton was drafted in as a third replacement.
"Half an hour from the finish skipper Hardwick sustained an injury to his left knee."
"Lawton was another casualty, He had four stitches in a cut over his eye after a collision with Gregoire, French centre-half, who 'collected' five stitches." - The Sunday Mirror, 4 May 1947
records:
England have won their last thirteen home friendly matches, extending the record that began back in 1923
2-3-5
Swift -
Scott, Hardwick -
Wright, Franklin, Lowe -
Finney, Carter, Lawton, Mannion, Langton.

Averages:

Age
27

years

253

days

Appearances/Goals

6.6

2.5

France Team
Rank:
No official ranking system established;
ELO rating 27th
Colours:
Light blue jerseys with collars, white shorts, red socks
Capt:
Oscar Heisserer
Selector:
Selection Committee headed by Gaston Barreau
on Monday 28 April 1947.
France Lineup
Darui, Julien
31
76 days
16 February 1916
in Luxembourg
G
CO Roubaix-Tourcoing
15

26ᵍᵃ

2
Swiatek, Jean
24
143 days
11 December 1921
in Poland
RB
FC des Girondins de Bordeaux
4
0
3
Marche, Roger
23
59 days
5 March 1924
LB
Stade de Reims
2
0
4
Cuissard, Antoine
22
288 days
19 July 1924
RHB/
CHB
FC de Lorient
6
0
5
Grégoire, Jean, injured
24
280 days
27 July 1922
CHB
/OR
Stade français
1
0
6
Prouff, Jean
27
233 days
12 September 1919
LHB
Stade de Rennes
6
1
7
Vaast, Ernest
24
187 days
28 October 1922
OR
RC de Paris
9
6
8
Heisserer, Oscar
32
289 days
18 July 1914
in Schirrhein, Germany
IR
RC de Strasbourg
21
8
9
Bongiorni, Emile
26
45 days
19 March 1921
CF
RC de Paris
3
1

10

Tempowski, Boleslav
25
337 days
31 May 1921
in Poland
IL
Lille Olympique SC
1
0
only app 1947
11
Lechantre, Jean
25
79 days
13 February 1922
in Belgium
OL
Lille Olympique SC
1
0
unused substitutes:
Jacques Favre (Rennes) and Roger Gabet (RC de Paris)
team notes:
Original centre-half, Swiatek replaced Strasbourg's Segundo Pascual at right-back. Reserve Jean Grégoire took up the vacant centre-half position. Tempowski also replaced the original choice inside-left, Lille's Baratte.
The French appearance tallies also include matches played during the war, considered by The FA as unofficial war internationals.
2-3-5
Darui -
Swiatek, Marche -
Cuissard, Grégoire (Cuissard), Pouff -
Vaast (Grégoire), Heisserer, Bongiorni, Tempowski, Lechantre.


notes: Grégoire was injured during the second half and spent his time on the wing.

Averages:

Age
26 years 118 days
Appearances/Goals

6.3

1.5

youngest post-war opposition so far
Match Report

by

Mike Payne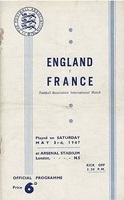 FRANCE were totally outclassed by England in an interesting international at Highbury, home of Arsenal FC. The fact that the visitors held out until after half-time was mainly due to Da Rui's acrobatics in the French goal.

England were soon pressing forward and enjoyed virtually all the possession in the first 45 minutes. They tended to spoil their approach play, though, by over elaborating in midfield. This gave the French the time to regroup in defence and the visitors did this well.

Da Rui saved well from Tommy Lawton and Tom Finney from England's best efforts of the half, whilst France's only worthwhile shot flew over Frank Swift's crossbar from Lechantre. It was remarkable that the scoreline was still blank at the break, as England had been so much on top.

After the interval, however, England were much more sensible about their passing. Raich Carter and Wilf Mannion began to release the ball much earlier and holes soon began to appear in the rear French rearguard.

After 51 minutes, the breakthrough arrived. A sparkling move involving high-speed passing between Bobby Langton, Carter, Lawton and Mannion ended with Finney taking the final pass in his stride to shoot home a fine goal. It was significant that not one Frenchman had touched the ball in 50 yards.

France hit back briefly when Tempowski forced Swift into a full-length save, but Mannion soon underlined England's superiority with a second goal. Swiatek made a poor clearance and the England number-ten expertly lobbed the ball over the goalkeeper and into the net.

Fifteen minutes from the end, Lowe, on a satisfying debut, capped a fine second half for his team by selling the whole French defence a dummy before putting Carter through with a glorious pass for England's third goal.

By this time France were all at sea and only some desperate tackling prevented further goals. Once again, a European challenge had failed on English soil.

Match Report

by

Norman Giller
The selectors continued to dither over whether to play Matthews or Finney. The Preston plumber got the nod this time, making his mark with the first goal in a 3-0 canter against a French team whistled and jeered for their shirt-pulling and spoiling tactics. Wilf Mannion scored the second goal with a delightful lob over French goalkeeper Da Rui, who had kept a blank sheet in the first half with a series of spectacular and unconventional saves. Eddie Lowe, making his debut at left-half, sent three defenders the wrong way with an outrageous dummy before passing the ball into the path of Raich Carter, who coolly slotted home England's third goal.

IN OTHER NEWS...
Bradford Northern beat Leeds, 8-4, in the Rugby League Challenge Cup Final at Wembley. The two local rivals from the West Riding of Yorkshire attracted a world-record attendance of 77,605.
It was on 4 May 1947 that an audacious prison break managed to free 241 men from Acre Prison in the British Mandate of Palestine. 27 of them were members of Zionist paramilitary organisations captured by the British Army, who had hanged three members of the Irgun group, less than three weeks earlier.

Source Notes
TheFA.com
Original newspaper reports
FFF.fr
Allezlesbleus.free.fr

Rothman's Yearbooks


Mike Payne's England: The Complete Post-War Record
Norman Giller, Football Author
British Pathé
cg