England Football Online
Results 1950-1955
Page Last Updated 10 May 2022

Schweiz/Suisse/Svizzera/Svizra
244 vs. Switzerland


272


next match

(129 days)


273 vs. Ireland

289 vs. Switzerland

Wednesday

,

28 May 1952




End-of-season European Tour Match





Switzerland 0 England 3

[0-1]




Hardturm Stadion, Industriequartier, Zürich
Kick-off (CEST & BST): 6.30pm
Attendance: 32,000

;

Switzerland won the toss

[0-0] Nat Lofthouse header hits the post
[0-1]

Jackie Sewell

13


'After a corner kick by Allen had been partially cleared, Sewell, standing on the edge of the penalty box, lobbed the ball so accurately that Schmidhauser could only help into the goal with his head.'

[0-2]

Nat Lofthouse

51
'A long clearance from Ramsey found Finney, who pushed the ball inside to Jackie Sewell, who flicked it forward for Lofthouse, running in, to shoot hard and low past Preiss'
[0-3]

Nat Lofthouse

90


'On the stroke of time Lofthouse took full advantage of indecision on the part of the Swiss backs to ram home the third.'

there is no Television or Radio coverage


"Lofthouse comes up to scratch"
Daily Herald
Officials

Switzerland
FIFA ruling on substitutes
England Party

Referee

(black)


Ludovicus Andreas Maria Baert
48 (29 December 1903), Ghent, Belgium
The FIFA ruling of allowing a substitute to replace an injured player prior to the 44th minute, and a goalkeeper at any time, is in place.

The match was watched by Field Marshal Viscount Montgomery.
The match was preceded by a junior Zürich side against a Birmingham Boys side. Birmingham won 5-2, but the match was interrupted by a crowd invasion.
Linesmen


from Switzerland

Wilhelm Rufli


40 (1 December 1911), Bremgartem

Paul

Raymond Wyssling


40 (5 January 1912), Zürich

Switzerland Team
Rank:

No official ranking system established;
ELO rating 25th
Colours:
Red jerseys, white shorts, black socks.
Capt:
Roger Bocquet

Selecto

r:
Selection Commission: -
William Baumgartner, Gaston Tschirren and Leopold Kielholz.
Switzerland Lineup
Preiss, Thomas
34
107 days
11 February 1918
G
Grasshopper FC
2

5ᵍᵃ

final app 1949-52
2
Kernen, Wilhelm
22
296 days
6 August 1929
RB
FC La Chaux-de-Fonds
6
0
3
Bocquet, Roger
31
39 days
19 April 1921
LB
Lausanne-Sports
36
2
4
Neukom, Wilhelm
32
95 days
23 February 1920
RHB
Grasshopper-Club
4
0
5
Eggimann, Olivier
33
121 days
28 January 1919
CHB
Servette FC
31
0
6
Schmidhauser, Hannes G.
25
262 days
9 September 1926
LHB
FC Locarno
1
0
7
Ballaman, Robert
25
342 days
21 June 1926
OR
Grasshopper-Club
10
6
8
Hügi, Joséf
22
126 days
23 January 1930
CF
FC Basel
2
0
9
Bader, René
29
295 days
7 August 1922
IR
FC Basel
16
1

10

Pasteur, Lucien
30
241 days
30 September 1921
IL
Servette FC
5
2
11
Fatton, Jacques
26
161 days
19 December 1925
OL
Servette FC
37
24
unused substitutes:
Friedrich Jucker (FC Biel), Willy Steffen, Andre Neury, Roger Quinche, Roger Vonlanthen, Ferdinando Riva
2-3-5
Preiss -
Kernan, Bocquet -
Neukom, Eggimann, Schmidhausser -
Ballaman, Bader, Hügi, Pasteur, Fatton.

Averages:

Age
28 years 197 days
Appearances/Goals

13.6

3.2

England Team
Rank:

No official ranking system established;
ELO rating 3rd
Colours:
The 1949 home uniform - White collared jerseys, blue shorts, black socks with white tops.


25th, W 15 - D 5 - L 5 - F 66 - A 35.

⁴³
Capt:

Billy Wright³
28th, W 18 - D 4 - L 6 - F 68 - A 34.⁹⁰

Manager:
Walter Winterbottom, 39 (31 March 1913), appointed as FA national director of coaching/team manager on 8 July 1946;


46th match, W 31 - D 8 - L 7 - F 137 - A 53.

¹³⁹
Trainer: Jimmy Trotter (Charlton Athletic FC)

Team chosen by Selection Committee headed by Arthur Oakley, on Tuesday, 27 May, in

Zürich.

England Lineup
one change to the previous match (Allen>Elliott)

FINAL league positions

(3 May)

Merrick, Gilbert H.
30
123 days

26 January 1922

G
Birmingham City FC

(FL2 3rd)

6

6ᵍᵃ

2
Ramsey, Alfred E.
32
127 days
22 January 1920
RB
Tottenham Hotspur FC

(FL RU)

22
1
3
Eckersley, William
26
317 days
16 July 1925
LB
Blackburn Rovers FC

(FL2 14th)

8
0
4
Wright, William A.
28
112 days
6 February 1924
RHB
Wolverhampton Wanderers FC

(FL 16th)

43
3

most apps

1952

5
Froggatt, Jack
29
193 days
17 November 1922
CHB
Portsmouth FC

(FL 4th)

8
1
6
Dickinson, James

W.

27
34 days
24 April 1925
LHB
Portsmouth FC

(FL 4th)

20
0

the 25th player to reach the 20-app milestone

717
7
Allen, Ronald
23
134 days
15 January 1929
OR

/L

West Bromwich Albion FC

(FL 13th)

1
0
the 27th Albion player to represent England
8

Sewell, John
25
125 days
24 January 1927
IR
Sheffield Wednesday FC

(FL2 Winners)

3
2

9



Lofthouse, Nathaniel
26
268 days
27 August 1925
CF
Bolton Wanderers FC

(FL 5th)

8
9

10

Baily, Edward F.
26
296 days
6 August 1925
IL
Tottenham Hotspur FC

(FL RU)

8
5
11
Finney, Thomas
30
53 days
5 April 1922
OL

/R

Preston North End FC

(FL 7th)

39
20
unused substitutes:
Ivor Broadis (Manchester City FC

(FL 15th)

), Billy Elliott (Burnley FC

(FL 14th)

), Tom Garrett (Blackpool FC

(FL 9th)

), Bill Nicholson (Tottenham Hotspur FC

(FL RU)

), Stan Pearson (Manchester United FC

(FL CHAMPIONS)

) and Bert Williams (Wolverhampton Wanderers FC

(FL 16th)

).
team notes:
Billy Wright extends his record appearance tally, although at this time, the thought was that Crompton had won 42 appearances. Thus Wright's celebration followed this match.
goalscoring records:
Nat Lofthouse ends the season as England top goalscorer, scoring seven goals in seven matches.
2-3-5
Merrick -
Ramsey, Eckersley -
Wright, Froggatt, Dickinson -
Allen, Sewell, Lofthouse, Baily, Finney.


notes: Tom Finney and Ronnie Allen swapped wings for the second half.

Averages

:

Age
27 years 330 days
Appearances/Goals

15.1

3.5
Match Report

by Mike Payne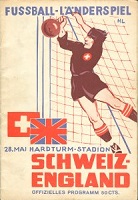 For the last match of the 1952 summer tour, England travelled to the beautiful city of Zürich. Here they gained another good result to round off a very successful trip.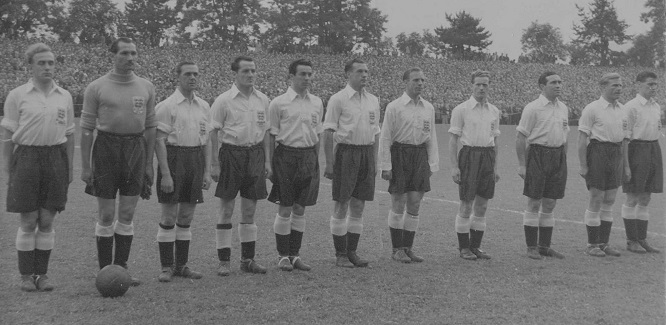 On a sultry day, 32,000 people were present to see these two sides meet and they did not have to wait long for the first goal. This came in the 13th minute when new cap Ronnie Allen took a right-wing corner. The ball reached Jackie Sewell, who cleverly lobbed it over Preizz and into the Swiss net. That was the only goal of the first half and England, in control, looked in no mood to surrender their lead.

In fact, six minutes into the second period they increased that lead when Nat Lofthouse followed up his success in Vienna by number two.

To round off a competent display by England, the Bolton star added his second and England's third before the end just to emphasise the purple patch he was enjoying.

Match Report

by Norman Giller
Billy Wright was credited with taking over the England caps record from Bob Crompton with this forty-third international appearance (although most record books give Crompton's old record as 41 caps). The Swiss were beaten by the same scoring combination that had won the match in Vienna three days earlier: Jackie Sewell one, Nat Lofthouse two. West Bromwich Albion's versatile forward Ronnie Allen won the first of his five caps, and gave a lively performance on the right wing.

Match Report
as appears in the F.A. Yearbook 1952-53, page 28
The last match of the tour, at Zurich on May 28th, came as something of an anti-climax. The Swiss were not expected to show a very high standard, and though their forwards played well by approach work, they shot wide of goal. Neither did England produce their previous standard. Yet they won comfortably by 3 goals to 0: Sewell scored early in the first half; then a four-man move covering nearly the length of the field led to a goal by Lofthouse; and finally Lofthouse set the seal on the tour with the third just before the final whistle.

Source Notes
TheFA.com
Original newspaper reports
Drew Herbertson, Scottish FA Historian

Rothman's Yearbooks


Mike Payne's England: The Complete Post-War Record


Norman Giller, Football Author
cg