Match Summary
Officials

England

Type

West Germany

Referee (-) - Vincenzo Orlandini
x (-), Italy.

Linesmen - Benjamin Mervyn Griffiths, Wales and Charles Edward Faultless, Scotland

The Guest of Honours are The Rt Hon Sir Robert Anthony Eden KG MC MP, British Foreign Secretary, and his wife, Clarissa.

A presentation was made to Tom Finney at the evenings' banquet by the Football Association. It was an illuminated address to mark fifty international appearances.

The FIFA ruling of allowing a substitute to replace an injured player prior to the 44th minute, and a goalkeeper at any time, is in place.

Goal Attempts
Attempts on Target
Hit Bar/Post
Corner Kicks Won
Offside Calls Against
Fouls Conceded
Possession

England Team
Rank:

No official ranking system established;
ELO rating 5th
Colours:
The 1954 Umbro away uniform - Red v-necked short-sleeved continental jerseys, white shorts, red socks with white tops.
Capt:
Billy Wright, 49th captaincy
Manager:
Walter Winterbottom, 41 (31 March 1913), appointed as FA national director of coaching/team manager on 8 July 1946;


67th match, W 42 - D 13 - L 12 - F 195 - A 98

, one abandoned. Team chosen by Selection Committee, on Sunday, 28 November.

England Lineup
Williams, Bert F.
34
304 dys
31 January 1920
G
Wolverhampton Wanderers FC
19

25

GA

2
Staniforth, Ronald
30
232 dys
13 April 1924
RB
Huddersfield Town AFC
8
0
3
Byrne, Roger W.
25
84 dys
8 September 1929
LB
Manchester United FC
9
0
4
Phillips, Leonard H.
32
81 dys
11 September 1922
RHB
Portsmouth FC
3
0
5
Wright, William A.
30
298 dys
6 February 1924
CHB
64
3
6
Slater, William J.
27
216 dys
29 April 1927
LHB
Wolverhampton Wanderers FC
2
0
7
Matthews, Stanley
39
303 dys
1 February 1915
OR
Blackpool FC
41
10
8
Bentley,

T.F.

Roy
30
198 dys
17 May 1924
IR
10
7
9
Allen, Ronald
25
320 dys
15 January 1929
CF
West Bromwich Albion FC
5
1
10
Shackleton, Leonard F.
32
212 dys
3 May 1922
IL
Sunderland AFC
5
1
11
Finney, Thomas
32
240 dys
5 April 1922
OL
55
24

unused substitutes:

Ray Wood (Manchester United FC), Joe Kennedy (West Bromwich Albion FC), Bill McGarry (Huddersfield Town AFC) and Dennis Wilshaw (Wolverhampton Wanderers FC).

team notes:

Billy Wright extends his record appearance tally.
This is the oldest post-war team England have fielded.
2-3-5
Williams -
Staniforth, Byrne -
Phillips, Wright, Slater -
Mathhews, Bentley, Allen, Shackleton, Finney

Averages:

Age
30.5 (226.2 days)
Appearances/Goals
20.1
4.0

West Germany Team
Current World Champions

Colours:
White collared jerseys with black lace-up collar/cuffs, black shorts, black socks with white tops.

Rank:

No official ranking system established;
ELO rating 3rd to 4th
Capt:
Jupp Posipal
Manager:
Josef Herberger, 57 (28 March 1897), appointed in 1950.
Team chosen on Thursday, 25 November 1954, with a final announcement made on Sunday, 28 November.
West Germany Lineup
Herkenrath, Friedrich
26
9 September 1928
G
Rot-Weiss Essen
2

5

GA

2
Posipal, Josef
27
20 June 1927
in Logoj, Romania
RB
Hamburger SV eV
24
1
3
Kohlmeyer, Werner
30
19 April 1924
LB
1.FC Kaiserslautern
21
0
4
Erhardt, Herbert
24
6 July 1930
RHB
Spielvereinigung Greuther Fürth eV
4
0
5
Liebrich, Werner
27
18 January 1927
CHB
1.FC Kaiserslautern
10
0
6
Harpers, Gerhard
26
12 March 1928
LHB
SV 1912 Sodingen
2
0
7
Kaufhold, Gerhard
25
2 December 1928
OR
Offenbacher FC Kickers 1901 eV
1
0
8
Pfeiffer, Michael
29
19 July 1925
IR
Aachener TSv Alemannia 1900 eV
1
0
9
Seeler, Uwe
18
5 November 1936
CF
Hamburger SV eV
2
0

10

Derwall, Josef
27
10 March 1927
IL
Düsseldorfer TSv Fortuna 1895 eV
1
0
11
Beck, Alfred
29
12 April 1925
OL
FC St Pauli von 1910 eV
1
1

unused substitutes:

Heinz Kubsch (Fk 03 Pirmasens), Jakob Miltz (TuS Neuendorf), Erwin Waldner (VfB Stuttgart) and Berti Krauss (Offenbacher FC Kickers 1901).
Rest of original squad: Karl-Heinz Metzner (Hessen Kessel), Rudi Hoffmann (Sv Viktoria 1901 Aschaffenburg) and Hans Schäfer (1.FC.Köln).

team notes:

The Germans named an 18-man party and trained at Groenberg, in the foothills of the Vogelberg Mountains, forty miles north of Frankfurt, playing practice matches against Offenbach Kickers.
Of the team that won the World Cup, Rahn, Morlock and Ottmar Walter were suffering with jaundice. Eckel has a broken leg, and Maj had a liver complaint. The team were due to train at Fulham's Craven Cottage prior to the match, but the ground was unfit, and they trained at a firm's playing field in Barnes instead.
Both Karlsruher's uncapped Kurt Sommerlatt (right-half) and Köln's Jupp Röhrig (inside-left) were in the original line-up.
Herberger then included the uncapped 25-year-old Gerhard Kaufhold as his outside-right in the team announced on 28 November, Kaufhold was a member of the Offenbacher Kickers team that beat the German probables the week before.
2-3-5
Herkenrath -
Posipal, Kohlmeyer -
Sommerlatt, Liebrich, Harpers -
Kaufhold, Pfeiffer, Seeler, Derwall, Beck

Averages:

Age
26.2
Appearances/Goals
6.3
0.1
Match Report by Mike Payne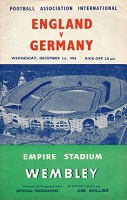 England, in front of a full house (and again the 100,000 crowd broke the receipts record by paying £51,716), entertained West Germany at Wembley. The Germans, who were now World Champions thanks to their memorable win over Hungary in the summer of 1954, had never won in England and again they went home empty-handed. The Germans fielded only three players that had appeared in the World Cup Final, but none the less still proved formidable opposition.

The heavy storms of the previous few days had given way to a lovely sunny, cloudless sky. The Wembley surface was pretty sodden but the ball playing forwards of England revelled in the conditions. Nobody more so than the evergreen Stanley Matthews. He was once again superb. It was hard to imagine that when he made his debut against Germany in 1935, the current German centre-forward, Uwe Seeler, had not even been born.

England were quickly into their stride and Kerkenrath was soon in action. Time and time again he denied England with thrilling saves. Twice Tom Finney had shots blocked and Ronnie Allen also saw the same fate befall two of his efforts.

Finally, though, the pressure told. In the 27th minute more good work by the lively Allen set Matthews on his way. When the winger's centre reached the far post, Roy Bentley carried on where he had left off against Wales by scoring with another fine header.

Play was almost totally confined to the German half. Liebrich was oustanding, as he was in that memorable Final against Hungary, and it was solely due to him that the Germans were held together. Bert Williams was called upon to make a superb point-blank save from Seeler, but generally the English 'keeper was merely a spectator for long spells. With Len Phillips and Len Shackleton showing up very well, England continued with their forceful play until half-time and the measure of their lead did them no justice at all.

Deservedly, within three minutes of the restart, England went 2-0 ahead. Shackleton chipped a lovely ball over the German defence for Finney to run on to. Again his run was blocked by Herkenrath's brave dive but this time the ball ran loose for Allen to follow up and score. At this stage England's wingers were outstanding. Matthews once again carved trails of wreckage down the right flank and set up chance after chance. Finney, meanwhile, preferred to cut inside to create havoc. Unfortunately, England failed to capitalise on their superiority. They should have had many goals as the new-look German line-up understandably lacked cohesion.

Shackleton produced one dazzling moment when he set off on a tremendous dribble that took him through the whole German defence, bringing the crowd to its feet. He then dribbled around Herkenrath, only to push the ball too far forward at the vital moment and it ran out of play. It would have been a stupendous goal; as it was, it still brought a huge roar of approval from the spectators.

England, by now, were coasting. Their play became sloppy due to their dominance and the Germans, typically, made them pay for their casualness by suddenly pulling a goal back. Only 15 minutes remained when Seeler, who for once beat the majestic Billy Wright, passed the ball to Beck, who calmly beat Williams with a low shot.

This succeeded in waking England up again and although for a few seconds Germany threatened, the match was finally settled in the 80th minute. A brilliant reverse pass by Allen gave Shackleton a half-chance and as Herkenrath came to challenge, the Sunderland star produced the perfect chip to score a delightful third goal. Other chances were missed by England in the remaining minutes and Matthews continued, to the end, to be the scourge of the German defenders.

Match Report by Norman Giller
The 100,000 crowd for this Wednesday afternoon match against the world champions broke the Wembley receipts record by paying £51,716 to watch a classic encounter. With Stanley Matthews running the German defenders into dizzy disarray, England took the lead in the twenty-seventh minute when Roy Bentley headed in a pin-pointed centre from the Maestro. Ronnie Allen made it 2-0 three minutes after half-time following neat combination work between Finney and Len Shackleton. The Germans pulled back to 2-1 through Beck before Shackleton, the Clown Prince, clinched a memorable victory in the eightieth minute with an impudent chip shot as the goalkeeper came racing towards him. Shack had thrilled the crowd throughout the match with his tricks, but he was too much an individualist for the taste of the selectors and never played for England again after a paltry five caps. It remains a mystery to many people why Len Shackleton did not win a cupboardful of caps. He just refused to conform. Shack upset the selectors with a book published in 1955 in which a chapter headed 'The Average Director's Knowledge of Football' was left completely blank. Most of the England selectors were club directors. With his ability, he should have won dozens of caps but he just could not bring himself to toe the line. At least he could say he went out at the very top, because his brilliant goal made sure that England toppled the new world champions. The Germans included only three of the team that won the trophy in Switzerland as they started rebuilding ready for their defence of the World Cup in 1958.

Len Shackleton became a respected football writer after his retirement, and reminiscing in the press box one day he regaled colleagues with this story that captures the times in which he played: "After scoring what I considered one of my finest ever goals to help England beat world champions Germany at Wembley, I was handed a third-class rail ticket for the overnight sleeper back to Sunderland. I said to the Bowler Hat handing me the ticket, 'Couldn't you raise enough money for a first-class ticket?' The FA official said that all the first-class tickets had been sold. When I got to King's Cross I had no trouble transferring to first-class because there was plenty of space, and I was happy to pay the five pounds difference out of my own pocket. By the time I'd paid tax and expenses, I was left with just £20 out of my £50 match fee. The Wembley receipts for the match were over £50,000, but we footballers who had drawn the crowd and the money were considered third-class citizens by those blinkered fools who ran the Football Association."

Match Report by Glen Isherwood
West Germany had won the World Cup five months earlier with a surprise victory over the mighty Hungarians in Berne but only three members of their winning team were to play at Wembley.

England had reached the quarter-finals where they lost to Uruguay in Basle. This was the first meeting between England and West Germany. They had met a united Germany three times before the war.

The red-shirted England side took the lead after 27 minutes. Matthews crossed and Roy Bentley headed in at the far post. They increased their lead just after half-time.

Herkenrath saved at the feet of Finney but Ronnie Allen scored from the rebound. Seeler provided Alfred Beck with a pass and he shot past Williams to reduce the arrears with a quarter of an hour left. But then Allen passed to Len Shackleton, who drew Heckenrath before delivering an exquisite chip over the 'keeper's head and into the net.

England won by the same scoreline in Berlin in 1956. West Germany finished fourth in their defence of the World Cup in 1958 in Sweden and had lost to England again by the time they returned to England in 1956.

The

Top Twenty UK Music Chart by New Musical Express
On Friday, 15 November 1952, The New Musical Express published the first ever singles chart in the UK, comprising the twelve highest selling singles of the week, it increased to twenty on Friday, 1 October 1954. When England beat West Germany, Rosemary Clooney's This Ole House was the best selling single. The chart was published on Friday, 26 November 1954:-
1.
(2)
This Ole House

- Rosemary Clooney (Philips)

11.
(5)
If I Give My Heart To You

- Doris Day With The Mellomen (Philips)

2.
(=)
My Son My Son

- Vera Lynn (Decca)

12.
(8)
Cara Mia

- David Whitfield with Mantovani & His Orchestra (Decca)

3.
(4)
If I Give My Heart To You

- Joan Regan (Decca)

13.
(=)
There Must Be A Reason - Frankie Laine (Philips)
4.
(1)
Hold My Hand

- Don Cornell (Vogue)

14.
(12)
Little Things Mean A Lot

- Kitty Kallen

(

Brunswick

)
5.
(7)
Smile

- Nat 'King' Cole (Capitol)

(16)
I Need You Now - Eddie Fisher (HMV)
6.
(11)
Santo Natale

- David Whitfield (Decca)

(re)
Lets Have A Party - Winifred Atwell (

Philips

)
7.
(9)
No One But You

- Billy Eckstine (MGM)

17.
I Still Believe - Ronnie Hilton (HMV)
8.
(6)
This Ole House

- Billie Anthony (Columbia)

18.
(17)
Sh-Boom - Crew Cuts (Mercury)
9.
Lets Have Another Party - Winifred Atwell (

Philips

)
19.
(15)
Sh-Boom - Stan Freberg With The Toads

(Capitol)

10.
(=)
Rain Rain Rain

- Frankie Laine & The Four Lads (Philips)

20.
(19)
How Do You Speak To An Angel - Dean Martin

(Capitol)

♪Most weeks at number one when England played:


Doris Day and Frankie Laine five, Guy Mitchell two, Rosemary Clooney, Vera Lynn, Al Martino, Lita Roza, Stargazers and David Whitfield one each.

Source Notes
TheFA.com
DFB.de
Original newspaper reports
Rothman's Yearbooks
Mike Payne's England: The Complete Post-War Record (Breedon Books Publishing Company, Derby, U.K., 1993)
Glen Isherwood's Wembley: The Complete Record (SportsBooks Ltd, 2006)
Norman Giller, Football Author
officialcharts.com singles chart
____________________

CG