"Young Italy are soundly thrashed"
Daily Mirror
Officials
England
FIFA ruling on substitutes
Italy
Referee (black)
Louis Fauquembergue
France.
Teams were presented to the Guest of Honour is HRH The Duke of Gloucester, KG.

red flag

Linesmen

yellow flag

A.W. Smith


Hampshire

Norman Onley-Wilde


38 (31 March 1916), Greenwich

England Intermediate Team
Rank:

No official ranking system established;
Colours:
The 1954 Umbro home uniform - White v-necked short-sleeved continental jerseys, blue shorts, red socks
Capt:

Peter Sillett


first, W 1 - D 0 - L 0 - F 5 - A 1.

³



Manager:
Walter Winterbottom, 41 (31 March 1913), appointed as FA national director of coaching/team manager on 8 July 1946;


second intermediate match, W 0 - D 0 - L 1 - F 5 - A 4

.

Trainer: Bill Nicholson (Tottenham Hotspur FC)
Team chosen by

Intermediate

Selection Committee, headed by Joe Richards, on Sunday, 16 January.
England Lineup

nine changes

to the previous U23 match

(Edwards & Blunstone remain)

league position

(16 January)

2
Matthews, Reginald D.
22


30 days

20 December 1932
G
Coventry City FC

(FL3S 7th)

1

1ᵍᵃ

12
13
2
Foulkes, William A.
23


14 days

5 January 1932
RB
Manchester United FC

(FL 5th)

1
0
oldest u23 player

so far

14
3
Sillett, R. Peter T.
21


352 days

1 February 1933
LB
Chelsea FC

(FL 4th)

1
0
15
4
Flowers, Ronald
20


175 days

28 July 1934
RHB
Wolverhampton Wanderers FC

(FL 2nd)

1
0
16
5
Smith, Trevor
18


281 days

13 April 1936
CHB
Birmingham City FC

(FL2 8th)

1
0
6
Edwards, Duncan
18


110 days

1 October 1936
LHB
Manchester United FC

(FL 5th)

2
0

most U23 apps

54-55

17
7

Hooper, Harry
21


219 days

14 June 1933
OR
West Ham United FC

(FL2 9th)

1
2

most U23 gls

54-55

18
8

Atyeo, P. John W.
22


345 days

7 February 1932
OL
Bristol City FC

(FL3S 2nd)

1
1
oldest u23 scorer

so far

19
9

Ayre, Robert William
22


299 days

26 March 1932
CF
Charlton Athletic FC

(FL 3rd)

1
1
20
10

Haynes, John N.
20


94 days

17 October 1934
IL
Fulham FC

(FL2 7th)

1
0
11

Blunstone, Frank
20


94 days

17 October 1934
OL
Chelsea FC

(FL 4th)

2
1
youngest u23 scorer

so far

most U23 apps

54-55

unused substitutes:
Dave Meeson (Reading FC

(FL3S 20th)

), Stan Anderson (Sunderland AFC

(FL TOP)

), Vic Groves (Leyton Orient FC

(FL3S TOP)

)
team notes:
The team was chosen the weekend following a trial match, losing 3-0 to Arsenal on Wednesday, 12 January 1955.
The team then trained at Fulham's Craven Cottage prior to the match, beating the Fulham side 1-0.
2-3-5
Matthews -
Foulkes, Sillett -
Flowers, Smith, Edwards -
Hooper, Atyeo, Ayre, Haynes, Blunstone.

Averages:

Age
21 years 50 days
Appearances/Goals
1.2
0.0
oldest intermediate team so far

Italy Intermediate Team
Rank:

No official ranking system established;
Colours:
"By completely outplaying the olive-shirted bambinos of Italy."


...black shorts, black socks

with green tops

Capt:
Giussepe Corradi
Manager:
Angelo Schiavo, 49 (15 October 1905)
Team chosen on Wednesday, 12 January 1955
Italy Lineup
1
Stefani, Ideo
22


305 days

20 March 1932
G
Atalanta Bergamasca Calcio
2
Rota, Battista
22


185 days

18 July 1932
RB
Bologna FC 1909
3
Zagatti, Francesco
22


276 days

18 April 1932
LB
AC Milan
4

Corradi, Giussepe
22


196 days

7 July 1932
RHB
Juventus FC
5
Bernasconi, Gaudenzio
22


164 days

8 August 1932
CHB
UC Sampdoria
6
Delfino, Luciano, injured off 42nd min
22


163 days

9 August 1932
LHB
Genoa CFC
7
Olivieri, Rinaldo
20


18 days

1 January 1935
OR
Società Polisportiva Ars et Labor
8
Pivatelli, Gina
21


298 days

27 March 1933
IR
Bologna FC 1909
9
Virgili, Guiseppi
19


179 days

24 July 1935
CF
AC Fiorentina

10

Posio, Celso
23


268 days

26 April 1931
IL/
LHB
SSC Napoli
11

Savioni, Marco
23


330 days

23 February 1931
OL
Novara Calcio

Italy

Substitute

scoreline:

England 1 Italy 0
16
Bacci, Giancarlo

, on 42nd min. for Delfino

23


216 days

17 June 1931
IL
AC Torino

result:

England 5 Italy 1
unused substitutes:
Gianni Remani (Udinese), Luigi Zannieer (Atalanta), Antonio Mentice (Juventus).
team notes:
This team was chosen after they drew 1-1 with the senior Italian side in Bologna. The team trained at Arsenal Stadium prior to the match.
Head of selection committee, Angelo Schiavo played for the Italian senior side against England in 1933.
2-3-5
Stefani -
Rota, Zagatti -
Corradi, Bernasconi, Delfino (Posio) -
Olivieri, Pivatelli, Virgili, Posio (Bacci), Savioni.

Averages:

(start)
(finish)
Age
22 years 84 days
22 years 122 days

oldest opposing intermediate team

so far
Match Report
by Bob Ferrier, Daily Mirror, 20 January 1955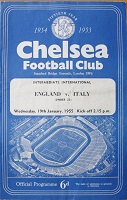 Two golden goals in the last ten minutes scored by that whispering winger Harry Hooper, completely demoralised and shattered a staunch Italian defence at Stamford Bridge. And gave young England sweet revenge indeed for last year's defeat at Bologna. It finished 5—1 for England, and that result didn't flatter them in the slightest.
It was a great fighting win for the England boys and one not at all accomplished by brawn and muscle.
After a nervous, gingerly first half played on a treacherous, flint hard surface, these Young England lads swept into a long, rangy, accurate wing game. In this the speed and increasing confidence of Hooper and Blunstone paid surpassing dividends. And the 33,000 who turned up in the winter sunshine relished every one of those goals that went whipping in. And England have discovered an immense half back line in Flowers, Smith and Edwards, one to rival Willingham, Cullis and Mercer.
The game got off to a really sensational start when England scored a delightful goal in just four minutes. Flowers lobbed up a thirty yard free-kick, Atyeo let it go, and Haynes headed a brilliant goal into the far high corner. But Monsieur Fauquemberge from France saw an obstruction which nobody else saw, and ruled no goal.
And with twenty minutes gone, when Carradi handled a Blunstone cross inside the penalty area, the referee failed to see again. Maybe he suffered from snow blindness.
The ground was bone hard and even standing up was an adventure. So there was little sustained play, and neither attack could literally find enough balance to get in a reasonable shot. The Italian boys looked better knit than our lads, and Virgili twice snapped into neat passes to clip balls close past the post. Bobby Ayre put England in front after thirty-two minutes. Atyeo feinted to pass to the wing, suddenly whipped one through the middle. Ayre, despite challenges from three defenders, and the rushing goalkeeper, ran doggedly on to rocket the ball high into the net. Then with three minutes left to play we had the old substitute gag pulled again.
With the play thirty yards away Delfino decided he was injured and lay down. On came Bacci, powerful inside-left.
Delfino limped off, Bacci played inside left and Posio went left half.
The second half had an equally sensational start, the Italians equalising with an astonishing goal in two minutes. Right half Corradi sent in a fat monster of a throw in. It bounced clear across the penalty area to outside left Olivieri, who had a clear target for his header. But Young England were undaunted. They outclassed this with a great goal within a minute, when Haynes had his cross headed through in brilliant fashion by John Atyeo. With an hour gone England went further ahead when Blunstone volleyed in a low, fast Hooper cross for an exhilarating goal. The Italians put in a stiff attack and Matthews saved brilliantly.
Outside right Olivieri actually headed a goal which referee Fauquemberge ruled out for an earlier—again invisible—infringement, and so wiped his slate clean.
The Italians disliked this furiously.

Source Notes
| | | |
| --- | --- | --- |
| Original newspaper reports | | Rothman's Yearbooks |
cg