England Football Online
B Team Results
Page Last Updated 11 May 2022

Deutschland
previous senior match

(112 days)


293 vs. West Germany
previous played match

(43 days)


'U23' 03 vs. Scotland


previous match

(20 days)


'B' 17 vs. Scotland (postponed)
B17
next match (10 days)
294 vs. Scotland

'B' 18 vs. Yugoslavia


7.30

News and Newsreel 7.45 Portrait of Alison 8.15 Home & Dry
8.45 England v. West Germany
9.30 Starlight—Petula Clark 9.45 Panorama. 10.30 (app) News

Wednesday

,

23 March 1955




International 'B' Friendly Match





England 1 West Germany 1

[1-0]




The eligibility rules on this occasion are no more than one full international appearance.



Hillsborough Football Ground, Leppings Lane, Owlerton, Sheffield, West Riding of Yorkshire
Kick-off (GMT): 7.45pm,


Attendance:

'32,630'

(floodlit).
unknown kicked-off
[0-0] Roy Swinbourne scores disallowed: foul
[1-0] Roy Swinbourne header 26
'Johnny Haynes placed a long free-kick beautifully into the penalty area, and Swinbourne, racing across to meet it, headed it under the diving body of Kubsch'.
[1-1] Erich Juskowiak penalty 51
precision 'bullet-force' penalty kick
(Langley fouled Schlupp)
second half live - commentator: probably Kenneth Wolstenholme


"ROY SWINBOURNE STAGES ONE-MAN ATTACK"
Daily Mirror
Officials

from England

England
IFA ruling on substitutes
West Germany
Referee
John Holden Clough
45 (17 October 1909), Bolton, Lancashire
England had 14 Goal Attempts
Linesmen
James Ernest Bennison


40 (7 June 1914), Sheffield

Kenneth Raymond Tuck


34 (9 December 1920), Chesterfield

England B Team
Rank:

No official ranking system established;
Colours:
1954 Umbro home uniform - White v-necked short-sleeved continental jerseys, blue shorts, black socks with white tops.
Capt:
not known

Manager

:
Walter Winterbottom, 42 (31 March 1913), appointed as FA national director of coaching/team manager on 8 July 1946;


tenth B match, W 6 - D 4 - L 0 - F 27 - A 5.

Team chosen by the Intermediate Selection Committee, headed by Joe Richards, on Sunday, 20 March.

England Lineup

nine changes

from the previous B match (Edwards & Hooper remain)

league position

(20 March)

11
Matthews, Reginald D.
22


93 days

20 December 1932
G
Coventry City FC

(FL3S 10th)

1

1ᵍᵃ

105
106
2
Hall, Jeffrey J.
25


197 days

7 September 1929
RB
Birmingham City FC

(FL2 7th)

1
0
only B app 1955
107
3
Langley, E. James
26


44 days

7 February 1929
LB
Brighton & Hove Albion FC

(FL3S 13th)

1
0
4
Wheeler, John E.
26


240 days

26 July 1928
RHB
Bolton Wanderers FC

(FL 11th)

3
0
108
5
Smith, Trevor
18


344 days

13 April 1936
CHB
Birmingham City FC

(FL2 7th)

1
0
6
Edwards, Duncan

18




173 days

1 October 1936
LHB
Manchester United FC

(FL 9th)

3
0
7
Hooper, Harry
20


282 days

14 June 1933
OR
West Ham United FC

(FL2 5th)

5
1

=mst B apps

1954-55

109
8
Atyeo, P. John W.
23


44 days

7 February 1932
IR
Bristol City FC

(FL3S TOP)

1
0
110
9

Swinbourne, Royston H.
25


210 days

25 August 1929
CF
Wolverhampton Wanderers FC

(FL TOP)

1
1
only B app 1955
10

Haynes, John N.
20


157 days

17 October 1934
IL
Fulham FC

(FL2 12th)

4
0
111

11

Kiernan, William

E.

29


305 days

22 May 1925
OL
Charlton Athletic FC

(FL 8th)

1
0
only B app 1955
unused substitutes:
Ted Burgin, Joe Shaw (both Sheffield United

(FL 15th)

) and Gordon Turner (Luton Town

(FL2 2nd)

)
team notes:
Two practise sessions were held in Sheffield prior to the match, on 21 March at Hillsborough, when they beat the Wednesday side 2-1 in a match lasting 35-minutes, and 22 March at Bramall Lane for a thirty minute session in which England won 1-0.
2-3-5
Matthews -
Hall, Langley -
Wheeler, Smith, Edwards -
Hooper, Atyeo, Swinbourne, Haynes, Kiernan.

Averages:

Age
23 years 190 days
Appearances/Goals
2.0
0.1

West Germany
B Team
Rank:
No official ranking system established;
Colours:
Green jerseys, white shorts
Capt:
Manager:
Joséf Herberger, 57 (28 March 1897), appointed in 1950.
West Germany Lineup
Kubsch, Heinz
24


246 days

20 July 1930
G
Fk 03 Pirmasens
2
Hofmann, Rudolf
20


40 days

11 February 1935
RB
Sv Viktoria 1901 eAschaffenburg
3

Juskowiak, Erich
28


197 days

7 September 1926
LB
Düsseldorfer TSv Fortuna 1895
4
Link
nk
nk
RHB
nk
5
Hoffman, Herbert, injured off 26th min.
24


60 days

22 January 1931
CHB
Braunschweiger TSv Eintracht von 1895
6
Göttinger, Richard
28


292 days

4 June 1926
LHB
SpVgg Fürth
7
Schlump, Ludwig
26


280 days

16 June 1928
OR
BC Augsburg 1907
8
Biesinger, Ulrich
21


229 days

6 August 1933
IR
BC Augsburg 1907
9
Meyer, Ernst-Otto
27


332 days

25 April 1927
CF
VfR Mannheim 1896

10

Demski, Willi
26


39 days

12 February 1929
IL
SV 1912 Sodingen
11
Haase, Erich
22


276 days

20 June 1932
OL
Sv Werder Bremen von 1899
West Germany Substitute

scoreline:

England 1 West Germany 0
Bauries, Walter, on 26th min for Herbert Hoffman
24


335 days

22 April 1930
CHB
Karlsruher SC Mühlburg-Phœnix

result:

England 1 West Germany 1
unused substitutes:
Egon Loy (Eintracht Frankfurt)
team notes:
There were two official changes from the original named line-up. Hoffman replaced Wevers, whilst Dembski replaced Islacker. They were both required by their club, Rot-Weiss Essen.
At some point, Link replaced Schicks (Eintracht Braunschweiger).
2-3-5
Kubsch -
Hofmann, Juskowiak -
Link, Hoffmann (Baureis), Göttinger -
Schlump, Biesinger, Meyer, Demski, Haase

Averages:

(start)
(finish)
Age
25 years 54 days¹⁰
25 years 82 days¹⁰
Match Report
by George Follows, Daily Herald, 24 March 1955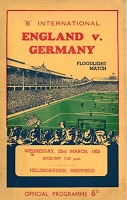 Reading between the lines on the selectors' foreheads after the game at Sheffield last night, there are still a number of situations vacant for the England team to play Scotland on April 2.
Not at centre-forward, and not at left-back. Roy Swinbourne, of Wolves, and Jim Langley, of Brighton, must go in. But they were the only two men of true international quality in the "B" team that collapsed into chaos. It was a difficult occasion for individuals to shine, for this "B" team played in C Minor. As a side they were barely acquaintances. Swinbourne won his first cap for sure in a magnificently unlucky first half, when he scored one and might have scored five. Langley did enough in the second half to overcome the most powerful prejudices against throwing a Third Division player into the fiery furnace of Wembley.
The crowd made him man of the match—a bootlace in front of Germany's left-back, Juskowiak, who almost hypnotised some of the England forward line to do his will. The crowd were right. Germany saved the game in the 51st minute, after a penalty decision by Referee Jack Clough that seemed more of a gesture towards goodwill than a strict interpretation of Soccer law. Trevor Smith, unhappy against the Continental dodge of the decoy centre-forward, appeared to have played the ball properly for a corner before Schlump fell over his legs. But a penalty it was, and Juskowiak came up from full-back to prove that the Germans really can shoot, and scored. Thereafter, the Germans, by smoother and more studied use of the ball tied the English defence into all the Boy Scouts' knots, and one of two new ones. But there was always Langley—strong, bold, resolute and brainy, to boot—to interrupt these pleasant German exchanges and set that creaky attacking machine of England turning over again.
For most of the game that attack read, from left to right—Swinbourne, Swinbourne, Swinbourne, Swinbourne and Swinbourne. Except when Langley himself came up to do some forward work as well. Of England's 14 scoring attempts, I counted a dozen from the head and feet of Swinbourne. While others dallied and dithered, he shot hard and straight and often.

Source Notes
Original newspaper reports
Matchday Programme

Rothman's Yearbooks
cg