Match Summary
Officials from Scotland

England

Type

Wales

Referee (black) - Charles Edward Faultless
x (-), Glasgow.

Linesmen - George Levack, Kirkcaldy (flame) and James Frater, Darvel (orange)

Teams were presented to the Guest of Honour is HRH The Duke of Gloucester, KG.

Goal Attempts
Attempts on Target
Hit Bar/Post
Corner Kicks Won
Offside Calls Against
Fouls Conceded
Possession

England Team
Rank:

No official ranking system established;
ELO rating 5th
Colours:
The 1954 Umbro home uniform - White v-necked short-sleeved continental jerseys, blue shorts, black socks with white tops.
Capt:
Billy Wright, 48th captaincy
Manager:
Walter Winterbottom, 41 (31 March 1913), appointed as FA national director of coaching/team manager on 8 July 1946;


66th match, W 41 - D 13 - L 12 - F 192 - A 97

, one abandoned. Team chosen by Selection Committee on Sunday, 7 November.

England Lineup
Wood, Raymond E.
23
11 June 1931
G
Manchester United FC
2

2ᵍᵃ

2
Staniforth, Ronald
30
13 April 1924
RB
Huddersfield Town AFC
7
0
3
Byrne, Roger W.
25
8 September 1929
LB
Manchester United FC
8
0
4
Phillips, Leonard H.
32
11 September 1922
RHB
Portsmouth FC
2
0
5
Wright, William A.
30
6 February 1924
CHB
63
3
6
Slater, William J.
27
29 April 1927
LHB
1
0
7
Matthews, Stanley
39
1 February 1915
OR
Blackpool FC
40
10
8

Bentley,

T.F.

Roy
30
17 May 1924
IR

9

6

the 47th

(tenth post-war)

hattrick scored

2nd oldest

(until 1991)

to score a hat-trick
9
Allen, Ronald
25
15 January 1929
CF
West Bromwich Albion FC
4
1

10

Shackleton, Leonard F.
32
3 May 1922
IL
Sunderland AFC
4
0
11
Blunstone, Frank
20
17 October 1934
OL
1
0

reserve:

Bill McGarry (Huddersfield Town FC)

team notes:

Nat Lofthouse was named as the original centre-forward, with Ronnie Allen at outside-left. The uncapped Blunstone was called into the team two days previously, with Allen reverting to his natural forward berth.
Billy Wright extends his record appearance tally.
Bill Slater and Frank Blunstone become Winterbottom's 90th and 91st players that he has fielded.
This is the first time an England have scored three goals in a match by one player.
Roy Bentley becomes the second oldest to score a hattrick, at least, until 1991.
2-3-5
Wood -
Staniforth, Byrne -
Phillips, Wright, Slater -
Matthews, Bentley, Allen, Shackleton, Blunstone

Averages:

Age
28.5
Appearances/Goals
12.8
1.5

Wales Team
Rank:

No official ranking system established;
ELO rating 32nd
Colours:
Made by Umbro - Red jerseys with white collars/cuffs, white shorts with red side stripe, red socks with white tops.
Capt:
Alf Sherwood
Manager:
Nine-man Selection Committee, team chosen on Tuesday, 2 November 1954
Wales Lineup
King, John
20
29 November 1933
G
Swansea Town FC
1

3ᵍᵃ

2
Williams, Stuart G.
24
9 July 1930
RB
West Bromwich Albion FC

, England

2
0
3
Sherwood, Alfred T.
30
13 November 1923
LB
Cardiff City FC
34
0
4
Paul, Roy
34
18 April 1920
RHB
Manchester City FC

, England

29
1
5
Daniel, W. Raymond

, injured off 37th min. Returned 47th min.

26
2 November 1928
CHB
Sunderland AFC

, England

16
0
6
Sullivan, Derrick,

injured off 40th min., returned for 2nd half.

24
10 August 1930
LHB
Cardiff City FC
5
0
7
Tapscott, Derek.R
22
30 June 1932
OR
Arsenal FC

, England

4
0
8
Ford, Trevor
31
1 October 1923
IR
Cardiff City FC
32
22
9
Charles, W. John
22
27 December 1931
CF
Leeds United AFC

, England

12
7

10

Allchurch, Ivor J.
24
16 December 1929
IL
Swansea Town FC
20
8
11
Clarke, Royston J.
29
1 June 1925
OL
Manchester City FC

, England

21
4

reserve:

Mel Charles (Swansea Town FC)

team notes:

Trevor Ford holds the record of most goals for the Welsh national team.
Ray Daniel went off the field with a cut over his right eye. Derrick Sullivan was stretchered off with concussion.
Sunderland AFC have the unusual distinction of providing a player for each of the Home nations over this matchday, with the appearance of Ray Daniel for Wales and Len Shackleton for England, Billy Bingham played for Ireland and Willie Fraser for Scotland.
2-3-5
King -
Williams, Sherwood -
Paul, Daniel, Sullivan -
Tapscott, Ford, Charles, Allchurch, Clarke

Averages:

Age
26.0
Appearances/Goals
16.0
3.6
Match Report by Mike Payne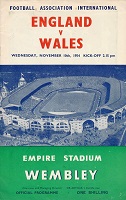 What a difference a month makes! After their abysmal performance in Belfast, England came back to Wembley to produce a tremendous display which augered well for the future. It was a stirring game from start to finish which built up a thrilling climax with England's late flurry deciding the issue.

On a dismal, rain-soaked November day, the two sides served up some lovely football. Wales contributed much to the game and can consider themselves unlucky not to gain some reward out of it. Over 91,000 people soaked up the atmosphere — and the rain — and they really enjoyed this game.

England soon moved into a smooth rhythm. With some much improved passing they put together some sparkling moves and, but for Ronnie Allen missing a couple of chances, might have taken the lead. As it was, Wales were to do just that in the 35th minute.

Ford, who sold a clever dummy to Billy Wright, allowed the ball to run on to Allchurch. The inside-forward hit a low cross into the middle which Ray Wood failed to cut out. Before anyone could clear the danger, the mighty Charles roared in to score. The Welsh number-nine was magnificent and his duel with Wright was probably the highlight of the game. To the England skipper's credit he contained him well, calling upon all his skill and experience.

Despite the Welsh lead, England continued with their excellent football. The visiting defenders held on doggedly, though, and at half-time they still had their lead.

England's new inspiration was coming from their wing-halves. Len Phillips and Bill Slater gave fine performances with Phillips always seeming to have that extra yard on the ball. Having played so badly in Belfast, it was also heartening to see the forwards play with so much conviction. Although they missed chances, they all contributed well with Stanley Matthews, Frank Blunstone and Len Shackleton particularly impressive.

Both goalkeepers made fingertip saves as the game continued after the break and it was obvious that England's pressure must bring its rewards. It came with 20 minutes left. Good work by Shackleton and Blunstone gave Matthews the chance to run at Sullivan. A typical burst by the mercurial winger ended with a lovely cross which Roy Bentley outjumped him to head in England in front.

Wales were down but by no means out and a few moments later their fans went wild when they saw Charles once again emphasise his power. This time he declined the obvious pass to Tapscott and elected to swivel and fire in a thunderous shot low past the startled Wood from the edge of the box to make it 2-2.

England were not to be denied, though, and just before the end Phillips found Blunstone with a pass and the winger, capped a promising debut to send a fine low centre into the middle where, once again, Bentley's strength saw him run the ball into the net. The England number-eight thus completed a memorable hat-trick.

Although Ford and Allchurch only just failed with shots at the other end before the final whistle, England had won an excellent victory. To the lasting pleasure of their fans it was the way their team played that was more important. Their football, at times, was a delight.

Match Report by Norman Giller
Roy Bentley, at last forgiven for his part in the 1950 World Cup humiliation against the United States, celebrated his recall by sinking Wales with a hat-trick. Two of his goals came from headers at the far post after he had exchanged passes with Matthews. John Charles, leading the Welsh attack with fire and flair, scored twice to bring the scores level at 2-2 before Bentley completed his hat-trick two minutes from the end of a thrilling match played on a rain-saturated Wembley surface. Bentley's Chelsea team-mate Frank Blunstone made his England debut on the left wing and Bill Slater played alongside his Wolves skipper Billy Wright in his first international match. The duel between John Charles and Billy Wright was worth the admission money on its own. Two great and talented competitors locked in a struggle for supremacy. Charles won on points, but it would have been a knockout against any other England centre-half that the selectors had tried since the Neil Franklin fiasco. Wright managed to shut the big man out for most of the match, but he took the two chances that came his way in dynamic style.

Match Report by Glen Isherwood
England, the reigning British Champions, ahd already beaten Northern Ireland 2-0 at Windsor Park. Wales had lost 1-0 to Scotland at Ninian Park and, as in 1952, had to avoid defeat to retain their interest in the Championship.

They took the lead when a cross by Allchurch was converted by John Charles. Wales held this until 20 minutes to go when Roy Bentley headed in from Matthews' centre. Four minutes later King misjudged Byrne's cross and Bentley scored again. Wales took less than a minute to draw level with a clever piece of skill from Charles as he turned swiftly to send a low drive past Wood. England took the points, however, when Blunstone crossed and Bentley came charging in to complete his hat-trick.

Wales avoided finishing bottom by defeating Northern Ireland 3-2 at Windsor Park. England and Scotland were once again left to decide the destiny of the British Championship. The following season Wales beat England for the first time since the war.

The

Top Twenty UK Music Chart by New Musical Express
On Friday, 15 November 1952, The New Musical Express published the first ever singles chart in the UK, comprising the twelve highest selling singles of the week, it increased to twenty on Friday, 1 October 1954. When England beat Wales, Vera Lynn's My Son My Son was the best selling single. The chart was published on Friday, 5 November 1954:-
1.
(=)
My Son My Son

- Vera Lynn (Decca)

10.
(9)
Little Things Mean A Lot - Kitty Kallen (Brunswick)
2.
(5)
This Ole House

- Rosemary Clooney (Philips)

12.
(11)
There Must Be A Reason - Frankie Laine (Philips)
3.
(1)
Hold My Hand

- Don Cornell (Vogue)

13.
(=)
Cara Mia

- David Whitfield with Mantovani & His Orchestra (Decca)

4.
(3)
Smile

- Nat 'King' Cole (Capitol)

14.
(16)
Sh-Boom - Crew Cuts (Mercury)
5.
(6)
If I Give My Heart To You - Doris Day With The Mellomen

(Philips)

15.
(14)
Sway - Dean Martin (Capitol)
6.
(4)
This Ole House

- Billie Anthony (Columbia)

16.
(17)
I Need You Now - Eddie Fisher (HMV)
7.
(=)
My Friend

- Frankie Laine (Philips)

17.
(15)
The Story Of Tina - Al Martino (Capitol)
8.
(10)
If I Give My Heart To You

- Joan Regan (Decca)

18.
Wait For Me Darling - Joan Regan & The Johnston Brothers (Decca)
(=)
Rain Rain Rain

- Frankie Laine & The Four Lads (Philips)

19.
Endless - Dickie Valentine (Capitol)
10.
Three Coins In A Fountain - Frank Sinatra (Capitol)
20.
(re)
Gilly Gilly Ossenfeffer Katzenellen Bogen By The Sea

- Max Bygraves (HMV)

♪Most weeks at number one when England played:


Doris Day and Frankie Laine five, Guy Mitchell two, Vera Lynn, Al Martino, Lita Roza, Stargazers and David Whitfield one each

Source Notes
TheFA.com
Original newspaper reports
British Path�
Rothman's Yearbooks
Mike Payne's England: The Complete Post-War Record (Breedon Books Publishing Company, Derby, U.K., 1993)
Glen Isherwood's Wembley: The Complete Record (SportsBooks Ltd, 2006)
Norman Giller, Football Author
Wales' Complete Who's Who since 1946 (Sutton Publishing Ltd, Stroud, U.K., 2004)
officialcharts.com singles chart
Drew Herbertson, Scottish FA historian
____________________

CG