"ENGLAND MUST STOP AUTOMATIC SELECTION"
Daily Mirror
Officials

from Scotland
Wales
UK ruling on substitutes

England

Referee
Charles Edward Faultless
45 (5 March 1908), Glasgow, Scotland.

red flag

Linesmen

yellow flag

James

P.

Goodall


Glasgow

Jack Whiteside


Renfrew

Wales Team
Rank:

No official ranking system established;
ELO rating 21st to 24th
Colours:
Made by Umbro - Red jerseys with white collars/cuffs, white shorts with red side stripe, red socks with white tops.
Capt:
Wally Barnes
Selector:
Selection Committee
on Monday, 28 September 1953
Wales Lineup
Howells, Ronald G.
26
271 days
12 January 1927
G
Cardiff City FC
1

4ᵍᵃ

2
Barnes, Wallace
33
267 days
16 January 1920
RB
Arsenal FC

, England

19
1
3
Sherwood, Alfred T., injured off 35th-53rd mins.
29
331 days
13 November 1923
LB

/OL

Cardiff City FC
28
0
4
Paul, Roy
33
175 days
18 April 1920
RHB
Manchester City FC

, England

24
1
5
Daniel, W. Raymond
24
342 days
2 November 1928
CHB
Sunderland AFC

, England

13
0
6
Burgess, W.A. Ronald
36
184 days
9 April 1917
LHB
Tottenham Hotspur FC

, England

29
1
7
Foulkes, William I.
27
134 days
29 May 1926
OR
Newcastle United FC

, England

9
1
8

Davies, E. Reginald
24
136 days
27 May 1929
IR
Newcastle United FC, England
3
0
9
Charles, W. John
21
287 days
27 December 1931
CF
Leeds United AFC

, England

6
2
10

Allchurch, Ivor J.
23
298 days
16 December 1929
IL
/LHB
Swansea Town FC
14
6
11
Clarke, Royston J.
28
131 days
1 June 1925
OL
Manchester City FC

, England

16
4
reserves:
not named
team notes:
Trevor Ford (Sunderland AFC) was the original named centre-forward. The night before the match, because of an ankle injury in Welsh training, his place went to the original inside-right, Charles. Davies was then brought in to fill the vacant inside-right position, who travelled down from Newcastle overnight.
Alf Sherwood suffered with concussion after being kicked in the head, he returned before/during/after* England's fourth goal.


*delete as applicable... depending on which newspaper report is read!

2-3-5
Howells -
Barnes, Sherwood (Burgess) -
Paul, Daniel, Burgess (Allchurch) -
Foulkes, Davies, Charles, Allchurch (Clarke), Clarke (Sherwood).


notes: once Sherwood was injured, Burgess and Allchurch dropped back.

Averages:

Age
28 years 102 days
Appearances/Goals

14.7

1.3

England Team
Rank:

No official ranking system established;
ELO rating 4th to 3rd
Colours:
The 1949 home uniform - White collared jerseys, blue shorts, black socks with white tops.


33rd, W 19 - D 8 - L 6 - F 87 - A 45.

⁴³
Capt:
Billy Wright³
37th W 23 - D 7 - L 7 - F 94 - A 47.⁹⁰
Manager:
Walter Winterbottom, 40 (31 March 1913), appointed as FA national director of coaching/team manager on 8 July 1946;


55th match, W 36 - D 11 - L 8 - F 164 - A 66

, inc. one abandoned.

¹³⁹

Team chosen by Selection Committee headed by Harold Shentall on Sunday, 4 October.

England Lineup
five changes to the previous match (Ditchburn, Ramsey, Quixall & the Froggatt's out)
league position (4 October)
Merrick, Gilbert H.
31
257 days

26 January 1922

G
Birmingham City FC

(FL2 10th)

14

16ᵍᵃ

2
Garrett, Thomas H.
27
224 days
28 February 1926
RB
Blackpool FC

(FL 7th)

3
0
final app 1952-53
3
Eckersley, William
28
86 days
16 July 1925
LB
Blackburn Rovers FC

(FL2 9th)

14
0
4
Wright, William A.
29
246 days
6 February 1924
RHB
Wolverhampton Wanderers FC

(FL 3rd)

52
3

most apps

1952-53

5
Johnston, Harry
34
14 days
26 September 1919
CHB
Blackpool FC

(FL 7th)

8
0
6
Dickinson, James

W.

28
169 days
24 April 1925
LHB
Portsmouth FC

(FL 16th)

29
0
7
Finney, Thomas
31
188 days
5 April 1922
OR
Preston North End FC

(FL 11th)

48
23
721
8

Quixall, Albert
20
62 days
9 August 1933
IR
Sheffield Wednesday FC

(FL 12th)

1
0
the 33rd Wednesday player to represent England
9

Lofthouse, Nathaniel
28
44 days
27 August 1925
CF
Bolton Wanderers FC

(FL 8th)

17
19
722
10

Wilshaw, Dennis J.
27
213 days
11 March 1926
IL
Wolverhampton Wanderers FC

(FL 3rd)

1
2
the 23rd Wanderer to represent England
11

Mullen, James
30
277 days
6 January 1923
OL
Wolverhampton Wanderers FC

(FL 3rd)

7
2
reserve:
Ray Barlow (West Bromwich Albion FC

(FL TOP)

).
team notes:
Harold Hassall (Bolton Wanderers FC

(FL 8th)

) was the original named inside-left, he was proved unfit and Wilshaw replaced him on Thursday, 8 October.
Quixall and Wilshaw become the 70th and 71st players used by Winterbottom.
records:
Dennis Wilshaw becomes the first player to score on his debut in a World Cup match.
2-3-5
Merrick -
Garrett, Eckersely -
Wright, Johnston, Dickinson -
Finney, Quixall, Lofthouse, Wilshaw, Mullen

Averages

:

Age
28 years 330 days
Appearances/Goals

17.6

4.1
Match Report

by Mike Payne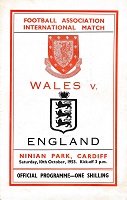 So often since the war, England have received adverse criticism after a clear win. Once again they found themselves in that situation after this visit to Cardiff, for although the scoreline looks healthy enough, the England performance in getting there was far from convincing.

With the Home Championship being used to determine Great Britain's entry for the following year's World Cup, there was extra importance on this match. Ninian Park was bulging at the seams as 61,000 people packed into the ground. Before the play started they set the atmosphere tingling by singing their hearts out as only Welshmen can.

For the first half-hour it was one-way traffic towards Gil Merrick's goal. Wales put in a storming start and at the heart of all their good play was the mighty Charles. He was magnificent! Three times he forced superb saves from the England goalkeeper with bullet-like headers and he continually had the England defenders struggling. The pressure had to tell eventually and in the 23rd minute it did.

More good play by Charles set up the goal. Combining well with Davies he sent the ball in for Allchurch to fire a good shot past Merrick, who for once was well beaten. Things looked good for the Welsh but just before the end of the first half the tide suddenly, and undeservedly, began to turn against them. First they lost Sherwood with an injury and then, in the last minute of the half, conceded an equaliser. A free-kick, given against Burgess, was curled into the box by Albert Quixall and Dennis Wilshaw popped up to head home.

The half-time score was a total travesty of the events of the half and Wales could hardly believe it. Within seven minutes after the restart they were stunned into defeat!

With England having been kept in the match by Merrick's saves in the first 45 minutes, they now turned to the lively Jimmy Mullen tork the response at the other end.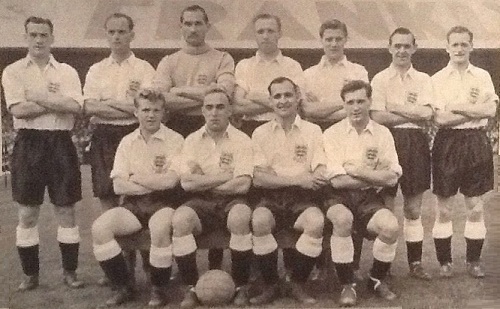 The Wolves winger began to tease Barnes with his pace and body swerve.

Four minutes into the second period he took a pass from Bill Eckersley and centred for Wilshaw to score his and England's second goal. A minute later Mullen again was involved, linking well with Wilshaw before the latter's cross was headed in by Nat Lofthouse.

Sherwood then came back on to a huge roar but hardly had the cheers died down when England amazingly scored a fourth goal. Again Lofthouse was the scorer and again Mullen was the provider. So, in thece of nine minutes either side of the interval, England had completely sewn up the result.

The Welsh crowd were stunned into an eerie silence now and England comfortably controlled most of the remaining time. However, the visitors still had some obvious problems and large question-marks still hung over the inside-forwards, full-backs and centre-half. Quixall often looked bemused in his first game and Wilshaw also struggled despite his two goals which probably earned him another chance. Even Tom Finney looked well below par and England must surely have looked for an improvement in their next match.

Match Report

by Norman Giller
Dennis Wilshaw celebrated his first England cap with two goals, and Nat Lofthouse netted twice for the second successive match. All of England's goals came in the ten minutes either side of the half-time interval after Wales had taken a deserved twenty-third minute lead through Ivor Allchurch. Wales played for much of the game with left-back Alf Sherwood a passenger on the wing after he had been concussed in the thirty-second minute. Giant Leeds centre-forward John Charles might have had a hat-trick but for a succession of superb saves by England goalkeeper Gil Merrick. Albert Quixall, literally worth his weight in gold when sold by Sheffield Wednesday to Manchester United for £45,000 in 1958, made his England debut at inside-right at the age of twenty. Wales were unlucky not to have salvaged a draw from a game they often dominated. As in 1949-50, the Home Championship was used to determine Great Britain's qualifiers for the World Cup finals. There were more than 60,000 fans packed into Ninian Park, and the atmosphere was just like the Welsh stoke up for their rugby internationals. England were hugely flattered with the size of the victory. This was the beginning of the rise of the greatest Welsh football team in their history, with John Charles and Ivor Allchurch laying the foundations to their memorable careers. There has been a more gifted all-round British footballer than Big John. He was equally effective at centre-forward or centre-half, and once he had moved to Juventus from Leeds he developed into the perfect player. He not only had great technique, but also the ideal temperament. His nickname the Gentle Giant was misleading because he could be as physical as Nat Lofthouse one minute and then as beautifully balanced as Tom Finney the next. He was commanding in the air and could head with the force of a Tommy Lawton. When the conversation gets around to who has been the greatest British footballer of all time John tends to get left out of the argument because he spent so much time in Italy, but he should be in anybody's top six players.

Match Report
as appears in the F.A. Yearbook 1954-55, pages 26-27
At its outset last season posed two main objectives: first to build a team capable of winning the Home Championship and with the necessary experience and cohesion to meet the challenges of the Spring Tour and the final stages of the World Cup Competition; secondly, at the same time to produce a side ready to face the immediate tests entailed in the home fixtures against the 'Rest of the World' and Hungary. At the time of going to press the last act has yet to be played and even though all three matches were won in the home Championship, it now has to be recorded that 1953-54 saw the eclipse of England's supremacy and will be remembered as the season in which she suffered the first home defeat in her history. It should, however, be remembered that eclipses are more frequently partial than total and that even the latter, however full of omens, are normally of short duration.
The score at the opening match at Cardiff was misleading and highly flattering to England whose forward line looked by no means equal to the task that lay ahead in the coming months. Apart from this, Wales was hampered for a vital part of the match by the loss of Sherwood who left the field with slight concussion. Before this Wales was one ahead following a good move started by Charles who passed to Davies who sent the ball to Allchurch to crash it into the net. It was not until close on half-time that Wilshaw headed the equaliser for England off a freekick by Quixall.
After the interval the weight of the English attack was switched to Mullen and Wilshaw on the left-wing, and within a few minutes three goals were added: one from Wilshaw and two from Lofthouse — all were headers. It was then that Sherwood returned — to the left-wing, Burgess being left-back - and no further score resulted. Outstanding player of the day was Charles, the Welsh centre-forward; though he did not find the net his approach play and heading were superb.

Source Notes
TheFA.com
Original newspaper reports
Official matchday programme
The Complete Book of the British Charts


Wales' Complete Who's Who since 1946

Rothman's Yearbooks


Mike Payne's England: The Complete Post-War Record
Norman Giller, Football Author
Drew Herbertson, Scottish FA historian
British Pathé
cg