"Yes, Uruguay ARE world champions"
Daily Record
Officials

Uruguay
UK ruling on substitutes
England Party

Referee

(black)
Arthur Edward Ellis
38 (8 July 1914), Halifax, Yorkshire
The FIFA ruling of allowing a substitute to replace an injured player prior to the 44th minute, and a goalkeeper at any time, is in place.

Another 'minor' match preceded this game, serving as a curtain raiser.
Linesmen

tbc

tbc

Uruguay
Team
Current World Champions

Colours:
Sky blue jerseys with white v-necked collar/cuffs, black shorts, black socks with white tops.

Rank:

No official ranking system established;
ELO rating 7th
Capt:
Matias Gonzáles
Manager:
Juan López Fontana, 45 (15 March 1908), also coach at CA Peñarol, appointed 1949.
Uruguay Lineup
Máspoli Arbelvide, Roque G.
35


231 days

12 October 1917
G
CA Peñarol
28
0
2
Gonzáles,

Matías

27


298 days

6 August 1925
RB
Club Atlético Cerro
29
0
3
Martínez

Carreras

, Wílliam

R

.

25


138 days

13 January 1928
LB
Rampla Juniors FC
9
0
4

Rodríguez Andrade

, Víctor

P.

26


29 days

2 May 1927
RHB
CA Peñarol
19
0
5
Carbello, Néstor

E.

24


117 days

3 February 1929
CHB
Club Nacional de Football
6
0
6
Cruz, Luis

A.

28


33 days

28 April 1925
LHB
Club Nacional de Football
5
0
7

Abbadie

Gismero

, Julio

C.

22


266 days

7 September 1930
OR
CA Peñarol
6
5
8
Schiaffino, Juan

A.

27


307 days

28 July 1925
IR
CA Peñarol
12
4
9

Míguez

Antón

, Omar

Óscar

25


177 days

5 December 1927
CF
CA Peñarol
14
12

10

Pérez

Gutiérrez

, Julio

G.

26


346 days

19 June 1926
IL
Club Nacional de Football
16
6
11

Cabrera, Juan Carlos
nk
nk
OL
Rampla Juniors
1
0
only app 1953

unused substitute

s:
Luis Radiche

team note

s:
Juan Carlos Cabrera was a late replacement.
2-3-5
Máspoli -
Gonzáles, Martínez -
Rodríguez Andrade, Carbello, Cruz -
Abbadie, Schiaffino, Míguez, Pérez, Cabrera.

Averages:

Age
27 years 14 days¹⁰
Appearances/Goals

13.2

2.3

England Team
Rank:

No official ranking system established;
ELO rating 4th
Colours:
The 1949 home uniform - White collared short-sleeved jerseys, blue shorts, black socks with white tops.


32nd, W 18 - D 8 - L 6 - F 80 - A 43.

⁴³
Capt:

Billy Wright³
35th W 21 - D 7 - L 7 - F 84 - A 43.⁹⁰

Manager:
Walter Winterbottom, 40 (31 March 1913), appointed as FA national director of coaching/team manager on 8 July 1946;


53rd match, W 34 - D 11 - L 8 - F 154 - A 62

, inc. one abandoned.

¹³⁹
Trainer: Jimmy Trotter (Charlton Athletic FC)

Party chosen by Selection Committee headed by Harold Shentall, on Monday, 13 April 1953. Team chosen on Saturday, 30 May.

England Lineup
Merrick, Gilbert H.
31


125 days

26 January 1922

G
Birmingham City FC
13

15ᵍᵃ

2

Ramsey, Alfred E.
33


129 days

22 January 1920
RB
Tottenham Hotspur FC
29
1
3
Eckersley, William
27


319 days

16 July 1925
LB
Blackburn Rovers FC
12
0
4
Wright, William A.
29


114 days

6 February 1924
RHB
Wolverhampton Wanderers FC
50
3

most apps

1952-53

5
Johnston, Harry
33


244 days

26 September 1919
CHB
Blackpool FC
6
0
6
Dickinson, James

W.

28


37 days

24 April 1925
LHB
Portsmouth FC
27
0
7
Finney, Thomas
31


56 days

5 April 1922
OR
Preston North End FC
46
21
8
Broadis, Ivan A.
30


161 days

18 December 1922
IR
Manchester City FC
7
3
9
Lofthouse, Nathaniel
27


274 days

27 August 1925
CF
Bolton Wanderers FC
15
15
10

Taylor, Thomas
21


122 days

29 January 1932
IL
Manchester United FC
3
2
11
Berry,

R.

John
26


364 days

1 June 1926
OL
Manchester United FC
3
0

unused substitute

s:
Ted Ditchburn (Tottenham Hotspur FC), Tommy Garrett (Blackpool FC), Ray Barlow (West Bromwich Albion FC), Roy Bentley (Chelsea FC) and Jack Froggatt (Portsmouth FC).
team notes:
For only the second time post-war, England have fielded an unchanged side for three matches in a row.
2-3-5
Merrick -
Ramsey, Eckersley -
Wright, Johnston, Dickinson -
Finney, Broadis, Lofthouse, Taylor, Berry.

Averages:

Age
29 years 77 days
Appearances/Goals

19.2

4.0

most experienced post-war team

so far

"The F.A. presented the Uruguayan players with wallets and F.A. pins, but the Uruguayans gave nothing to the English players."
Match Report by Mike Payne
England faced a formidable match on the last leg of their South American tour when they took on the current World Champions, Uruguay. Having won the trophy in 1950 they were now eagerly building a side to defend it in Switzerland the following year and emphasised their power.

England were desperately unlucky before the match. After the Chile game many of the party were struck down by stomach upsets and some of the players looked barely fit enough to play. Nevertheless they battled bravely and to only lose by the odd goal in three was no disgrace.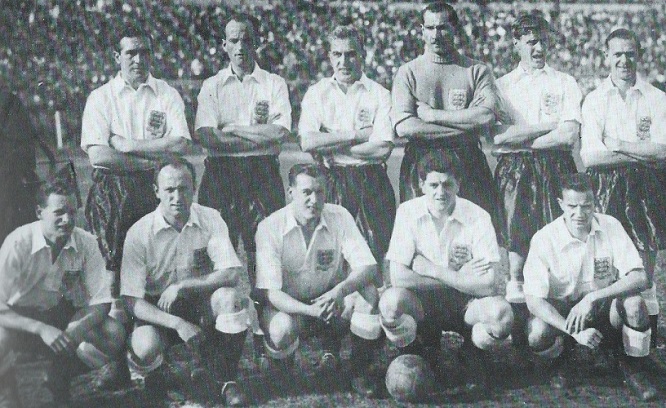 Uruguay took the lead after 27 minutes. Abbadie cut in from the right wing to fire low, hard and accurately from 20 yards leaving Gil Merrick well beaten. The crowd went wild with delight and fireworks were let off all around the stadium, a frighteningly new experience for some of the younger players of this England team.

The England team was always struggling and never really got going. Nat Lofthouse, especially, was a pale shadow of his normal self. Having said that England did have their moments. Tommy Taylor and Tom Finney almost got through and Uruguay occasionally had to hang on desperately to their lead. England had no luck at all especially when both Lofthouse and Ivor Broadis hit the inside of the Uruguayans' upright with shots that deserved a better reward.

In the 60th minute, Uruguay stretched their lead. Cabrera, out on left, centred perfectly for Míguez to head wide of the despairing Merrick. Five minutes later Abbadie missed a sitter, shooting over from close range.

At this stage Uruguay were in control, continually beating England for possession. But all credit to the tiring visitors as they refused to give up and they gained some deserved consolation in the last minute when Taylor pulled a goal back.

Match Report by Norman Giller
World champions Uruguay turned on an exhibition against the old masters, and might have trebled their score but for being over elaborate with dazzling approach play. Abbadie gave Uruguay the lead in the twenty-seventh minute, and clever centre-forward Míguez made it 2-0 on the hour. Nat Lofthouse and Ivor Broadis struck the woodwork and Tommy Taylor scored in the closing moments after an Alf Ramsey shot had been blocked. It was a spirited fight back by England after they had struggled to hold the world champions in a one-sided first half. Míguez, a master of ball control and as crafty as a monkey, led the entire England defence a dance. Billy Wright, winning his 50th cap, played him as well as any defender could do, but several times was left tackling his shadow.

Match Report
as appears in the F.A. Yearbook 1953-54, pages 23-24
Although some of the players were taken sick after the game with Chile, England again fielded an unchanged team against World Cup champions at Montevideo a week later. Uruguay deserved their narrow win against visitors playing below form, though the England players dominated the early stages and made it a keen battle. Clearly England were up against perhaps the best team they had ever met; every man being fit, fast and strong, and the whole side switching swiftly from defence to attack. Right-half Andrade was a magnificent wing-half and the forward line was brilliant, moving the ball in bouts of short passing at incredible speed over the hard lumpy surface.
During the opening minutes an unlucky shot from Lofthouse hit the inside of both posts before curling out of goal into the arms of Maspoli. Lofthouse in particular appeared still unfit, and as Broadis and Taylor were also not at their best, the England attack seldom got going.
After 27 minutes Abbadie cut in and shot accurately and hard from 20 yards to beat Merrick. In the second half England fought back until another shot (this time from Broadis) again hit the inside of a post. Immediately Uruguay scored a second goal; Cabrera crossed a perfect ball for Miguez to head home from close in. In the last minute Taylor scored for England but it was too late.


Source Notes
TheFA.com
AUF.org.uy
Original newspaper reports


The Complete Book of the British Charts

Rothman's Yearbooks


Mike Payne's England: The Complete Post-War Record


Norman Giller, Football Author
cg