Match Summary
Officials

Uruguay

Type

England

Referee (black) - Arthur Edward Ellis
38 (8 July 1914), Halifax, Yorkshire.

Linesmen - tbc

Another 'minor' match preceded this game, serving as a curtain raiser.

The FIFA ruling of allowing a substitute to replace an injured player prior to the 44th minute, and a goalkeeper at any time, is in place.

Goal Attempts
Attempts on Target
Hit Bar/Post
Corner Kicks Won
Offside Calls Against
Fouls Conceded
Possession

Uruguay Team
Current World Champions

Colours:
Sky blue jerseys with white v-necked collar/cuffs, black shorts, black socks with white tops.

Rank:

No official ranking system established;
ELO rating 7th
Capt:
Matias Gonzáles
Manager:
Juan López Fontana, 45 (15 March 1908), also coach at Club Atlético Peñarol, appointed 1949.
Uruguay Lineup
Máspoli

Arbelvide,

Roque

G.

35
12 October 1917
G
Club Atlético Peñarol

GA

2
Gonzáles,

Matías

27
6 August 1925
RB
Club Atlético Cerro
3
Martínez

Carreras

, Wílliam

R

.

25
13 January 1928
LB
Rampla Juniors FC
9
0
4

Rodríguez Andrade

, Víctor

P.

26
2 May 1927
RHB
Club Atlético Peñarol
5
Carbello, Néstor

E.

24
3 February 1929
CHB
Club Nacional de Football
6
Cruz, Luis

A.

28
28 April 1925
LHB
Club Nacional de Football
7
Abbadie

Gismero

, Julio

C.

22
7 September 1930
OR
Club Atlético Peñarol
8
Schiaffino, Juan

A.

27
28 July 1925
IR
Club Atlético Peñarol
12
4
9
Míguez

Antón

, Omar Óscar
25
5 December 1927
CF
Club Atlético Peñarol
14
12

10

Pérez

Gutiérrez

, Julio

G.

26
19 June 1926
IL
Club Nacional de Football
11
Cabrera, Juan Carlos
nk
nk
OL
Rampla Juniors

unused substitutes:

-
2-3-5
Máspoli -
Gonzáles, Martínez -


Rodríguez Andrade,

Carbello, Cruz -
Abbadie, Schiaffino, M

í

guez, Pérez, Carbrera.

Averages:

Age
26.5
Appearances/Goals
-
-

England Team
Rank:

No official ranking system established;
ELO rating 4th
Colours:
The 1949 home uniform - White collared short-sleeved jerseys, blue shorts, black socks with white tops.
Capt:
Billy Wright, 35th captaincy
Manager:
Trainer: Jimmy Trotter (Charlton Athletic FC)
Walter Winterbottom, 40 (31 March 1913), appointed director of coaching on 8 July 1946, and team manager in May 1947;


53rd match, W 34 - D 11 - L 8 - F 154 - A 62

, inc. one abandoned.


Party

chosen by Selection Committee headed by Harold Shentall

, on Monday, 13 April 1953. Team chosen on Saturday, 30 May.

England Lineup
Merrick, Gilbert H.
31

26 January 1922

G
Birmingham City FC
13

15

GA

2
Ramsey, Alfred E.
33
22 January 1920
RB
Tottenham Hotspur FC
29
1
3
Eckersley, William
27
16 July 1925
LB
Blackburn Rovers FC
12
0
4
Wright, William A.
29
6 February 1924
RHB
50
3
5
Johnston, Harry
33
26 September 1919
CHB
Blackpool FC
6
0
6
Dickinson, James

W.

28
24 April 1925
LHB
27
0
7
Finney, Thomas
31
5 April 1922
OR
46
21
8
Broadis, Ivan A.
30
18 December 1922
IR
Manchester City FC
7
3
9
Lofthouse, Nathaniel
27
27 August 1925
CF
Bolton Wanderers FC
15
15
10
Taylor, Thomas
21
29 January 1932
IL
Manchester United FC
3
2
11
Berry,

R.

John
26
1 June 1926
OL
Manchester United FC
3
0

unused substitutes:

Ted Ditchburn (Tottenham Hotspur FC), Tommy Garrett (Blackpool FC), Ray Barlow (West Bromwich Albion FC), Roy Bentley (Chelsea FC) and Jack Froggatt (Portsmouth FC).

team notes:

Billy Wright extends his record appearance tally, becoming the first British player to reach fifty appearances.
For only the second time post-war, England have fielded an unchanged side for three matches in a row.
2-3-5
Merrick -
Ramsey, Eckersley -
Wright, Johnston, Dickinson -
Finney, Broadis, Lofthouse, Taylor, Berry.

Averages:

Age
28.7
Appearances/Goals
19.2
4.0
Match Report by Mike Payne
England faced a formidable match on the last leg of their South American tour when they took on the current World Champions, Uruguay. Having won the trophy in 1950 they were now eagerly building a side to defend it in Switzerland the following year and emphasised their power.

England were desperately unlucky before the match. After the Chile game many of the party were struck down by stomach upsets and some of the players looked barely fit enough to play. Nevertheless they battled bravely and to only lose by the odd goal in three was no disgrace.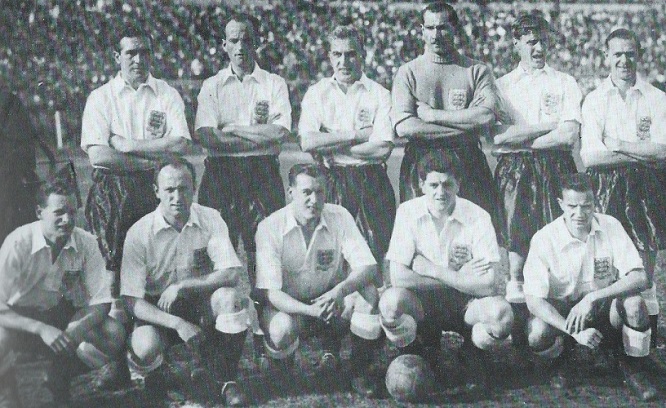 Uruguay took the lead after 27 minutes. Abbadie cut in from the right wing to fire low, hard and accurately from 20 yards leaving Gil Merrick well beaten. The crowd went wild with delight and firworks were let off all around the stadium, a frighteningly new experience for some of the younger players of this England team.

The England team was always struggling and never really got going. Nat Lofthouse, especially, was a pale shadow of his normal self. Having said that England did have their moments. Tommy Taylor and Tom Finney almost got through and Uruguay occasionally had to hang on desperately to their lead. England had no luck at all especially when both Lofthouse and Ivor Broadis hit the inside of the Uruguayans' upright with shots that deserved a better reward.

In the 60th minute, Uruguay stretched their lead. Cabrera, out on left, centred perfectly for Míguez to head wide of the despairing Merrick. Five minutes later Abbadie missed a sitter, shooting over from close range.

At this stage Uruguay were in control, continually beating England for possession. But all credit to the tiring visitors as they refused to give up and they gained some deserved consolation in the last minute when Taylor pulled a goal back.

Match Report by Norman Giller
World champions Uruguay turned on an exhibition against the old masters, and might have trebled their score but for being over elaborate with dazzling approach play. Abbadie gave Uruguay the lead in the twenty-seventh minute, and clever centre-forward Míguez made it 2-0 on the hour. Nat Lofthouse and Ivor Broadis struck the woodwork and Tommy Taylor scored in the closing moments after an Alf Ramsey shot had been blocked. It was a spirited fight back by England after they had struggled to hold the world champions in a one-sided first half. Míguez, a master of ball control and as crafty as a monkey, led the entire England defence a dance. Billy Wright, winning his 50th cap, played him as well as any defender could do, but several times was left tackling his shadow.

The

Top Twelve UK Music Chart by New Musical Express
On Friday, 15 November 1952, The New Musical Express published the first ever singles chart in the UK. However, when England played Uruguay, Frankie Laine's I Believe was the best selling single for the third week in a row. When the chart of Friday, 29 May 1953 was published, there were ten surviving songs from the last chart when England played:-
1.

(=)

I Believe

-

Frankie Laine

(Philips)

8.

(9)
In A Golden Coach

(There's A Heart Of Gold)

- Billy Cotton & His Band

(Decca)

2

.

(=)
Pretend

-

Nat 'King' Cole (Capitol)

9.

(5)

Tell Me A Story

-

Jimmy Boyd & Frankie Laine (Philips)

3.

(10)
Terry's Theme From 'Limelight'

-

Frank Chacksfield (Decca)

10

.

The Song From The Moulin Rouge

-

Mantovani (Decca)

4.

(3)
Downhearted

- Eddie Fisher (HMV)

11

.

(=)
Terry's Theme From 'Limelight'

-

Ron Goodwin (Parlophone)

5.

(4)
Pretty Little Black Eyed Susie

- Guy Mitchell

(Colombia)

12

.

(re)
Somebody Stole My Gal - Johnnie Ray (Philips)

6

.
(7)

Hold Me Thrill Me Kiss Me

- Muriel Smith

(Philips)

12.
(re)
Coronation Rag

-

Winifred Atwell

(Decca)

7

.
(6)

I'm Walking Behind You

- Eddie Fisher with Sally Sweetland (HMV)

♪Most weeks at number one when England played:

Frankie Laine three weeks, and Al Martino and Lita Roza one each

Source Notes
TheFA.com
Original newspaper reports
Rothman's Yearbooks
RSSSF Uruguay
Mike Payne's England: The Complete Post-War Record (Breedon Books Publishing Company, Derby, U.K., 1993)
Norman Giller, Football Author
Neil Warwick, John Kutner & Tony Brown's The Complete Book of the British Charts (Omnibus Press, 2004)
____________________

CG