288 vs. Belgium
289 vs. Switzerland
290
291 vs. Northern Ireland

Saturday, 26 June 1954
World Cup 1954 Finals Second Phase, Quarter-Finals Match One/Two

Uruguay 4 England 2 [2-1]


Sankt Jakob Stadium

, Sankt Jakob, Basel
Attendance: 35,000 (FIFA state 28,000);

Kick-off: 5.00pm

BST


Second half live on BBC (UK) -

Commentator:

Kenneth Wolstenholme

Match Summary
Uruguay Party
England Party

Uruguay - Carlos Borges (five-yard right-footed drive on the turn from an Abbadie miss-hit 5), Obdulio Varela (thirty-yard drive from a Santamaria free-kick nto the top corner 39), Juan Schiaffino (ffteen-yard strik low to Merrick's right 46), Javier Ambrois (low drive from edge of penalty area into far post 84)
England - Nat Lofthouse (twelve-yard placd shot wide of Máspoli from a Wilshaw short tho' ball 16), Tom Finney (scrambled in from four yards after Máspoli failed to hold onto a Lofthouse strike 67)
Results 1950-1955

England won the toss, Uruguay kicked-off. ? minutes (? & ?).
Match Summary
Officials

Uruguay

Type

England

Referee (black) - Erich Steiner
x (-), Austria.

Linesmen - Vasa Stefanovic, Yugoslavia, and Vincenzo Orlandini, Italy




Goal Attempts
Attempts on Target
Hit Bar/Post
Corner Kicks Won
Offside Calls Against
Fouls Conceded
Possession

Uruguay Team
Colours:
Sky blue v-necked jerseys with white collar/cuffs, black shorts, black socks with white tops.
Rank:
No official ranking system established;
ELO rating 5th to 4th
Capt:
Obdulio Varela
Manager:
Juan López Fontana, 46 (15 March 1908), also coach at Club Atlético Peñarol, appointed 1949.
Uruguay Lineup
1
Máspoli

Arbelvide,

Roque

G.

36
12 October 1917
G
Club Atlético Peñarol

GA

2
Santamaría Iglesias, José E.
24
31 July 1929
RB
Club Nacional de Football
7
0
3
Martínez

Carreras

, Wílliam

R

.

26
13 January 1928
LB
Rampla Juniors FC
14
0
4
Rodríguez Andrade, Víctor

P.

27
2 May 1927
RHB
Club Atlético Peñarol
5
Muiños Varela, Obdulio J.
36
20 September 1917
CHB
Club Atlético Peñarol

17

Cruz, Luis

A.

29
28 April 1925
LHB
Club Nacional de Football
11
0
7
Abbadie

Gismero

, Julio

C.

23
7 September 1930
OR
Club Atlético Peñarol
19
Ambrois, Javier
22
9 May 1932
IR
Club Nacional de Football
9
Míguez

Antón

, Omar

Óscar

26
5 December 1927
CF
Club Atlético Peñarol
20
18
10
Schiaffino, Juan

A.

28
28 July 1925
IL
Club Atlético Peñarol
19
8
11
Borges, Carlos A.
22
14 January 1932
OL
Club Atlético Peñarol

reserves:

no reserves named
2-3-5
Máspoli -
Santamaría, Martínez -
Rodríguez Andrade, Varela, Cruz -
Abbadie, Ambrois, Míguez, Schiaffino, Borges.

Averages:

Age
27.2
Appearances/Goals
-
-

England Team
Rank:

No official ranking system established;
ELO rating 4th to 7th
Colours:
The 1949 home uniform - White collared short-sleeved jerseys, blue shorts, red socks.
Capt:
Billy Wright, 46th captaincy
Manager:
Trainer: Jimmy Trotter (Charlton Athletic FC)
Walter Winterbottom, 41 (31 March 1913), appointed director of coaching on 8 July 1946, and team manager in May 1947;


64th match, W 39 - D 13 - L 12 - F 187 - A 95

, one abandoned. Team chosen by Selection Committee, headed by Harold Shentall, on Friday, 25 June.
England Lineup
Merrick, Gilbert H.
32

26 January 1922

G
Birmingham City FC
23

45

GA

2
Staniforth, Ronald
30
13 April 1924
RB
Huddersfield Town AFC
6
0
3
Byrne, Roger W.
24
8 September 1929
LB
Manchester United FC
6
0
14
McGarry, William H.
23
10 June 1927
RHB
Huddersfield Town AFC
2
0
4
Wright, William A.
30
6 February 1924
CHB
61
3
6
Dickinson, James

W.

29
24 April 1925
LHB
38
0
7
Matthews, Stanley
39
1 February 1915
OR
Blackpool FC
38
10
8
Broadis, Ivan A.
31
18 December 1922
IR
Newcastle United FC
14
8
9
Lofthouse, Nathaniel
28
27 August 1925
CF
Bolton Wanderers FC
21
23

15

Wilshaw, Dennis J.
28
11 March 1926
IL
Wolverhampton Wanderers FC
3
3
11
Finney, Thomas
32
5 April 1922
OL
54
24

reserves:

no reserves named

team notes:

Billy Wright extends his record appearance tally.
Tom Finney becomes England's oldest goalscorer at a World Cup Final tournament, aged 32 years 82 days. Adding 42 days to the record held by Wilf Mannion set in 1950.
2-3-5
Merrick -
Staniforth, Byrne -
Wright, McGarry, Dickinson -
Matthews, Broadis, Lofthouse, Wilshaw, Finney

Averages:

Age
-
Appearances/Goals
-
-
Match Report by Mike Payne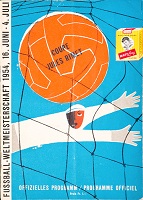 England finally made their exit ftom the 1954 World Cup when they lost to the current holders of the trophy, Uruguay, in the sweltering heat of the St. Jakob Stadium in Basle. Ironically, though, the crowd witnessed England's best performance of the tournament by far and the players could leave Switzerland with their heads held high.

Courage and determination has never been a characteristic lacking in an Englishman and the players had to draw on their experience to do battle against the intimidating South Americans. Led by their captain, Billy Wright, England pushed forward at every opportunity, feeding the mercurial Stanley Matthews as often as possible. The winger was used in a roving role and always seemed available when his fierce-tackling defenders fed the ball out of defence.

The histrionics of the Uruguyans quickly turned the crowd against them, so England enjoyed valuable support, but there was no disputing Uruguay's skill and after only five minutes they took the lead.

Superb interpassing between Abbadie, Schiaffino and Borges ended with the latter brilliantly shooting past Gil Merrick. At that moment visions of Uruguay's 7-0 thrashing of Scotland earlier in the tournament came flooding back. But England were made of sterner stuff and they quickly got back into the game.

Fifteen minutes had gone when Matthews picked the ball up in midfield and brilliantly sent Dennis Wilshaw clear. In turn, the inside-left gave Nat Lofthouse the perfect pass and the Bolton player did the rest. From then on the game boiled up into a frenzy as the excitement reached fever pitch. Lofthouse was denied only by the fingertips of Máspoli as the goalkeeper produced a dazzling save following a good pass by Ivor Broadis.

Wright then sent Wilshaw away again and when Lofthouse received another pass from the number-ten he was once more thwarted by Máspoli. This time the ball ran loose though and Wilshaw followed up to flick it agonisingly the wrong side of the post.

Ironically, after all those narrow escapes, it was Uruguay who stole the lead again with six minutes of the half remaining. Roger Byrne, who had a torrid time throughout, up-ended Abbadie and from the free-kick by Santamaría, Varela hit a tremendous a 25-yarder wide of Merrick's right hand. The 'keeper might have done better but there was no denying the power of the shot. By half-time Uruguay had Varela, Abbadie and Andrade all struggling with injuries.

The last thing England wanted straight after the break was an early goal against them. Unfortunately that is exactly what happened. Yet another foul by Byrne, one of many by him, gave Uruguay a free-kick. The ball was quickly moved between Ambrois and Míguez before the superb Schiaffino came through a gap to shoot past Merrick, who again was slow to react.

The goal stunned England but they refused to surrender. Urged on by Wright, Matthews, Dickinson, Staniforth and Wilshaw, they tried evrything they knew to break down the clever defending by the Uruguayans. Ever-watchful of the danger of the breakaway, Ambrois once hit the bar from such an attack, they pushed forward relentlessly. With 25 minutes remaining, the game was once more put into the melting pot.

Yet another purposeful attack again saw Lofthouse shoot at goal. This time, when the ball bounced out, Tom Finney was on the spot to push it over the line. Suddenly it was 3-2 and everything to play for.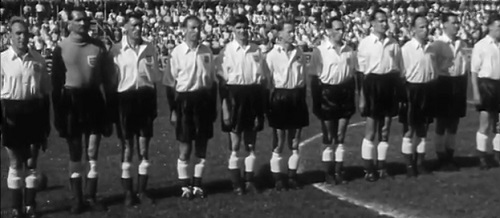 England gave everything n those last mnutes and twice came within a whisker of equalizing, once when his shot struck the back stanchion and again when Máspoli produced another excellent save.

With the crowd willing for an equalizer. Uruguay then did what was least expected of them by breaking away and scoring a fourth, killer, goal. Lovely passing between Martínez and Míguez set up the chance for Ambrois to fire a diagonal shot from the right beating Merrick again, although this time the goalkeeper may have been unsighted.

The goal came ten minutes from the end and was a cruel blow and poor reward for England's sterling efforts. The end of England's World Cup campaign had at least given them a share of respect from all who saw the game.

Match Report by Norman Giller
Two mistakes by goalkeeper Gil Merrick let defending world champions Uruguay in for goals that turned this quarter-final match in their favour after Nat Lofthouse and Tom Finney had each scored to give England hope of causing an upset. Shuffling Stanley Matthews, the undisputed man of the match, hit a post and had a shot pushed off target before Uruguay clinched victory with their fourth goal in the eighty-fourth minute when Merrick failed to save a speculative shot from Ambrois. It was shell-shocked Merrick's final match for England. He had let in thirty goals in his last ten games after conceding only fifteen in his first thirteen internationals. The Uruguayans had beaten Scotland 7-0 in a qualifying round match, but were never allowed to show that sort of superiority by an England team that performed with pride and purpose.


Source Notes
TheFA.com
FIFA match report
Original newspaper reports
Rothman's Yearbooks
Mike Payne's England: The Complete Post-War Record (Breedon Books Publishing Company, Derby, U.K., 1993)
Norman Giller, Football Author
____________________

CG