"MAGNIFICENT, PULVERISING! THE REAL ENGLAND AT LAST"
Daily Mirror
Officials

from Scotland

England
UK ruling on substitutes
Wales

Referee

(black)


Douglas Gerrard
39 (10 March 1913), Aberdeen
Teams presented to the HRH The Duke of Edinburgh KG, Milwyn Jenkins (WFA Charirman) and Herbert Powell (WFA secretary)

The match fee for the England players is now raised to £30.
In the previous twelve months, Gerrard has taken charge in all four home countries, Wales vs. England at Cardiff, Scotland vs. United States at Glasgow, Ireland vs. England at Belfast, and now at Wembley!

flame flag

Linesmen

orange flag

Joseph A. Coulter


Dumfries

William Davidson


Kirkcaldy

England Team
Rank:

No official ranking system established;
ELO rating 4th
Colours:
The 1949 home uniform - White collared jerseys, blue shorts, black socks with white tops.


27th, W 16 - D 6 - L 5 - F 73 - A 39.

⁴³
Capt:

Billy Wright³
30th, W 19 - D 5 - L 6 - F 75 - A 38.⁹⁰

Manager:
Walter Winterbottom, 39 (31 March 1913), appointed as FA national director of coaching/team manager on 8 July 1946;


48th match, W 32 - D 9 - L 7 - F 144 - A 57

.¹³⁹
Team chosen by Selection Committee headed by Harold Shentall, on Tuesday, 4 November.
England Lineup
three changes to the previous match (Smith, Froggatt & Bentley>Eckersley, Sewell & Baily)

league position

(4 November)

Merrick, Gilbert H.
30
291 days
26 January 1922
G
Birmingham City FC

(FL2 8th)

8

10ᵍᵃ

2
Ramsey, Alfred E.
32
295 days
22 January 1920
RB
Tottenham Hotspur FC

(FL 15th)

24
1
3
Smith, Lionel
32
81 days
23 August 1920
LB
Arsenal FC

(FL 7th)

4
0
4
Wright, William A.

28


280 days
6 February 1924
RHB
/CHB
Wolverhampton Wanderers FC

(FL TOP)

45
3

most apps

1952

5

Froggatt, Jack, injured off 28th-33rd min.
29
361 days
17 November 1922
CHB


/OL

Portsmouth FC

(FL 11th)

10
2
6
Dickinson, James

W.

27
202 days
24 April 1925
LHB


/RHB

Portsmouth FC

(FL 11th)

22
0
7

Finney, Thomas
30
221 days
5 April 1922
OR
Preston North End FC

(FL 12th)

41
21
718
8

Froggatt, Redfern
28
81 days
23 August 1924
IR

/IL

Sheffield Wednesday FC

(FL 8th)

1
0
the 32nd Wednesday player to represent England
9

Lofthouse, Nathaniel
27
76 days
27 August 1925
CF
Bolton Wanderers FC

(FL 14th)

10
12
10

Bentley,

T.F.

Roy
28
181 days
17 May 1924
IL

/IR

Chelsea FC

(FL 10th)

7
3
11

Elliott, William H.
27
237 days
20 March 1925
OL

/LHB

Burnley FC

(FL 6th)

4
1
reserves:
Joe Kennedy (West Bromwich Albion FC

(FL 5th)

) and Johnny Dixon (Aston Villa FC

(FL 13th)

).
team notes:
The Froggatt's are cousins. Jack Froggatt received treatment for a damaged shoulder after 28 minutes, sustained during Wales' first goal, in a tussle between him and Ford. It meant that Billy Wright became the centre-half for England for the first time.
Redfern Froggatt becomes Winterbottom's 76th player.
Following the match, after the players returned to their dressing rooms, Lionel Smith collapsed. An ambulance was called and he spent the night in Wembley Hospital, suffering with exhaustion.
records:
This vict

ory beats

the post-war unbeaten record. England have gone twel

ve

games without loss, beating the record set between 1947-48.
The England team were, as per usual, set up in Hendon prior to this match, training at Chelsea FC's Stamford Bridge.
2-3-5
Merrick -
Ramsey, Smith -
Wright, J.Froggatt, Dickinson -
Finney, R.Froggatt, Lofthouse, Bentley, Elliott.


notes: for the second half, Wright instructed himself to centre-half, and Dickinson to the right, and Billy Elliott took up the vacant left-half position. Then Redfern and Bentley swapped wings.

Averages:

Age
29 years 179 days
Appearances/Goals

16.0

3.5

Wales Team
Rank:

No official ranking system established;
ELO rating 20th
Colours:
Made by Umbro - Red collared jerseys with white collars/cuffs, white shorts with red side stripe, red socks with white tops.
Capt:
Ron Burgess

Selecto

r:
Selection Committee
on Tuesday, 4 November 1952
Wales Lineup
Shortt, William W.
32
30 days
13 October 1920
G
Plymouth Argyle FC

, England

9
13ᵍᵃ
2
Stitfall, Ronald F.
26
334 days
14 December 1925
RB
Cardiff City FC
1
0
3
Sherwood, Alfred T.
28
1 day
13 November 1923
LB
Cardiff City FC
24
0
4
Paul, Roy
32
208 days
18 April 1920
RHB
Manchester City FC

, England

20
1
5
Daniel, W. Raymond
24
10 days
2 November 1928
CHB
Arsenal FC

, England

9
0
6
Burgess, W.A. Ronald
35
217 days
9 April 1917
LHB
Tottenham Hotspur FC

, England

25
1
7

Foulkes, William I.
26
169 days
29 May 1926
OR
Newcastle United FC

, England

6
1
8
Davies, E. Reginald
23
171 days
27 May 1929
IR
Newcastle United FC, England
2
0
9

Ford, Trevor
29
42 days
1 October 1923
CF
Sunderland AFC

, England

25
19
mst goals

10

Allchurch, Ivor J.
22
332 days
16 December 1929
IL
Swansea Town FC
10
4
11
Clarke, Royston J.
27
167 days
1 June 1925
OL
Manchester City FC

, England

15
4
reserve:
David Bowen (Arsenal FC)
team notes:
Liverpool FC's Ray Lambert was the original chosen right-back. He pulled a thigh muscle in his club's league match against Middlesbrough on Saturday. His placing going to Stitfall on the Monday.
The Welsh team were set up in Weybridge prior to this match and trained on a recreation ground near to their hotel, for this, their first ever visit to Wembley.
2-3-5
Shortt -
Stitfall, Sherwood -
Paul, Daniel, Burgess -
Foulkes, Davies, Ford, Allchurch, Clarke

Averages

:

Age
28 years 55 days
Appearances/Goals

13.3

2.5
Match Report

by Mike Payne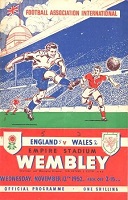 For the first time, England took their home match with Wales to Wembley. The teams celebrated this event by providing the stadium with a memorable game and a magnificent spectacle for the crowd.

Some 93,500 people paid a record £43,600 and greeted the sides with a tremendous cheer as they strode on to the lush green grass which was bathed in warm sunshine. The white and scarlet jerseys made for a colourful scene and amongst the crowd was the Duke of Edinburgh.

From the start both teams played attacking football. England quickly moved into a smooth flowing rhythm and all their forwards looked dangerous. The passing was swift and accurate and the home side's teamwork became the outstanding feature of the game.

Soon the Welsh was struggling and, within ten minutes, England were 2-0 up. The first goal was as a result of a lovely move. Redfern Froggatt began the move with a pass to Nat Lofthouse. He quickly moved it on to Tom Finney, whose centre was touched on by Roy Bentley to Billy Elliott on the left. The Burnley star quickly turned the ball back across goal to find Finney, now in the middle, who shot a fine goal past Shortt.

Shortly afterwards came the second goal. Elliott took a corner on the left and, as the cross came over, Redfern Froggatt cleverly flicked the ball to Lofthouse and the number nine scored from close range.

It looked as though England were going to run up a cricket score but, quite unexpectedly, Wales pulled a goal back after 15 minutes.

Ford, always a real handful for Jack Froggatt, found himself competing with the centre half for a high bouncing ball in the area. Ford won the duel and latched on to it nodding it down with his head before crashing a low shot past Gil Merrick with his right foot.

This put a different complexion on the scoreline and on the half-hour another incident seemed to offer Wales further hope. Again Jack Froggatt and Ford clashed for a 50-50 ball but this time the England player was injured. As he was carried off the crowd thought that it was the last they would see of him in this game. How wrong they all were.

Within ten minutes, he came back on to the field to a tumultuous welcome. His injury meant that he would have to line-up on the left wing, a position he used to play and England reorganised completely to accommodate him. It was quickly obvious the changes were not going to affect their general play.

Redfern Froggatt, Finney and especially Lofthouse were magnificent in restoring England's superiority. Mere words cannot convey the superb contribution of Finney to England's cause and Lofthouse gave his best performance so far in the purple patch that he is in. He gave Daniel a torrid time both in the air and on the ground. Just before half-time, England took a 3-1 lead through an unlikely source.

Finney, turning brilliantly, fired in a shot which was going wide of the far post, that is, until the large figure of Jack Froggatt came from nowhere to dive forward to head home. The roar that greeted the goal must surely have been heard in Cardiff. Incredibly before the break he nearly added another only to be foiled by the legs of Shortt.

England continued with their magical play after half-time. Almost immediately it was 4-1. Another superb Finney, Lofthouse combination gave Bentley the chance to shoot a fine goal from twenty yards.

Wales, who all the time played open attractive football, showed their character a minute later by pulling a goal back. Again Ford was on target latching on to a Foulkes shot that bounced off Lionel Smith.

England continued to turn on the style, though, and with 15 minutes left, Lofthouse capped a marvellous performance with a fifth and final goal. His fierce shot from 25 yards was far too hot for Shortt to handle and the ball went in despite the goalkeeper's attempted save.

It had been a memorable match with outstanding performances from many, if not all, of the 22 players.

Match Report

by Norman Giller
This was the first time Wales had ever played at Wembley, and a Wednesday afternoon crowd of 93,500 paid record gate receipts of £43,000. England were two goals up in the first ten minutes through Tom Finney and Nat Lofthouse. Five minutes later Trevor Ford pulled a goal back for Wales, and was then involved in a collision with Jack Froggatt that led to the England centre-half being carried off. Billy Wright switched to the middle of the defence, with Billy Elliott dropping back from the wing to left-half. Jack Froggatt, whose cousin, Redfern, was making his debut at inside-right, came back on as a passenger on the left wing. Remarkably, it was Jack who scored England's third goal just before half-time with a brave diving header. Roy Bentley made it 4-1 in England's first attack after half-time, with Ford instantly replying for Wales. Nat Lofthouse rounded off the scoring with a shot from twenty-five yards that goalkeeper Bill Shortt could only help into the net. The significant thing about this match was that it was the first time that Billy Wright played at centre-half for England.

Match Report

by Glen Isherwood
Having made three visits in wartime, Wales now appeared at Wembley in the British Championship for the first time. They had not beaten England in the competition since 1938 but had shared the title with them the previous season. England had already drawn 2-2 with Northern Ireland at Windsor Park, but Wales had lost 2-1 to Scotland at Ninian Park and had to avoid defeat to continue their interest in the Championship.
England scored twice in the opening ten minutes. After some early pressure Tom Finney converted an Elliott centre. The second came from an Elliott corner. This time a flick-on from Redfern Froggatt supplied Nat Lofthouse with a goal.
Within five minutes Wales had pulled one back. Trevor Ford fought off the challenge of Jack Froggatt to shoot past Merrick. Froggatt was later stretchered off but then returned to play out on the wing and then miraculously met Finney's cross with a diving header to score England's third.
In the second half Lofthouse and Finney combined to set up Roy Bentley with a chance to shoot and score from just outside the penalty area.
Wales almost immediately scored again when a Foulkes shot was blocked by Smith but fell to Ford to score his second with a cheeky back-heel. Lofthouse completed the scoring with 15 minutes left when his 25-yard shot went crashing through Shortt's hands.
Wales ruined Northern Ireland's chances by beating them 3-2 at Windsor Park and the Championship was concluded at Wembley.

Match Report
as appears in the F.A. Yearbook 1953-54, page 21
For the match against Wales England made three changes: Smith replaced Eckersley in the defence, and Frogatt (R.) and Bentley were the new inside-forwards to take the places of Sewell and Baily. Wales, appearing for the first time at Wembley (apart from matches during the war), made only one change from the side narrowly beaten by Scotland in October. Lambert was chosen to replace Lever at right-back but he was injured and Stitfall came in at the last moment.
Without a doubt England played well, and a good Welsh side was unlucky to be baptised at Wembley in such devastating fashion. It was a great attacking match - seven goals tell the tale - and the English forwards played with a new rhythm and understanding. Lofthouse emerged from the game as the complete centre-forward, foraging, holding his line together magnificently, and shooting hard and true at every opportunity. Combining wonderfully with a Finney showing all his supreme artistry, Lofthouse quickly won the middle of the field for England, and his inside-forwards, Froggatt (R.) and Bentley - who changed places early on - were quick to take advantage. A hero, too, was Froggatt (J.), hurt in a crash with Ford after half-an-hour and carried off on a stretcher. He returned to play a challenging part at outside-left, his old position, and when Wales were fighting back after the interval, it was he who hurtled through the air to head home Finney's cross to give England a secure lead.
England scored twice in the first 10 minutes, first through Finney, then through Lofthouse. Yet, within moments Ford beat Froggatt (J.) to a bouncing ball, nodded it down to his foot and cracked home a fine shot. After the interval and Froggatt's great-hearted goal, Bentley put England further ahead before Ford scored Wale's second. Then, a quarter of an hour from the end, Lofthouse crowned a great display with such a fierce shot from 25 yards that, although Shortt got his fingers to it, he was unable to prevent it going over his head into the net.

Source Notes
TheFA.com
Original newspaper reports


Wales' Complete Who's Who since 1946




Drew Herbertson, Scottish FA historian

Rothman's Yearbooks


Mike Payne's England: The Complete Post-War Record
Norman Giller, Football Author


Glen Isherwood's Wembley: The Complete Record


British Pathé
cg