Match Summary
Officials from Scotland

Northern Ireland

Type

England

Referee (-) - Hugh Phillips
x (-), Wishaw.

Linesmen - Alexander P. Davidson, Castle Douglas, and Alexander F. Murray, Glasgow.

Goal Attempts
Attempts on Target
Hit Bar/Post
Corner Kicks Won
Offside Calls Against
Fouls Conceded
Possession

Northern Ireland Team
Rank:

No official ranking system established;
ELO rating 46th to 43rd
Colours:
Green continental jerseys with white v-neck collar/cuffs, white shorts, blue socks with white tops.
Capt:
Danny Blanchflower
Manager:
Attendant/Trainer: G. Morgan (Linfield FAC)
Peter Dermot Doherty, 43 (5 June 1913), appointed October 1951, also manager at Doncaster Rovers FC since June 1949.
seventeenth match, W 2 - D - 5 - L 10 - F 18 - A 40.
Team chosen on Wednesday, 26 September 1956
Northern Ireland Lineup
Gregg, Henry
23
27 October 1932
G
Doncaster Rovers FC

, England

2

2ᵍᵃ

2
Cunningham, William E.
26
20 February 1930
RB
Leicester City FC

, England

8
0
3
McMichael, Alfred
29
1 October 1927
LB
Newcastle United FC

, England

19
0
4
Blanchflower, R. Dennis
30
10 February 1926
RHB
Tottenham Hotspur FC

, England

20
0
5
Blanchflower, John
23
7 March 1933
CHB
Manchester United FC

, England

6
1
6
Casey, Thomas
26
11 March 1930
LHB
Newcastle United FC

, England

3
0
7
Bingham, William L.
25
5 August 1931
OR
Sunderland AFC

, England

18
2
8
McIlroy, James
24
25 October 1931
IR
Burnley FC, England
16
1
9
Jones, James
28
25 July 1928
CF
Glenavon FC
2
1

10

McAdams, William J.
22
20 January 1934
IL
Manchester City FC

, England

3
1
11
McParland, Peter J.
22
25 April 1934
OL
Aston Villa FC, England
6
2

reserves:

Tommy Dickson (Linfield FAC)

team notes:

Manager Peter Doherty played for Ireland against England on seven separate occasions from 1935 until 1947, scoring one in 1947.
Danny and Jackie Blanchflower are brothers.
2-3-5
Gregg -
Cunningham, McMichael -
D.Blanchflower, J.Blanchflower, Casey -
Bingham, McIlroy, Jones, McAdams, McParland.

Averages:

Age
25.3
Appearances/Goals
9.4
0.6

England Team
Rank:

No official ranking system established;
ELO rating 4th
Colours:
The 1954 Umbro home uniform - White v-necked short-sleeved continental jerseys, blue shorts, red socks with white tops.
Capt:
Billy Wright, 63rd captaincy
Manager:
Attendant/Trainer: Jack Marshall (Sheffield Wednesday FC)
Walter Winterbottom, 43 (31 March 1913), appointed as FA national director of coaching/team manager on 8 July 1946;


81st match, W 49 - D 17 - L 15 - F 231 - A 115

, one abandoned. Team chosen by Selection Committee on Monday, 24 September, announced 30 September.

England Lineup
Matthews, Reginald D.
23
20 December 1932
G
Coventry City FC
5

5ᵍᵃ

2
Hall, Jeffrey

J.

27

7 September 1929

RB
Birmingham City FC
10
0
3
Byrne, Roger W.
27
8 September 1929
LB
Manchester United FC
23
0
4
Clayton, Ronald
22
5 August 1934
RHB
Blackburn Rovers FC
7
0
5
Wright, William A.
32
6 February 1924
CHB
78
3
6
Edwards, Duncan
20
1 October 1936
LHB
Manchester United FC
10
1
7
Matthews, Stanley
41
1 February 1915
OR
Blackpool FC
48
11
8
Revie, Donald G.
29
10 July 1927
IR
Manchester City FC
6
4
9
Taylor, Thomas
24
29 January 1932
CF
Manchester United FC
11
4

10

Wilshaw, Dennis J.
30
11 March 1926
IL
Wolverhampton Wanderers FC
12
10
11
Grainger, Colin
23
10 June 1933
OL
Sheffield United FC
5
3

reserve:

Jim Langley (Brighton & Hove Albion FC)

team notes:

Billy Wright extends his record appearance tally, in his record 43rd consecutive match.
Stan Matthews becomes England's oldest goalscorer, aged 41 years and 248 days.
The team gathered together on Monday, 1 October, at St. Andrews, Birmingham City FC, for training and a rain-soaked practice match that finished 3-0 to England (30 min. period followed by a 15 min. period), before traveling to the Central Council of Physical Recreation in Lilleshall, where they also played against Wolverhampton Wanderers FC on Tuesday, losing 3-2. On Wednesday, the team flew to Dublin to watch the match between Republic of Ireland and Denmark, before training at Bangor on Thursday and Friday.
2-3-5
R.Matthews -
Hall, Byrne -
Clayton, Wright, Edwards -
S.Matthews, Revie, Taylor, Wilshaw, Grainger.

Averages:

Age
27.1
Appearances/Goals
19.5
3.2
Match Report by Mike Payne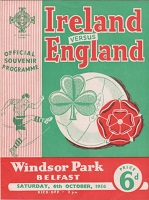 England had nearly always been assured of victory in Northern Ireland but on this occasion they came so very close to losing. Despite an inspired opening burst, they ended the match hanging on for dear life to the draw.

The visitors began with a devastating first nine minutes. With the magnificent win in Germany still fresh in their memory. England played some superb football. They pushed the ball around with arrogance and confidence and twice in the opening seconds, Ronnie Clayton and Don Revie set up Stan Matthews to provide tantalising centres to fully test the Irish rearguard.

This was followed up in the third minute with a glorious goal. Fine interpassing between Duncan Edwards, Revie and Tommy Taylor ended with the centre-forward putting a square pass inside to Revie. Revie flicked it to his right and Stan Matthews came in to shoot a lovely, low left-foot shot into the far corner. It was his first international goal for eight years and, coincidentally, his last one was also against the Irish at Windsor Park.
Match Report by Norman Giller
A rare goal from Stanley Matthews (his eleventh and last in international football) after just two minutes gave England a dream start, but they were hustled out of their stride by a Northern Ireland team motivated by a dazzling performance from skipper Danny Blanchflower. Jimmy McIlroy equalised after ten minutes when goalkeeper Reg Matthews palmed a long throw from Peter McParland into his path. McIlroy was faced with an open goal five minutes from the end but hit a post. If he had found the net, it would have given Northern Ireland their first home win over England since 1927. There was a lot of good-natured ribbing of Stanley Matthews over his goal. His last goal for England had been eight years earlier, also against Northern Ireland and also at Windsor Park. Jackie Blanchflower, Danny's brother and always a quick wit, asked: "Why does he always pick on us?" Danny himself came into the dressing-room after the match and told Stanley that he had been a schoolboy spectator in short trousers when he scored his last goal. "You'll have a long beard by the time I score the next one," said Stanley, with that poker-faced humour of his. Danny had a magnificent match, and it was clear the Irish were getting a powerful team together for their World Cup challenge.

....elsewhere on this day
Football League Division One:


Arsenal 7 Manchester City 3
Birmingham City 0 Bolton Wanderers 0
Burnley 2 Blackpool 2
Cardiff City 4 Leeds United 1
Chelsea 2 Tottenham Hotspur 4
Manchester United 4 Charlton Athletic 2
Newcastle United 2 Luton Town 2
Portsmouth 5 Aston Villa 1
Preston North End 0 Everton 0
Sheffield Wednesday 3 Sunderland 2
West Bromwich Albion 1 Wolverhampton Wanderers 1

Football League Division One

Table:
Manchester United
P 11
20pts
Tottenham Hotspur
P 11
17pts
Leeds United
P 12
16pts
Burnley
P 12
15pts
Blackpool
P 11
15pts
Birmingham City
P 11
14pts
Bolton Wanderers
P 12
13pts
Luton Town
P 11
13pts
Wolverhampton Wanderers
P 11
12pts
Preston North End
P 12
12pts
Sheffield Wednesday
P 12
12pts
Arsenal
P 12
11pts
Newcastle United
P 11
11pts
Aston Villa
P 11
10pts
West Bromwich Albion
P 11
10pts
Cardiff City
P 12
10pts
Chelsea
P 11
8pts
Everton
P 12
8pts
Sunderland
P 11
7pts
Portsmouth
P 11
7pts
Manchester City
P 12
6pts
Charlton Athletic
P 12
5pts

The

Top Twenty UK Music Chart by New Musical Express
On Friday, 15 November 1952, The New Musical Express published the first ever singles chart in the UK, comprising the twelve highest selling singles of the week, it increased to twenty on Friday, 1 October 1954, and thirty on Friday, 13 April 1956. When England beat West Germany, Ronnie Hilton's No Other Love was still the best selling single. This chart was published on Friday, 25 May 1956:-
1.
(=)
No Other Love

- Ronnie Hilton (HMV)

2.
(4)
A Tear Fell

-

Teresa Brewer

(Vogue Coral)

3.
(2)
The Poor People Of Paris

- Winifred Atwell (Decca)

4.
(7)
I'll Be Home

- Pat Boone (London)

5.
(3)
My September Love

- David Whitfield (Decca)

6.
(5)
Rock And Roll Waltz

- Kay Starr (HMV)

7.
(10)
Lost John/Stewball

- Lonnie Donegan (Pye Nixa)

8.
(14)
Heartbreak Hotel

- Elvis Presley (HMV)

9.
(8)
The Happy Whistler

- Don Robertson (Capitol)

10.
(9)

Main Title Theme From 'Man With The Golden Arm'

-

Billy May (Capitol)

11
(=)
12.
(4)
1

3.

(2)
14.
(7)
15.
(3)
16.
(5)
17.
(10)
18.
(14)
19.
(8)
2

0.

(9)

Source Notes
TheFA.com
Original newspaper reports
Rothman's Yearbooks
Mike Payne's England: The Complete Post-War Record (Breedon Books Publishing Company, Derby, U.K., 1993)
Northern Ireland's Footballing Greats
Norman Giller, Football Author
Drew Herbertson, Scottish FA historian
____________________

CG