England Football Online
Results 1955-1960
Page Last Updated 13 May 2022
Tuaisceart Éireann
307 vs. Northern Ireland



previous match

(18 days)


315 vs. Wales


316


next match (21 days)
317 vs. France

326 vs. Northern Ireland













1.45 Watch With Mother 2.0 For Schools.
2.30 Football: England v. Ireland
4.15 Mainly For Women 5.0 Children's Television (Crackerjack! and newsreel)
6 News Sport & Weather 6.15 Tonight

Wednesday

,

6 November 1957




Home International Championship 1957-58

(63rd)

Match





England 2 Northern Ireland 3

[0-1]




Empire Stadium, Empire Way, Wembley Park, Wembley, Middlesex
Kick-off (GMT): 2.30pm
Attendance:

'40,000';

Receipts:

'£12,950';

England kicked-off
[0-0] Bryan Douglas header hit the crossbar

20








[0-1] Alan 'Court cross hits the crossbar



[0-0]

Jimmy McIlroy penalty 32
his right-footed kick hits the left post
(Wright fouled Jimmy McIlroy)


[0-1]

Eddie Hopkinson own goal 32


the same penalty kick that hit the left post rebounded into the net off the back of the goalkeeper's head.

[1-1] Alan A'Court

58
slides inside from the left to squeeze the ball, left-footed, between the left-post and Harry Gregg, from a Derek Kevan through-ball



[2-3] Duncan Edwards 80
eighteen-yard side-footed shot from a Bryan Douglas cross from the goalline


[1-2] Sam McCrory 67
pounced to score with a glorious drive in off the far post following a defensive mix-up up
[1-3] Billy Simpson header 73
six-yard diving header from a a Billy Bingham cross
Simpson was two yards offside
commentator: Kenneth Wolstenholme and Walley Barnes

(Second half also live on the Light Programme)


"GLORY DAY FOR THE IRISH"
Daily Mirror
Officials

from Wales

England
UK ruling on substitutes
Northern Ireland
Referee
Benjamin Mervyn Griffiths
48 (17 January 1909), Abertillery, Monmouthshire
The teams were presented to the Guest of Honour, The Duke of Gloucester
Linesmen
D. King


Pontypridd

H. Williams


Hirwaun

England Team
Rank:

No official ranking system established;
ELO rating 3rd to 4th
Colours:
The 1954 Umbro home uniform - White v-necked short-sleeved continental jerseys, blue shorts, red socks with white calf hoop.


23rd, W 14 - D 5 - L 4 - F 65 - A 28.

⁴³
Capt:
Billy Wright³
72nd W 43 - D 14 - L 15 - F 186 - A 104.⁹⁰
Manager:
Walter Winterbottom, 44 (31 March 1913), appointed as FA national director of coaching/team manager on 8 July 1946;
90th match, W 56 - D 18 - L 16 - F 260 - A 125, one abandoned

.

¹³⁹

Trainer: Harold Shepherdson

Team chosen by Selection Committee, headed by Joe Mears, on Monday, 28 October, in Sheffield.

England Lineup
one change to the previous match (A'Court>Finney)

league positions

(28 October)

Hopkinson, Edward
22


8 days



29 October 1935
G


Bolton Wanderers FC

(FL 10th)




2


3ᵍᵃ


¹




17th keeper to face a penalty kick

youngest to face a penalty kick
by two years

the 13th own goal conceded by England

12 October 1935
2
Howe, Donald
22
25 days
RB
West Bromwich Albion FC

(FL 2nd)

2
0
3
Byrne, Roger W.
28
59 days
8 September 1929
LB
Manchester United FC

(FL 5th)

32
0
4
Clayton, Ronald
23
93 days
5 August 1934
RHB
Blackburn Rovers FC

(FL2 TOP)

16
0
5
Wright, William A.
33
273 days
6 February 1924
CHB
Wolverhampton Wanderers FC

(FL TOP)

87
3

most apps

1952-57

6

Edwards, Duncan
21
36 days
1 October 1936
LHB
Manchester United FC

(FL 5th)

17
5
7

Douglas, Bryan
23
163 days
27 May 1934
OR
Blackburn Rovers FC

(FL2 TOP)

2
0
8

Kevan, Derek T.
22
245 days
6 March 1935
IR
West Bromwich Albion FC

(FL 2nd)

3
1
9
Taylor, Thomas
25
281 days
29 January 1932
CF
Manchester United FC

(FL 5th)

18
14

10

Haynes, John N.
23
20 days
17 October 1934
IL
Fulham FC

(FL2 5th)

15
8

764

11

A'Court, Alan
23
37 days
30 September 1934
OL
Liverpool FC

(FL2 2nd)

1
1

the 16th Liverpool player to represent England

reserve:
Jimmy Greaves (Chelsea FC

(FL 11th)

)
pre-match notes:
The England team trained at Stamford Bridge on 4 November, prior to this match, and then had a practice match against the host team. Chelsea FC, including Jimmy Greaves, gave England a hard fought game, but it was the internationals that won the match 4-3. Taylor, A'Court, Douglas and Haynes scoring for England, and Greaves and two from McNichol, for the hosts.
A day later, England trained at Cheshunt, the training ground of Tottenham Hotspur FC. Tommy Taylor strained a leg muscle in jumping for a ball, and only a late fitness (11am on the morning of the match) prevented Jimmy Greaves from becoming the youngest England player this century. At aged 17 years 259 days, he would have been seven days older than the record holder, James Prinsep (although that fact was not known in 1957).
team notes:
The original team chosen was unchanged from the team that were victorious over Wales. Preston North End's Tom Finney was given every opportunity to overcome his groin injury, sustained playing for his club. On 4th November, Winterbottom requested that Alan A'Court be on standby as 'assurance', shortly afterwards, Finney and Preston announced he was not fit enough to take his place.
Billy Wright extends his record appearance tally, in his record 52nd consecutive match. It is his 34th Home Championship match, equal with Bob Crompton's record.
By choosing the untried Jimmy Greaves as a reserve, Walter Winterbottom/ISC have now named 140 different players onto England teamsheets (Starting XI + reserves).
records:
This defeat ended the record sequences of ten matches won in a row at the Empire Stadium, as well as ten matches unbeaten.
If England had avoided loss, it would have created a new post-war record of seventeen matches unbeaten.
Alan A'Court is the 144th player to score a goal on his England debut.
2-3-5
Hopkinson -
Howe, Byrne -
Clayton, Wright, Edwards -
Douglas, Kevan, Taylor, Haynes, A'Court.

Averages:

Age
24 years 147 days
Appearances/Goals

17.7

2.6

Northern Ireland Team
Rank:

No official ranking system established;
ELO rating 41st to 32nd
Colours:
Made by Bukta - Green continental jerseys with white v-neck collar/cuffs, white shorts, green socks with white tops.
Capt:
Danny Blanchflower
Manager:
Peter Dermot Doherty, 44 (5 June 1913), appointed October 1951, also manager at Doncaster Rovers FC since June 1949.
24th match, W 4 - D - 8 - L 12 - F 26 - A 46.
Team chosen on Wednesday, 30 October 1957
Northern Ireland Lineup
Gregg, Henry
25


10 days

27 October 1932
G
Doncaster Rovers FC

, England

8

7ᵍᵃ

2
Keith, Richard M.
24
175 days
15 May 1933
RB
Newcastle United FC

, England

1
0
3
McMichael, Alfred
30


36 days

1 October 1927
LB
Newcastle United FC

, England

26
0
4
Blanchflower, R. Dennis
31
269 days
10 February 1926
RHB
Tottenham Hotspur FC

, England

27
0
5
Blanchflower, John
24
244 days
7 March 1933
CHB
Manchester United FC

, England

10
1
6
Peacock, Robert
29
37 days
29 September 1928
LHB
The Celtic, Scotland
12
0
7

Bingham, William L.
26
93 days
5 August 1931
OR
Sunderland AFC

, England

25
4
8

McCrory, Samuel M.
33


26 days

11 October 1924
IR
Southend United FC

, England

1
1
only app 1957
9

Simpson, William J.
27
329 days
12 December 1929
CF
Rangers FC

, Scotland

9
4

10

McIlroy, James
26


12 days

25 October 1931
IL
Burnley FC, England
23
2
11th penalty against missed

(25th overall)

11
McParland, Peter J.
23


195 days

25 April 1934
OL
Aston Villa FC, England
11
2
reserve:
Wilbur Cush (Glenavon AFC)
team notes:
Bill Cunningham (Leicester City FC) was named as the original right-back after not traveling to Hendon FC to train. Doherty brought Dick Keith down from Tyneside on the day before the match.
Danny and Jackie Blanchflower are brothers.
records:
Although recorded as Ireland's first victory over England since 1927, and only the fifth time overall, it is in fact just the fourth fixture between England and the northern part of Ireland. The previous victories were set by an all-Ireland team.

penalty kick

records:
As Jimmy McIlroy's penalty kick hit the post and rebounded into the net off the goalkeeper's head, then it makes it officially a Hopkinson own goal. It also means that McIlroy becomes the first player since Bob Milne in 1902 to take, and then miss, two penalty-kicks against England.
Manager Peter Doherty played for Ireland against England on seven separate occasions from 1935 until 1947, scoring one in 1947.
2-3-5
Gregg -
Keith, McMichael -
D.Blanchflower, J.Blanchflower, Peacock -
Bingham, McCrory, Simpson, McIlroy, McParland.

Averages

:

Age
24 years 293 days
Appearances/Goals

13.9

1.0
Match Report by Mike Payne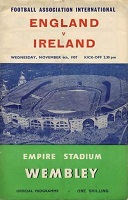 MATCHES between England and [Northern] Ireland had been taking place on English soil for some 65 years and in all that time [Northern] Ireland had only ever won once before. That was at Middlebrough in 1914, so the chances of the Irish celebrating victory at Wembley on this Wednesday afternoon seemed very remote. But sure enough, at 4.15pm the green shirts of the latest challenge stood proudly as victors with the sound of their fans cheering ringing in their ears.

Sadly, only 42,000 were at Wembley for this historic game but the ones that stayed away were the losers after a thrilling encounter. The play was won and lost in the midfield. Northern Ireland's half-back line of the two Blanchflowers and Peacock controlled almost all that England could muster and these three players, more than most, were responsible for the eventual outcome.

England began well enough and Johnny Haynes was soon spraying some typically accurate passes to his colleagues. It looked for a while that England would soon be ahead, but on the half-hour it was Ireland that took a surprise lead.

Danny Blanchflower's fine through-ball sent McGrory galloping away and as he entered the penalty area, Billy Wright sent him crashing to the ground with a fierce tackle. Too fierce a challenge in the referee's eyes, it was a penalty. McIlroy was given the job and his kick beat Eddie Hopkinson in a somewhat fortuitous fashion. The ball struck the post and rebounded against the diving Hopkinson's back and into the net . . Were the Leprechauns at work today, one thought?

It certainly seemed that way as England hit back. They had no luck at all as Duncan Edwards and Ronnie Clayton both shot narrowly over. Then Bryan Douglas saw an effort hit the bar after a lovely pass by Roger Byrne. Peacock then cleared a Tommy Taylor header off the line and finally Alan A'Court saw his centre run along the crossbar before being cleared.

So the half ended with Ireland clinging on to their lead but it was very noticeable by now that Danny Blanchflower had curbed the flow of passes from Haynes and that Jackie Blanchflower and Peacock were also having an increasing influence. However, 15 minutes into the second half England at last equalised. Derek Kevan passed to A'Court and the winger marked his debut by squeezing a shot between Gregg and the near post. This really ignited the crowd and the excitement began to build up.

The Irish were playing with great determination and within a minute they were sensationally ahead again. A mix-up between Edwards and Wright gave McCrory the chance to pounce and his shot went in off the far post which emphasised the difference in luck between Hopkinson and Gregg.

In the 71st minute the match was virtually settled by another Irish goal. This time Bingham's centre was met by Simpson diving at full length to head home. That fully punished an initial poor clearance by Byrne and although the England defenders appealed for an offside decision, it was to no avail.

And so, the unbelievable was now almost a certainty, but England refused to give up and with ten minutes to go they really set the Irish nerves jangling by pulling another goal back. It was a beauty, too. Hopkinson began the move which went the whole length of the field via Clayton, Haynes, Taylor and Douglas. Suddenly the ball was in the net as Edwards moved in swiftly to hammer a low right-foot shot past Gregg.

At this point Gregg became the Irish saviour with two magnificent saves. First he denied Kevan's header and then brought the house down when he somehow reached Clayton's screamer to the top corner with a back-breaking leap. The English players and fans alike threw their heads in their hands in disbelief. The last desperate attempt saw Kevan's shot blocked by a headlong dive by full-back McMichael.

The final whistle put the Irish out of their misery and brought ecstatic scenes of joy from 11 green shirted heroes. How they deserved their victory.
[efo addition: This is only England's fourth fixture with the northern part of Ireland, previous to this, England were playing an all-Ireland side, and it was that team that beat England in 1914]

Match Report
by Norman Giller
Skipper Danny Blanchflower and goalkeeper Harry Gregg were carried off shoulder high by celebrating Irish fans after this unexpected victory that ended England's sixteen-match unbeaten run. Burnley schemer Jimmy McIlroy gave Ireland a first-half lead with a penalty shot that hit a post and then went into the net off the back of goalkeeper Hopkinson. The penalty had been conceded by Billy Wright with one of the few fouls he ever committed in an England shirt. Liverpool winger Alan A'Court, making his debut in place of the injured Tom Finney, equalised soon after half-time before McCrory and Simpson - with a goal hotly disputed by England - put the Irish 3-1 clear. Duncan Edwards pulled back a goal, but Ireland went on to their first victory over England since 1927 and the first on English soil since 1914. Doncaster Rovers goalkeeper Harry Gregg, later to join Manchester United and survive the Munich air crash, had a game to remember, making at least half a dozen crucial saves. The third Irish goal looked at least two yards off-side and England's defenders could not believe it when the linesman's flag stayed down.

Match Report
by Glen Isherwood
It had been 30 years since England had lost to Northern Ireland and 41 years since they had lost at home to them. England were aiming for a record seventh successive British Championship and had already beaten Wales 4-0 at Ninian Park. Northern Ireland had drawn 1-1 with Scotland at Windsor Park and needed to avoid defeat to retain any hope of their second British Championship in three years. They were well placed in their World Cup qualifying group to join England in the finals in Sweden the following year.
Northern Ireland took a shock lead. After being brought down by Wright in the penalty area Jimmy McIlroy stepped up himself to take the kick. His shot hit the post and went off the 'keeper (perhaps it should have been a Hopkinson own goal). It was another half hour before Alan A'Court slotted home the equaliser.
The Irish were soon back in front, however, Sammy McCrory took advantage of a mix-up between Wright and Edwards and his shot went in off the post. Then, Bingham's cross was headed in by Billy Simpson to give the Irish an incredible 3-1 lead.
England were not finished and Duncan Edwards took a pass from Douglas and beat Gregg with a powerful shot but it was not enough and the Irish held on for a memorable victory.
Northern Ireland thew England a lifeline by failing to beat Wales at Ninian Park. England then gained a share by defeating Scotland 4-0 at Hampden Park but Northern Ireland proved that this result was no fluke by qualifying for the World Cup and performing admirably in Sweden where they bettered England by reaching the quarter-finals. They followed this with a thrilling 3-3 draw with England at Windsor Park and shared the British Championship with them again the following year.
[efo addition: This is only England's fourth fixture with the northern part of Ireland, previous to this, England were playing an all-Ireland side, and it was that team that beat England in 1914]

Match Report
as appears in the F.A. Yearbook 1958-59 pages 30-31
This win by Ireland marked the end of the run of sixteen matches without defeat by the England team, and was also the first Irish victory against England since 1927. The game was most exciting to watch and the result was always in doubt. England had the advantage territorially, also in the number of shots at goal, but Ireland, playing a much more open game, were always dangerous. The score was opened by Ireland with a penalty taken by McIlroy after half-an-hour's play, The ball struck a post, rebounded onto the diving Hopkinson, and so into the net. England equalised after ten minutes of the second half when A'Court scored from Kevan's pass but twenty minutes later Ireland were ahead 3-1 through goals scored by McCrory, after a mistake in the England defence, and Simpson. England, desperately trying to save their record, struck back, but Ireland, thanks to some fine defensive play and superb goalkeeping by Gregg, were able to limit the scoring to a single goal ten minutes from time, when Edwards was on the spot to hammer home a pass by Douglas.

Source Notes
TheFA.com
Original newspaper reports
The Complete Book of the British Charts


Northern Ireland's Footballing Greats

Rothman's Yearbooks




Mike Payne's England: The Complete Post-War Record


Norman Giller, Football Author


Glen Isherwood's Wembley: The Complete Record


British Pathé
cg