"WHAT A FEAST, ENGLAND!"
Sunday Mirror
Officials

from Ireland

Wales
UK ruling on substitutes
England

Referee


Thomas James Mitchell
45 (28 January 1912), Lurgan, Ulster
The IFAB introduced the linesman's flag of 'vivid colours' into the Laws of the Game.


England had seventeen shots on the Welsh goal in the second half alone

Linesmen
W.G. Strange


Carnmoney

S. Carswell


Belfast

Wales Team
Rank:

No official ranking system established;
ELO rating 30th to 31st
Colours:
Made by Umbro - Red continental jerseys with white v-neck collars/cuffs, white shorts with red side stripe, red socks with white tops.
Capt:
Dave Bowen

Selectors

:
James Patrick Murphy, 47 (8 August 1910), appointed 18 October 1956.
Team chosen by Selection Committee on Monday, 7 October
Wales Lineup
Kelsey, A. John
27
334 days
19 November 1929
G
Arsenal FC, England
16

29ᵍᵃ

2
Williams, Stuart G.
27
102 days
9 July 1930
RB
West Bromwich Albion FC, England
7
0
3
Hopkins, Melvyn
22
346 days
7 November 1934
LB
Tottenham Hotspur FC, England
9
0

the 19th own goal scored for England

4
Harris, William C.
28
353 days
31 October 1928
RHB
Middlesbrough FC, England
5
0
5
Charles, Melvyn
22
158 days
14 May 1935
CHB
Swansea Town FC
11
1
6
Bowen, David L.
27
134 days
7 June 1928
LHB
Arsenal FC, England
7
0
7
Medwin, Terence C.
25
24 days
25 September 1932
OR
Tottenham Hotspur FC, England
10
1
8
Davies, E. Reginald
28
145 days
27 May 1929
IR
Newcastle United FC

, England

6
0
final app 1952-57
9
Palmer, Desmond F.
26
26 days
23 September 1931
CF
Swansea Town FC
3
3
final app 1957

10

Vernon, T.Royston
20
188 days
14 April 1937
IL
Blackburn Rovers FC, England
6
1
11
Jones, Clifford W.
22
254 days
7 February 1935
OL
Swansea Town FC
13
2
reserve:
Alan Harrington (Cardiff City FC)
team notes:
Ivor Allchurch (Swansea Town FC) struggled to cement his place in the run-up to this match, he was originally chosen, and along with Des Palmer, received treatment, but dropped out on 14th October, initiating a reshuffle. Vernon switching to inside-left and Reg Davies brought in as a new inside-right.
2-3-5
Kelsey -
Williams, Hopkins -
Harris, Charles, Bowen -
Medwin, Davies, Palmer, Vernon, Jones

Averages:

Age
25 years 222 days
Appearances/Goals

8.5

0.7

England Team
Rank:

No official ranking system established;
ELO rating 4th to 3rd
Colours:
The 1954 Umbro home uniform - White v-necked short-sleeved continental jerseys, blue shorts, blue socks with white calf hoop.


22nd, W 14 - D 5 - L 3 - F 63 - A 25.

⁴³
Capt:
Billy Wright³
71st W 43 - D 14 - L 14 - F 184 - A 101.⁹⁰
Manager:
Walter Winterbottom, 44 (31 March 1913), appointed as FA national director of coaching/team manager on 8 July 1946;
89th match, W 56 - D 18 - L 15 - F 258 - A 122, one abandoned.¹³⁹

Trainer: Harold Shepherdson

Team chosen by Selection Committee, headed by Joe Mears, on Thursday, 10 October, in Leeds.

England Lineup
four changes to the previous match (Hodgkinson, Hall, Atyeo & Pegg out)

league positions

(10 October)

78

Hopkinson, Edward
21
355 days
29 October 1935
G
Bolton Wanderers FC

(FL 9th)

1

0ᵍᵃ

761

the 21st Wanderer to represent England

762

2
Howe, Donald
22
7 days
12 October 1935
RB
West Bromwich Albion FC

(FL 2nd)

1
0

the 32nd Albion player to represent England

3
Byrne, Roger W.
28
41 days
8 September 1929
LB
Manchester United FC

(FL 4th)

31
0
4
Clayton, Ronald
23
75 days
5 August 1934
RHB
Blackburn Rovers FC

(FL2 3rd)

15
0
5
Wright, William A.
33
255 days
6 February 1924
CHB
Wolverhampton Wanderers FC

(FL TOP)

86
3

most apps

1952-57
world record apps
6
Edwards, Duncan
21
18 days
1 October 1936
LHB
Manchester United FC

(FL 4th)

16
4

763

7
Douglas, Bryan
23
145 days
27 May 1934
OR
Blackburn Rovers FC

(FL2 3rd)

1
0

the 37th Rover to represent England

8
Kevan, Derek T.
22
227 days
6 March 1935
IR
West Bromwich Albion FC

(FL 2nd)

2
1
9

Taylor, Thomas
25
263 days
29 January 1932
CF
Manchester United FC

(FL 4th)

17
14
10


Haynes, John N.
23
2 days
17 October 1934
IL
Fulham FC

(FL2 2nd)

14
8
11

Finney, Thomas
35
197 days
5 April 1922
OR
Preston North End FC

(FL 8th)

68
28
reserve:
Ray Barlow (West Bromwich Albion FC

(FL 2nd)

)
team notes:
Billy Wright extends his record appearance tally, in his record 51st consecutive match.
It was the announcement of Bryan Douglas at number 7 that effectively ended Stan Matthew's international career. Douglas is the first different outside-right-other than Matthews or Finney-for twenty years in a Home Championship match. Of the 38 matches since Matthew's debut, Matthews has collected 22 appearances and Finney the remaining 16.
pre-match notes:
The first practise session at the Bank of England Sports Ground in Roehampton was on Monday 14th. Because of the ongoing influenza pandemic, which had claimed another casualty in Ron Clayton, the FA drafted in Johnny Wheeler (Liverpool FC

(FL2 4th)

) to make up the numbers, as Ray Barlow needed further treatment to his knee injury. Clayton recovered before the end of the week at joined his team in Porthcawl.
The practice session on Tuesday 15th was between the senior side and the under-23 team.
records:
This victory equals the post-war record of sixteen matches unbeaten, set between 1951 and 1953.
2-3-5
Hopkinson -
Howe, Byrne -
Clayton, Wright, Edwards -
Douglas, Kevan, Taylor, Haynes, Finney.

Averages

:

Age
25 years 179 days
Appearances/Goals

22.9

4.9
News
SHEPHERDSON GIVEN TRAINING 'CAP'
HAROLD SHEPHERDSON, 39 year-old ex-Middlesbrough centre-half, will act as trainer to England's side against Wales in Cardiff next Saturday. Shepherdson, Middlesbrough's trainer for eight years, wins his first 'cap,' although he has twice trained Football League teams in Scotland. Since Jimmy Trotter became Charlton's manager just over a year ago England have not had a regular trainer—a most important position. The F.A. International Committee have tried out several leading trainers.
As only five international matches are left before the World Cup in June, the time is drawing near when a regular man must be appointed. Inevitably, the trainer has considerable influence on the success of the team.
Shepherdson's appointment next week may make him favourite for the job, a job which can take him to every corner of the world. If he does follow— Trotter, the F.A. could not have picked a more capable assistant for team-manager Walter Winterbottom." - John Camkin, News Chronicle, Saturday, 12 October 1957.

Match Report
by Mike Payne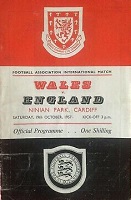 ENGLAND stretched their unbeaten run to 16 games with this easy victory over the Welsh in Cardiff. Ironically, it was Wales who were the last team to beat England, two years earlier, but there was never any chance of a repeat result this time. Without the likes of John Charles, Tapscott and Allchurch in their ranks Wales were a pale shadow of their previous sides and they had little to offer. Indeed, it must be said that this was the poorest Welsh team for many years.

A gift goal, right at the beginning, sent England on their way. Johnny Haynes, so often the instigator of the visitor's attacks, threaded a strong through ball for Derek Kevan to chase. Hopkins intercepted and turned to roll the ball back to Kelsey, unaware that his goalkeeper had advanced from his goal. The ball trickled agonisingly over the line to give England a very fortunate lead.

The poor start seemed to upset the Welsh and for long periods there was only one side in it. Tom Finney, Haynes and Duncan Edwards combined well down the left and repeatedly tore large holes in the home defence. England should really have finished off the game i the first half but some scrappy play meant few clear chances especially as the forwards tended to bunch up. The second goal was long overdue but when it did come it was a real beauty.

Billy Wright sent a long pass forward and Tommy Taylor cleverly flicked it to Haynes. The inside-left took it brilliantly in his stride, advanced a few paces, and then hit a low, hard shot ito the far corner from the edge of the area. Almost immediately the half-time whistle blew with only the solid performances of Hopkins, despite his own-goal, and Bowen keeping the score down to 2-0. The rain-soaked crowd had little to cheer.

The second half continued with the same pattern and on 64 minutes England scored the best goal of the match. Wright found Haynes and once again the schemer-in-chief set up a chance. This time he sent Finney away. Finney approached the defenders and, as Haynes made a decoy run outside him, the winger dummied his markers before cutting inside to hit a screamer into the far corner of Kelsey's net.

Soon afterwards it was 4-0. Kevan's square pass was again picked up by Haynes and he once more quickly despatched a firm shot into the corner. It was a clinical piece of finishing and already the Welsh fans began to sadly drift away from the stadium knowing their side had been well beaten.

England's three new caps, Eddie Hopkinson, Don Howe and Bryan Douglas, all had their moments although Douglas had little chance to shine as most of the England play was channeled down the left side. To succeed in following the legendary Stanley Matthews, Douglas would need better service from inside than Kevan gave him on this occasion.

Match Report
by Norman Giller
Wales were in trouble from the moment early in the game when left-back Mel Hopkins passed the ball wide of goalkeeper Jack Kelsey and into his own net. Missing the powerful influence of the absent John Charles, Wales caved in to two goals from Johnny Haynes and a brilliant strike from Tom Finney. Goalkeeper Eddie Hopkinson, right-back Don Howe and outside-right Bryan Douglas - the 'new Matthews' - all made impressive debuts. There was another debutant. Middlesbrough's Harold Shepherdson was having his first match as trainer, a job he would hold for sixteen years.

Match Report
as appears in the F.A. Yearbook 1958-59 page 30
England included three new caps in the first of their full Internationals - Hopkinson, Howe, and Douglas, as goal-keeper, right-back, and outside-right, respectively. The final score was a fair reflection of the run of play, but it must be stated that Wales failed to rise to the occasion as they often do in International matches in Cardiff. England got off to a good start when Hopkins put one through his own goal after five minutes; Haynes added a second before half-time with a really superb shot from 25 yards following a pass by Wright. The England half-back line was always in control of the Welsh side, for whom only only Kelsey, Bowen, and Jones played up to their best form. It was no surprise, therefore, when Finney slipped past two Welshmen and shot home for the third goal. A fourth by Haynes - another drive from outside the penalty-area - completed the scoring, and set the seal on a fine display by England, in which Haynes excited.

Source Notes
TheFA.com
Original newspaper reports
The Complete Book of the British Charts
Wales' Complete Who's Who since 1946

Rothman's Yearbooks




Mike Payne's England: The Complete Post-War Record




Norman Giller, Football Author
cg