315 vs. Wales



previous match

(35 days)
327 vs. USSR


328


next match (70 days)
'U23' 15 vs. Scotland (postponed)
next played match (112 days)
'U23' 15 vs. France


next senior match

(136 days)
329 vs. Scotland

335 vs. Wales

Wednesday

,

26 November 1958




Home International Championship 1958-59

(64th)

Match





England 2 Wales 2

[1-1]


Villa Park, Trinity Road, Aston, Birmingham, Warwickshire


Kick-off (GMT): 2.00pm
"The F.A. suggested an evening kick-off. The Welsh F.A. rejected the idea." An evening kick-off would have ensured a 72,000 sell-out.
Attendance: '41,518'; Receipts: '£16,176';

[0-0] Williams heads Broadbent shot onto the bar

15




[0-1] Peter Broadbent header hits the crossbar
[0-1] Ron Clayton strike hits the post
[1-1] Peter Broadbent 33
'Graham Shaw gave him a long pass, he took the ball perfectly with his back to goal, turned slightly, swerved to deceive a defender and with Kelsey coming out lobbed the ball over his head.'

[0-1] Derek Tapscott 16


'Medwin raced in and shot, McDonald let the ball bounce off his chest and speedy Tapscott nipped in to slam the ball in.'

11.50 St. Paul's: Dedication of American Chapel 1.15 Beunydd. 2.05 Schools.
2.30 Football: England vs. Wales
3.40 Watch with Mother 3.55 Mainly For Women 5 Children 6 News



[2-2] Peter Broadbent header 72
rose higher to send Alan A'Court's inch-perfect left-sided cross into the top corner
[1-2] Ivor Allchurch 69


'controlled the ball with his body to hold off a tackle, then carefully chipped the ball in off the far post'

from a Dai Ward pass

Final hour only live - Commentator: Kenneth Wolstenholme

'A six month bar on live television of Soccer matches is likely after the England v. Wales match. The black-out is the probable outcome of a new policy towards televised Soccer which came into force this season, devised by the three British football leagues."


"HEROIC BOWEN FIRES RED DRAGONS"
Daily Mirror
Officials

from West Germany

England
UK ruling on substitutes
Wales
Referee
Albert Dusch
45 (6 December 1912), Kaiserslautern

THE FACTS as reported in the Daily News...
Fouls—by England 9, by Wales 9. Corners—to England 10, to Wales 4.
Off-side—Wales 11 times, England 5.
Shots—by England 25 (18 first half, 7 second half. Clapton 1, Broadbent 8, Lofthouse 6, Charlton 7, A'Court 1, Clayton 2), by Wales 16 (18 first half, 7 second half. Medwin 4, Ward 2, Tapscott 3, Allchurch 2, Woosnam 2, Bowen 2).
red flag

Linesmen

yellow flag
Johannes Malka


Herten

A.Schmidt


England Team
Rank:

No official ranking system established;
ELO rating 4th
Colours:
The 1954 Umbro home uniform - White v-necked short-sleeved continental jerseys, blue shorts, blue socks with white calf hoop.


35th match, W 18 - D 11 - L 6 - F 90 - A 45.

⁴³
Capt:
Billy Wright³
84th W 47 - D 20 - L 17 - F 211 - A 121.⁹⁰
Manager:
Walter Winterbottom, 45 (31 March 1913), appointed as FA national director of coaching/team manager on 8 July 1946;
102nd match, W 60 - D 24 - L 18 - F 285 - A 142, one abandoned.¹³⁹

Trainer: Harold Shepherdson
Team chosen by Selection Committee, headed by Joe Mears, on Monday, 17 November.
England Lineup

four changes

to the previous match (Slater, Douglas, Haynes & Finney out)

league position

(17 November)

McDonald, Colin A.
28
42 days
15 October 1930
G
Burnley FC

(FL 13th)

8

11ᵍᵃ

final app 1958
2
Howe, Donald

23


45 days
12 October 1935
RB
West Bromwich Albion FC

(FL 5th)

14
0
3

Shaw, Graham L.

24


140 days
9 July 1934
LB
Sheffield United FC

(FL2 8th)

2
0
4
Clayton, Ronald
24
113 days
5 August 1934
RHB
Blackburn Rovers FC

(FL 6th)

24
0
5
Wright, William A.
34
293 days
6 February 1924
CHB
Wolverhampton Wanderers FC

(FL 2nd)

99
3

most apps

1952-58

6
Flowers, Ronald
24
121 days
28 July 1934
LHB
Wolverhampton Wanderers FC

(FL 2nd)

2
0
775
7
Clapton, Daniel R.
24
127 days
22 July 1934
OR
Arsenal FC

(FL TOP)

1
0

the 23rd Arsenal player to represent England

only app 1958
8

Broadbent, Peter F.
25
195 days
15 May 1933
IR
Wolverhampton Wanderers FC

(FL 2nd)

3
2

9

Lofthouse, Nathaniel
33
91 days
27 August 1925
CF
Bolton Wanderers FC

(FL 4th)

33
30
final app 1950-58
10
Charlton, Robert
21
46 days
11 October 1937
IL
Manchester United FC

(FL 15th)

6
6
11

A'Court, Alan
24
57 days
30 September 1934
OL
Liverpool FC

(FL2 5th)

5
1
final app 1957-58
reserve:
Ken Barnes (Manchester City FC

(FL 18th)

)
team notes:
Bryan Douglas (Blackburn Rovers FC

(FL 6th)

) was the original named outside-right. A knee injury sustained in a match against Leeds United AFC over the weekend prevented his inclusion. Clapton getting the nod on 23 November.
Ron Clayton was suffering heavily with a cold right up until the time the team was due to train together on Monday, 24 November at 'the national recreational centre' in Lilleshall.
Ron Flowers recovered from a thigh injury in time to play in the pract

ice match on Tuesday


Billy Wright extends his record appearance tally, in his record 64th consecutive match.
Nat Lofthouse ends his England career as equal top goalscorer (with Tom Finney, who made his final England appearance in the previous match).
records:
This is the first time England have played eleven matches in a single calendar year. It is the first time they have recorded six draws in a single year.
England have now gone six competitive matches without victory, equalling a record set in 1925-27.

manager note

s:
Colin McDonald becomes the fortieth player to make eight-or-more appearances under Walter Winterbottom/ISC/post-war.
In the same period, with the appearance of Shaw and Flowers, one hundred players have now made a second appearance.
Danny Clapton's involvement means 155 pla

yers have now played for England in that period, and with Ken Barnes name, 180 have been named on teamsheets.

post-match notes:
"Only Peter Broadbent played like a man worthy of wearing the white international shirt. The other four failed, and one forecast is certain . . .Nat Lofthouse, a disappearing centre forward in this game, had played for England for the last time." - Bill Holden, Daily Mirror
2-3-5
McDonald -
Howe, Shaw -
Clayton, Wright, Flowers -
Clapton, Broadbent, Lofthouse, Charlton, A'Court.

Averages:

Age
26 years 51 days
Appearances/Goals
17.9
3.6

Wales Team
Rank:

No official ranking system established;
ELO rating 24th to 22nd
Colours:
Made by Umbro - Red continental jerseys with white v-neck collars/cuffs, white shorts with red side stripe, red socks with white tops.
Capt:
Dave Bowen
Manager:
James Patrick Murphy, 48 (8 August 1910).
Team chosen by The International Selection Committee, on Monday, 17 November 1958
Wales Lineup
Kelsey, A. John
29
7 days
19 November 1929
G
Arsenal FC, England
27

32ᵍᵃ

2
Williams, Stuart G.
28
140 days
9 July 1930
RB
West Bromwich Albion FC, England
18
0
3
Hopkins, Melvyn
24
19 days
7 November 1934
LB
Tottenham Hotspur FC

, England

20
0
4
Crowe, Victor H.
26
299 days
31 January 1932
RHB
Aston Villa FC, England
1
0
5
Charles, Melvyn
23
196 days
14 May 1935
CHB
Swansea Town FC
21
1
6
Bowen, David L., injured 27th min.
27
172 days
7 June 1928
LHB


/OL

Arsenal FC, England
18
1
7
Medwin, Terence C.
26
62 days
25 September 1932
OR
Tottenham Hotspur FC, England
20
3
8

Ward, David
24
133 days
16 July 1934
IR/


LHB

Bristol Rovers FC, England
1
0
9

Tapscott, Derek R.
26
149 days
30 June 1932
CF
Cardiff City FC
13
3
10

Allchurch, Ivor J.
28
345 days
16 December 1929
IL
Newcastle United FC

, England

37
13
11
Woosnam, Philip A.
25
339 days
22 December 1932
OL

/IR

West Ham United FC, England
2
0
reserve:
Derrick Sullivan (Cardiff City FC)
team notes:
A 'clash of dates' with the Arsenal FC-Juventus FC fixture meant that Wales were fortunate to get the services of Kelsey and Bowen... but the Italian side refused to release their talisman forward, John Charles.
Up until the day of the match, their was a doubt over Phil Woosnam's fitness. His place was to be taken by Brian Jenkins (Cardiff City FC) if he failed in his recovery.
After 27 minutes, captain Dave Bowen collided with Peter Broadbent and dislocated his shoulder, he spent the rest of the match on the left-wing barking orders.
post-match notes:
'Just three hours after starring in Wales' 2—2 draw against England, at Villa Park, Kelsey was in action against Juventus, the crack Italian club. A police escort from a London rail terminal got Kelsey onto the pitch three minutes before the kick off."
The Welsh team set up their headquarters in Droitwich before the match, training on Droitwich Town FC's recreation ground.
2-3-5
Kelsey -
Williams, Hopkins -
Crowe, Charles, Bowen -
Medwin, Ward, Tapscott, Allchurch, Woosnam.


notes: following Bowen's injury in the 27th minute, he, Ward and Wossnam swapped positions

Averages

:

Age
26 years 270 days
Appearances/Goals
16.2
1.7
Match Report
by Mike Payne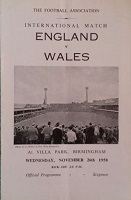 THIS was a very disjointed performance by England in this Home International against Wales. The Welsh, showing much of the form so evident in Sweden, put up a fine display and England had to fight all the way for a draw.

Johnny Haynes was badly missed and although his deputy, Peter Broadbent, showed some admirable skills, he did not command the midfield in the manner that Haynes can. Also, Billy Wright had an unusually shaky game in what was his 99th international.

From the first minute, when his mistake almost let in Woosnam, the England captain showed a most uncharacteristic nervousness. Perhaps it was a case of the 'nervous nineties'. Whatever it was, Tapscott's mobility gave Wright a torrid time.

Ronnie Clayton was also a disappointment especially after his magnificent display against the Soviet Union at Wembley, but to be fair he was given little support from Ron Flowers in what was a ragged England midfield.

Wales took the lead after 15 minutes. Medwin fired in a cross shot and when Colin McDonald failed to hold the ball Tapscott nipped in smartly to drive the loose ball home. But 15 minutes after the goal Wales suffered a cruel blow when their captain, Dave Bowen, picked up a nasty arm injury. He bravely continued on the left wing but he was virtually a passenger. This gave England the chance to exert some pressure and Bobby Charlton was able to reveal his awesome shooting power.

Several times he had the crowd on their feet with some spectacular shots after splendid dribbles. For 25 minutes up to half-time, Charlton was rampant, although he failed to find the net. In fact, England had no luck at all and Broadbent was particularly unlucky to se his header from Danny Clapton's centre strike the bar, rebound down and then to be cleared from the line by a possee of Welsh defenders.

Next, Clayton burst through to seize on to a clever Charlton, Nat Lofthouse worked opening. His 20-yard shot crashed against Kelsey's post. The goalkeeper then made two fine saves from Charlton rockets and then Charles managed to get in the way of another goal-bound Charlton shot.

Just when it seemed that England would go in at the break a goal down, Broadbent produced a marvellous equaliser. Graham Shaw fed through a delightful pass and although Broadbent was quickly hemmed in by defenders, he spotted Kelsey off his line and coolly and cleverly lobbed the ball over the 'keeper and into the net.

After the interval Wales came at England throwing everything forward. Ivor Allchurch was magnificent in this spell and inspired his colleagues. He was well supported by Woosnam and Tapscott. England, meanwhile faded badly. Clapton saw little of the ball and Alan A'Court achieved little on the left wing. Charlton's shots all but dried up and only Broadbent posed a threat of any kind.

With 20 minutes remaining, the underdogs grabbed the lead again. Allchurch picked up a pass from Ward, turned on the proverbial sixpence, and fired in a shot which went in off the far post. The Welshmen in the crowd were now at fever pitch as they sensed that their side were within sight of their first victory in England for some 23 years.

Soon, however, England drew level again. It needed something special and it came when a fine accurate cross by A'Court was met by a leaping Broadbent. The England number eight rose superbly to send a brilliant header into the top corner of Kelsey's goal. That ended the scoring in what had been an interesting contest.

Match Report
by Norman Giller
Like Johnny Haynes, Peter Broadbent was more a schemer than a scorer. But, standing in for the injured hat-trick hero, he twice netted equalising goals against a spirited Welsh team. Arsenal winger Danny Clapton was given the impossible job of following Tom Finney. He performed with spirit, but no player could stand comparison with the Preston footballing master. Wales had taken a fifteenth minute lead through Derek Tapscott, who gave Billy Wright a tough time at the heart of the defence. Broadbent neatly lobbed the ball over goalkeeper Jack Kelsey to make it 1-1 just before half-time. Despite the handicap of having injured skipper Dave Bowen as a passenger on the wing for much of the game, Wales continued to press forward in search of their first victory over England for twenty-three years. Ivor Allchurch restored their lead with a shot on the turn in the seventieth minute. England struck back for a second equaliser when Broadbent rose at the far post to head in a centre from Alan A'Court. This was the final England appearance for Nat Lofthouse. He finished with a record-equaling thirty international goals from just thirty-three matches. The Lion of Vienna used to terrorise goalkeepers in an era when the shoulder charge was still accepted as a legitimate weapon. Who can ever forget his treatment of Manchester United goalkeeper Harry Gregg in the 1958 FA Cup final? A few years later, the shoulder charge that put Harry and the ball into the net would have brought Lofty an instant dismissal. For Bolton, it brought them their second decisive goal. It's a different game now.

Match Report
as appears in the F.A. Yearbook 1959-60 page 33
England disappointed in their next game against Wales at Villa Park. Four changes were necessary, mainly through injury, Flowers, Clapton, Broadbent, and A'Court being included. After half-an-hour's play the Welsh side were handicapped by a shoulder injury to their captain, Bowen, who was forced to play on the left wing for the reminder of the match. At the time of the accident Wales were a goal ahead, Tapscott having scored in the fifteenth minute. Kelsey was outstanding in the Welsh goal, but he was finally beaten shortly before halftime when Broadbent coolly lobbed the ball over his head. Allchurch scored a splendid goal to put Wales back in the lead midway through the second half, and it was left to Broadbent again to save England's face with a perfectly placed header from A'Court's centre. Haynes was clearly missed in the England team, well though Broadbent played as the match progressed. Charlton started well, only to fade, but Shaw gave another fine performance at left-back. In the Welsh team Charles was magnificent at centre-half, Ward did exceptionally well in his enforced half-back role, and Allchurch and Woosnam were both fine craftsmen in attack.

Source Notes
TheFA.com
Original newspaper reports
The Complete Book of the British Charts
Wales' Complete Who's Who since 1946

Rothman's Yearbooks




Mike Payne's England: The Complete Post-War Record


Norman Giller, Football Author

cg