318 vs. Scotland





previous senior match

(136 days)
328 vs. Wales
previous match (24 days)
'U23' 15 vs. France
329
next match

(25 days)


330 vs. Italy



338 vs. Scotland

Saturday

,

11 April 1959




Home International Championship 1958-59

(64th)

Match





England 1 Scotland 0

[0-0]


Empire Stadium, Empire Way, Wembley Park, Wembley, Middlesex
Kick-off (GMT): 3.00pm
Attendance: 98,329; Receipts: '£49,840';
Walter Winterbottom's 25th match at the Empire Stadium

Bobby Charlton kicked-off
Bobby Evans won the toss
[1-0] Bobby Charlton header 59
rose highest to head powerfully downwards from ten yards from a Bryan Douglas right-sided cross

12.45 Sports Parade 1.10 Records 1.45 Movie Matinee 2.10 Motor Racing 3.0 Racing at Hurst Park 3.20 Motor Racing
3.45 Football Scotland vs. England
5.0 Sports Report 6.0 Guitar Club 6.30 Jazz 7.0 Newsreel 7.24 Football

Second half live on The Light Programme - Commentator: tbc


"ENGLAND NEED CLOUGH"
Daily Mirror
Officials

from Portugal

England
UK ruling on substitutes
Scotland
Referee (red)
Joaquim Fernandes Campos


34 (5 September 1924), Lisboa,

Teams presented to the Guest of Honour, Prime Minister, The Right Honorouable Harold MacMillan MP.

THE FACTS as reported in the Daily News...
Shots—by England 26, by Scotland 13. Corners—to England 12, to Scotland 3.
Goal-kicks—by England 8, by Scotland 17. Off-side—England 5, by Scotland 3. Fouls—by England 17, by Scotland 6. - Once more, the ball was lemon yellow.
flame flag Linesmen

orange flag

Hermínio

Henrique

Soares


43 (23 May 1915), Lisboa

Eduardo Rosa Gouveia


44 (28 April 1914), Lisboa

England Team
Rank:

No official ranking system established;
ELO rating 4th
Colours:
The 1959 Bukta home uniform - White v-necked short-sleeved continental jerseys, black shorts, red socks with white calf hoop.


first match, W 1 - D 0 - L 0 - F 1 - A 0.

³⁵
Capt:
Billy Wright³
85th W 48 - D 20 - L 17 - F 212 - A 121.⁹⁰
Manager:
Walter Winterbottom, 46 (31 March 1913), appointed as FA national director of coaching/team manager on 8 July 1946;
103rd match, W 61 - D 24 - L 18 - F 286 - A 142, one abandoned.¹³⁹

Trainer: Harold Shepherdson
Team chosen by Selection Committee, headed by Joe Mears, on Sunday, 5 April.
England Lineup

four changes

to the previous match (McDonald, Clapton, Lofthouse & A'Court out)

league position

(5 April)

Hopkinson, Edward
23
164 days
29 October 1935
G
Bolton Wanderers FC

(FL 8th)

7

9ᵍᵃ

2
Howe, Donald

23


181 days
12 October 1935
RB
West Bromwich Albion FC

(FL 7th)

15
0
3
Shaw, Graham L.

24


276 days
9 July 1934
LB
Sheffield United FC

(FL2 5th)

3
0
4
Clayton, Ronald
24
249 days
5 August 1934
RHB
Blackburn Rovers FC

(FL 9th)

25
0
5
Wright, William A.
35
64 days
6 February 1924
CHB
Wolverhampton Wanderers FC

(FL TOP)

100

3
most apps

1952-59

6
Flowers, Ronald
24
257 days
28 July 1934
LHB
Wolverhampton Wanderers FC

(FL TOP)

3
0
7

Douglas, Bryan
24
319 days
27 May 1934
OR
Blackburn Rovers FC

(FL 9th)

12
1
8
Broadbent, Peter F.
25
331 days
15 May 1933
IR
Wolverhampton Wanderers FC

(FL TOP)

4
2
9

Charlton, Robert
21
182 days
11 October 1937
CF
Manchester United FC

(FL 2nd)

7
7

10

Haynes, John N.
24
176 days
17 October 1934
IL
Fulham FC

(FL2 2nd)

27
12
776
11
Holden, A. Douglas
28
195 days
28 September 1930
OL
Bolton Wanderers FC

(FL 8th)

1
0

the 23rd Wanderer to represent England

reserve:
Joe Shaw (Sheffield United FC

(FL2 5th)

)
pre-match notes:
The party trained at Stamford Bridge on Tuesday, 8th, beating Chelsea FC in a practice match 2-1 (Broadbent and Haynes scoring for England, and Don Howe lobbing his own goalkeeper for Chelsea).
On Wednesday 8th, England again had a practice match, at Arsenal Stadium in Highbury and beat the host team 4-0 (Broadbent scoring twice, Douglas and Holden the other two). Bobby Charlton followed up the session with a penalty-kick practice between himself and Eddie Hopkinson.
The team finalised their training and tactics at the Bank of England Sports Ground in Roehampton on the Thursday.
team notes:
Colin McDonald broke his leg in the Football League vs. Irish League fixture, 17 March 1959.
The intention of the International Selection Committee this time round was to name the same team to play in the next five England international matches.
appearance records:
Captain Billy Wright continues to break records as he becomes the first England player to reach one hundred appearances, extending his own record tally, in his record 65th consecutive match.
The fact that Billy Wright becomes the first player in the world to reach one hundred appearances for his country is all the more astonishing by the numbers of his colleagues. Only Tom Finney's 76 comes close, followed by Jimmy Dickinson's 48 and Stan Matthews' 37.
Johnny Haynes becomes the tenth player under Winterbottom/ISC/post-war to have made 27-or-more appearances.
Doug Holden is the 125th player to represent England under Winterbottom.
records:
First time that England have kept two clean sheets in a row at the Empire Stadium.
Bobby Charlton is the 25th different England player to score more than once against Scotland.
2-3-5
Hopkinson -
Howe, Shaw -
Clayton, Wright, Flowers -
Douglas, Broadbent, Charlton, Haynes, Holden.

Averages:

Age
25 years 219 days
Appearances/Goals

18.5

2.2

Scotland Team
Rank:

No official ranking system established;
ELO rating 19th
Colours:
Made by Umbro - blue continental jerseys with white v-neck collars/cuffs, white shorts, blue socks with red tops.
Capt:


Bobby Evans


Manager:
Andrew Beattie, 45 (11 August 1913), second spell in charge, reappointed as part-time manager on 20 March 1959.
current manager of Carlisle United FC, England.


This spell, first match, W 0 - D 0 - L 1 - F 0 - A 1;




Overall, seventh match, W 2 - D 1 - L 4 - F 6 - A 15.

Trainer: Dawson Walker (Clyde FC)
Team chosen by Selection Committee, with Beattie in attendance, on Wednesday, 1 April.
Scotland Lineup
Brown, William D.F.
28
185 days
8 October 1930
G
Dundee FC
4

5ᵍᵃ

736
2
MacKay, Duncan
21
271 days
14 July 1937
RB
The Celtic FC
1
0
3
Caldow, Eric
24
332 days
14 May 1934
LB
Rangers FC
16
0
4
Docherty, Thomas H.
30
352 days
24 April 1928
RHB
Arsenal FC

, England

25
1
final app

1951-59

5
Evans, Robert
31
269 days
16 July 1927
CHB
The Celtic FC
38
0
6
Mackay, David C.
24
148 days
14 November 1934
LHB
Tottenham Hotspur FC

, England

5
0
7
Leggat, Graham
24
295 days
20 June 1934
OR
Fulham FC

, England

10
3
8
Collins, Robert Y.
28
54 days
16 February 1931
IR
Everton FC

, England

25
9
9
Herd, David G.
24
361 days
15 April 1934
CF
Arsenal FC

, England

3
1
737

10

Dick, John
29
23 days
19 March 1930
IL
West Ham United FC

, England

1
0
only app

1959

11
Ormond, William E.
32
47 days
23 February 1927
OL
Hibernian FC
6
2
final app

1954-59

reserves:
Travelling reserve is Andy Kerr (Partick Thistle FC).
Full team of reserves are George Farm (Blackpool FC); John Grant (Hibernian FC) and Hugh Baird (Partick Thistle FC); Jack Cumming (Heart of Midlothian FC), Jackie Plenderleith (Hibernian FC) and Bert McCann (Motherwell FC); Alex Scott (Rangers FC) and John White (Falkirk FC); Andy Kerr; Bobby Collins and Graham Leggat.
pre-match notes:
On Tuesday, 8th, after the party travelled overnight, the Scotland team trained in Donning, Berkshire.
The Scotland team beat Reading FC 2-1 (Dick & Collins, Wheeler replied) in a full-scale practice match at Elm Park on 9 April.
team notes:
Dave Mackay, a recent £30,000 capture for Tottenham,

'recovered from a boil and swelling of the groin'

in time to train and participate in Reading.
2-3-5
Brown -
Dn MacKay, Caldow -
Docherty, Evans, Dv Mackay -
Leggat, Collins, Herd, Dick, Ormond

Averages

:

s

Age
27 years 148 days
Appearances/Goals

11.8

1.4
Match Report
by Mike Payne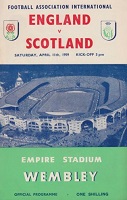 THE magnificent Billy Wright led England out against the Auld Enemy in what was an appropriate fixture to gain his 100th international cap. The packed Wembley fans stood as one to give the England captain a tumultuous welcome on what was a very special day for him. The Wolverhampton Wanderers player had been a tremendous ambassador for both club and country, and there was rarely been a more deserving honour in the history of the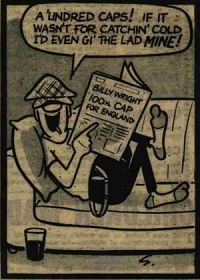 game.

The match was always going to play second fiddle to Wright's achievement, but as it happened it turned out to be a close and well-contested affair. Scotland, with Evans and Brown in sparkling form, held on for an hour, withstanding some fierce England pressure. The first half saw Peter Broadbent and Bobby Charlton showing some lovely skills with Charlton's power shooting once more to the fore.

On 20 minutes, a fine move involving Johnny Haynes and Charlton saw the Manchester United man hit a tremendous long pass out to the impressive Doug Holden on the left wing. It split the Scottish defence wide open but when Holden's cross found Broadbent on the six yard line, Brown charged from his line to brilliantly smother the danger.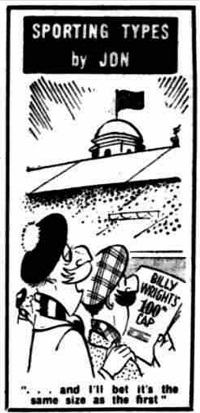 During the first half it became apparent that England manager Walter Winterbottom was using a new plan. Instead of a big bustling centre-forward of old, he was now putting Charlton in the middle, instructing him to take on a roving role alternating with the other two inside-men, Haynes and Broadbent. It worked well and failed only in the respect of goals. Meanwhile, in defence, Wright and Ronnie Clayton snuffed out the Scottish threat by giving Collins and Dick no room to manoeuvre.

After the interval Charlton was again the main thorn in Scotland's side and on the hour, England finally gained the breakthrough they richly deserved, scoring a goal which was fit to win any match.

Clayton found Broadbent down the right and he, in turn, cleverly sent Bryan Douglas away. The winger sent over a long, tantalising cross and Charlton, roaring in, met it with an unstoppable downward header. His momentum carried him into a forward roll and Brown,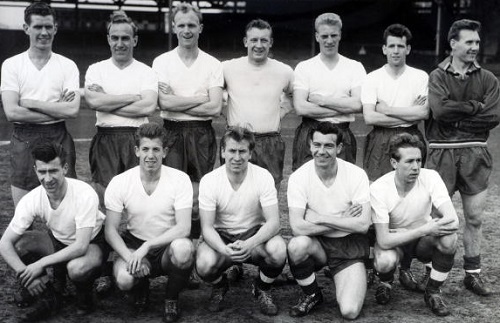 this time, had no chance to save.

Brown saved his side shortly afterwards following another Charlton special. Holden, showing some lovely touches on the left wing, put the number-nine through. Charlton ghosted past two blue shirts as though they weren't there, before hitting a tremendous right-footer, knee-high. At the last second, Brown leapt across the goal brilliantly to turn the ball aside. It was a super save and Brown, alone at times, denied England their deserved bigger victory margin.

Wright, Clayton and the other defender kept Herd and Dick totally in check and Scotland had only one real chance to score. That came 12 minutes from the end and exposed Eddie Hopkinson's lack of inches. The goalkeeper failed to gather Docherty's deep cross and when the ball ran loose. Herd was left with a free shot at an empty goal. Unfortunately for him and for Scotland the ball struck Leggatt and was eventually cleared.

It would have been unfair on England had Scotland equalised but, having said that, if a team does not emphasise in superiority with goals, then they leave themselves wide open to that sort of thing happening.

To be fair, had Brown not been in such splendid form the victory would have been far more clear cut, but if Brown was Scotland's hero, then Charlton was undoubtedly England's. Superbly backed up by Broadbent and Haynes, this trio made sure that Wright had a double celebration at the end of the day.

Match Report
by Norman Giller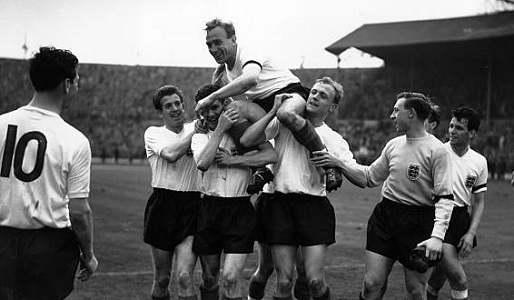 An historic day for Billy Wright when he became the first footballer in the world to win one hundred international caps. A closely fought game was won for England by an acrobatic header from Bobby Charlton after Bryan Douglas had sent over a precise centre in the sixty-second minute. At the final whistle, the England skipper was carried shoulder high to the Wembley dressing-room by his team-mates Don Howe and Ronnie Clayton. Johnny Haynes collected a painful memento of Billy's historic match when a fierce tackle by Dave Mackay left him with a broken little finger on his left hand, and Bryan Douglas limped through much of the game with damaged knee ligaments. Bolton winger Doug Holden won the first of his five caps, and played with pace and fire against a Scottish defence in no mood to concede an inch. Dundee goalkeeper Bill Brown was the man of the match, denying Bobby Charlton a hat-trick of goals with magnificent saves. It was a performance that convinced Tottenham manager Bill Nicholson that he should sign Brown for Spurs, and he became a key man in their double year of 1960-61. Carried in triumph the length of the Wembley pitch at the final whistle, Billy Wright was given the sort of ovation reserved only for true sporting gods. His wife Joy, of Beverley Sisters fame, had given birth to their first daughter, Victoria, just six days earlier and had been allowed out of hospital to watch the game. The Scots did their best to spoil the party by playing their hearts out, but Bobby Charlton scored yet another crackerjack goal to underline that he was a young genius at the game.

Match Report
by Glen Isherwood
Victory for Scotland would have given them their first outright British Championship since 1951 when they had last beaten England. The home side had drawn their previous two games and had to win to secure a record eighth successive title. Like England, Scotland had been knocked out of the previous year's World Cup in the first round but the Scot's had finished bottom of their group.
The only goal came after almost an hour's play. A high cross from Douglas was met by Bobby Charlton who directed a superb header past Brown. Apart from this it was a poor match to celebrate Billy Wright's 100th cap.
Northern Ireland's 4-1 win over Wales at Windsor Park gave them a share of the Championship for the third time in four years. After gaining a share themselves the following year, Scotland were back at Wembley in 1961 for a game that they would never forget.

Match Report
as appears in the F.A. Yearbook 1959-60 page 34
Though the score makes the match look close, England were in fact superior to their opponents in all matters except shooting. The England selectors returned to the inside trio of Broadbent-Charlton-Haynes, and were rewarded by a fine display accurate passing and inter-changing of positions which completely baffled the Scottish defence. Douglas and Holden, making his début on the left wing, were also impressive, and it appeared that goals would come at any moment. Fine play by Evans and Brown, allied to the poor finishing, kept the margin to the one goal scored after an hour's play; the opening was made by Clayton and Broadbent, carried on by Douglas, whose cross was headed acrobatically home by Charlton. He was again the star closely followed by Haynes, Clayton, and Wright, who was playing in his hundredth International. The Scottish forwards disappointed and, except for Evans, their defence was also unimpressive.

CAP NO.100
by Billy Wright: A Hero For All Seasons, pages 191-192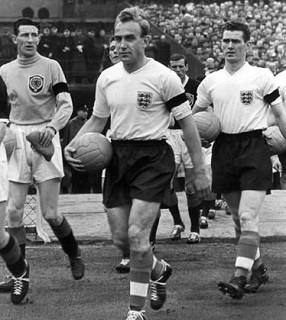 The greatest day of my England career. Everything went to perfection, and it was particularly special to be able to pick out Joy and her twin sisters Teddie and Babs in the crowd as I led the team n the pitch. Joy had given birth to our first daughter, Victoria, just six days earlier and 'Mum' had been allowed out of hospital to watch the game. The Scots did their best to spoil my party by playing their hearts out, as they always do at Wembley. But my team-mates were determined to mark the occasion with a victory. Bobby Charlton scored yet another crackerjack goal to underline that he was a young genius at the game. I was snowed under with thousands of telegrams and congratulatory messages, and the celebrations went on for days. Legendary German team manager Sepp Herberger came over to London specially to present me with a giant silver candlestick on behalf of the West German FA, and at a civic reception in Wolverhampton I was given a silver rose bowl by the Mayor and another one by the Wolves supporters, From the Football Association I received a magnificent silver salver emblazoned with flags of all the countries I had played in, and the Irish FA presented me with a beautiful collection of Waterford crystal. The National Sporting Club threw a dinner for me, and gave me a huge cocktail cabine, and then - the greatest honour of them all - I was invited to Buckingham Palace for a private lunch with the Queen and the Duke of Edinburgh. As I looked around the Palace dining room I could not quite believe that all this was happening to a lad from Ironbridge. And I owed it all to the great game of football.

Source Notes
TheFA.com
Original newspaper reports
The Complete Book of the British Charts
LondonHearts.com
Alberto Helder blogspot

Rothman's Yearbooks




Mike Payne's England: The Complete Post-War Record


Norman Giller, Football Author


Drew Herbertson, Scottish FA historian


British Pathé
cg