311 vs. Scotland

previous senior match

(143 days)


317 vs. France
previous match

(49 days)


'U23' 11 vs. Scotland


318




next match

(4 days)


'U23' 12 vs. Wales


329 vs. Scotland

Saturday

,

19 April 1958




Home International Championship 1957-58

(63rd)

Match





Scotland 0 England 4

[0-2]


Hampden Park, Kinghorn Drive, Mount Florida, Glasgow, Lanarkshire
Kick-off (BST): 3.00pm
Attendance:

'127,857'

Jimmy Forrest kicked off
Billy Wright won the toss



[0-1] Jackie Mudie headed against the crossbar
[0-1] Bryan Douglas header 22
nodded the ball from 8 yards past Younger from Bobby Charlton's right-sided free-kick
(Docherty obstructed Charlton)
[0-2] Derek Kevan 35
sweeping ten-yard right-footed shot in off the post from a Bryan Douglas low pass through two defenders from the right

In England, The BBC chose to show Motor Racing, Horse Racing, then International Swimming

There appears to have been confusion when Charlton's goal was scored with some reports stating the first half. However, Wolstenholme's commentary and Match Reports confirm the 66th minute.
[0-3] Bobby Charlton volley 66
twelve-yard right-footed volley from a Tom Finney left-sided cross
[0-4] Derek Kevan 74
cracked the ball past Younger with a right footed driven from an acute angle from a Johnny Haynes pass

(

Scotland only)

-

Commentator: Kenneth Wolstenholme and Peter Thomson
second half live only on The Light Programme - Commentator: tbc


"SCOTLAND MEET THEIR SOCCER FLODDEN"
Daily Mirror
Officials

from West Germany

Scotland
UK ruling on substitutes
England

Referee


Albert Dusch
45 (6 December 1912), Kaiserslautern
Teams introduced to the Guest of Hounour The Duke of Gloucester.
Linesmen
K. Karlie

Karl Tschencher


Scotland Team
Rank:

No official ranking system established;
ELO rating 15th to 19th
Colours:
Made by Umbro - Dark blue continental jerseys with white v-neck collars/cuffs, white shorts, blue socks with red tops.
Capt:
Tommy Docherty

Selecto

r:
The International Selection Committee chose a team on Wednesday, 9 April 1958.
Trainer: Dawson Walker (Clyde FC)
Due to be Alexander Matthew Busby, appointed 17 January 1958, hospitalised 6 February, only returned to Manchester the day before this match.
Scotland Lineup
Younger, Thomas
28
9 days
10 April 1930
G
Hibernian FC
20

30ᵍᵃ

2
Parker, Alexander H.
22
269 days
2 August 1935
RB
Falkirk FC
14
0
3
Haddock, Harry
32
267 days
26 July 1925
LB
Clyde FC
6
0
final app

1954-58

4
McColl, John Miller
30
316 days
7 June 1927
RHB
Rangers FC
14
0
final app

1950-58

5
Evans, Robert
30
277 days
16 July 1927
CHB
The Celtic FC
32
0
6
Docherty, Thomas H.
29
360 days
24 April 1928
RHB
Preston North End FC

, England

22
1
727
7
Herd, George
21
348 days
6 May 1936
OR
Clyde FC
1
0
728
8
Murray, James
25
74 days
4 February 1933
IR
Heart of Midlothian FC
1
0
9
Mudie, John K.
28
9 days
10 April 1930
CF
Blackpool FC

, England

12
7
729

10

Forrest, James
31
19 days
31 March 1927
IL
Motherwell FC
1
0
only app

1958

11
Ewing, Thomas
20
352 days
2 May 1937
OL
Partick Thistle FC
2
0
final app

1957-58

traveling reserve:
Hugh Baird (Airdrieonians FC); The team was chosen alongside the initial forty-man 1958 World Cup Party.
pre-match notes:

"The Scots were at Girvan

[on Thursday, 17th]

, under their trainer, Dawson Walker. Senior members of the side held a long tactics talk with Walker. The Scots trained in drizzling rain although the three Rangers players, McColl, Caldow and reserve Baird, did not join in. The played for the Light Blues against Raith Rovers last night."

team notes:
Harry Haddock replaced the original left-back choice, Rangers FC's Eric Caldow, a day before this match, because of an ankle injury. And debutant Jimmy Forrest replaced Luton Town FC's Allan Brown at inside-left after it was reported on 14 April that Brown's injury to his ankle ligament had not sufficiently improved.
2-3-5
Younger -
Parker, Haddock -
McColl, Evans, Docherty -
Herd, Murray, Mudie, Forrest, Ewing.

Averages:

Age
27 years 177 days
Appearances/Goals

11.4

0.7

England Team
Rank:

No official ranking system established;
ELO rating 4th to 3rd
Colours:
The 1954 Umbro home uniform - White v-necked short-sleeved continental jerseys, royal blue shorts, red socks with white calf hoop.


25th, W 16 - D 5 - L 4 - F 73 - A 28.

⁴³
Capt:
Billy Wright³
74th W 45 - D 14 - L 15 - F 194 - A 104.⁹⁰
Manager:
Walter Winterbottom, 45 (31 March 1913), appointed as FA national director of coaching/team manager on 8 July 1946;
92nd match, W 58 - D 18 - L 16 - F 268 - A 125, one abandoned

.

¹³⁹

Trainer: Harold Shepherdson
Team chosen by Selection Committee, headed by Joe Mears, on Wednesday, 9 April.
England Lineup
four changes to the previous match (

Byrnes, Edwards, Taylor

& Robson out)

league position

(9 April)

Hopkinson, Edward
22
172 days
29 October 1935
G
Bolton Wanderers FC

(FL 14th)

4

3ᵍᵃ

2
Howe, Donald
22
189 days
12 October 1935
RB
West Bromwich Albion FC

(FL 3rd)

4
0

766

3
Langley, E. James
29
71 days
7 February 1929
LB
Fulham FC

(FL2 5th)

1
0

the 37th Fulham player to represent England

4
Clayton, Ronald
23
257 days
5 August 1934
RHB
Blackburn Rovers FC

(FL2 4th)

18
0
5
Wright, William A.
34
72 days
6 February 1924
CHB
Wolverhampton Wanderers FC

(FL TOP)

89
3
most apps 1946-58
6
Slater, William J.
30
355 days
29 April 1927
LHB
Wolverhampton Wanderers FC

(FL TOP)

3
0
7

Douglas, Bryan
23
327 days
27 May 1934
OR
Blackburn Rovers FC

(FL2 4th)

4
1

767

8

Charlton, Robert
23
190 days
11 October 1937
IR
Manchester United FC

(FL 7th)

1
1

the 19th United player to represent England

9

Kevan, Derek T.
23
9 days
6 March 1935
CF
West Bromwich Albion FC

(FL 3rd)

4
3
10

Haynes, John N.
23
184 days
17 October 1934
IL
Fulham FC

(FL2 5th)

17
8
11

Finney, Thomas
36
14 days
5 April 1922
OL
Preston North End FC

(FL 2nd)

70
28
the second player

& oldest

to reach the 70-app mileston

e

reserve:
Bobby Robson (West Bromwich Albion FC

(FL 3rd)

).
pre-match notes:
"England were at Ayr

[on Thursday, 17th]

, where a six-a-side practice game was the only serious training Jimmy Langley kept goal for one side with a high degree of unorthodoxy. All are fit, although Billy Wright is a little hoarse following a cold. They will train again at Ayr tomorrow."

team notes:
Billy Wright extends his record appearance tally, in his record 54th consecutive match.
With Hopkinson, Howe, Douglas and Kevan each making their fourth appearance, it means that sixty players have made four or more appearances under Winterbottom/ISC.
The England party were set up in the Marine Hotel in Troon prior to this match.
2-3-5
Hopkinson -
Howe, Langley -
Clayton, Wright, Slater -
Douglas, Charlton, Kevan, Haynes, Finney.

Averages

:

Age
26 years 139 days
Appearances/Goals

19.5

3.5
Match Report
by Mike Payne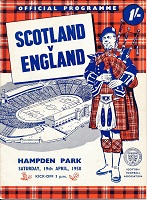 THIS was the first England international since that dreadful day in February 1958 when the country lost so many talented players through the Munich air disaster. Gone forever were Roger Byrne, Tommy Taylor, David Pegg, and probably one of the finest players England had ever produced, Duncan Edwards. We would now never know what heights that lad would have reached and, indeed, the England side with those great stars included.

And so, it was with a saddened heart and not without a tear or two that Billy Wright led his team out for his 89th international. Into the side for the first time came Bobby Charlton, a survivor of that terrible tragedy and now seeking to emulate his illustrious predecessors in the white shirt of England. The 19-year-old went into the game knowing many eyes were upon him, but he need not have worried as the guiding words of Billy Wright and Tom Finney saw him through magnificently. Now his talents were set before the rest of the world.

England's recent record at Hampden Park has been phenomenal and a whole generation of Scots has grown up without seeing a home victory against the Auld Enemy. There was never a chance of that changing in this match as England dominated from start to finish.

Bryan Douglas was again in fine form and gave hi marker, Haddock, a torrid time. The full-back must have cursed his luck because in 1955 the same player had been given the runaround by Stanly Matthews at Wembley It was Douglas that made the breakthrough in the 12th minute. A free-kick taken by Charlton on the right was met superbly by Douglas and his header flashed past the startled Younger. Eleven minutes later, Derek Kevan made it 2-0 to England with a firm shot after another splendid run by Douglas had set up the chance.

[ed: evidently, the second half begins with this paragraph]
England, with Johnny Haynes in another of his dominant moods, swept forward relentlessly and shortly afterwards came the goal of the match. Tom Finney picked up the ball and attacked Parker down the left flank. The full-back was totally bemused by the pace and skill of the Preston winger. A shimmy of the hips and a shrug of the shoulders gave Finney the opening to get past his marker and to the goal-line. His brilliant cross then swept into the middle, where it was met by the young Charlton full on the volley on the penalty spot. Poor Younger never even saw it. Even the partisan Scottish crowd rose to that goal and it will be long remembered by all who were there.

So, at half-time, as against France, the game was effectively over. The Hampden roar had been silenced and the mood of the crowd sank even further into depression when Mudie's header struck the England crossbar. The incident drained any last remaining fight from the Scotland players and their usual passion was certainly missing from their game.

The second half was practically a non-event and by the time Kevan scored his second and England's fourth goal 15 minutes from the end many of the crowd had begun to make their way home. The goal was a good one ending a lovely move involving Haynes, Charlton and Bill Slater.

It was another impressive performance by England, whilst Scotland were left with many problems to solve before the World Cup in Sweden the following June.

Match Report
by Norman Giller
Bobby Charlton, a Munich survivor, electrified the first of his 106 England appearances with a classical goal when he connected with a Tom Finney cross on the volley to send it flashing into the Scotland net from the edge of the penalty area. His wonder strike came in the sixty-second minute after Bryan Douglas had headed England into a first-half lead and then laid on the first of two goals for Derek Kevan. Fulham's Jim Langley made a commendable debut in place of the sadly missed Roger Byrne, with Wolverhampton's Bill Slater taking on the impossible job of following Duncan Edwards. The nearest Scotland came to scoring was when a Jackie Mudie header hit the bar midway through the second-half, by which time England were sitting on a cushion of three goals. Kevan wrapped it up for England fifteen minutes from the end after Johnny Haynes, Bobby Charlton and Bill Slater had cut open the Scottish defence with a procession of precise passes.

Match Report
as appears in the F.A. Yearbook 1958-59 pages 30-31
In their first game after the Munich disaster, which meant the loss of three members of the team, England achieved an overwhelming victory at Glasgow, even if it was generally agreed that the Scottish play was not up to standard. Douglas again had a fine game on the right wing and, indeed, none of the England team could really be faulted. Scotland were at their best in the early stages, and Mudie succeeded in hitting the bar, but once England had taken the lead through a Douglas header midway through the first half, the Scots deteriorated badly. Ten minutes from half-time, Kevan scored a second, shooting in from a Douglas pass, but the goal of the match came after twenty minutes of the second half, when Charlton magnificently volleyed home Finney's dropping centre. The fourth was scored by Kevan following another fine England move, and the match ended with England toying with the opposition.

Source Notes
TheFA.com
Original newspaper reports
The Complete Book of the British Charts
LondonHearts.com

Rothman's Yearbooks




Mike Payne's England: The Complete Post-War Record


Norman Giller, Football Author


Drew Herbertson, Scottish FA Historian


British Pathé
cg