England Football Online
Results 1955-1960
Page Last Updated 18 July 2022

Союз Советских Социалистических Республик


"CALL THIS VICTORY!"
Daily Mirror
Officials

from Austria

USSR
FIFA ruling on substitutes
England Party

Referee

(black)


Friedrich Seipelt
43 (2 April 1915), Wien
Linesmen
tbc
tbc

USSR Team
Rank:

No official ranking system established;
ELO rating 9th
Colours:
Red wing-collared jerseys with CCCP emblazoned across the front, white shorts, red socks with white/red/white hoop.
Capt:
Igor Netto
Manager:
Gavriil Dmitriyevich Kachalin, 47 (17 January 1911), appointed late 1954.
team announced on Friday, 16 May
USSR Lineup
1
Yashin, Lev I.
28
208 days
22 October 1929
G
FK Dinamo Moskva
22

18ᵍᵃ

2
Ogonkov, Mikhail P.
25
328 days
24 June 1932
RB
FK Spartak Moskva
23
0
final app 1955-58
3
Krizhevsky, Konstantin S.
32
87 days
20 February 1926
LB
FK Dinamo Moskva
9
0
4
Kuznetsov, Boris D.
29
308 days
14 July 1928
RHB
FK Dinamo Moskva
15
0
5
Voynov, Yuriy M.
26
170 days
29 November 1931
CHB
FK Dinamo Kyiv
9
1
6
Netto, Igor A., injured off 8th min.
28
129 days
9 January 1930
LHB
FK Spartak Moskva
30
4
7
Apukhtin, German N.
21
340 days
12 June 1936
OR
Tsentralny Sportive Klub Ministers Oborony
2
0
8

Ivanov, Valentin K.
23
180 days
19 November 1934
IR
FK Torpedo Moskva
15
8
9
Streltsov, Eduard A.
20
301 days
21 July 1937
CF
FK Torpedo Moskva
21
18

10

Falin, Yuri P.
21
46 days
2 April 1937
IL
FK Torpedo Moskva
1
0
11

Ilyin, Anatoly M.
26
325 days
27 June 1931
OL
FK Spartak Moskva
22
12
USSR Substitute
13
Tsaryov, Viktor G., on 8th min. for Netto
26
350 days
2 June 1931
LHB
FK Dinamo Moskva
1
0
reserves:
Five were announced
team notes:
Torpedo's Slava Metereveli was the original named outside-right. His place going to Apukhtin the day before the match.


"After six minutes, their skipper and Honoured Master of Sport, Igor Netto, injured his knee in a block tackle with Bill Slater. Two minutes later, he hobbled off and was replaced at left-half by Victor [Tsaryov]"

pre-match notes:
In the week leading up to England's previous match against Yugoslavia, the candidates for the Soviet team trained together and played in three unofficial matches in this time. A Moscow team, made up of players on the shortlist beat East Berlin 4-0 on Sunday 11th, after a 'possibles' team beat a Soviet junior team 4-1 on Wednesday and then defeated the Central Army club 3-1 on Thursday.
post-match notes:
Eduard Streltsov, a Russi

an 'celebrity' was controversially involved in a rape charge, seemingly committed a week following this match. If he confessed, he would be allowed to go to the World Cup Final. He confessed, and got twelve years in a Gulag Labour Camp. He served five years and would return to the Russian side in 1966.

2-3-5
Yashin -
Ogonkov, Krizhevsky -
Kuznetsov, Voynov, Netto (Tsaryov) -
Apukhtin, Ivanov, Streltsov, Falin, Illyin

Averages:

(start)
(finish)
Age
25 years 354 days
25 years 310 days
Appearances/Goals

15.4

3.8

England Team
Rank:

No official ranking system established;
ELO rating 4th
Colours:
The 1954 Umbro home uniform - White v-necked short-sleeved continental jerseys, blue shorts, red socks with white calf hoop.


28th match, W 17 - D 6 - L 5 - F 76 - A 35.

⁴³
Capt:
Billy Wright³
77th W 46 - D 15 - L 16 - F 197 - A 111.⁹⁰
Manager:
Walter Winterbottom, 45 (31 March 1913), appointed as FA national director of coaching/team manager on 8 July 1946;
95th match, W 59 - D 19 - L 17 - F 271 - A 132, one abandoned

.

¹³⁹

Trainer: Harold Shepherdson

Team chosen by Selection Committee, headed by Joe Mears, on Friday, 16 May.

England Lineup
four changes to the previous match Hopkinson, Langley, Clayton & Charlton out)

FINAL league position

s (30 April)

79

McDonald, Colin A.
27
215 days
15 October 1930
G
Burnley FC

(FL 6th)

1

1ᵍᵃ

768

the 17th Burnley player to represent England

2
Howe, Donald
22
218 days
12 October 1935
RB
West Bromwich Albion FC

(FL 4th)

7
0

769

3
Banks, Thomas
28
189 days
10 November 1929
LB
Bolton Wanderers FC

(FL 15th)

1
0

the 22nd Wanderer to represent England

770

4
Clamp, H. Edwin
23
246 days
14 September 1934
RHB
Wolverhampton Wanderers FC

(FL CHAMPIONS)

1
0

the 26th Wanderer to represent England

5
Wright, William A.
34
101 days
6 February 1924
CHB
Wolverhampton Wanderers FC

(FL CHAMPIONS)

92
3
most apps

1952-58

6
Slater, William J.
31
19 days
29 April 1927
LHB
Wolverhampton Wanderers FC

(FL CHAMPIONS)

6
0
7

Douglas, Bryan
23
356 days
27 May 1934
OR
Blackburn Rovers FC

(FL2 2nd)

7
1
8
Robson, Robert W.
25
89 days
18 February 1933
IR
West Bromwich Albion FC

(FL 4th)

2
2
9

Kevan, Derek T.
23
73 days
6 March 1935
CF
West Bromwich Albion FC

(FL 4th)

7
4

10

Haynes, John N.
23
213 days
17 October 1934
IL
Fulham FC

(FL2 6th)

20
8
the 31st player to reach the 20-app milestone
11
Finney, Thomas
36
43 days
5 April 1922
OL
Preston North End FC

(FL RU)

73
28
reserves:
Eddie Hopkinson (Bolton Wanderers FC

(FL 15th)

), Peter Sillett (Chesea FC

(FL 12th)

), Jim Langley (Fulham FC

(FL2 6th)

), Ronnie Clayton (Blackburn Rovers FC

(FL2 2nd)

), Maurice Norman (Tottenham Hotspur FC

(FL 3rd)

), Peter Broadbent (Wolverhampton Wanderers FC

(FL CHAMPIONS)

), Bobby Charlton (Manchester United FC

(FL 9th)

), Brian Clough (Middlesbrough FC

(FL2 7th)

) and Alan A'Court (Liverpool FC

(FL2 4th)

).
team notes:
Billy Wright extends his record appearance tally, in his record 57th consecutive match.
Johnny Haynes is the fourteenth player to make twenty England appearances under Walter Winterbottom, and by virtue, post-war.
Forty players have now made seven-or-more appearances under Winterbottom/ISC & post-war.
The team were presented with bouquets before ki

ck-off

and a silver cutlery set (two spoons, a knife and a fork) at the official banquet following the match.
2-3-5
McDonald -
Howe, Banks -
Clamp, Wright, Slater -
Douglas, Robson, Kevan, Haynes, Finney.

Averages

:

Age
27 years 96 days
Appearances/Goals

19.7

4.1
Match Report
by Mike Payne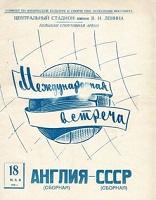 THE third stage of England's summer tour and pre-World Cup build up took them to Moscow in a game which also marked the 60th anniversary of the Soviet FA. England almost ruined the celebration and could have won handsomely but in the end they had to be content with a draw as bad luck and some inspired goalkeeping by Yashin saved the day for the Soviets.

After the previous week's thrashing at the hands of the Yugoslavs, England were anxious to regain some confidence for the following month's tournament. They certainly managed that with a very impressive display. Right from the start they moved forward confidently. Within 20 minutes they had put in at least six goalworthy attempts and could have had the game sewn up.

New midfield man Eddie Clamp made a very impressive debut and his club colleagues completed a dominating Wolverhampton half-back line. Billy Wright was his usual immaculate self and Bill Slater was the best player on view with his poise, artistry and speed of thought really making an impact with everyone watching.

Derek Kevan also hit back at the critics with a powerhouse showing. The Soviet central defenders found him a real handful and his battering ram style upset their normal composure. Four times the West Brom man came close to scoring in the first half only to be denied by Yashin or wayward shooting. Johnny Haynes and Tom Finney both shot narrowly wide and England's 200 traveling supporters could hardly understand why their team was not comfortably ahead.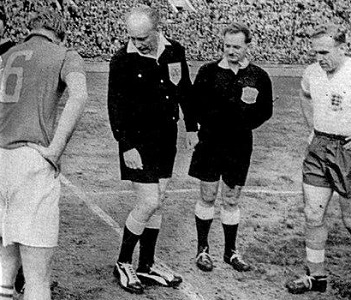 Tommy Banks showed fire and solidity at left-back and Colin McDonald also looked the part in goal.

On the left wing, Finney was at his brilliant best. The form, so seldom seen at Wembley but loved by the Deepdale fans was now here for all to see. The Soviets had little answer to him and three, sometimes four, defenders were sent to challenge in some attacks. Finney was desperately unlucky when he met a Bryan Douglas corner only for his header to strike Yashin's post.

Then Finney took a corner and this time Bobby Robson saw his header also thud against a post. With only seconds of the half remaining. England at last scored the goal they so richly deserved.

More fine work by the tireless Clamp sent Douglas away. The winger sent over a perfect cross to the far post and there was Kevan to head down and under Yashin's despairing dive. Kevan, more than most, earned that goal.

After the break Russia came back briefly and McDonald saved well from Strel'tsov who was easily their most dangerous attacker. He gave Wright a tough time of it throughout. But England soon regained control and on the hour forced Yashin into the save of the match. Finney and Haynes combined again and, as Kevan made a decoy run, taking defenders with him, Finney cut inside to fire in a fierce shot. It looked a goal all the way but somehow Yashin extended one of his seemingly telescopic arms to turn the ball away for a wonderful save.

Kevan went close on two more occasions and with Wright and his fellow defenders comfortably holding the Soviet attack, it seemed odds on a memorable win. But with only 12 minutes left, the Soviets scored an equaliser they barely deserved. A swift move begun by Voinov was carried on by Falin. His long, high pass cleared Banks and found Ivanov, who brilliantly brought the ball under control before he hooked it past McDonald.

It was a bitter blow for England, although Clamp, still going strong at the end, almost restored the lead with a good shot that flew just over with Yashin groping.

Match Report
by Norman Giller
For this final match before the World Cup finals, Eddie Clamp came in at right-half to make an all-Wolves half-back line with clubmates Billy Wright and Bill Slater. Colin McDonald took over in goal and Bolton's tough-tackling Tommy Banks was called in at left-back. After the jolting defeat in Yugoslavia, England gave a much more disciplined performance in the new Lenin Stadium and a Derek Kevan goal just before half-time gave them a draw against a Russian side rated one of the best in Europe. England might have won but for the goalkeeping of the great 'Man in Black' Lev Yashin, and the intervention of the woodwork when first Tom Finney and then Derek Kevan struck shots against a post. The shock after the match was that Brian Clough, Middlesbrough's untried goal master, was told he was not needed for the World Cup Party. Cloughie had scored 42 goals in League and Cup matches that season and was in red-hot form. Cloughie made no secret of his displeasure. It made no sense to most people that the selectors decided to leave behind not only Brian Clough, but also the vastly experienced Nat Lofthouse and the living legend Stanley Matthews. Lofty had been in devastating form in the FA Cup final against Manchester United when his two goals virtually won the trophy for Bolton. The selectors could also have considered the young Chelsea whizkid Jimmy Greaves. For some reason they chose to take only twenty players, when twenty-two were allowed in each Party. England arrived in Sweden just two days before the kick-off to the tournament and were hardly the best prepared team going into the finals.

Match Report
as appears in the F.A. Yearbook 1958-59 page 33
Following the disastrous defeat at Belgrade, England's showing at Moscow was much more to their credit. Indeed they were unlucky not to win, for Robson and Finney both struck the post and there was some doubt concerning the legality of the Russian equaliser. Four changes were made, and in addition the change in outlook became quickly evident on the field. There was much more fight and spirit about the England players, and the goal by which they took the lead shortly before half-time was richly deserved. Kevan was the scorer, heading a Douglas cross just wide of the goalkeeper. During most of the second half England were on top, but Russia equalised ten minutes from time through a goal by Ivanov, a blow which restored equality to the score but did not take away the memory of England's fine display.

Source Notes
TheFA.com
Original newspaper reports
The Complete Book of the British Charts
rusteam.permian.ru

Rothman's Yearbooks


Mike Payne's England: The Complete Post-War Record


Norman Giller, Football Author


British Pathé
British Pathé (in Russian)
cg