England Football Online
Results 1955-1960
Page Last Updated 13 May 2022
Союз Советских Социалистических Республик
325


next match

(99 days)


'U23' 13 vs. Poland


next senior match

(109 days)


326 vs. Northern Ireland

327 vs. USSR




6.0 News & Sport 6.20 Tonight
6.55 World Cup: USSR v. England
(news at ht) 8.45 The Brittle Bond

5.55

News 6.15 Emergency Ward 10
6.45 World Cup: Brazil vs. England
8.45 Criss Cross Quiz 9.15 Chelsea at..

Tuesday

,

17 June 1958


The VM Coupe Jules Rimet Fotboll Finals First Phase Pool 4 play-off



USSR 1 England 0

[0-0]


"What happens if today's play-off match ends in a draw? Extra time will be played, and it the teams are still level the goal average of their previous group matches will count. But there's a snag where England and Russia are concerned. Their goal averages are identical—so if there is a stalemate after extra time, lots will be drawn to decide who enters the quarter-finals."








Nya Ullevi Stadion, Heden, Göteborg, Västra Götalands Iän, Sweden


Kick-off (CET & BST): 7.00pm
Attendance:

23,182

;
USSR kicked off




[1-0] Anatoli Ilyin 68
crashed the ball left-footed from 12yds in off the post from Yuriy Voynov's pass, following McDonald's miss-hit goalkick

[0-0] Peter Brabrook strike hits the post 47
[0-0] Peter Brabrook hits the same post 52
[0-0] Peter Brabrook scores disallowed:handball 60

Commentator: Kenneth Wolstenholme

(various regions, excluding TWW) - Commentator: Peter Lloyd and Gerry Loftus

Second half also live on The Light Programme


"ENGLAND GO DOWN AND OUT"
Daily Mirror
Officials

USSR Party

FIFA ruling on NO substitutes
England Party

Referee

(black)


Albert Dusch
45 (6 December 1912), Kaiserslautern


(replaced

the day before the match)

There are no substitutions whatsoever in the World Cup Final matches.

Linesmen
Johann Bronkhurst


44 (3 March 1914), Velp

Friedrich Seipelt


43 (2 April 1915), Wien

USSR Team
Rank:

No official ranking system established;
ELO rating 8th to 5th
Colours:
Red wing-collared jerseys with CCCP emblazoned across the front, white shorts, black socks with white/red/white hoop.
Capt:
Nikita Simonyan
Manager:
Gavriil Dmitriyevich Kachalin, 47 (17 January 1911), appointed late 1954.
USSR Lineup
1
Yashin, Lev I.
28
238 days
22 October 1929
G
FC Dynamo Moskva
26

22ᵍᵃ

2
Kesarev, Vladimir P.
28
111 days
26 February 1930
RB
FK Dinamo Moskva
6
0
3
Krizhevsky, Konstantin S.
32
118 days
20 February 1926
LB
FK Dinamo Moskva
13
0
4
Kuznetsov, Boris D.
29
338 days
14 July 1928
RHB
FK Dinamo Moskva
19
0
5

Voynov, Yuriy M.
26
200 days
29 November 1931
CHB
FK Dinamo Kyiv
13
1
16
Tsaryov, Viktor G.
27
15 days
2 June 1931
LHB
FK Dinamo Moskva
5
0
7
Apukhtin, German N.
22
5 days
12 June 1936
OR
Tsentralny Sportive Klub Ministers Oborony
3
0
8
Ivanov, Valentin
23
210 days
19 November 1934
IR
FK Torpedo Moskva
19
9
9
Simonyan, Nikita P.
31
248 days
12 October 1926
CF
FK Spartak Moskva
17
10

20

Falin, Yuri P.
21
67 days
2 April 1937
IL
FK Torpedo Moskva
2
0
11

Ilyin, Anatoly M.
26
356 days
27 June 1931
OL
FK Spartak Moskva
26
14
reserves:
not permitted
2-3-5
Yashin -
Kesarev, Krizhevsky -
Kuznetsov, Voynov, Tsaryov -
Apukhtin, Ivanov, Simonyan, Falin, Ilyin

Averages:

Age
27 years 43 days
Appearances/Goals
13.5
3.0

England Team
Rank:

No official ranking system established;
ELO rating 3rd to 4th
Colours:
The 1954 Umbro home uniform - White v-necked short-sleeved continental jerseys, blue shorts, red socks with white calf hoop.


32nd match, W 17 - D 6 - L 6 - F 80 - A 40.

⁴³
Capt:
Billy Wright³
81st W 46 - D 18 - L 17 - F 201 - A 116.⁹⁰
Manager:
Walter Winterbottom, 45 (31 March 1913), appointed as FA national director of coaching/team manager on 8 July 1946;
99th match, W 59 - D 22 - L 18 - F 275 - A 137, one abandoned.

¹³⁹

Trainer: Harold Shepherdson

Team chosen by Selection Committee, headed by Joe Mears, on Tuesday, 17 June.

England Lineup
three changes to the previous match Clayton, Brabrook & Broadbent>Clamp, Douglas & Robson)

FINAL league position

s (30 April)

1
McDonald, Colin A.
27
245 days
15 October 1930
G
Burnley FC

(FL 6th)

5

6ᵍᵃ

2
Howe, Donald

22


248 days
12 October 1935
RB
West Bromwich Albion FC

(FL 4th)

11
0
3
Banks, Thomas
28
219 days
10 November 1929
LB
Bolton Wanderers FC

(FL 15th)

5
0
15
Clayton, Ronald
23
316 days
5 August 1934
RHB
Blackburn Rovers FC

(FL2 2nd)

21
0
5
Wright, William A.
34
131 days
6 February 1924
CHB
Wolverhampton Wanderers FC

(FL CHAMPIONS)

96
3

most apps

1952-58

6
Slater, William J.
31
49 days
29 April 1927
LHB
Wolverhampton Wanderers FC

(FL CHAMPIONS)

10
0

771

17
Brabrook, Peter
20
221 days
8 November 1937
OR
Chelsea FC

(FL 12th)

1
0

youngest WCF player

so far

the 19th Chelsea player to represent England

772

18
Broadbent, Peter F.
25
33 days
15 May 1933
IR
Wolverhampton Wanderers FC

(FL CHAMPIONS)

1
0

the 27th Wanderer to represent England

9
Kevan, Derek T.
23
103 days
6 March 1935
CF
West Bromwich Albion FC

(FL 4th)

11
6

10

Haynes, John N.
23
243 days
17 October 1934
IL
Fulham FC

(FL2 6th)

24
9
21
A'Court, Alan
23
262 days
30 September 1934
OL
Liverpool FC

(FL2 4th)

4
1
reserves:
not permitted
team notes:
Billy Wright extends his record appearance tally, in his record 61st consecutive match.
With the introduction of the two new players, Winterbottom/ISC/post-war has now seen 121 different players don the England jersey.
records:
Only the second time in 325 matches that England have played a match on a Tuesday.
Predominantly because of the World Cup Finals, England have played eleven matches in a season for the first time.
For the first time, England have gone six matches without victory.

goalscoring

records:
Despite his criticism towards the end of the this season, Derek Kevan actually ended the season as top goalscorer, scoring five in ten matches.
2-3-5
McDonald -
Howe, Banks -
Clayton, Wright, Slater -
Brabrook, Broadbent, Kevan, Haynes, A'Court.

Averages

:

Age
25 years 322 days
Appearances/Goals
17.2
1.7

youngest WCF team

so

far
Match Report
by Mike Payne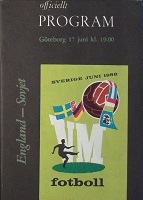 THIS was the third meeting of these two sides in the space of five weeks but this time there was far more at stake. The winners would progress to the World Cup quarter-finals as runners-up in their group behind Brazil. England made three changes to the team held by Austria with Ronnie Clayton returning and Peter Brabrook and Peter Broadbent coming in for their first caps. The new right-wing partnership quickly established itself with excellent work.

England played well but lacked the one ingredient they needed . . . good fortune. Nothing went right for them on this day. The match was evenly contested for the first half-hour but from the moment Broadbent forced Yashin into a fine diving save low to his right England were on top. Yashin showed all his marvellous talents as he and his defenders worked overtime to keep the English attack at bay. The Soviet Union were almost on their knees but, alas, England could not find the knock-out blow.

Seven minutes before the interval they missed a fine chance. Broadbent, showing some silky skills, carved his way down the right before laying off a perfect pass to Brabrook. It seemed the Chelsea man must score, but the winger succeeded only in stabbing his shot straight at Yashin.

It was not all England, however, as the Soviets, too, had their moments. Don Howe kicked one effort from Apukhtin off the line and then saw Simonyan miss an open goal from close in. Colin McDonald had to be alert at all times and showed plenty of confidence. Billy Wright and his co-defenders gradually gained a grip on Soviet attack and by the end of the first half their goal chances evaporated.

Clayton, Bill Slater, Howe and Tommy Banks all tackled like lions but up front England lacked the necessary class they needed to break through. Haynes looked tired, and A'Court and Derek Kevan, although showing they had big hearts, were often found to be struggling.

Broadbent was the big hope for England. After that 35th minute effort he showed magnificent form. His display lifted everyone and England were eventually well on top. At the end of the first half the shot ratio had been Soviet Union 8 and England 3, but after the break the pattern was reversed with England having ten shots to the Soviets' three.

Twice in the second half, England were desperately unlucky. Both times Brabrook hit the right-hand post of Yashin's goal and then the winger had the ball in the net only to be penalised for handball. It was all very frustrating as the Soviets were down and almost out.

But, as so often happens, the one clear chance that came Russia's way after the break was clinically tucked away. Ironically, having played so well throughout the tournament, it was a mistake by McDonald which led to the winning goal. His poor goal-kick in the 65th minute was intercepted by Ilyin. Voinov came into the action and flicked the ball to Simonyan. A return pass to Ilyan and the winger raced through to shoot past the luckless McDonald. Just to rub salt into the wound, the ball went in off the post, thus highlighting the small margin between success and failure.

England's best effort in the remaining minutes came from Kevan. He once powered his way through only for Yashin to pull off a wonderful save diving low to his right.

At the referee's final whistle the England players trooped off looking very dejected. The whole team had played their hearts out and, for effort, could not be faulted. Looking back over their four matches, one could point to several 'if only's'. But at the end of the day the long-term question was whether some of the England players were up to the standard required of modern-day international football? Only time would tell.

Match Report
by Norman Giller
Chelsea winger Peter Brabrook came in for his debut along with Wolves inside-forward Peter Broadbent, but Bobby Charlton was left kicking his heels on the touchline. Brabrook almost became an instant hero with a shot that struck the Russian post and then bounced into Yashin's hands. In the second-half he had a goal disallowed before the Russians scored the winning goal when Ilyin's shot went in off a post to put England out of the World Cup. When England arrived back in London, Walter Winterbottom was met at the airport by his young son, Alan, who asked the question on the lips of thousands of football fans: "Daddy, why didn't you play Bobby Charlton?"

Source Notes
TheFA.com
Original newspaper reports
The Complete Book of the British Charts
rusteam.permian.ru

Rothman's Yearbooks


Mike Payne's England: The Complete Post-War Record
Norman Giller, Football Author
British Pathé
cg