"BOBBY SOCKS THEM!"
Daily Mirror
Officials
England
FIFA ruling on substitutes
Poland
Referee

(black)


Leopold Sylvain Horn


42 (29 August 1916), Sittard, Netherlands

yellow flag

Linesmen

red flag

Roy Harper


35 (11 May 1923) Sheffield

Alan Edward Wragg


36 (16 April 1922) Sheffield

England Intermediate Team
Rank:

No official ranking system established;
Colours:
The 1954 Umbro home uniform - White v-necked short-sleeved continental jerseys, black shorts, red socks with white calf hoop
Capt:
Jimmy Armfield


first, W 1 - D 0 - L 0 - F 4 - A 1.

Manager:
Walter Winterbottom, 45 (31 March 1913), appointed as FA national director of coaching/team manager on 8 July 1946;


13th intermediate match, W 9 - D 2 - L 2 - F 40 - A 15.

Trainer: Bill Nicholson (Tottenham Hotspur FC)
Team chosen by the Intermediate Selection Committee, headed by Frank Adams, on Tuesday, 16 September.
England Lineup

eight changes

to the previous U23 match

league position

(16 September)

Hodgkinson, Alan
22
39 days
16 August 1936
G
Sheffield United FC

(FL2 11th)

6

6ᵍᵃ

2
Armfield, James
23
3 days
21 September 1935
RB
Blackpool FC

(FL 5th)

3
0
57
3
Allen, Anthony
18
301 days
27 November 1939
LB
Stoke City FC

(FL2 7th)

1
0
4
Setters, Maurice E.
21
282 days
16 December 1936
RHB
West Bromwich Albion FC

(FL 10th)

5
0
58
5
Scott, Melyvn Douglas
18
363 days
26 September 1939
CHB
Chelsea FC

(FL 8th)

1
0
59
6
McGuinness, Wilfred
20
334 days
25 October 1937
LHB
Manchester United FC

(FL 9th)

1
0
7

Brabrook, Peter
19
320 days
8 November 1937
OR
Chelsea FC

(FL 8th)

4
1
8

Greaves, James P.
18
216 days
20 February 1940
IR
Chelsea FC

(FL 8th)

5
6
60
9

Baker, Joseph H.
18
69 days
17 July 1940
CF
Hibernian FC, Scotland

(SL 8th)

1
0
61
10

Charlton, Robert
20
348 days
11 October 1937
IL
Manchester United FC

(FL 9th)

1
3
England's second U23 hattrick
62
11
Scanlon, Albert Joseph
22
349 days
10 October 1935
OL
Manchester United FC

(FL 9th)

1
0
reserves:
Tony Macedo (Fulham FC

(FL2 TOP)

), Alan Williams (Bristol City FC

(FL2 2nd)

) and Ray Parry (Bolton Wanderers FC

(FL 4th)

)
pre-match notes:
England played a practice match with Sheffield United FC on Monday, 22 September. Young England won 3-1 with two goals from Jimmy Greaves, and Bert Scanlon providing the third.
2-3-5
Hodgkinson -
Armfield, Allen -
Setters, Scott, McGuinness -
Brabrook, Greaves, Baker, Charlton, Scanlon.

Averages:

Age
20 years 239 days
Appearances/Goals
2.6
0.5
youngest U23 team

Poland Intermediate Team
Rank:

No official ranking system established;
Colours:
Red v-necked jerseys with white collars, white shorts, and red stockings
Capt:
Selector:
International Selection Committee
Poland Lineup
1
Kornek, Konrad
21
224 days
12 February 1937
G
OKS Odra Opole
ᵍᵃ
2
Kawula, Własysław

K.

20
362 days
27 September 1937
RB
TS Wisła
12
3
Szymczyk, Stanislaw
nk
not known
LB
KS Cracovia
4
Nieroba, Antoni
19
250 days
17 January 1939
RHB
KS Ruch
3
0
5
Oślizło, Stanislaw
20
299 days
29 November 1937
CHB
KS Górnik Radlin
5
6
Michel, Adam, injured off 37th min.
22
120 days
27 May 1936
LHB
TS Wisła
7

Gadecki, Zygmunt

J.

20
246 days
21 January 1938
OR
KS Lechia
6

8

Lewandowski, Bolesław
23
111 days
5 June 1935
IR
WKS Gwardia Warszawa
9
Lerch, Eugeniusz

J.

19
221 days
15 February 1939
CF
KS Ruch
2
10
Liberda, Jan

K.

21
302 days
26 November 1936
IL
Polonio Bytom
11
Nowak, Helmut K.
20
247 days
20 January 1938
OL
GKS Szombierki
Poland Substitute

scoreline:

England 4 Poland 0
15
Grzegorczyk, Ryszard P., on 38th min. for Michel
19
4 days
20 September 1939
M
Polonio Bytom

result:

England 4 Poland 1
unused substitutes:
not known
team notes:
The weather, and then the pitch, was so atrocious, that a couple of the Polish players were wearing the jerseys of benched substitutes, so finished the match wearing Numbers 16, 17 & 18.
2-3-5
Kornek -
Kawula, Szymcyk -
Nieroba, Oslizlo, Michal -
Gadecki, Lewandowski, Lerch, Liberda, Nowak.

Averages:

(start)
(finish)
Age
21 years 56 days¹⁰
20 years 300 days¹⁰
Appearances/Goals
tbc
tbc
Match Report
by John Camkin, Daily News, Thursday, 25 September 1958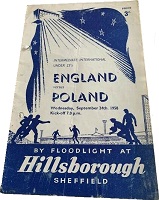 BOBBY CHARLTON, the Manchester United forward, whipped in three goals before England's Under-23 team almost vanished beneath a flood here at Hillsborough tonight.
Those goals, snatched in the first 35 minutes, will probably restore him to England's team in Belfast on Saturday week. He staked his claim before great gusts of rain pouring down in the glare of 192 arc lamps, reduced this match almost to a farce. As it was, Poland were little more than footballing lambs ready for the slaughter. In the first half hour of respectable football, as England placed themselves beyond defeat, Charlton sparkled, outshining completely his main rival, Chelsea's Jimmy Greaves. The Manchester lad was ahead on every point. He had three goals, one from the penalty spot, against one to Greaves. He had three other rasping shots, while Greaves wasted two good chances.
More important, he was by far the better craftsman in midfield.
Bad luck, then, for the impish Greaves that he should fail to capture club form as he paraded in front of England's selectors. Bad luck too, for Joe Baker, the 18-year-old, who made history in this match. As the first member of a Scottish club to wear the white shirt of England, he captured the constant attention of 30,000 gallant spectators. Joe showed many neat touches, and a great flair with his head. But he did not indicate that he is ready to wear a full cap for the land of his birth. The Poles, boys most of them, rather than young men, showed a neat close-passing drill, which simplified the work England's defence. Goalkeeper Alan Hodgkinson did not face a direct shot until he fumbled a skidding, difficult free-kick in the 35th minute. Then outside-right Zygmunt Gadecki tapped the ball into the net. Seconds earlier, Charlton had scored his third—and England's fourth—from the penalty spot when left-half Adam Michal, injured in the process, floored Baker. But the foundation of victory was laid right at the start.
Charlton, twice selling the dummy immaculately, scored in the fourth minute with a cross shot which caught goalkeeper Konrad Kornek out of position and unsighted.
In the next 13 minutes, eager young Bobby helped to make two more goals—one for Greaves and another for himself. In the tenth minute, it was Charlton who laid on the finest pass of the game to send Baker away, and Greaves flicked the low centre into the net. In the 17th minute, Charlton started the move, beautifully continued by Greaves and Brabrook, and ended it with a second goal from his accurate left boot.
There was confusion in the second half when Nos. 15, 16, 17 and 18 appeared in the Polish side.
Grzegorczyk (No. 15) was substitute for the injured Michal, but Nos. 16, 17 and 18 were explained easily—three wet-through Poles had changed their shirts.

Match Report
as appears in the F.A. Yearbook 1959-60 page 32
THE season opened with a convincing victory over Poland at Hillsborough. All the goals were scored in a first half also marked by a cloudburst that swamped the pitch and rendered good football almost impossible in the remainder of the match. Outstanding in a good England side was Charlton who scored three goals, the last from a penalty, and also distributed the ball with intelligence and accuracy. Greaves scored England's second goal, and Scott was impressive at centre-half. The Polish team were unable to contend with the appalling conditions, but did score once through Gadecik.

Football League Division Two
Brighton & Hove Albion 2
Liverpool 2
Goldstone Ground, Hove

(21,323)
Jones, Whitfield ~
Liddell, Morris
Liverpool climbed to fifth place with this draw, whereas Brighton climb out of the relegation zone into twentieth position.
Football League Division Three

Bournemouth & Boscombe Athletic 2 Norwich City 0
Dean Court, Bournemouth

(8,306)
Bolton, Anderson
Southend United 1
Colchester United 1
Roots Hall, Southend

(12,000)
Punton
~ Langham
Swindon Town 2 Bradford City 2
County Ground, Swindon

(9,468)
Clayton, Jackson
~ Reid, Webb
Source Notes
Official matchday programme
FA Yearbook 1959-60

Rothman's Yearbooks




Original newspaper reports
cg