England Football Online
Results 1955-1960
Page Last Updated 18 May 2022
Tuaisceart Éireann
316 vs. Northern Ireland





previous match

(10 days)


'U23' 13 vs. Poland
326
next match (11 days)
'U23' 14 vs. Czechoslovakia
next senior match (18 days)
327 vs. USSR

337 vs. Northern Ireland

Saturday

,

4 October 1958




Home International Championship 1958-59

(64th)

Match





Northern Ireland 3 England 3

[1-1]


Winterbottom's one hundredth match in charge
Windsor Park, Donegall Avenue, Belfast, county Antrim


Kick-off (BST): 3.00pm
Attendance: '58,000'; sold-out

Danny Blanchflower won the toss
Bobby Charlton kicked off


[1-0] Wilbur Cush 33
slid in a shot from 12yds into an empty net after running through unchallenged from a Jimmy McIlroy through-ball



[1-1] Peter Cush shot saved onto post 43
[0-0] a strike hits the post


[1-1] Bobby Charlton 39
an accurate right-foot shot from edge of penalty area into top corner after Johnny Haynes passed on a Finney corner

12.45 Sports Parade 1.10 Jack Payne Record Show 1.45 Movie Matinee 2.10 Juke Box Club 2.40 Albert Delroy Sextet 3.0 Ransome and Marles's Band
3.45 Football: Ireland v. England
4.45 Dennis Wilson 5.0 Sports Report 6.0 Guitar Club 6.30 Just Jazz

[2-1] Bertie Peacock 58
twenty-yard drive following a Billy Bingham centre

[3-2] Tommy Casey charged 67
'McDonald was holding a McParland shot when he was charged by Casey and the ball rolled into the net.

[3-3] Billy Bingham strike hits the crossbar 89

[2-2] Tom Finney

65


beat Keith and Gregg to a pass-back to slip the ball in


[3-3] Bobby Charlton 79
a left-footed shot from a Johnny Haynes pass, from another Finney ball



Second half live on The Light Programme - Commentator: tbc


"CHARLTON MUST STAY"
Sunday Mirror
Officials from Scotland
Northern Ireland
UK ruling on substitutes
England

Referee

(black)
Robert Holley Davidson
30 (19 July 1928), Airdrie
Linesmen
J. McNiven


Stonehouse

H. Murray




Glasgow

Northern Ireland Team
Rank:

No official ranking system established;
ELO rating 23rd to 22nd
Colours:
Made by Bukta - Green continental jerseys with white v-neck collar/cuffs, white shorts, green socks with white tops.
Capt:
Danny Blanchflower
Manager:
Peter Dermot Doherty, 45 (5 June 1913), appointed October 1951, also manager at Bristol City FC since January 1958.
33rd match, W 7 - D - 12 - L 14 - F 40 - A 63.
team chosen on Wednesday, 24 September 1958
Team attendant: Gerry Morgan (Linfield FC)
Northern Ireland Lineup
Gregg, Henry
25
342 days
27 October 1932
G
Manchester United FC

, England

15

22ᵍᵃ

2
Keith, Richard M.
25
142 days
15 May 1933
RB
Newcastle United FC

, England

9
0
3
Graham, W.G. Leonard
32
352 days
17 October 1925
LB
Doncaster Rovers FC

, England

14
0
final app

1951-58

4
Blanchflower, R. Dennis
32
236 days
10 February 1926
RHB
Tottenham Hotspur FC

, England

36
0
most apps

1958

5
Cunningham, William E.
28
226 days
20 February 1930
CHB
Leicester City FC

, England

22
0
6

Peacock, Robert
30
5 days
29 September 1928
LHB
The Celtic, Scotland
20
1

10



McIlroy, James
26
344 days
25 October 1931
AM
Burnley FC, England
32
4
7

Bingham, William L.
27
60 days
5 August 1931
OR
Luton Town AFC

, England

34
4
8

Cush, Wilbur
30
116 days
10 June 1928
RF
Leeds United AFC

, England

17
5
9

Casey, Thomas
28
207 days
11 March 1930
LF
Portsmouth FC

, England

11
2
11
McParland, Peter J.
24
162 days
25 April 1934
OL
Aston Villa FC, England
20
7
reserve:
Tommy Forde (Ards FC)
team notes:
'Played the twin centre-forward game to perfection with two wing halves.'


An Irish outcry occurred when the team was announced over the absence of Alf McGuinness. His club, Newcastle United FC, refused to release him.

The Ireland team were set up in Portstewart prior to the match
Manager Peter Doherty played for Ireland against England on seven separate occasions from 1935 until 1947, scoring one in 1947.
2-3-(1-4)5
Gregg -
Keith, Graham -
Blanchflower, Cunningham, Peacock -
McIlroy,
Bingham, Cush, Casey, McParland

Averages:

Age
28 years 168 days
Appearances/Goals

20.9

1.8

England Team
Rank:

No official ranking system established;
ELO rating 4th to 5th
Colours:
The 1954 Umbro home uniform - White v-necked short-sleeved continental jerseys, blue shorts, red socks with white calf hoop.


33rd match, W 17 - D 10 - L 6 - F 83 - A 43.

⁴³
Capt:
Billy Wright³
82nd W 46 - D 19 - L 17 - F 204 - A 119.⁹⁰
Manager:
Walter Winterbottom, 45 (31 March 1913), appointed as FA national director of coaching/team manager on 8 July 1946;
100th match, W 59 - D 23 - L 18 - F 278 - A 140, one abandoned.¹³⁹

Trainer: Harold Shepherdson
Team chosen by Selection Committee, headed by Joe Mears, on Monday, 29 September.
England Lineup

three changes

to the previous match (McGuinness, Charlton & Finney>Slater, Kevan & A'Court)

league position

(29 September)

McDonald, Colin A.
27
354 days
15 October 1930
G
Burnley FC

(FL 12th)

6

9ᵍᵃ

2
Howe, Donald

22


357 days
12 October 1935
RB
West Bromwich Albion FC

(FL 8th)

12
0
3
Banks, Thomas, injured 72 min.
28
328 days
10 November 1929
LB

/OL

Bolton Wanderers FC

(FL 3rd)

6
0
final app 1958
4
Clayton, Ronald
24
60 days
5 August 1934
RHB/


CHB

Blackburn Rovers FC

(FL 13th)

22
0
5
Wright, William A.
34
240 days
6 February 1924
CHB/LB
Wolverhampton Wanderers FC

(FL 9th)

97
3

most apps

1952-58

773
6
McGuinness, Wilfred
20
344 days
25 October 1937
LHB
Manchester United FC

(FL 6th)

1
0

the twentieth United player to represent England

7
Brabrook, Peter
20
330 days
8 November 1937
OR
Chelsea FC

(FL 4th)

2
0
8
Broadbent, Peter F.
25
142 days
15 May 1933
IR

/RHB

Wolverhampton Wanderers FC

(FL 9th)

2
0
9

Charlton, Robert
20
358 days
11 October 1937
CF
Manchester United FC

(FL 6th)

4
5
10

Haynes, John N.
23
352 days
17 October 1934
IL
Fulham FC

(FL2 TOP)

25
9
11

Finney, Thomas
36
182 days
5 April 1922
OL
Preston North End FC

(FL 2nd)

75
30

most goals

1958

reserve:
Bob Morton (Luton Town FC

(FL TOP)

).
pre-match notes:
England played Bolton Wanderers on 1 October at Burnden Park where they had three short practice matches winning 6-1 on aggregate (Broadbent, Finney (2), Charl

ton (2) and Haynes)

, and played Manchester City the day after at Maine Road. The forty-minute match was won 4-2 by England (Haynes (2), Broadbent and Charlton; McAdams and Hayes in reply), afterwhich they left Ringway airport on the 4.10pm plane to Belfast.
team notes:
Billy Wright extends his record appearance tally, in his record 62nd consecutive match.
Late in the second half, 72nd minute, Tommy Banks pulled up with a pulled thigh muscle and Peter Brabrook was also limping.
records:
This is England's record-equaling ninth match in 1958, with two matches still to play. It is the first time they have recorded five draws in a single calendar year.
England have now gone five competitive matches without victory, not done since 1925-27.
They have gone seven matches without victory, setting a new unwanted record.
2-3-5
McDonald -
Howe, Banks -
Clayton, Wright, McGuinness -
Brabrook, Broadbent, Charlton, Haynes, Finney.


notes: in the 72nd min., following Banks' injury, he went to outside left, Wright took up his position. Clayton moved to the centre and Broadbent dropped back.

Averages

:

Age
26 years 46 days
Appearances/Goals

22.9

4.0

Winterbottom's XI after 100 matches
Williams (24) -
Ramsey (32), Byrne (33) -
Wright (97), Franklin (27), Dickinson (48) -
Matthews (37), Mortensen/Haynes (25), Lofthouse (31), Mannion (26), Finney (75)
After 100 matches, Winterbottom has used 122 players, 152 on to teamsheets and 177 into his various parties.
Match Report
by Mike Payne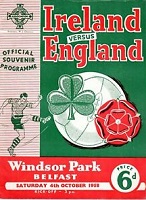 WHAT a spectacular match! This was the closest Northern Ireland have come to beating England on Irish soil since 1927. Three times they led and twice they hit the woodwork. In driving rain and cloying mud, both sides served up a feast of entertainment and seldom has a game had so many talking points.

Some 58,000 people crammed into Windsor Park and they were soon getting right behind their favourites as Ireland produced their usual passionate start to the game. This style always gave England a hard time although the extra skill factor remained with the visitors, Bobby Charlton, (why, oh why had he not been given a game in Sweden?), looked in sparkling form. His pedigree was there for all to see and his roving centre-forward role worked a treat.

The Irish were driven on by Blanchflower and McIlroy. They held the midfield together quickly shutting down on England's space and making them work for everything. Peacock, Cush and the lively Bingham gave them good support and on the half-hour Ireland deservedly took the lead. Good work by Blanchflower down the middle ended with a fine pass to Cush who crashed home an excellent shot for the first goal.

England, though, were quickly level. Charlton, who kept popping up everywhere eagerly wanting the ball, received a short pass from Johnny Haynes, turned sharply and fired in a rocket shot which flew into the top corner of Gregg's goal from just outside the area. It was a magnificent goal.

The rain had been incessant throughout the first half and England had done well to share the honours at half-time. But 15 minutes after the restart, Ireland once again sent their fans wild with delight. Blanchflower sent Bingham away down the right and the winger found McParland. When the deep centre came over, Peacock was there to hit home a fine goal.

No sooner had the the crowd celebrated that goal than England were level again. This time Tom Finney burst through on to a Charlton pass before cleverly sliding the ball under the advancing Gregg's body. A slip by Cunningham had given the Preston winger the chance to create a new scoring record for England with his 30th international goal.

The excitement continued unabated and with 20 minutes left, Ireland forced themselves into the lead again. Another cross from McParland was caught by Colin McDonald, only for Casey to come in and barge the 'keeper and the ball over the line. It was shades of Nat Lofthouse's effort in the previous season's FA Cup Final for Bolton against Manchester Uniteed. How ruefully Gregg, in the Irish goal, must have viewed Casey's copy-cat goal.

Still England were not finished and it was Charlton who once again produced a stunning goal to equalise for a third time. Surging past two defenders on the left, he took Haynes' pass inside Keith and unleashed yet another of those awesome shots from long range. Once more Gregg was left clutching only raindrops as the ball thudded into the net to stifle any thoughts the home side had of victory.

Match Report
by Norman Giller
Northern Ireland and England concocted a thriller on a waterlogged, mudheap of a pitch. Bobby Charlton, playing at centre-forward, scored with two thunderbolt shots to add fuel to the arguments that he should have been let off the leash in the World Cup. The Irish bravely led three times through Cush, Peacock and Casey as they searched for their first victory over England in Belfast since 1927. Bobby Charlton's two equalising goals sandwiched England's second goal by Tom Finney. This was a memorable milestone for the Preston Plumber. It was his thirtieth goal for England, a new all-time scoring record. Two Manchester United youngsters took the eye. Twenty-year-old Wilf McGuinness, another of the Busy Babes, won the first of what would surely have been many England caps but for a broken leg virtually ending his career in 1961. Wilf, later to have an uncomfortable spell in charge at Old Trafford, would have been on the Munich flight but for staying behind in Manchester for a cartilage operation. The star of the match was Bobby Charlton, and it revived the question that had been asked so many times in Sweden, 'Why oh why was he not selected for at least one game in the World Cup?'

Match Report
as appears in the F.A. Yearbook 1959-60 page 32
The first full International was also marred by a heavy storm which reduced the pitch almost to a mud-heap. Both sides, however, deserved great credit for making the game into the thriller that it was. Ireland proved that their World Cup form the previous summers was no fluke, and England, experimenting with a new-style forward line, fought back three times to equalise. Ireland started off in impressive style, and it was no surprise when Cush scored after a Blanchflower-McIlroy move on the half-hour. Six minutes later Charlton scored superbly from 20 yards after excellent work by Haynes and Finney. In the second half Peacock put Ireland ahead again, only for Finney to equalise after Keith made a bad backpass. Yet again Ireland took the lead when Casey forced home a McParland cross, but England were not to be denied, and Charlton finally levelled the scores with another magnificent left-foot shot. For England, Charlton was the star, while Wright, Haynes, and Finney were also noteworthy. Gregg, Blanchflower, and McIlroy were perhaps the best of the good Irish side.

Source Notes
TheFA.com
Original newspaper reports
Official matchday programme
The Complete Book of the British Charts
Northern Ireland Football Greats

Rothman's Yearbooks




Mike Payne's England: The Complete Post-War Record


Norman Giller, Football Author
British Pathé
cg