303 vs. Brazil

323

331 vs. Brazil

5.0 Children 6.0 News & Sport 6.20 'Light in the Desert' (film):
6.45 World Cup: Brazil v. England
(news at ht) 8.50 Perry Como Show

5.55

News 6.10 Melody Ranch
6.45 World Cup: Brazil vs. England
8:45 'The Troublemakers' (play)

Wednesday

,

11 June 1958


The VM Coupe Jules Rimet Fotboll Finals First Phase Pool 4 match three/four



Brazil 0 England 0

[0-0]


Nya Ullevi Stadion, Heden, Göteborg, Västra Götalands Iän, Sweden


Kick-off (CET & BST): 7.00pm
Attendance:

40,895

;

[0-0] Vavá's effort 'twangs' the crossbar

30




[0-0] Mazzola's had effort come back off the post

Commentator: Kenneth Wolstenholme

(various regions) - Commentator: Peter Lloyd and Gerry Loftus

The last half-hour of the match was also live on The Light Programme


"MERRIE ENGLAND RISE TO GLORY!"
Daily Mirror
Officials

Brazil Party

FIFA ruling on NO substitutes
England Party

Referee

(black)


Albert Dusch
45 (6 December 1912), Kaiserslautern
There are no substitutions whatsoever in the World Cup Final matches.




Linesmen

István Zsolt




36 (28 June 1921), Budapest

Bertil Wilhelm Lööw


33 (15 June 1924), Jönköping

Brazil Team
Rank:

No official ranking system established;
ELO rating 2nd
Colours:
Yellow jerseys

with lime green collars/cuffs,

light blue shorts

with white side stripe,

white socks with two narrow yellow and lime green stripes at top.
Capt:
Hilderaldo Bellini
Manager:
Vicente Ítalo Feola, 48 (20 November 1909)
seventh match, W 4 - D 3 - L 0 - F 16 - A 3.
team chosen on the morning of the match.
Brazil Lineup
For full names, please see the Party page
3
Gilmar
27
293 days
22 August 1930
G
SC Corinthians Paulista
33
34ᵍᵃ
14
De Sordi, Nílton
27
117 days
14 February 1931
RB
São Paulo FC
16
0
12
Nílton Santos
33
26 days
16 May 1925
LB
Botafogo FR
48
2
5
Dino Sani
26
19 days
23 May 1932
RHB
São Paulo FC
7
0
2
Bellini, Hilderado L.
28
4 days
7 June 1930
CHB
CR Vasco da Gama
10
0
15
Peçanha de Carvalho, Orlando
22
264 days
20 September 1935
LHB
CR Vasco da Gama
3
0
17
Joel
26
261 days
23 September 1931
OR
CR Flamengo
13
2
6
Didi
29
246 days
8 October 1928
IR
Botafogo FR
43
2
18
Mazzola
19
322 days
24 July 1938
CF
SE Palmeiras
7
4

20

Vavá
23
211 days
12 November 1934
IL
CR Vasco da Gama
5
1
7
Lobo Zagallo, Mário J.
26
306 days
9 August 1931
OL
CR Flamengo
5
2
reserves:
not permitted
2-3-5
Gilmar -
De Sordi, Nílton Santos -
Dino Sani, Bellini, Orlando Peçanha -
Joel, Didi, Mazzola, Vavá, Mário Zagallo

Averages:

Age
26 years 189 days
Appearances/Goals
17.3
1.2

England Team
Rank:

No official ranking system established;
ELO rating 4th
Colours:
The 1954 Umbro home uniform - White v-necked short-sleeved continental jerseys, blue shorts, red socks with white calf hoop.


thirtieth match, W 17 - D 8 - L 5 - F 78 - A 37.

⁴³
Capt:
Billy Wright³
79th W 46 - D 17 - L 16 - F 199 - A 113.⁹⁰
Manager:
Walter Winterbottom, 45 (31 March 1913), appointed as FA national director of coaching/team manager on 8 July 1946;


97th match, W 59 - D 21 - L 17 - F 273 - A 134

, one abandoned.¹³⁹

Trainer: Harold Shepherdson

Team chosen by Selection Committee, headed by Joe Mears, on Tuesday, 10 June.

England Lineup

one change

to the previous match (A'Court>Finney)

FINAL league position

s (30 April)

1
McDonald, Colin A.
27
239 days
15 October 1930
G
Burnley FC

(FL 6th)

3

3ᵍᵃ

2
Howe, Donald

22


242 days
12 October 1935
RB
West Bromwich Albion FC

(FL 4th)

9
0
3
Banks, Thomas
28
213 days
10 November 1929
LB
Bolton Wanderers FC

(FL 15th)

3
0
4
Clamp, H. Edwin
23
270 days
14 September 1934
RHB
Wolverhampton Wanderers FC

(FL CHAMPIONS)

3
0
5
Wright, William A.
34
125 days
6 February 1924
CHB
Wolverhampton Wanderers FC

(FL CHAMPIONS)

94
3
most apps

1952-58

6
Slater, William J.
31
43 days
29 April 1927
LHB
Wolverhampton Wanderers FC

(FL CHAMPIONS)

8
0
7
Douglas, Bryan
24
15 days
27 May 1934
OR
Blackburn Rovers FC

(FL2 2nd)

9
1
8
Robson, Robert W.
25
113 days
18 February 1933
IR
West Bromwich Albion FC

(FL 4th)

4
2
9
Kevan, Derek T.
23
97 days
6 March 1935
CF
West Bromwich Albion FC

(FL 4th)

9
5

10

Haynes, John N.
23
237 days
17 October 1934
IL
Fulham FC

(FL2 6th)

22
8
21
A'Court, Alan
23
256 days
30 September 1934
OL
Liverpool FC

(FL2 4th)

2
1
reserves:
not permitted
team notes:
Billy Wright extends his record appearance tally, in his record 59th consecutive match.
Tom Finney was the original named outside-left, meaning it was supposed to be an unchanged side to that last fixture against USSR. Finney failed a fitness test on the day of the match because of his injured right knee.
Winterbottom only played two of his most experienced players. Wright & Haynes were just two of the 32 of players who have won more than ten appearances under him.
records:
The draw produced a new record. It is the first time England have drawn three matches in a row.
This is the fifth time England have recorded three draws in a single calendar year (1923, 1951, 1953 & 1956 being the previous years).
World Cup Finals records:
The first scoreless draw in WCF history.
2-3-5
McDonald -
Howe, Banks -
Clamp, Wright, Slater -
Douglas, Robson, Kevan, Haynes, A'Court.

Averages

:

Age
26 years 70 days
Appearances/Goals
15.1
1.8

youngest WCF team

so far
Match Report
by Mike Payne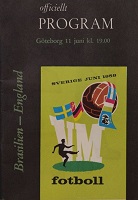 ENGLAND suffered a devastating blow before the kick-off in this vital match when Tom Finney was ruled out because of injury. Alan A'Court came into the side for a game where it was very important that England did not lose. The mighty Brazilians were already showing all the signs of being a fine team.

Despite the final scoreline the game was a thriller. Full of open and attacking football it was very much a case of contrasting styles with the subtle skills of the smooth Brazilians pitched against the typical English game of hard tackling and swift counter attacks. The control of the South Americans was breathtaking at times with Didi and [Mazzola] outstanding. The ease at which they killed the ball from any angle and then laid off accurate passes was beautiful to watch.

England, meanwhile, battled like tigers. A'Court proved a capable deputy and although he did not have the extra class of Finney, he more than held his own. On 11 minutes, A'Court put Derek Kevan through, only for Gilmar to make a fine diving save. Then Colin McDonald, superb throughout, made an equally good save when he sprang to catch a header from [Mazzola]. The end to end action was continuous and Gilmar then made an even better save when he touched a tremendous shot from Johnny Haynes around the post.

The big crowd were delighted at the excitement on the pitch with the England lads enjoying the full vocal backing of a contingent from the British Navy. The player who stood out for England was, once again, Billy Wright. The captain was magnificent and he spurred his colleagues on with an immaculate display. Don Howe, Eddie Clamp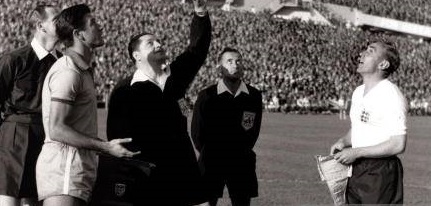 and Blll Slater gave him admirable support in what was a very good team effort.

After half an hour, England had an escape when a brilliant 20-yard shot by the impressive Vavá crashed back into play off the crossbar. But the swift tackling of the whole England side began to have its effect on Brail and soon Wright and his men were controlling the game. For most of the second half the match belonged to them as the pressure on Gilmar's goal intensified all through the half.

Kevan was only stopped at the expense of a corner. A superb move between Haynes and Bobby Robson produced another corner and then A'Court, Slater and Kevan combined for Robson to just miss again. Yet another corner.

It was great stuff and England deserved a goal. However, Brazil also had their moments, a side as skilful as they are can never totally subdued. Didi and Vavá both tested the faultless McDonald to the full. It was a pulsating game which only lacked one thing and that was a goal.

Each of the England players were heroes with Howe in fine form. Clamp and Slater showed everyone the form they displayed every week at Molineux and Wright was inspiration personified. And one other thing, Kevan had put up with a good deal of criticism during his England career but in this match he gave an excellent display of powerhouse centre-forward play. But for the agility and skill of Gilmar, the West Brom player could have been the hero of a nation.

England now had a great chance of reaching the next round provided they could beat Austria in their final group match.

Match Report
by Norman Giller
This was the only World Cup match in which eventual champions Brazil failed to score, and it was due mainly to the defensive tactics worked out by Walter Winterbottom's assistant Bill Nicholson, who had watched their opening match against Austria. The Brazilians were not allowed to get into their smooth rhythm. The nearest they got to breaking down the disciplined England defence was when Vavá rocked the crossbar with a shot from twenty yards. Bill Slater played a key role in what was a triumph for England, sticking close to their ball master Didi and not giving him room to produce his devastating passes. The result forced the Brazilians to re-think, and they were persuaded to call up two exceptional but untested individualists: Garrincha and Pele. The rest is World Cup history! Slater finished the match with bruises on the inside of both knees where he had kept banging them together to stop Didi pulling off his favourite trick of threading the ball through an opponent's legs - now known as the nutmeg.

Source Notes
TheFA.com
Original newspaper reports


The Complete Book of the British Charts

Rothman's Yearbooks


Mike Payne's England: The Complete Post-War Record
Norman Giller, Football Author


André do Nascimento Pereira
cg