323 vs. Brazil



previous match

(7 days)
330 vs. Italy


331


362 vs. Brazil

Wednesday

,

13 May 1959




End of season Summer Tour of South America Match





Brazil 2 England 0

[2-0]

"Wednesday has been declared a public holiday in Brazil!"

Estádio Municipal, Maracanã, Rio de Janeiro


Kick-off (local): 3.30pm 7.30pm BST
The English delegation had requested a later kick-off because of the afternoon heat. The request was turned down.
Attendance: 'estimated at 150,000'; '151,000'; '200,000'

Brazil kicked off
Billy Wright won the toss
[1-0] Julinho 2
'Brilliant Pele whipped out a low pass to Canhoteiro who flashed the ball into the goalmouth.'
[1-0] Julinho strike hits the post 9
[2-0] Henrique 28
'Four baffled bewildered defenders lay dumbstruck as Julinho went past them and a pinpoint pass whistled into the goalmouth.'


Julinho was offside when he received the ball

[2-0] Bobby Charlton 30-yd strike hits the crossbar

41

England took a twenty-minute half time break, reappearing five minutes after the Brazilians
[2-0] Gilmar pushed Haynes shot onto the post

70

No T.V. or radio coverage
"A HELICOPTER landed in the centre of the field just thirty minutes before kick off [and out pranced the Vice-President of Brazil]. A LOUSDPEAKER announcement appealed to fans not to use bad language if they happened to be sitting next to a senorita. BALLOONS, six feet across, were sent up. Then they were set on fire, scattering hot debris on the stadium and even into the fringe of the crowd. A PLANE zoomed low trailing a cigarette advertisement. As the teams trotted on hundreds of fireworks rocketed over the pitch. It sounded like a battle."
- Thursday, 14 May 1959, Daily Mirror [Daily Herald]


"ENGLAND DOWN—BUT NOT DISGRACED"
Daily Mirror
Officials
Brazil
FIFA ruling on substitutes

England Party

Referee




Juan

Regis

Brozzi


37 (8 March 1922), Villa Ballester, Argentina

Prior to the match, Billy Wright received the Belfort Duarte Diploma and a gold medal, Brazil's highest sports honour. Only the third man to receive the award.



Both teams could make two substitutions (one goalkeeper) before the 44th min.

Linesmen
tbc


tbc




Brazil Team
Current World Champions

Colours:
Yellow jerseys

with lime green collars/cuffs,

light blue shorts

with white side stripe,

white socks with two narrow yellow and lime green stripes at top.

Rank:

No official ranking system established;
ELO rating 1st
Capt:
Nilton Santos
Manager:
Vicente Ítalo Feola, 49 (20 November 1909)
eighteenth match, W 13 - D 5 - L 0 - F 48 - A 143.
Team announced on Sunday, 10 May
Brazil Lineup
Gilmar
28
293 days
22 August 1930
G
SC Corinthians Paulista
41
40ᵍᵃ
dos Santos Neves, Gylmar
4
Nílton Santos
33
362 days
16 May 1925
LB
Botafogo FR
54
2

dos Santos, Nílton

2
Djalma Santos
30
75 days
27 February 1929
RB
Associaçã o Portuguesa de Desportos
53
1
Pereira Dias dos Santos, Djalma
5
Sani, Dino
26
355 days
23 May 1932
RHB
São Paulo FC
9
0
3
Bellini, Hilderado Luiz.
28
341 days
7 June 1930
CHB
CR Vasco da Gama
20
0
6
Peçanha de Carvalho, Orlando

, off 43rd min.

23
235 days
20 September 1935
LHB
CR Vasco da Gama
13
0
7

Julinho
29
288 days
29 July 1929
OR
SE Palmeiras
18
11
Botelho, Júlio
8
Didi
30
217 days
8 October 1928
IR
Botafogo FR
54
18
Pereira, Waldyr
9

Frade, Henrique
24
283 days
3 August 1934
CF
CR do Flamengo
3
1

10

Pelé
28
202 days
23 October 1940
IL
Santos FC
16
19
Atantes do Nascimento, Edson
11

Canhoteiro
26
231 days
24 September 1932
OL

São Paulo FC

14
1
Ribamar de Oliveira, José
Brazil Substitutes
Formiga, Chico, on 43rd min. for Orlando Peçanha
28
183 days
11 November 1930
CHB
SE Palmeiras
17
0
Ferreira de Aguar, Francisco
reserves:
tbc
team notes:
Vicente Feola had 22 players at his disposal. Garrincha was apparently the original inside-right, his place going to Julinho when the team was named thirty minutes before kick-off.
Many of the newspaper articles the following day report the players in the position traditionally assigned to their shirt number. But the Brazilians had a different number system.
World Cup Champions notes:

Brazil beat Sweden in Stockholm on 29 June 1958 to become the reigning World Champions, there are seven surviving members of that team in this fixture, Bellini, Didi, Gilmar, Orlando, Pelé, Djalma Santos and Nílton Santos.

2-3-5
Gilmar -
Djalma Santos, Nilton Santos -
Bellini, Orlando (Formiga), Sani -
Julinho, Didi, Henrique, Pele, Canhoteiro

Averages:

(start)
(finish)
Age

27

years 194 days
27 years 356 days
Appearances/Goals
26.8
4.6

England Team
Rank:

No official ranking system established;
ELO rating 4th
Colours:
The 1954 Umbro home shirt - White v-necked short-sleeved continental jerseys, white shorts, red socks with white calf hoop.


37th match, W 18 - D 12 - L 7 - F 92 - A 49.

⁴³
Capt:
Billy Wright³
87th W 48 - D 21 - L 18 - F 214 - A 125.⁹⁰
Manager:
Walter Winterbottom, 46 (31 March 1913), appointed as FA national director of coaching/team manager on 8 July 1946;
105th match, W 61 - D 25 - L 19 - F 288 - A 146, one abandoned.¹³⁹

Trainer: Harold Shepherdson
Team chosen by Selection Committee, headed by Joe Mears, on Sunday, 10 May.
England Lineup

two changes

to the previous match (Armfield & Deeley>Shaw & Bradley)

league position

(20 April)

Hopkinson, Edward
23
196 days
29 October 1935
G
Bolton Wanderers FC

(FL 4th)

9

13ᵍᵃ

2
Howe, Donald

23


213 days
12 October 1935
RB
West Bromwich Albion FC

(FL 8th)

17
0
778
3
Armfield, James C.

23


234 days
21 September 1935
LB
Blackpool FC

(FL 6th)

1
0

the tenth Blackpool player to represent England

4
Clayton, Ronald
24
281 days
5 August 1934
RHB
Blackburn Rovers FC

(FL 9th)

27
0
5
Wright, William A.
35
96 days
6 February 1924
CHB
Wolverhampton Wanderers FC

(FL TOP)

102
3
most apps

1952-59

6
Flowers, Ronald
24
289 days
28 July 1934
LHB
Wolverhampton Wanderers FC

(FL TOP)

5
0
779
7
Deeley, Norman V.
25
164 days
30 November 1933
OR
Wolverhampton Wanderers FC

(FL TOP)

1
0

the 28th Wanderer to represent England

8
Broadbent, Peter F.
25
363 days
15 May 1933
IR
Wolverhampton Wanderers FC

(FL TOP)

6
2
9
Charlton, Robert
21
214 days
11 October 1937
CF
Manchester United FC

(FL 2nd)

9
8

10

Haynes, John N.
24
208 days
17 October 1934
IL
Fulham FC

(FL2 2nd)

29
12
11
Holden, A. Douglas
28
227 days
28 September 1930
OL
Bolton Wanderers FC

(FL 4th)

3
0
reserves:
Ron Baynham (Luton Town FC

(FL 18th)

), Graham Shaw (Sheffield United FC

(FL2 3rd)

), Roy Gratrix (Blackpool FC

(FL 6th)

), Wilf McGuinness & Warren Bradley (both Manchester United FC

(FL 2nd)

), Jimmy Greaves (Chelsea FC

(FL 13th)

), Derek Kevan (West Bromwich Albion FC

(FL 8th)

).
team notes:
Billy Wright extends his record appearance tally, in his record 67th consecutive match.
records:
England's nin

th

fixture against the World Cup Champions, W 5 - D 1 - L 3 - F 20 - A 14.
post-match notes:
"At the reception after the match, all the England players were handed a scroll of paper with an inscription stating that each of us now owned an acre of land somewhere in the rainforests, courtesy of the Brazilian FA. We were also given an aquamarine stone." - Jimmy Armfield, Right Back To The Beginning
2-3-5
Hopkinson -
Howe, Armfield -
Clayton, Wright, Flowers -
Deeley, Broadbent, Charlton, Haynes, Holden.

Averages

:

Age
25 years 227 days
Appearances/Goals
19.0
2.3
Match Report
by Mike Payne
A DULL overcast day gave England a much better chance of a result when they took on the reigning World Champions, Brazil in the magnificent Maracana Stadium. The usual hot baking sun had relented just in time for this, the first of four tour games of the Americas.

Brazil made a late change, bringing in Julinho in place of the legendary Garrincha. It was a controversial choice but one that was entirely vindicated after only three minutes play. For it was at that moment that Julinho opened the scoring after splendid approach play by Canhoteiro and Henrique down the left. The goal had come before England even had time to settle and it took them until the eighth minute to manage their first attack.

Brazil showed plenty of the magical skills now so world famous and their build up was a joy to watch. The huge crowd were soon cheering their favourites passionately and Julinho earned more applause when another good effort struck the England post.

England, slow and ragged, only managed the occasional raid. Peter Broadbent and Norman Deeley both shot over, but their attacks were rare and Brazil emphasised their superiority with a second goal on 28 minutes. Julinho was again prominent in the move and his dazzling skill spread-eagled the England defence. Eventually his pass inside found Henrique completely unmarked and the centre-forward easily beat Eddie Hopkinson from close range.

The visitors managed two other efforts before the break: in the 37th minute when Johnny Haynes failed to get any real power behind his shot; four minutes later, Bobby Charlton hit a typical long-range effort which crashed against Gilmar's post. To complete an eventful end to the half, apparently uninjured, to be replaced by Fidelis in the 43rd minute.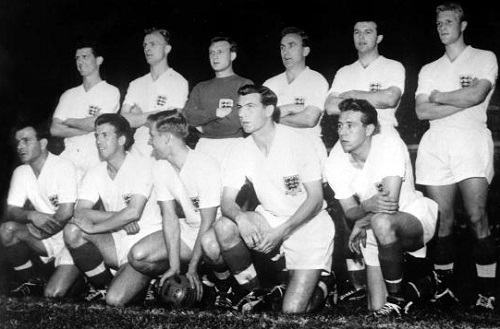 An incredible miss by Pelé in the 53rd minute, when he shot wide of an open goal, kept England in the game, but the visitors continually outplayed and even when they mounted a rare attack, they were thwarted by the strong Brazilian defence. The full-back pairing of Nilton Santos was particularly impressive.

On the hour, Haynes put in a worthy attempt, only to be foiled by a marvellous save by Gilmar. That shot ended one of the few good moves by England.

As the game petered out, the floodlights came on. The crowd had by now lost interest in the game as the result was not in question, but in the 73rd minute a fierce tackle by Ronnie Clayton on Pelé ended with the Brazilian star being carried off. Pelé returned to the action after a couple of minutes but the Blackburn Rovers player again incurred the wrath of the spectators after another fearsome challenge, this time on Canhoteiro.

Towards the end, England showed some improvement, although it was mainly due to the Brazilians easing off. Nevertheless, Haynes was unlucky to see another good drive pushed on to a post by Gilmar. This stung Brazil into more urgency and in the final minutes, Julinho, twice, and Canhoteiro put in shots that fizzed past Hopkinson's posts. At the end of the day England, although fighting hard, were well beaten.

Match Report
by Norman Giller
England's first match of a four-game summer tour was a minor test against the new world champions in front of 185,000 screaming fans in the Maracana Stadium in Rio.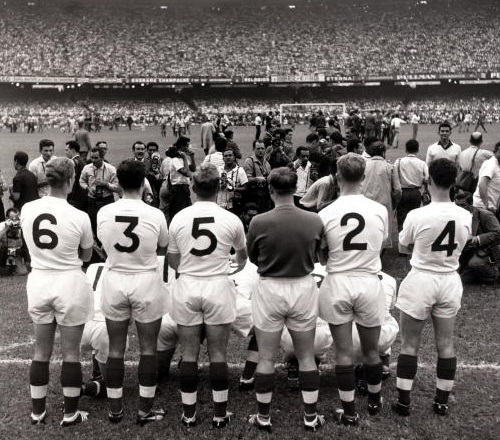 Bobby Charlton and Johnny Haynes rapped shots against the post after England had gone 2-0 down to early goals against a Brazilian team that featured both Didi and Pele in a rare appearance together. Blackpool's Jimmy Armfield was given a chasing he will not forget by Julinho in what was a baptism of fire for the Blackpool defender. He was called in to partner Don Howe in an out-of-club position at left-back. Norman Deeley, small, direct Wolves winger, was the fifth player to wear the number seven shirt since the departure of the one and only Tom Finney. Goalkeeper Eddie Hopkinson saved two certain goals from Pele, but could do nothing to stop a thunderbolt from Julinho, who had been picked in preference to the great Garrincha. As Eddie Hopkinson lay on the ground after being beaten all ends up by Julinho's shot, a posse of Brazilian radio commentators rushed on to the pitch to try to interview him. It is just as well that they could not translate his direct comments delivered in Lancastrian tones! England were well and truly beaten by the world champions and did well to keep their score down to just two goals. Didi and Pele together was just about the most potent combination that any team in the world could put together. Ronnie Clayton clattered into Pele with a tackle that led to the king being carried off on a stretcher for treatment. He soon came back, but for the rest of the game Clayton's life was made hell by the Brazilians fans who would not forgive him for hurting their idol. Shortly before he was carried off Pele missed a sitter right in front of an open goal. He was human, after all.

Match Report
as appears in the F.A. Yearbook 1959-60 page 35
The opening match of England's tour of the Americas was played in cloudy, oppressive conditions before a crowd of 160,000. Within two minutes Brazil, World Cup holders, were in the lead, when Julinho scored. Little was seen of England's attack, but the defence held out until the half-hour, when Henrique put Brazil further ahead after an opening had been made by Julinho. England fought harder in the second half, and Charlton and Haynes hit the Brazilian woodwork, but there could be no doubts that Brazil were the better side. Their ball-control was too much for our players, while for England, Clayton, Wright, and Flowers continued to make a strong-tackling half-back line, and Hopkinson made several fine saves.

Source Notes
TheFA.com
Original newspaper reports
The Complete Book of the British Charts


André do Nascimento Pereira

Rothman's Yearbooks




Mike Payne's England: The Complete Post-War Record




Norman Giller, Football Author
cg