FIRST MEETING vs. MEXICO




Mexico are the 34th different opposition




333


347 vs. Mexico



#


Sunday

,

24 May 1959




End of season Summer Tour of South America Match





Mexico 2 England 1

[1-1]


originally scheduled for Wednesday, 20 May.
The Mexican's wanted a switch of date, as they were certain the match would not be rained off on a Sunday morning.
Mexico is the 33rd nation visited by England

Estadio Olímpico Universitario, Avenida Insurgentes Sur, Chimalistac, Ciudad Universitaria, ciudad de México


Kick-off (local): 12noon 7.00pm BST (83°/7,218ft,2,200metres)


Attendance: '83,000';




[1-1]

Raúl Cardenas header 26
ran in to leap and head the ball past Hopkinson Alfredo Del Áugila's corner
[0-1] Derek Kevan header 17
from a Johnny Haynes corner

[1-1] Derek Kevan goal disallowed: offside

43


[2-1] Salvador Reyes 47
Carlos González final pass found Reyes to score from close range
[2-1] Salvador Reyes shot hit the crossbar
[2-1] Alfredo Del Áugila shot hit the post
[1-1] Jimmy Greaves goal disallowed: offside 46




[2-1] Derek Kevan goal disallowed: offside

73

No T.V. or Radio coverage


"ENGLAND CRASH TO THEIR THIRD TOUR DEFEAT"
Daily Mirror
Officials
Mexico
FIFA ruling on substitutes

England Party

Referee


Eunápio Gouveia de Quiroó


39 (22 August 1919) Brazil

Both teams could make two substitutions (one goalkeeper) during the match.

Linesmen
tbc


tbc




Mexico Team
Rank:

No official ranking system established;
ELO rating 21st
Colours:
Pale green jerseys with white v-neck collar/cuffs with red trim, white shorts, green socks.
Capt:
Toto Carbajal

Technical Director

:
Fernando Marcos Gonzalez, 45 (30 November 1913), appointed January 1959
third match, W 3 - D 0 - L 0 - F 7 - A 3.
Team announced on Saturday, 23 May.
Mexico Lineup
Carbajal Rodriguez, Antonio Félix
29
351 days
7 June 1929
G
Club León
24

33ᵍᵃ

2
Bosco Martínez Mora, Juan
23
264 days
2 September 1935
RB
CF América
2
0
3
Jáuregui Diaz, Ignacio
20
297 days
31 July 1938
LB
Atlas FC
1
0
4

Cardenas de la Vega, Raúl
30
206 days
30 October 1928
RHB
CA Zacatepec
14
2
5
del Muro, Jos´ de Jesús
21
175 days
30 November 1937
CHB
Atlas FC
6
0
6
Flores Córdoba, Francisco
33
101 days
12 February 1926
LHB
CD Guadalajara
6
0
7

del Águila Estrella, Alfredo
24
141 days
3 January 1935
OR
Deportivo Toluca FC
5
1
8

Reyes Monteón, Salvador
22
246 days
20 September 1936
IR
CD Guadalajara
11
4
9

González Cabrera, Carlos, unknown timing off
24
42 days
12 April 1935
CF
Atlas FC
5
2

10

Ponce Labastida, Sabás, off 23rd min
22
151 days
13 January 1937
IL
CD Guadalajara
1
0
11
Arellano Villegas, Raúl
24
85 days
28 February 1935
OL
CD Guadalajara
7
0
Mexico Substitutes

scoreline:

Mexico 0 England 1

Jasso Almaraz, Juan Antonio, on 23rd min. for Ponce
24
74 days
11 March 1935
F
CF América
6
5
0
1

scoreline:

Mexico 1 England 1

Hernández, Héctor, on for González - timing unknown
23
169 days
6 December 1935
F
CD Guadalajara
5
4
7
1

result:

Mexico 2 England 1

reserves:
not known
team notes:
Sabás Ponce himself was a last minute replacement for the first-choice Antonio Jasso, who was unfit after injuring his ankle in a practice match on Sunday.
Hector Hernandez was also considered as a starter, but a collarbone injury meant he was not match fit.
2-3-5
Carbajal -
Bosco, Jáuregui -
Cardenas, del Muro, Flores -
del Águila, Reyes, González (Hernández), Ponce (Jasso), Arellano

Averages:

(start)
(finish)
Age

25

years 87 days
25 years 126 days
Appearances/Goals
7.4
0.6

England Team
Rank:

No official ranking system established;
ELO rating 6th
Colours:
The 1954 Umbro home shirt - White v-necked short-sleeved continental jerseys, white shorts, white socks with red/white/blue calf hoop.


38th match, W 18 - D 12 - L 8 - F 93 - A 51.

⁴³
Capt:
Billy Wright³
89th W 48 - D 21 - L 20 - F 216 - A 131.⁹⁰
Manager:
Walter Winterbottom, 46 (31 March 1913), appointed as FA national director of coaching/team manager on 8 July 1946;
107th match, W 61 - D 25 - L 21 - F 290 - A 152, one abandoned.¹³⁹

Trainer: Harold Shepherdson
Team chosen by Selection Committee, headed by Joe Mears, on Friday, 22 May.
England Lineup

two changes

to the previous match (McGuinness & Kevan & Kevan>Flowres & Deeley)

league position

(20 April)

Hopkinson, Edward
23
207 days
29 October 1935
G
Bolton Wanderers FC

(FL 4th)

11

19ᵍᵃ

2
Howe, Donald

23


224 days
12 October 1935
RB
West Bromwich Albion FC

(FL 8th)

19
0
3
Armfield, James C.

23


245 days
21 September 1935
LB
Blackpool FC

(FL 6th)

3
0
4
Clayton, Ronald
24
293 days
5 August 1934
RHB
Blackburn Rovers FC

(FL 9th)

29
0
5
Wright, William A.
35
107 days
6 February 1924
CHB
Wolverhampton Wanderers FC

(FL TOP)

104
3
most apps

1952-59

6
McGuiness, Wilfred, injured off 31st min
21
218 days
25 October 1937
LHB
Manchester United FC

(FL 2nd)

2
0
final app 1958-59
7
Holden, A. Douglas, injured off 57th min.
28
238 days
28 September 1930
OR
Bolton Wanderers FC

(FL 4th)

5
0
final app 1959
8
Greaves, James P.
19
93 days
20 February 1940
IR
Chelsea FC

(FL 13th)

2
1
9

Kevan, Derek T.
24
79 days
6 March 1935
CF
West Bromwich Albion FC

(FL 8th)

12
7
10

Haynes, John N.
24
219 days
17 October 1934
IL
Fulham FC

(FL2 2nd)

31
12
11
Charlton, Robert
21
225 days
11 October 1937
OL
Manchester United FC

(FL 2nd)

11
8
England Substitutes

scoreline:

Mexico 1 England 1

Flowers, Ronald, on 31st min. for McGuiness
24
300 days
28 July 1934
LHB
Wolverhampton Wanderers FC

(FL TOP)

7
6
0

1

scoreline:

Mexico 2 England 1

Bradley, Warren, on 57th min. for Holden
25
338 days
20 June 1933
OR
Manchester United FC

(FL 2nd)

2
1
1
1

result:

Mexico 2 England 1

reserves:
Ron Baynham (Luton Town FC

(FL 18th)

), Graham Shaw (Sheffield United FC

(FL2 3rd)

), Roy Gratrix (Blackpool FC

(FL 6th)

), Norman Deeley & Peter Broadbent (Wolverhampton Wanderers FC

(FL TOP)

)
substitute notes:
For the first time, two substitutes are used by England. First time that both replaced players never played for England again. McGuinness is the youngest England player to be replaced so far.
Bradley is the first England substitution to be made in the second half.
Both were replaced because of the heat and the thin Mexican air - they both received an emergency intake of oxygen in the dressing room.
team notes:
Billy Wright extends his record appearance tally, in his record 69th consecutive match.
Ron Clayton was playing with a heavily sunburned back, so much so that the blisters burst during the match. Following the match, a Mexican doctor bathed Clayton's back in methylated spirits!
It was after this tour that the FA heeded Winterbottom's advice to always travel with a team doctor.
Ron Flowers is the 45th player to have made seven-or-more appearances for England under Walter Winterbottom/ISC/post-war.
The starting appearances of Greaves and McGuiness means 105 players in the same period have won a second appearance, out of 129.

records:
For the third time, England have lost three friendly matches in a row.
This defeat equals an England record of five away friendly matches without victory, set twice before in 1873-80 and 1954-55.
2-3-5
Hopkinson -
Howe, Armfield -
Clayton, Wright, McGuinness (Flowers) -
Holden (Bradley), Greaves, Kevan, Haynes, Charlton.

Averages

:

(start)
(finish)
Age

24

years 229 days
24 years 246 days
Appearances/Goals
20.8
2.7
Match Report
by Mike Payne
ENGLAND suffered their third defeat in a row on this tour with this match in Mexico probably the most disappointing result of all. Having been well beaten in Brazil and Peru, they were looking to do better against a Mexican side not generally considered one of South America's strongest.

England kicked-off under a blazing sun and in the rarified air of Mexico City. Bobby Charlton was quickly in the action forcing a good save from Carbajal low down. The Mexicans who favoured a square passing style made little headway against the England defence despite enjoying most of the possession.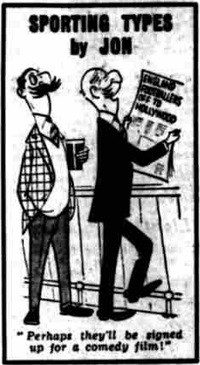 After ten minutes, Billy Wright was forced into heading a dangerous Mexican centre over his own crossbar to rescue his side whilst at the other end, Derek Kevan put in a header which was well held by the goalkeeper.

Then after 17 minutes, England took the lead. A corner was swung over and this time Kevan made his header count. This stung Mexico into retaliation and Reyes shot wide in one attack. England always looked likely to break dangerously though and Charlton almost added a second goal with a typical effort which flew just past Carbajal's post.

In the 23rd minute, Mexico made a change in their line-up when they brought on Jasso as substitute for Ponce. This move soon paid handsome dividends as three minutes later the home side equalised. Again the goal stemmed from a corner and this time it was Cardenas who ran in to beat Eddie Hopkinson from eight yards with a header.

In the 31st minute, England also made a substitution with Ron Flowers replacing Wilf McGuiness and later in the half two fine saves by Carbajal foiled two more England goal attempts. In the opening seconds of the second half, Jimmy Greaves netted following a pass from Kevan but unfortunately the referee disallowed the goal for offside.

That was crucial because a minute after that incident, Mexico took the lead. Gonzalez had the England defence all over the place and his final pass found the unmarked Reyes who had an easy task to score from close range. The earlier poise of the visitors' defence was now gone and Mexico had most of the play in the remaining period.

Warren Bradley replaced Doug Holden in the 57th minute but it was Wright who saved England again with another timely intervention of a dangerous Mexico attack. At this stage the Mexicans were well on top and missed several fine opportunities to add to their score.

So, in the end it was another disappointing display from a very jaded England team. They had now won only two of their last 14 games.

Match Report
by Norman Giller
England scored first through Derek Kevan, but were burned out within an hour of kicking off in high-altitude ciudad de México. Despite officially using substitutes for the first time they were run off their feet in the last 30 minutes. Jimmy Greaves swept the ball into the net just after half-time, but the referee ruled it off-side. Moments later Mexico snatched a second goal and from then on England were on the retreat as they struggled to breathe in Mexico's thin air. Eddie Hopkinson performed wonders in the England goal, but he was often confused by the flight of the ball. Wilf McGuinness was the first player to be substituted after half an hour. He was affected by the heat and had to go to the dressing-room for an emergency intake of oxygen. Doug Holden was the next player hit by the heat, and he was replaced in the fifty-seventh minute by Warren Bradley. It was a match that Ronnie Clayton would never forget. He had been so badly burned while sunbathing that his back came up in a mass of blisters. They burst during the game, and in the dressing-room afterwards the Mexican doctor bathed the Blackburn skipper's back with mentholated spirits. It was this more than anything that finally convinced the Football Association that they should follow Walter Winterbottom's advice and always travel with a team doctor. It was hardly the best organised tour. Ron Flowers at one stage found himself sharing a hotel room with six complete strangers!

Match Report
as appears in the F.A. Yearbook 1959-60 page 36
After this depressing start to the tour, McGuinness and Kevan were included in the side to meet Mexico; two substitutions were also made during the course of the match. This time England started well, and deserved the lead which Kevan gave them when he headed home Haynes's pass in the 17th minute. They failed, however, to take full advantage of their early superiority, and slumped when Cardenas headed in Del Augila's corner—a rather easy equaliser. Mexico's winning goal came early in the second half, when Reyes scored from a pass by Gonzalez. During further attacks the Mexicans hit a post and, despite a late rally by England, they were worthy winners. Reyes was the architect of the Mexican victory, but the whole team played fast and accurate football suitable to the conditions. AGain Clayton and Greaves proved to be England's best players, but as in the previous matches, there were too many weaknesses elsewhere.

Source Notes
TheFA.com
Original newspaper reports
The Complete Book of the British Charts


Macario Reyes Padilla

Rothman's Yearbooks




Mike Payne's England: The Complete Post-War Record




Norman Giller, Football Author
cg