England Football Online
Results 1955-1960
Page Last Updated 13 May 2022
Österreichisch
271 vs. Austria




324


350 vs. Austria

Sunday

,

15 June 1958


The VM Coupe Jules Rimet Fotboll Finals First Phase Pool 4 match five/six



England 2 Austria 2

[0-1]


Ryavallen Stadion, Idrottsgatan, Borås, Västra Götalands Iän, Sweden
Kick-off (CET & BST): 7.00pm
Attendance: 15,872;

[0-1] Karl Koller volley 16


'met the ball first time and hit a screamer from 25 yards into the net after Buzek had another fierce shot blocked'

6.0 Sing it Again 6.30 Just For You
7.0 Does The Team Think? 7.30 News 7.35 Semprine Serenade
8.05 World Cup: England v. Austria
9.0 Sunday Half-Hour 9.30 Follow The Stars 10.30 News 10.40 Don Lang

[1-1] Johnny Haynes 56


running in with a simple 2yd tap-in after Slater's freekick was headed across by Kevan for A'Court's weak shot to be parried by the keeper.



[2-2] Derek Kevan 74
'ran on to a pass from Johnny Haynes and rammed the ball in.'
[2-2] Bobby Robson scores disallowed: handball 75


[1-2] Alfred Körner 73
'fastened on to it and flashed the ball home from 20 yards in off the right upright after Hans Buzek, who had switched to outside-left, flung across a long pass.'

Second Half live on The Light Programme - Commentator: tbc


"ENGLAND'S LUCKY ESCAPE"
Daily Mirror
Officials

England Party
FIFA ruling on NO substitutes
Austria Party
Referee (black)
Johann Bronkhurst


44 (3 March 1914), Velp

There are no substitutions whatsoever in the World Cup Final matches.

orange

Linesmen

István Zsolt


36 (28 June 1921), Budapest

Albert Dusch


45 (6 Dec 1912), Kaiserslautern

England Team
Rank:

No official ranking system established;
ELO rating 4th to 3rd
Colours:
The 1954 Umbro home uniform - White v-necked short-sleeved continental jerseys, blue shorts, red socks with white calf hoop.


31st match, W 17 - D 6 - L 5 - F 80 - A 39.

⁴³
Capt:
Billy Wright³
80th W 46 - D 18 - L 16 - F 201 - A 115.⁹⁰
Manager:
Walter Winterbottom, 45 (31 March 1913), appointed as FA national director of coaching/team manager on 8 July 1946;
98th match, W 59 - D 22 - L 17 - F 275 - A 136, one abandoned.¹³⁹

Trainer: Harold Shepherdson

Team chosen by Selection Committee, headed by Joe Mears, on Saturday, 14 June.

England Lineup

unchanged

from the previous match

FINAL league position

s (30 April)

1
McDonald, Colin A.
27
243 days
15 October 1930
G
Burnley FC

(FL 6th)

4

5ᵍᵃ

2
Howe, Donald

22


246 days
12 October 1935
RB
West Bromwich Albion FC

(FL 4th)

10
0
3
Banks, Thomas
28
217 days
10 November 1929
LB
Bolton Wanderers FC

(FL 15th)

4
0
4
Clamp, H. Edwin
23
274 days
14 September 1934
RHB
Wolverhampton Wanderers FC

(FL CHAMPIONS)

4
0
final app 1958
5
Wright, William A.
34
129 days
6 February 1924
CHB
Wolverhampton Wanderers FC

(FL CHAMPIONS)

95
3
most apps

1952-58

6
Slater, William J.
31
47 days
29 April 1927
LHB
Wolverhampton Wanderers FC

(FL CHAMPIONS)

9
0
7
Douglas, Bryan
24
19 days
27 May 1934
OR
Blackburn Rovers FC

(FL2 2nd)

10
1
8
Robson, Robert W.
25
117 days
18 February 1933
IR
West Bromwich Albion FC

(FL 4th)

5
2
9

Kevan, Derek T.
23
101 days
6 March 1935
CF
West Bromwich Albion FC

(FL 4th)

10
6
10

Haynes, John N.
23
241 days
17 October 1934
IL
Fulham FC

(FL2 6th)

23
9
21
A'Court, Alan
23
260 days
30 September 1934
OL
Liverpool FC

(FL2 4th)

3
1
reserves:
not permitted
team notes:
Billy Wright extends his record appearance tally, in his record sixtieth consecutive match. He had a last minute fitness test before it was decided he could continue his record streak.
35 players have now made ten-or-more appearances under Walter Winterbottom/ISC/post-war. Whereas, in the same period, 65 players have now made four-or-more appearances.
records:
Predominantly because of the World Cup Finals, England have played ten matches in a season for only the third time.
For the second match in a row, England produced a drawing record. This time, drawing a match for the fourth match in a row.
For the second time, England have recorded four draws in a single season. For the first time in a single year.
For the first time since 1936 (third time overall), England have gone five matches without victory.
2-3-5
McDonald -
Howe, Banks -
Clamp, Wright, Slater -
Douglas, Robson, Kevan, Haynes, A'Court.

Averages:

Age
26 years 74 days
Appearances/Goals
16.3
1.8

Austria Team
Rank:

No official ranking system established;
ELO rating 16th to 15th
Colours:
Red jerseys with white winged collars, white shorts, red socks

with white tops

.
Capt:
Gerhard Hanappi
Manager:
Karl Argauer, 47 (15 November 1910), appointed May 1956


18th & final match, W 18 - D 7 - L 5 - F ? - A ?

Austria Lineup
Szanwald, Rudolf
26
344 days
6 July 1931
G
Wiener SC
4

12ᵍᵃ

15
Kollman, Walter
26
2 days
17 June 1932
RB
SC Wacker Wien
15
0
4
Swoboda, Franz
25
120 days
15 February 1933
LB
FK Austria Wien
16
0
5
Hanappi, Gerhard
28
341 days
9 July 1929
RHB
SK Rapid Wien
70
10

most apps

1957-58

3
Happel, Ernst
32
198 days
29 November 1925
CHB
SK Rapid Wien
50
4
6

Koller, Karl
29
127 days
8 February 1929
LHB
First Vienna FC
42
4
17
Kozlicek, Ernst
27
139 days
27 January 1931
OR
SC Wacker Wien
11
2
final app 1954-58
8
Kozlicek, Paul
20
328 days
22 July 1937
IR
SC Wacker Wien
7
1
9

Buzek, Johann
20
24 days
22 May 1938
CF
First Vienna FC
15
6
10

Körner, Alfred
32
121 days
14 February 1926
IL
SK Rapid Vien
45
13
11
Senekowitsch, Helmut
24
236 days
22 October 1933
OL
SK Sturm Graz
7
2
reserves:
not permitted
records:
Austria had nothing to play for in this match, having lost their opening two group matches and were goalless at the bottom of the Group Four table. Karl Koller's sixteenth minute goal was their first goal scored in the 1958 Finals Tournament.
2-3-5
Szanwald -
Kollman, Swoboda -
Hannapi, Happel, Koller -
Kozlicek, Koylicek, Buzek, Körner, Senekowitsch

Averages:

Age
26 years 283 days
Appearances/Goals
25.6
3.6
Match Report
by Mike Payne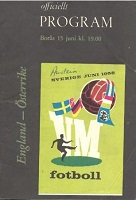 ENGLAND knew exactly what they had to do against the Austrians i this crucial World Cup game but at half-time the victory they needed seemed a million miles away. What a dismal performance they put up! It was even harder to take and doubly disappointing after their brilliant display against Brazil. Nothing went right in the opening half. There was no cohesion, no thrust and only some desperate defending prevented an even worse disaster.

The crowd, once again, was boosted by the presence of around 300 British sailors and their white hats made an interesting sight. But they must have been very frustrated by England's performance, there was plenty of effort but no real pattern emerged. Johnny Haynes tried hard to lift his colleagues but when Austria scored after 15 minutes nobody in the stadium was particularly surprised.

It was a cracking goal too with Koller firing in a brilliant 25-yard shot which gave Colin McDonald no chance. England continually struggled and before half-time Austria had several other near misses. Two more thunderbolts by Koller and an open goal missed chance from the tall Buzek threatened to finish off England. In this spell McDonald, Billy Wright and Tommy Banks strove manfully to repel the eager Austrian attack and McDonald particularly was again in top form. He made some fine saves and effectively kept England in the match.

As against both the Soviet Union and Brazil, though, England proved themselves very much the second half side and they were thankfully a different proposition after the break. Within five minutes of the restart Haynes had fired in three fierce shots, all just off target. Shortly afterwards Alan A'Court saw a good effort diverted for a corner. This brought the strains of the Last Post from a bugler amongst the navy lads, but suddenly their spirits were lifted by an England equaliser.

Bill Slater planned a free-kick into the area where Derek Kevan headed it on to A'Court who immediately hit a right foot shot at goal. Szanwald blocked that effort but Haynes moved in smartly to hit home the rebound.

The game had changed dramatically and from then on it was nearly all England as the ball playing Austrians faded. All of the England forwards put in goal attempts although usually off target. This was were Tom Finney was sorely missed as his coolness in finishing would surely have paid dividends. Despite their new found dominance. England's build up was slow and their finishing was poor as they searched desperately for the winner. One wondered how the two-footed power shooting of young Bobby Charlton might have used some of the chances that came England's way.

With 20 minutes remaining, disaster struck. Austria, in a rare attack, regained the lead. Once more it was a long-range shot this time from Körner. McDonald moved late for the ball and could have been unsighted, it was his only blemish on another fine display of goalkeeping. Unfortunately, at this level players can be severely punished for even the slightest mistake.

England now had to dig deep into their reserves of energy to get out of trouble but they showed great character by swiftly coming back at Austria. A speedy-interchange of passes between Haynes and Bobby Robson allowed Haynes to put Kevan through for a second, and well taken, equaliser. For the remainder of the game England pushed forward to try and snatch the winner but bad luck and bad finishing combined to prevent them gaining the win that would have seen them automatically go on to the next stage.

It now remained that England must play-off against the Soviet Union to see who finally qualified from the group.

Match Report
by Norman Giller
England, needing to beat Austria to qualify for the quarter-finals, were trailing 1-0 at half-time to a thunderbolt of a goal scored from thirty yards by left-half Koller. Johnny Haynes equalised ten minutes into the second half, and then the Austrians regained the lead following a corner. The ball was cleared to Koerner, who beat goalkeeper Colin McDonald with another long-range shot. Derek Kevan, whose bulldozing tactics had brought him severe criticism, pulled England level again ten minutes from the end after running on to a Johnny Haynes pass. Five minutes later they celebrated what they thought was a winning goal after Bobby Robson had breasted down the ball and shot all in one sweet movement. The referee ruled that Kevan had obstructed the goalkeeper. This draw meant England had to play off against Russia, their third meeting in a month. England were fuming over Bobby Robson's disallowed goal. Derek Kevan's challenge on the goalkeeper would have been perfectly acceptable in the English league. There was a different interpretation of the rules by Continental referees. Most experts were fully expecting Bobby Charlton to be called in for his World Cup debut for the deciding match against the Russians, but Walter Winterbottom and the selectors decided the pressure would be too great for him.

Source Notes
TheFA.com
Original newspaper reports
The Complete Book of the British Charts
AustriaSoccer

Rothman's Yearbooks


Mike Payne's England: The Complete Post-War Record


Norman Giller, Football Author
cg