"HEARTS OF OAK"
Daily Mirror
Officials
England
FIFA ruling on substitutes
Czechoslovakia
Referee
Albert Alsteen


42 (13 August 1916), Liége, Belgium

yellow flag

Linesmen

red flag

Leonard Clifford Howes


44 (28 March 1914) Great Yarmouth

Gordon Dillon Roper


40 (11 May 1918) Newmarket

England Intermediate Team
Rank:

No official ranking system established;
Colours:
The 1954 Umbro away uniform - Red v-necked short-sleeved continental jerseys, white shorts, red socks with white tops.
Capt:
Jimmy Armfield


2nd, W 2 - D 0 - L 0 - F 7 - A 1.

Manager:
Walter Winterbottom, 45 (31 March 1913), appointed as FA national director of coaching/team manager on 8 July 1946;


14th intermediate match, W 10 - D 2 - L 2 - F 43 - A 15.

Trainer: Ron Greenwood (Arsenal FC)
Team chosen by the Intermediate Selection Committee, headed by Frank Adams, on Monday, 29 September.
England Lineup

unchanged

from the previous U23 match

league position

(29 September)

Hodgkinson, Alan
22
60 days
16 August 1936
G
Sheffield United FC

(FL2 6th)

7

6ᵍᵃ

2
Armfield, James
23
24 days
21 September 1935
RB
Blackpool FC

(FL 7th)

4
0
3
Allen, Anthony
18
322 days
27 November 1939
LB
Stoke City FC

(FL2 5th)

2
0
4
Setters, Maurice E.
21
303 days
16 December 1936
RHB
West Bromwich Albion FC

(FL 8th)

6
0
5
Scott, Melyvn Douglas
18
19 days
26 September 1939
CHB
Chelsea FC

(FL 4th)

2
0
6
McGuinness, Wilfred
20
355 days
25 October 1937
LHB
Manchester United FC

(FL 6th)

2
0
7
Brabrook, Peter
20
341 days
8 November 1937
OR
Chelsea FC

(FL 4th)

5
1
8

Greaves, James P.
18
237 days
20 February 1940
IR
Chelsea FC

(FL 4th)

6
7

=most goals

1958

9



Baker, Joseph H.
18
90 days
17 July 1940
CF
Hibernian FC, Scotland

(SL 8th)

2
0
10

Charlton, Robert
21
3 days
11 October 1937
IL
Manchester United FC

(FL 6th)

2
5
11

Scanlon, Albert Joseph
23
4 days
10 October 1935
OL
Manchester United FC

(FL 6th)

2
0
reserves:
Tony Macedo (Fulham FC

(FL2 TOP)

), Alan Williams (Bristol City FC

(FL2 3rd)

) and Ray Parry (Bolton Wanderers FC

(FL 3rd)

)... Parry was replaced with Jimmy Murray (Wolverhampton Wanderers FC

(FL 9th)

) on

10th October because of an injury. Murray then received his own injury, and he was replaced with

Peter Dobing (Blackburn Rovers FC

(FL 13th)

) on 13th October.
team notes:
The International Selection Committee were in attendance at this match, looking at any last minute alterations to their Senior team to face Russia next week.
2-3-5
Hodgkinson -
Armfield, Allen -
Setters, Scott, McGuinness -
Brabrook, Greaves, Baker, Charlton, Scanlon.

Averages:

Age
20 years 260 days
Appearances/Goals
3.7
0.9

Czechoslovakia Intermediate Team
Rank:

No official ranking system established;
Colours:
'

The Czechs, wearing the white'

jerseys, red shorts, and blue stockings
Capt:
Selector:
Czechoslovakia Lineup
1
Holes, Júliuš
19
211 days
18 March 1939
G
DŠO Dynamo Žilina
2
Lála, Jan
20
35 days
10 September 1938
RB
VTJ Dukla Pardubice
4
Stary
LB
16
Kos
RHB
3
Horváth, Alexander
19
291 days
28 December 1938
CHB
DŠO Dynamo Žilina
4
Jarábek, Stanislav
19
300 days
19 December 1938
LHB
VTJ Dukla Pardubice
7
Pospíchal, Tomáš
22
111 days
26 June 1936
OR
DSO Baník Ostrava

8

Obert, Jozef, injured off 37th min.
20
284 days
4 January 1938
IR
Ruda Hvĕzda Brno
9
Scherer, Adolf
20
193 days
5 May 1938
CF
TJ ČH Bratislava
10
Molnar, Pavol
22
244 days
13 February 1936
IL
TJ ČH Bratislava
11
Koiš, Ľudovít
23
67 days
9 August 1935
OL
FC Spartak Trnava
Czechoslovakia Substitute

scoreline:

England 2 Czechoslovakia 0
12
Korinek

, on 37th min. for Obert

result:

England 3 Czechoslovakia 0
unused substitutes:
not known
pre-match notes:
The Czechs were given a civic reception in Norwich on Tuesday, 14th. The team then

'put in a spell of training under floodlights at a ground on the outskirts of the city'

team notes:
Kos was a last moment replacement for original left-half, Andrej Kvašñák
2-3-5
Holes -
Stary, Lala -
Jarábek, Horváth, Kos -
Pospíchal, Obert (Korinek), Scherer, Molnar, Koiš

Averages:

Age
20 years 355 days⁹
Appearances/Goals
Match Report
by Bill Holden, Daily Mirror, Thursday, 16 October 1958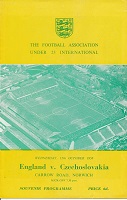 ENGLAND'S Selectors meet tomorrow to pick the team to play Russia at Wembley next Wednesday—and the success of the Under-3 team hear tonight should leave them with no problems. The nimble Czechs with their guile and skill were a tremendously difficult handful for the England youngsters.
But these lads, playing in unfamiliar red shirts, were boys with the hearts and craft of men. Three of them, left half Wilf McGuinness; outside right Peter Brabrook and inside left Bobby Charlton, have already been in the full England side and I believe they will keep their places.
The selectors are looking for a deputy for injured Tommy Banks. Tonight, Tony Allen, fair-haired Stoke City left back, only eighteen, showed that he can safely be given the job.
Unhappily there can be no room in the full England side for right half Maurice Setters, a dynamo of energy and inspiration. He was great, and if he had any fault, it was in trying to do too much work. Once the Czechs' initial thrusts had been blunted, it was only a matter of how long it would take England to go ahead. In the fifth minute Brabrook went on a great sprint down the right wing and his cross was clutched by the 'keeper at the foot of the post. Then Charlton brilliantly manoeuvred an opening for centre forward Joe Baker, but he was too slow to grasp it. The thirteenth minute was fatal for the Czechs, Setters sent inside right Jimmy Greaves streaking through. He flipped the ball to Charlton as the inside man yelled 'yes' and Mr. Dynamite Charlton blasted it in. Another Charlton thunderbolt was saved just as it was screaming inside the post, and he created another chance which Baker failed to take. Yet, in the thirty-third minute, Baker, the weak link of the England attack, harassed goalkeeper Holes and centre half Horváth into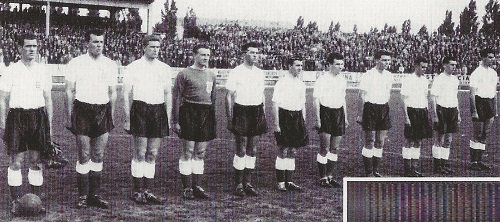 losing possession.
Baker flicked a square pass for Greaves to hit the ball into an empty net.
Again Charlton, writing his name in flame, juggled through. But as the 'keeper catapulted across the goal Charlton's shot flashed inches wide. Promptly the Czechs brought on a substitute, Korinek, to replace Obert with the obvious job of helping to mark Charlton. It made little difference. In the first five minutes after the interval England forced four corners. The Czechs, still slick and dangerous were tamed every time by the England defence.
Allen earned roars of applause for his cool work.
In the sixty-third minute Charlton hammered in England's third. He created an attack which the Czechs could never properly clear, and with the ball bobbing about the penalty area as if it were in a pin-table machine. Charlton first-timed it from the edge of the box—a shot that the 'keeper never even saw. On the one occasion that the Czechs managed to cut through the England defence Scherer shot wide. Baker, who improved and increased his pace as the game went on, came close to scoring in the 71st minute, but it was not his night.
Put through perfectly by Scanlon nine minutes from the end, he slipped and missed his kick with only the keeper to beat.
Next when Baker went through brilliantly by himself, Charlton was not quick enough to run onto his pass. But these are minor quibbles. Baker undoubtedly fits in with this attack and will match the best.
THE FUTURE OF ENGLISH SOCCER LOOKS BRIGHTER.

Match Report
as appears in the F.A. Yearbook 1959-60 page 32
England, fielding the same Under-23 side that beat Poland, were again successful in this match at Norwich. This time their opponents fought hard all the way, and the match maintained its interest to the end. A move after a quarter-of-an-hour by Setters and Greaves gave Charlton the chance to put England ahead, and Greaves made it two before the interval after good work by Baker. In the second half Charlton scored a third after Scanlon had hit the post. Once again, Charlton stood out as the completer footballer, and he was well supported by Allen, Scott, Greaves and Scanlon. The Czech team tackled hard and cleanly, and were perhaps a little unlucky not to score.

Source Notes
Official matchday programme
FA Yearbook 1959-60

Rothman's Yearbooks




Original newspaper reports
cg