"YOUNG ENGLAND WERE WRECKED"
Daily Mirror
Officials

from Scotland

Wales
UK ruling on substitutes
England
Referee
W. Brittle
Glasgow
This is the Welsh's first ever fixture at intermediate level
Linesmen
W.F. Guild


(Glasgow)

W.M. Richmond


(Kilmaurs)

Wales Intermediate Team
Rank:

No official ranking system established;
Colours:
Made by Umbro - Red continental jerseys with white v-neck collars/cuffs, white shorts with red side stripe, red socks with white tops.
It appears that the left cuff has been sewn over with a black armband
Capt:
Mel Charles
Selector:
International Selection Committee
Team announced on Monday, 14 April 1958

Manager:

Jimmy Murphy

(Manchester United)

Trainer:

J. Jones

(Wrexham AFC)

Wales Lineup
1
Jones, Kenneth
22
111 days
2 January 1936
G
Cardiff City FC
1
1ᵍᵃ
2
Edwards,

Leonard

Trevor
21
89 days
24 January 1937
RB
Charlton Athletic FC, England
1
0
3
Hopkins, Melvyn
23
167 days
7 November 1934
LB
Tottenham Hotspur FC, England
1
0
4
Edwards, Malcolm
18
180 days
25 October 1939
RHB
Bolton Wanderers FC, England
1
0
5
Charles, Melvyn
22
344 days
14 May 1935
CHB
Swansea Town FC
1
0
only u23 app 1958
6
Baker, Colin

Walter

23
126 days
18 December 1934
LHB
Cardiff City FC
1
0
only u23 app 1958
7

Stephens, John
22
301 days
26 June 1935
OR
Hull City AFC, England
1
0
8

Orritt, Bryan
21
60 days
22 February 1937
IR
Birmingham City FC, England
1
1
9
Baker,

Thomas

George
22
17 days
6 April 1936
CF
Plymouth Argyle FC, England
1
0
10

Leek, Kenneth
22
271 days
26 July 1935
IL
Northampton Town FC, England
1
1
only u23 app 1958
11
Jones, Clifford
23
75 days
7 February 1935
OL
Tottenham Hotspur FC, England
1
0
reserve:
Ron Howells (Wolverhampton Wanderers FC, England)
team notes:
Captain Mel Charles is the younger brother. Whereas the Jones' are cousins.
2-3-5
K.Jones -
T.Edwards, Hopkins -
M.Edwards, Charles, C.Baker -
Stephens, Orritt, G.Baker, Leek, C.Jones

Averages:

Age
22 years 59 days
Appearances/Goals
1.0
0

England Intermediate Team
Rank:

No official ranking system established;
Colours:
The 1954 Umbro home uniform - White v-necked short-sleeved continental jerseys, black shorts, white socks
Capt:
Don Howe


first, W 0 - D 0 - L 0 - F 1 - A 2.

Manager:
Walter Winterbottom, 45 (31 March 1913), appointed as FA national director of coaching/team manager on 8 July 1946;


twelfth intermediate match, W 8 - D 2 - L 2 - F 36 - A 14.

Trainer:

Harold Shepherdson

Team chosen by the Intermediate Selection Committee, headed by Frank Adams, on Monday, 14 April.
England Lineup
four changes to the previous U23 match

league position

(14 April)

Hodgkinson, Alan
21
250 days
16 August 1936
G
Sheffield United FC

(FL2 6th)

5

5ᵍᵃ

2
Howe, Donald
22
193 days
12 October 1935
RB
West Bromwich Albion FC

(FL 3rd)

6
0
3
Harris, Gerald W.
22
197 days
8 October 1935
LB
Wolverhampton Wanderers FC

(FL TOP)

4
0
4
Setters, Maurice E.
21
128 days
16 December 1936
RHB
West Bromwich Albion FC

(FL 3rd)

4
0
5
Smith, Trevor
22
10 days
13 April 1936
CHB
Birmingham City FC

(FL 13th)

11
0

most U23 apps

55-58

55
6
Iley, James
22
129 days
15 December 1935
LB
Tottenham Hotspur FC

(FL 4th)

1
0
56
7
Riley, Howard
19
248 days
18 August 1938
OR
Leicester City FC

(FL 19th)

1
0

8

Hayes, Joseph
22
93 days
20 January 1936
IL
Manchester City FC

(FL 5th)

2
1
9

Clough, Brian H.
23
33 days
21 March 1935
CF
Middlesbrough FC

(FL2 7th)

2
1
oldest u23 scorer so far
10


Greaves, James P.
18
62 days
20 February 1940
IR
Chelsea FC

(FL 11th)

4
5
11
A'Court, Alan
23
205 days
30 September 1934
OL
Liverpool FC

(FL2 3rd)

5
1
reserves:
Eddie Clamp (Wolverhampton Wanderers FC

(FL TOP)

).
2-3-5
Hodgkinson -
Howe, Harris -
Setters, Smith, Iley -
Riley, Hayes, Clough, Greaves, A'Court.

Averages:

Age
21 years 274 days
Appearances/Goals
4.1
0.6
Match Report
by Bill Holden, Daily Mirror, Thursday, 24 April 1958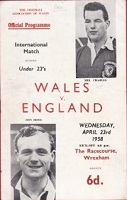 NOT a Welshman left the ground as this game drew toward its reputation-shattering close at Wrexham last night. The side that Wales had rustled up after scouring the Third Division were holding the pride of England 1—1 in their first Under-23 international. It was a performance the fans had not dared to dream of. Now they waited, praying for the miracle of victory.
AND IT CAME IN THE LAST MINUTE.
Bill Stephens, the Hull outside right who had been the weakest link of the Welsh attack and butt of the crowd, lofted over a cross. Cliff Jones, Spurs £35,000 outside left. leaped with right back Don Howe, and the ball bounced off them.
Before it could touch the ground Welsh inside right Brian Orritt hurled himself forward to flash a jet header into the net.
It was a success no one had forecast except the eleven determined men in red shirts. And how England were humbled. Although skipper Howe played his heart out in an attempt to whip England into a forceful side, it just didn't happen.
They remained a team capable of producing brilliant patches of ball control, but never linking up with real menace.
After ten minutes sparing, Wales woke up and realised they could win.
And their first goal was a personal tragedy for Howe.
He tapped back a pass to Hodgkinson too tamely and inside left Ken Leek darted in to hammer the ball home. England's one real display of effective combination in the fifty-seventh minute produced the equaliser. Inside right Joe Hayes won possession on the halfway line and sent through a pass which outside left Alan A'Court flicked on to inside left Jimmy Greaves. The Chelsea wonder boy hit a first time pass for centre forward to move on to, and drive in.
Unhappily, Young England never looked so good again, and for the first time lost a match in Britain.

Match Report
as appears in the F.A. Yearbook 1958-59 page 32
England's Under-23 team lost for the first time in Britain at Wrexham, and to some extent, only had themselves to blame. The Welsh played well, indeed at times they excelled themselves, but England should have had enough talent in their eleven to ensure success. Wales were the first to score after thirty minutes, when Leek seized on a backpass by Howe to beat Hodgkinson. Then minutes after half-time Clough equalised after a movement by A'Court and Greaves, but a last minute goal by Orritt - a fine header from Stephen's cross - gave Wales the victory.

Football League Division One
Blackpool 0 Everton 1
Bloomfield Road, Blackpool

(12,981)
Ashworth
Manchester United 1 Newcastle United 1
Old Trafford, Manchester
(28,393)
Dawson ~ White
Football League Division Two


Barnsley 0 Sheffield United 2


Oakwell, Barnsley

(8,720)


Pace (2)

Fulham 1 Blackburn Rovers 1


Craven Cottage, Fulham

(32,157)


Chamberlain ~ McLeod

Lincoln City 4 Bristol City 0


Sincil Bank, Lincoln

(11,001)


Harbertson (2), Chapman, Smillie

Notts County 0 Bristol Rovers 0


Meadow Lane, Nottingham

(13,467)
Football League Division Three South
Aldershot 1 Queen's Park Rangers 1
Recreation Ground, Aldershot
(4,050)
Lacey
~ Kerrins
Crystal Palace 4 Watford 2
Selhurst Park, Croydon

(10,139)
McNichol (2), Berry (2)
~ Devine, Meadows
Exeter City 0 Swindon Town 1
St. James' Park, Exeter
(6,000)
Micklewhite
Gillingham 1 Millwall
0
Priestfields, Gillingham
(4,415)

D.Taylor
Port Vale 2 Brighton & Hove Albion 2
Vale Park, Stoke-on-Trent (7,245)

Poole, Askey
~ Harburn, Sexton
Reading 1 Brentford 2
Elm Park, Reading (12,787)

Whitehouse
~
Towers (2)
Southampton 2 Newport County 1
T
he Dell, Southampton
(12,925)

Hoskins, Clifton
~
Harris
Football League Division Three South
Chesterfield 1 Bury 1
Recreation Ground, Chesterfield
(5,000)
Lewis
~ McIntosh
Crewe Alexandra 3 Southport 2
Gresty Road, Crewe
(2,724)
Gryba
OG,
Whiston, McMorran
~
Bromilow (2)
Darlington 2 Hull City 2
Feethams, Darlington
(4,056)
Lancaster
(2)
~ Smith, Bradbury
Workington 4 Mansfield Town 0
Borough Park, Workington

(2,700)
Armstrong
(2), Gordon (2)
York City 4 Tranmere Rovers 0




Bootham Crescent, York

(7,225)


Farmer (3), Patterson
Source Notes
Official matchday programme
FA Yearbook 1958-59

Rothman's Yearbooks




Original newspaper reports
cg